Open Access This article is
freely available
re-usable
Article
Mechanisms Involved in the Formation of Secondary Structures on the Friction Surface of Experimental Aluminum Alloys for Monometallic Journal Bearings
1
Laboratory of Electric Currents Assisted Sintering Technologies, Moscow State University of Technology "STANKIN", Vadkovsky Lane 3a, 127055 Moscow, Russia
2
Department of Scientific Research Programs, Grants and Projects, Railway Research Institute JSC "VNIIZHT", 3rd Mytischinskaya Street 10, 107996 Moscow, Russia
*
Author to whom correspondence should be addressed.
Received: 15 October 2018 / Accepted: 23 November 2018 / Published: 28 November 2018
Abstract
:
The processes taking place on the friction surface of high-alloyed aluminum alloys working with steel whilst replacing bronze journal bearings with aluminum are investigated. In this regard, eight experimental aluminum alloys with an Sn content from 5.4% to 11.0%, which also included Pb, Zn, Si, Mg, and Cu, were cast. The surface and subsurface layer of experimental aluminum bearings were studied before and after tribological tests with a 38HN3MA steel counterbody by scanning electron microscopy including energy-dispersive analysis. The best aluminum alloy, which had an Sn content of 5.8% after the friction tests, showed 6.5-times better wear resistance and steel counterbody wear rate than the bronze reference. Both structural and compositional changes in the surface layer were observed. It was revealed that secondary structures formed on the surface during the friction process and included all of the chemical elements in the tribosystem, which is a consequence of its self-organization. Generally, the secondary structures are thin metal-polymer films generated as a result of the high carbon and oxygen content. The interaction behavior of some of the chemical elements in the tribosystem is shown and discussed. In addition, the influence that Sn, Pb, Cu, and C content in the secondary structures has on the tribological properties of low-tin and medium-tin alloys is shown.
Keywords:
aluminum alloys; bronze; journal bearings; tribological alloys; friction; friction surface; secondary structures; self-organization
1. Introduction
The aim of this project was to study the friction surface of experimental aluminum journal bearings in order to reveal the beneficial secondary structures which occur. In addition, it was necessary to study their composition and correlate it with the tribological properties of the alloys. Finally, the mechanisms of forming secondary structures were studied. The scientific data obtained within the project will contribute to the development of new and improved alloys, focusing on the specific tribological properties.
2. Materials and Methods
Eight experimental cast aluminum alloys were used in the study. The composition of each alloy included tin, lead, copper, silicon, magnesium, and zinc. The strength tests were carried out in accordance with Russian State Standard GOST 1497-84 on cylindrical samples with an estimated length of 30 mm and a diameter of 6 mm on an electromechanical test machine "Instron" (USA). Tribological tests were carried out in boundary friction conditions using a friction machine "SMC-2" with a loading device of up to 3000 N. The tests were performed on the rotating steel roller–fixed shoe of antifriction alloy (
Figure 1
). Generally, six tribological parameters for each sample were measured: score-resistance, conformability, alloy wear, steel counterbody wear, friction coefficient, and temperature. The samples were tested for 40 h coupled with a 38HN3MA counterbody with a permanent loading of 617 N and a lubricant supply rate of 0.2 g/min. M14V2 oil was used as lubricant. After the friction tests, the aluminum samples were exposed to multistage cleaning to remove lubricant residues. They were washed with warm water, degreased with carbon tetrachloride, kerosene, and acetone, and then washed again with cold water. The composition control of each alloy after casting was performed by emission spectrometer Spectrolab-S (Spectro Analytical Instruments GmbH, Kleve, Germany). The study of the initial state, friction surfaces, and secondary structures of the experimental alloys was performed on a Scanning Electron Microscope (SEM) "Tescan Vega 3" (Tescan a.s., Brno, Czech Republic) equipped with an Oxford Instruments (Abingdon, UK) energy-dispersive analysis (EDX) module with accuracy of up to hundredths of a percent. Before being placed in the microscope, the friction surfaces of the samples were rubbed with alcohol and dried, the cross-sections were further polished to remove the oxide film. All samples were examined at three magnifications: 100, 500, and 5000× using secondary and back-scattered electron detectors. For each of the specimens studied, EDX was used to compile maps of the chemical element distributions, the distribution of elements along the line, and the elemental composition in a local area of 1 μm
2
.
3. Results and Discussion
Tin, in the form of inclusions on the line being analyzed, was absent, but there were areas enriched by this element at the boundary of the aluminum matrix and copper inclusion, and also in the region where this inclusion enters the friction surface. Thus, the increased content of copper-based solid sections was accompanied by a more intense formation of secondary structures containing tin. Solid inclusions can increase the hardness of the alloy due to their mechanical properties, while in the process of friction, they also act as abrasive particles which increase the wear of the steel counterbody and increase the coefficient of friction. The tribosystem, in the process of self-organization, minimizes these negative aspects of friction by forming secondary structures that include tin alloy and lubricant components e.g., a polymer base, calcium, potassium. The thickness of such a film is 1 μm or less, so that electrons from the scanning microscope reaching the formations under the secondary structures allow the base signal to be recorded.
4. Conclusions
Eight experimental aluminum alloys of tribological application with a tin content of 5.4% to 11.0%, which also contained Pb, Mg, Zn, Si, and Cu, were cast. After friction tests, the AO-5.8 (Sn-5.8%) alloy showed the best wear rate, exceeding the reference bronze by 5–6 times. By means of electron microscopy and energy dispersive analysis, different areas of the friction surface were investigated. It was shown that different types of secondary structures were formed. The mechanisms involved in their formation are as follows:
Smearing (tin, lead)

Mass transfer (steel)

Diffusion (oil components)

Oxidation

Surface polymerization (carbon-based secondary structures)

Tribochemical reactions (tin–calcium, steel–fluorine)
During the running-in process, the friction surface undergoes not only structural changes, but also component composition changes through the formation of profitable secondary structures. In the formation of these structures, all the objects of the tribosystem are involved to various degrees, and the secondary structures themselves differ in composition in different areas of the alloy surface. Thus, the manufactured bearing is a "workpiece", the final processing of which is carried out at the stage of running-in. In this stage, the friction surface is modified as a result of tribochemical reactions within the self-organization process. The mechanical running-in process also involves steel protrusions transferring onto the alloy causing a decrease in the roughness of the counterbody.
The self-organization processes affect medium-tin and low-tin alloys in differing ways. Furthermore, each component affects the tribological properties of the alloy differently, and can be adjusted in order to obtain the alloy with the highest conformability and the lowest rate of wear. The variety of alloying components determines the degree of freedom the tribosystem has for the formation of secondary structures.
Author Contributions
conceptualization, I.G. and A.M.; methodology, P.P. (Pavel Podrabinnik) and A.M.; validation, P.P. (Pavel Podrabinnik), A.M. and E.K.; formal analysis, A.M.; investigation, P.P. (Pavel Podrabinnik); resources, E.K, P.P. (Pavel Peretyagin), and A.M.; data curation, E.K.; writing—original draft preparation, P.P. (Pavel Podrabinnik); writing—review and editing, I.G. and A.M.; visualization, P.P. (Pavel Podrabinnik); supervision, I.G. and A.M.; project administration, I.G., P.P. (Pavel Peretyagin) and E.K.
Funding
We would like to thank the Ministry of Education and Science of the Russian Federation for supporting this work under contract No. 075-02-2018-140, unique identifier of contract RFMEFI57718X0288.
Conflicts of Interest
The authors declare no conflict of interest.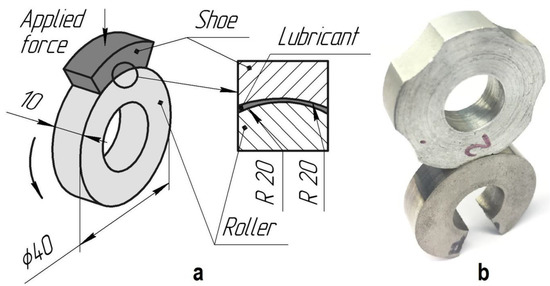 Figure 1. (a) Kinematic configuration of the friction mechanism; (b) aluminum alloy shoe coupled with steel roller (the fragment was cut for research).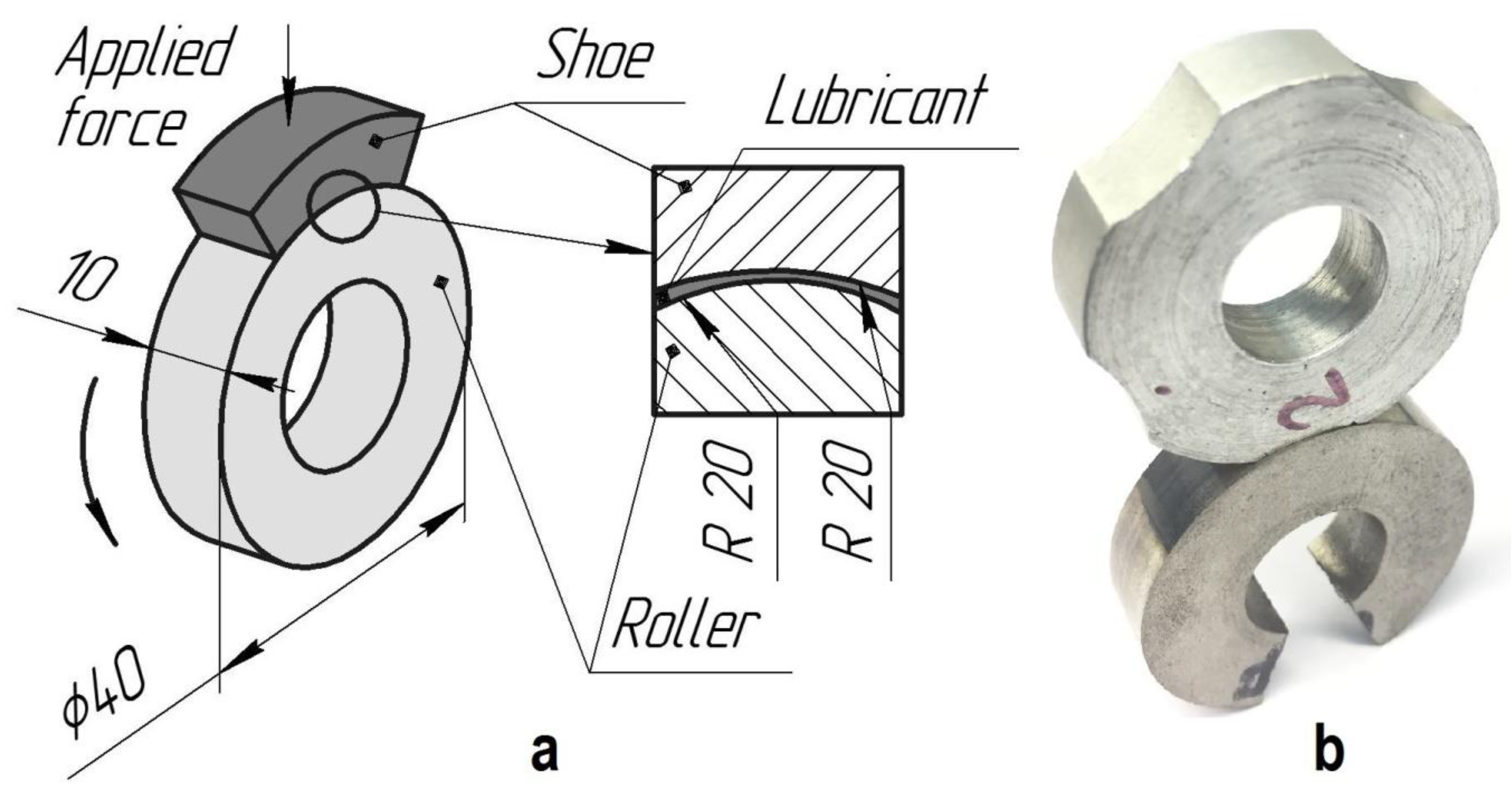 Figure 2. AO-5.8 alloy surface. (a) Scanning Electron Microscope (SEM) image of surface structure before friction; (b) SEM image of surface structure after friction; (c) tin distribution map (energy-dispersive analysis (EDX)) on the friction surface; (d) calcium distribution map (EDX).


Figure 3. AO-5.8 alloy subsurface layer. (a) SEM image of subsurface structure after friction; (b) tin distribution map (EDX) on the friction surface; (c) calcium distribution map (EDX); (d) potassium distribution map (EDX).


Figure 4. (a) AO-5.8 alloy elements distribution: (b) elements distribution along line 1; (c) elements distribution along line 2.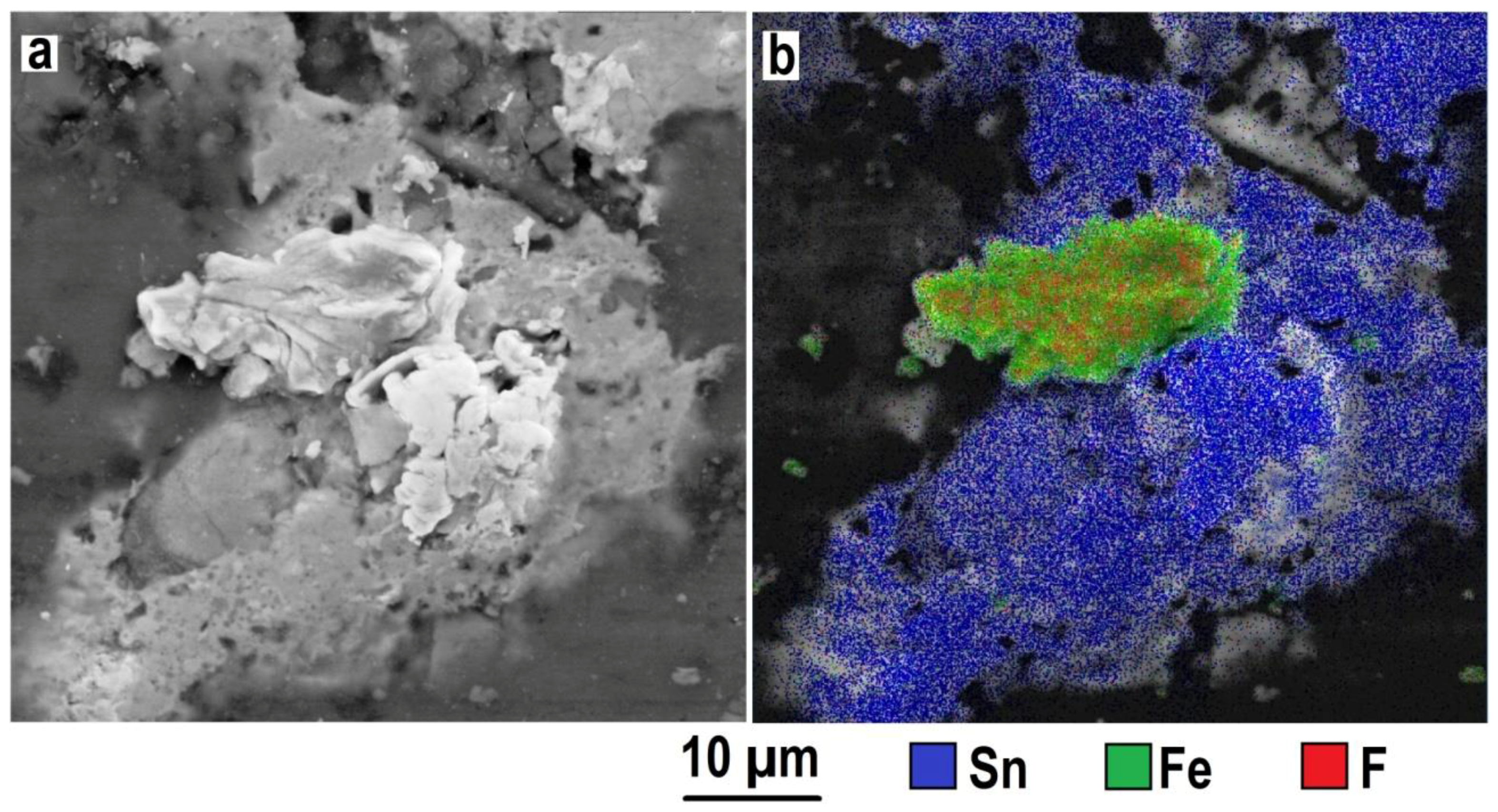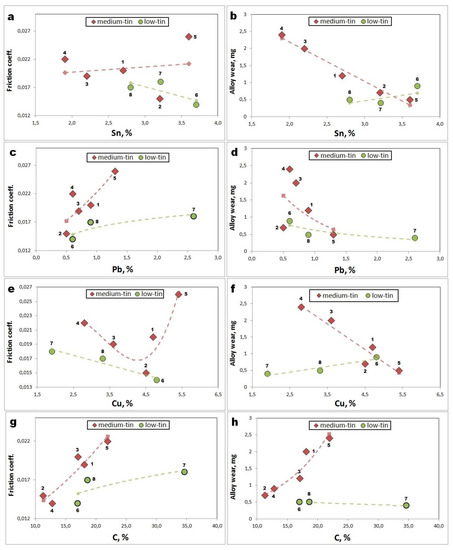 Figure 6. Dependence graphs of the component contents in the secondary structures on the tribological properties of alloys. (a) Tin influence on friction coefficient; (b) tin influence on alloy wear; (c) lead influence on friction coefficient; (d) lead influence on alloy wear; (e) copper influence on friction coefficient; (f) copper influence on alloy wear; (g) carbon influence on friction coefficient; (h) carbon influence on alloy wear.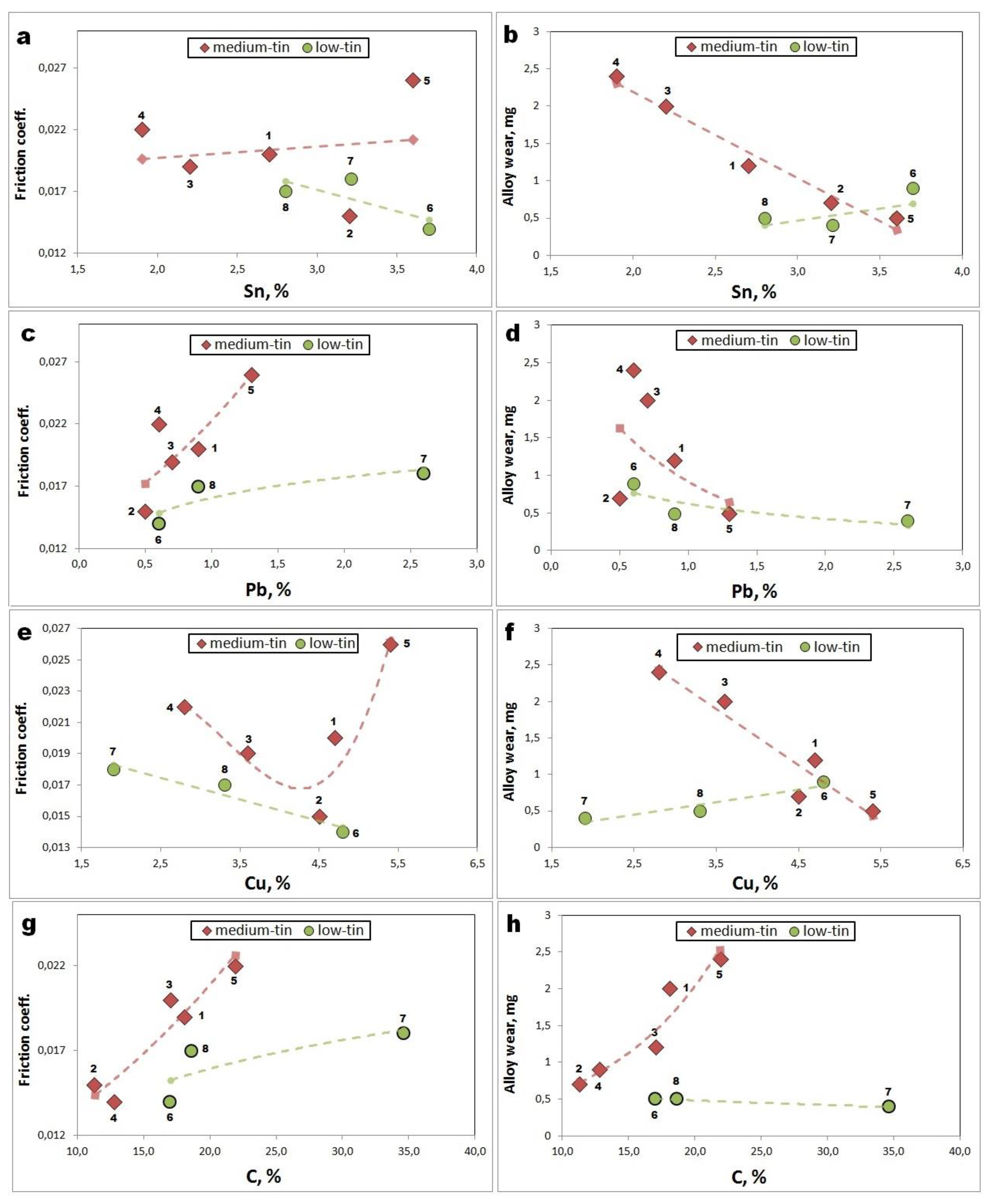 No.
Alloy Grade
Elements Composition, % mass.
σ, MPa
Alloy Wear, mg
Steel Wear, mg
Temp., °C
Sn
Pb
Cu
Si
Zn
Mg
Al
1
AO-11
11.0
2.6
3.9
0.1
2.6
-
79.8
173
1.2
0.6
33
2
AO-9.8
9.8
2.5
4.5
0.6
2.4
1.2
79.0
163
0.1
0.7
31
3
AO-9.6
9.6
3.2
4.9
0.1
4.4
0.3
77.5
185
2.0
2.1
37
4
AO-8.7
8.7
3.2
3.4
0.5
2.9
0.4
80.9
168
2.4
0.8
32
5
AO-7.6
7.6
3.3
4.0
1.0
0.5
0.07
83.5
159
0.5
0.8
42
6
AO-6.4
6.4
3.0
4.1
0.9
1.9
1.4
82.3
139
0.9
1.0
38
7
AO-5.8
5.8
2.7
4.1
1.5
2.3
1.5
82.1
140
0.4
0.6
40
8
AO-5.4
5.4
2.6
3.5
0.8
2.3
1.7
83.7
144
0.5
0.7
36
BrO4Z4S17
4.1
16.9
75.2
-
3.8
-
-
148
2.7
4.0
38
Object
Element Composition, % mass.
Al
Sn
Pb
Cu
Zn
Si
Mg
Ti
C
O
Fe
S
Сa
As cast
82.1
5.8
2.7
4.1
2.3
1.5
1.5
-
-
-
-
-
Initial surface
77.7
3.7
2.1
2.9
2.2
1.8
0.3
0.1
5.1
3.9
0.1
-
-
Friction surface
40.4
3.9
4.7
2.0
1.5
0.4
0.6
-
31.2
14.2
0.3
0.4
0.3
Local Spectra Analysis after Friction
Al
Sn
Pb
Cu
Zn
Si
Mg
Ti
C
O
Fe
S
Сa
Al matrix
72.1
-
-
0.8
1.3
0.2
0.2
-
14.3
10.8
-
-
0.2
Pb inclusion
0.5
1.7
71.8
1.3
1.0
0.2
0.2
-
20.1
3.1
-
0.2
-
Sn outlet
1.5
23.5
16.8
-
1.0
0.1
5.8
-
20.2
30.5
-
-
0.5
Object
Elements Composition, % mass.
Al
Sn
Pb
Si
Zn
Ni
Mg
F
C
O
Fe
Cr
Mn
38HN3MA steel
-
-
-
0.22
-
3.0
-
-
0.38
-
bal.
1.0
0.37
Steel inclusion
0.86
0.89
-
0.33
0.57
2.39
0.3
1.71
14.0
3.0
75.0
0.6
0.58
Sn outlet
1.32
67.7
3.69
-
1.11
0.4
0.46
-
12.5
13.5
0.3
-
0.1
Mean values of alloying components for 38HN3MA steel according to GOST 4543-71. In addition, molybdenum 0.2–0.3%, and copper up to 0.3% were found. Sulfur and phosphorus impurities were less than 0.025%.

© 2018 by the authors. Licensee MDPI, Basel, Switzerland. This article is an open access article distributed under the terms and conditions of the Creative Commons Attribution (CC BY) license (http://creativecommons.org/licenses/by/4.0/).