Open Access This article is
freely available
re-usable
Review
Relativistic Jets from AGN Viewed at Highest Angular Resolution
Mizusawa VLBI Observatory, National Astronomical Observatory of Japan, 2-12 Hoshigaoka, Mizusawa, Oshu, Iwate 023-0861, Japan
Received: 31 October 2019 / Accepted: 2 December 2019 / Published: 18 December 2019
Abstract
:
Accreting supermassive black holes in active galactic nuclei (AGN) produce powerful relativistic jets that shine from radio to GeV/TeV γ-rays. Over the past decade, AGN jets have extensively been studied in various energy bands and our knowledge about the broadband emission and rapid flares are now significantly updated. Meanwhile, the progress of magnetohydrodynamic simulations with a rotating black hole have greatly improved our theoretical understanding of powerful jet production. Nevertheless, it is still challenging to observationally resolve such flaring sites or jet formation regions since the relevant spatial scales are tiny. Observations with very long baseline interferometry (VLBI) are currently the only way to directly access such compact scales. Here we overview some recent progress of VLBI studies of AGN jets. As represented by the successful black hole shadow imaging with the Event Horizon Telescope, the recent rapid expansion of VLBI capability is remarkable. The last decade has also seen a variety of advances thanks to the advent of RadioAstron, GMVA, new VLBI facilities in East Asia as well as to the continued upgrade of VLBA. These instruments have resolved the innermost regions of relativistic jets for a number of objects covering a variety of jetted AGN classes (radio galaxies, blazars, and narrow-line Seyfert 1 galaxies), and the accumulated results start to establish some concrete (and likely universal) picture on the collimation, acceleration, recollimation shocks, magnetic field topology, and the connection to high-energy flares in the innermost part of AGN jets.
Keywords:
active galaxies; supermassive black holes; relativistic jets; high-resolution radio observations
Funding
This research was funded by JSPS KAKENHI (grant number 18KK0090, 19H01943, 18H03721).
Acknowledgments
K.H. thanks the anonymous referees for their careful review of the manuscript. K.H. also acknowledges F. D'Ammando, M. Nakamura, M. Kino, J. Park and Y. Cui for their fruitful comments that improved the manuscript. K.H. is also grateful to L. Loinard for a careful reading of the revised draft.
Conflicts of Interest
The author declares no conflicts of interest.
| | |
| --- | --- |
| 1. | |
| 2. | |
| 3. | |
| 4. | |
| 5. | |
| 6. | |
| 7. | |
| 8. | It should be noted that a core-shift with could also be reproduced "artificially" by the effect of core–jet blending with limited angular resolution. Such a blending effect would be especially serious for distant jet sources (and in particular at low frequencies where the jet emission is more pronounced and the angular resolution is worse than at high frequencies). |
| 9. | |
| 10. | |
| 11. | |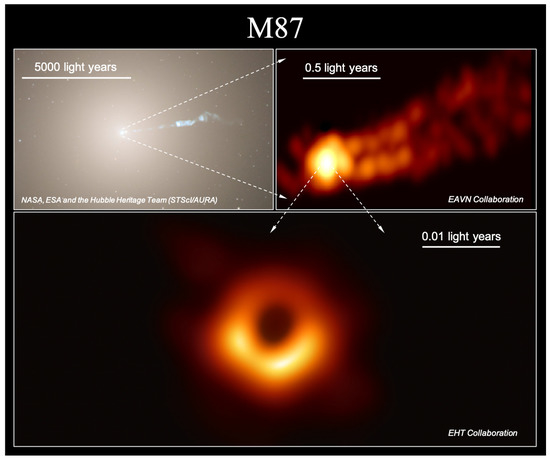 Figure 1. M87 images from galactic to event horizon scales. (Top left) HST image of M87 (credit: NASA, ESA and the Hubble Heritage Team (STScI/AURA)). (Top right) EAVN 43 GHz image of M87 (credit: EAVN Collaboration). (Bottom) EHT 230 GHz image of M87 (credit: EHT Collaboration).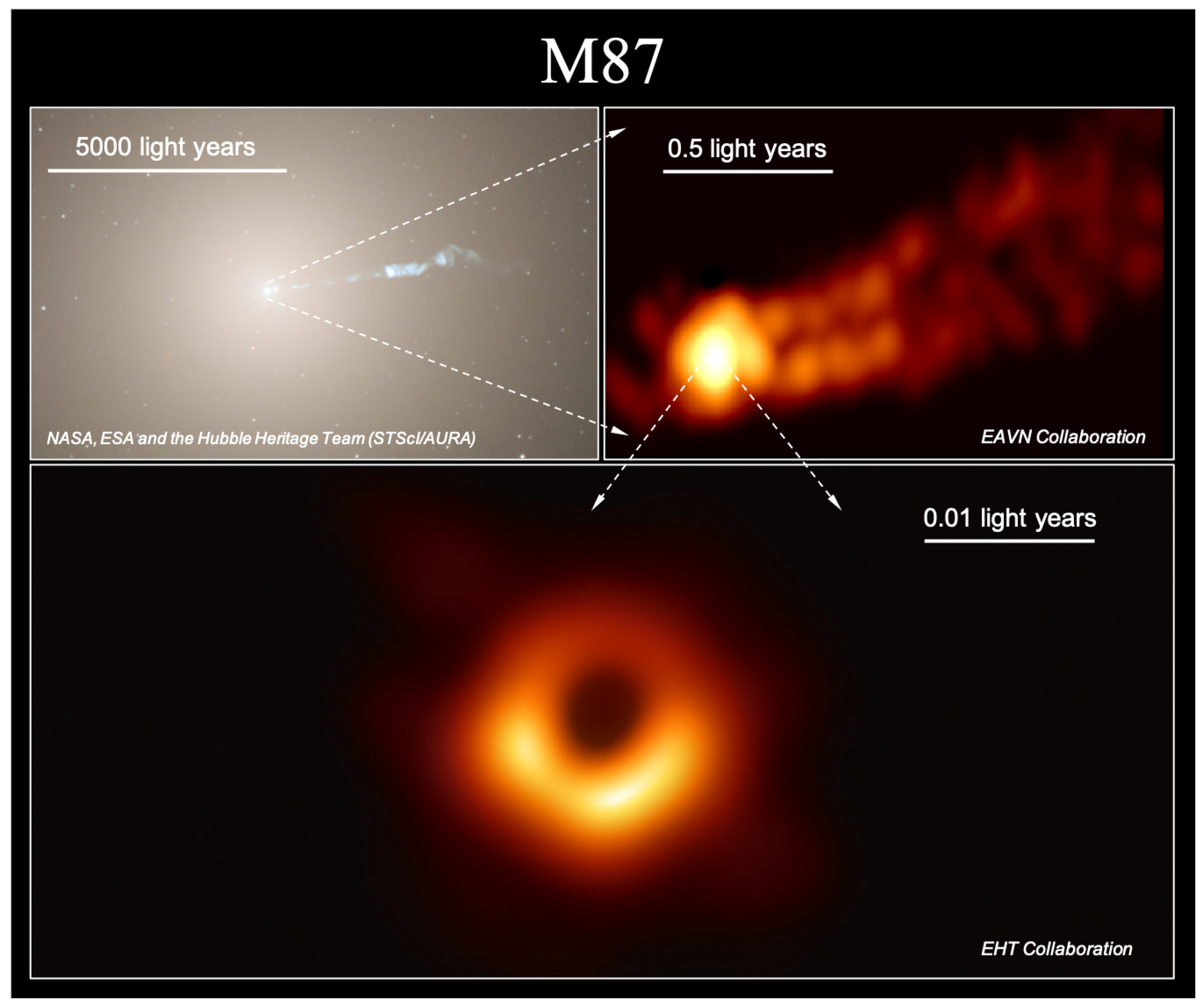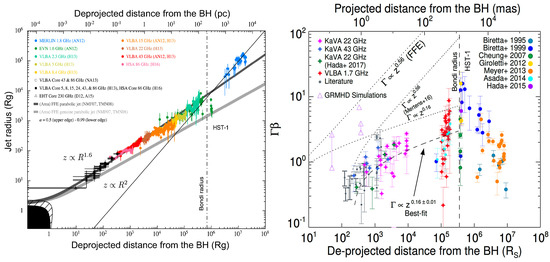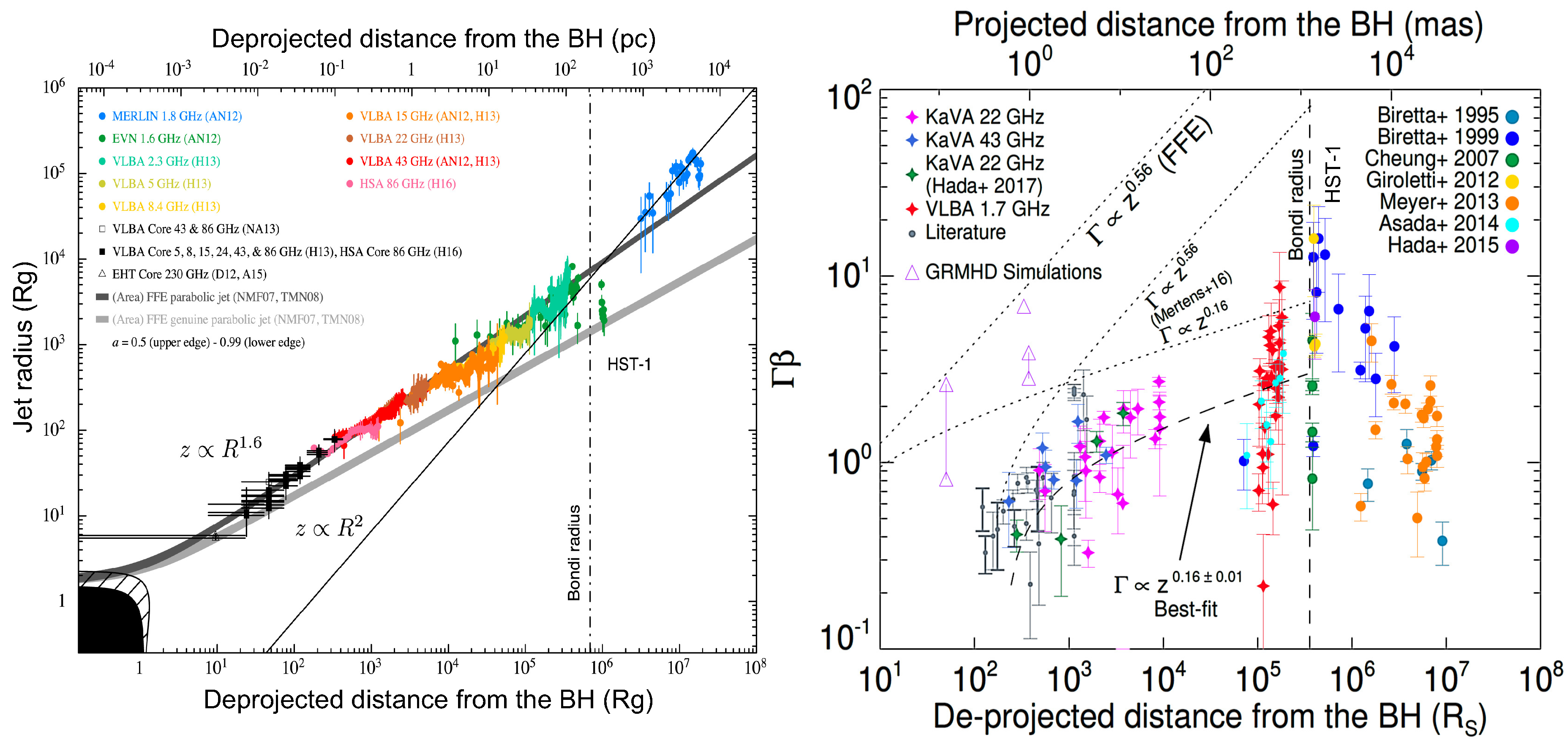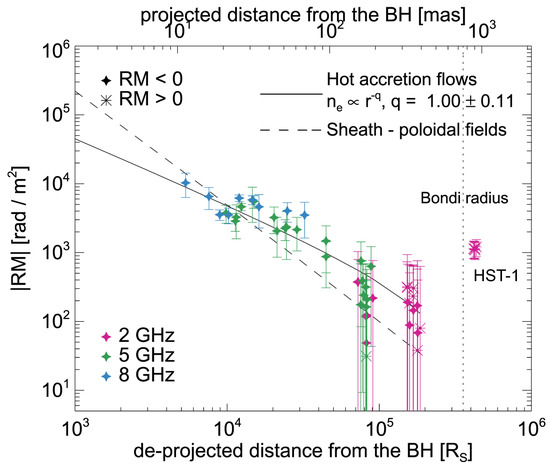 Figure 3.
VLBA RM profile of the M87 jet as a function of distance from the BH (adapted from work in [
69
]).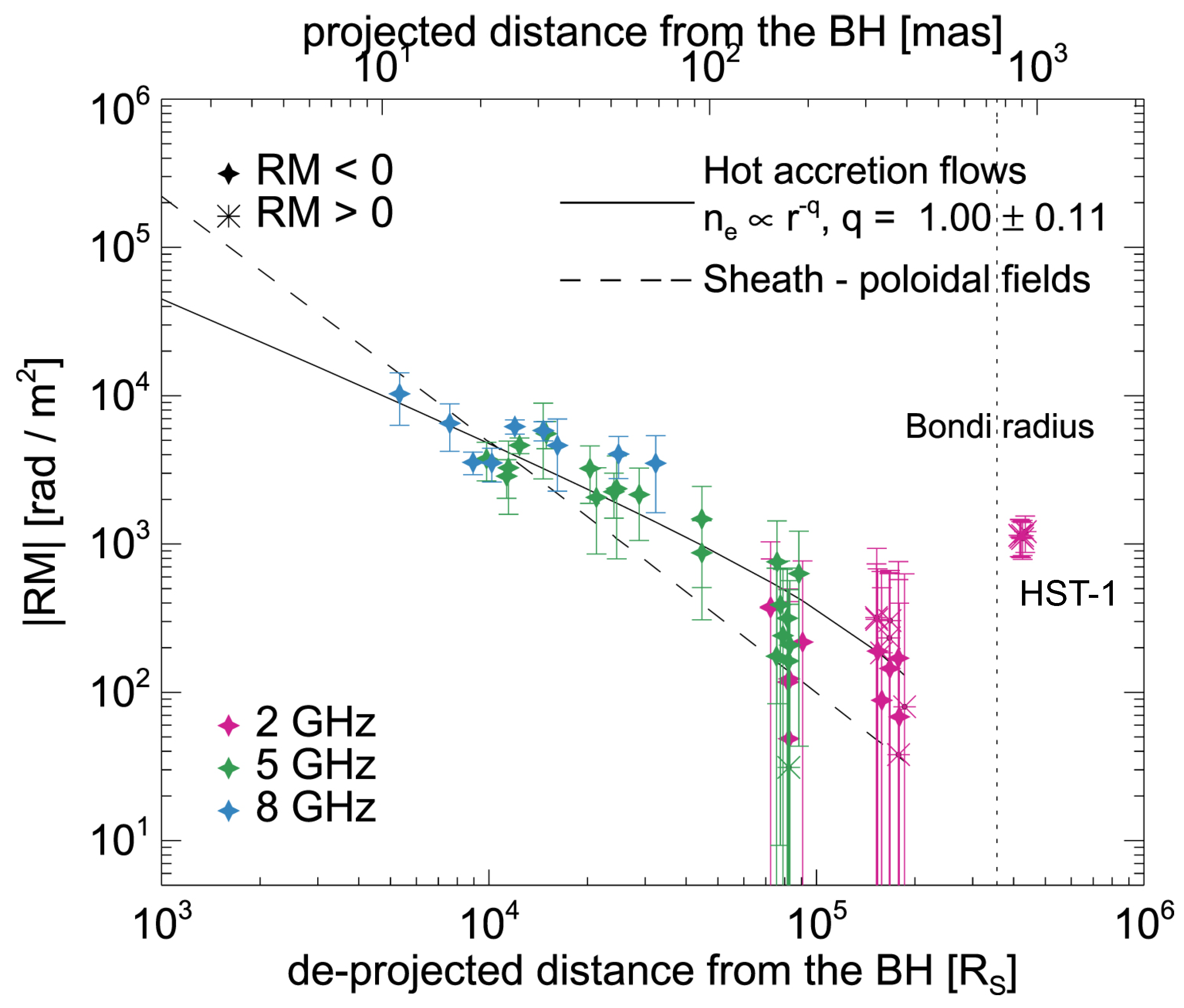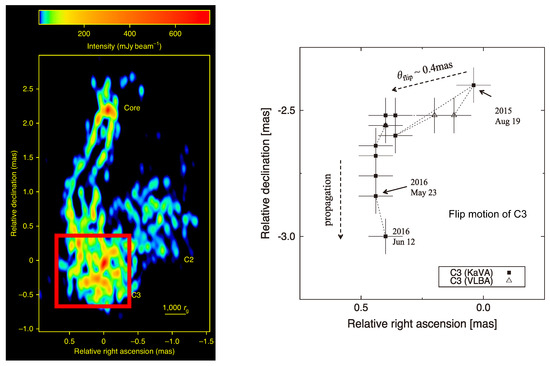 Figure 4.
(
Left
) RadioAstron 22 GHz image of 3C 84 observed in 2013 (adapted from work in [
101
]). (
Right
) Trajectory of C3 from August 2015 to June 2016, obtained by KaVA and VLBA at 43 GHz (adapted from work in [
102
]). A red rectangular area overlaid on the RadioAstron image corresponds to the plotting area of the C3 trajectory.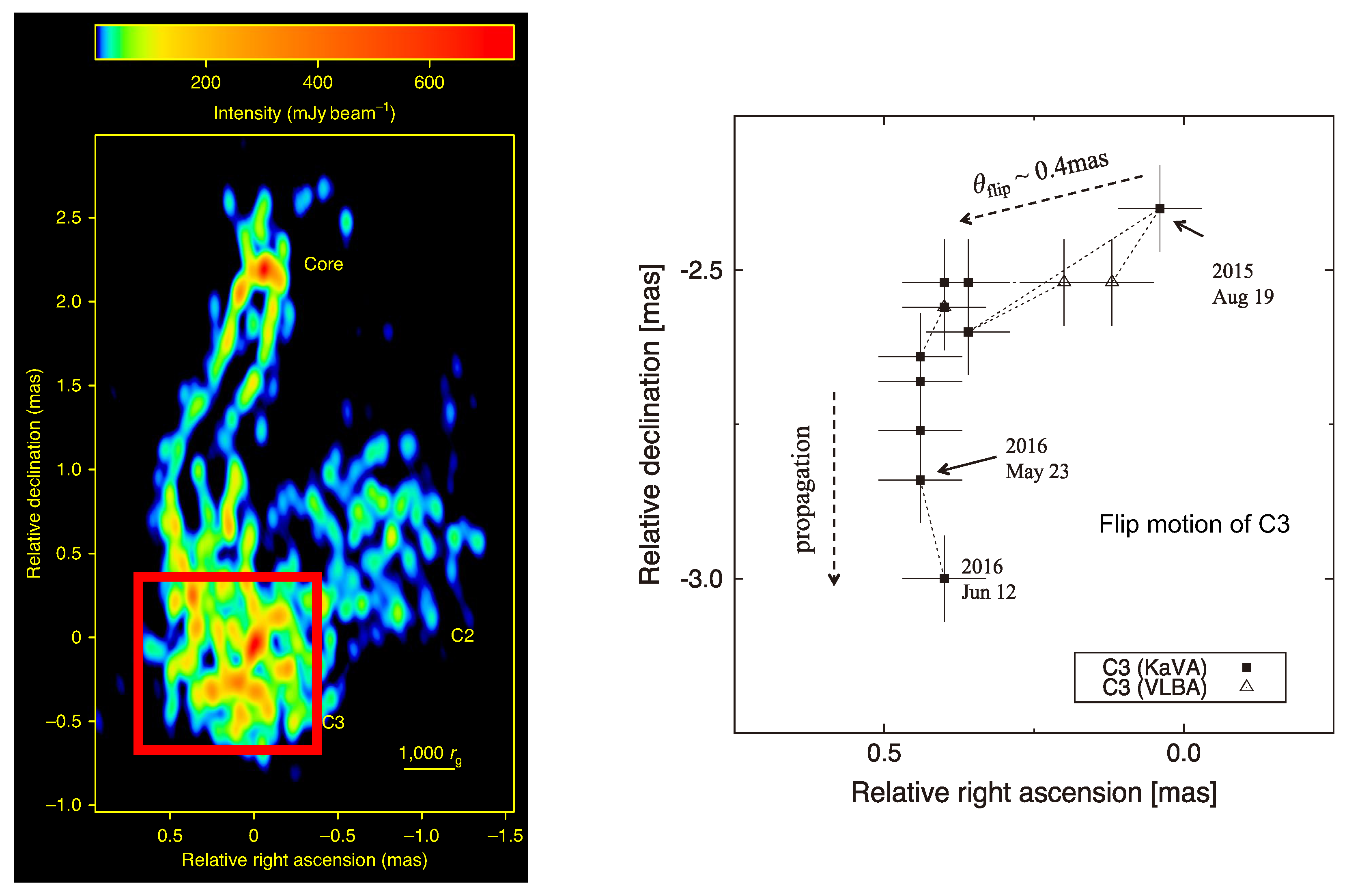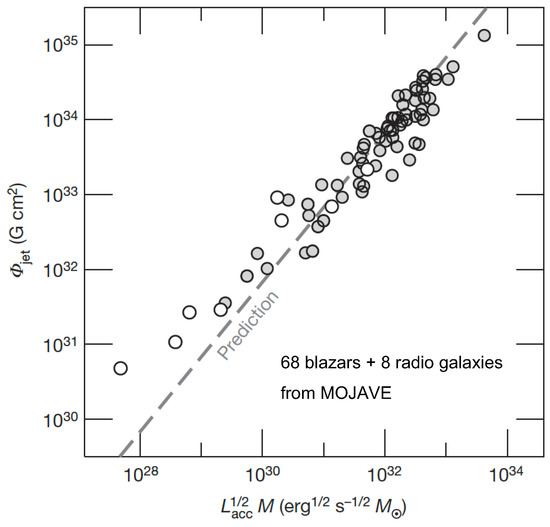 Figure 5.
Magnetic flux measured in pc-scale jets via core-shift () for a sample of 76 MOJAVE sources (68 blazars (filled circles) and 8 radio galaxies (open circles)), plotted as a function of that is proportional to the theoretical MAD magnetic flux threading BH () and is estimated by the accretion disk luminosity () and BH mass (
M
) (adapted from the work in [
139
]).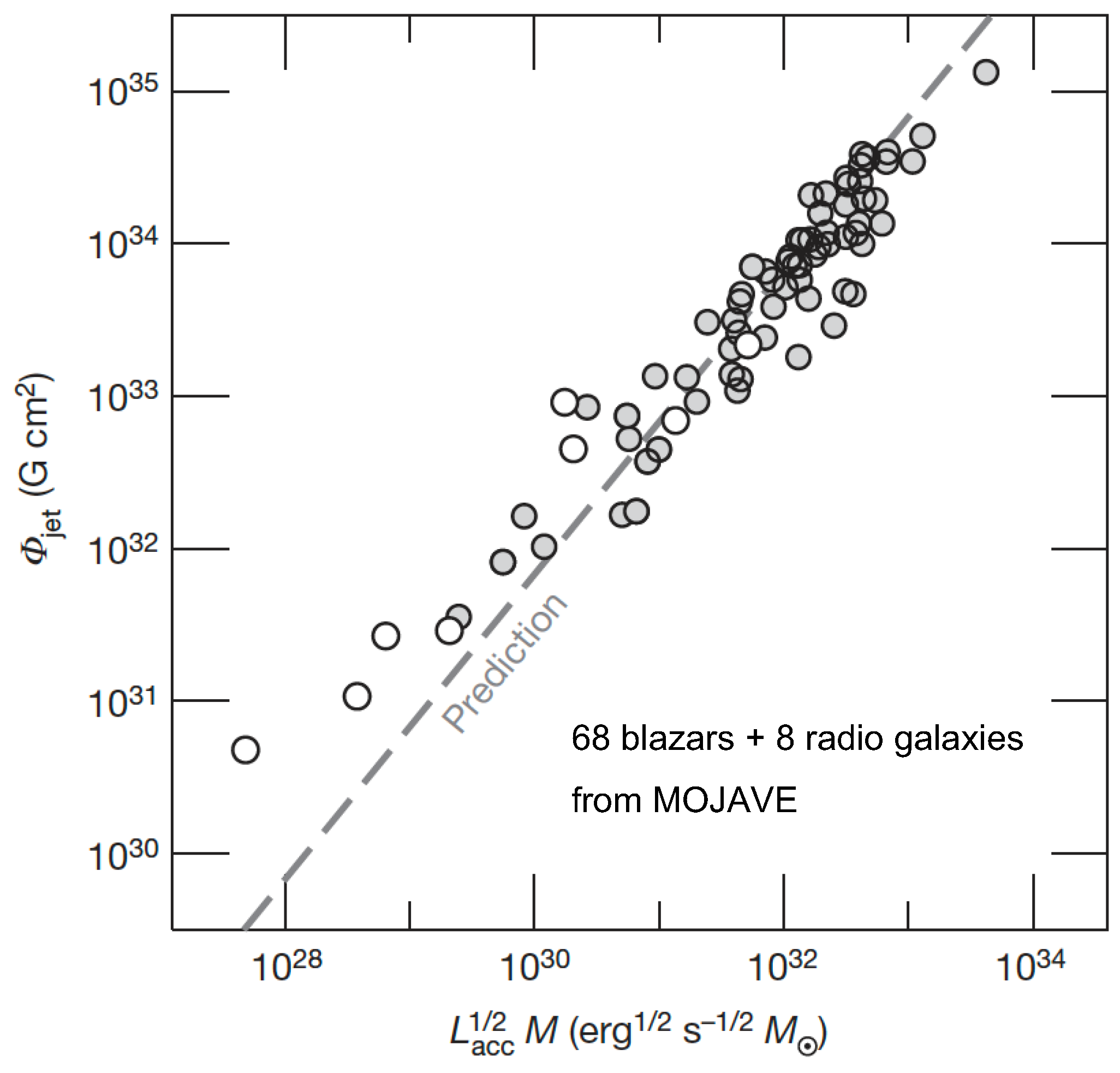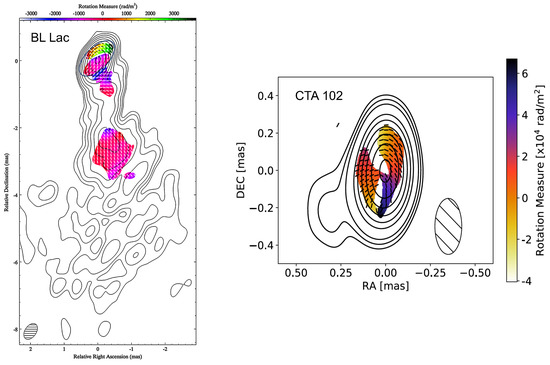 Figure 6.
(
Left
) RM distributions (color) of BL Lacertae made by 15/22/43 GHz data, overlaid on a RadioAstron 22 GHz total intensity contour map (adapted from [
146
]). (
Right
) RM map of CTA 102 made by 43/86 GHz data, overlaid on a 86 GHz GMVA total intensity contour map (adapted from work in [
150
]). Both images show significant RM gradients around the core.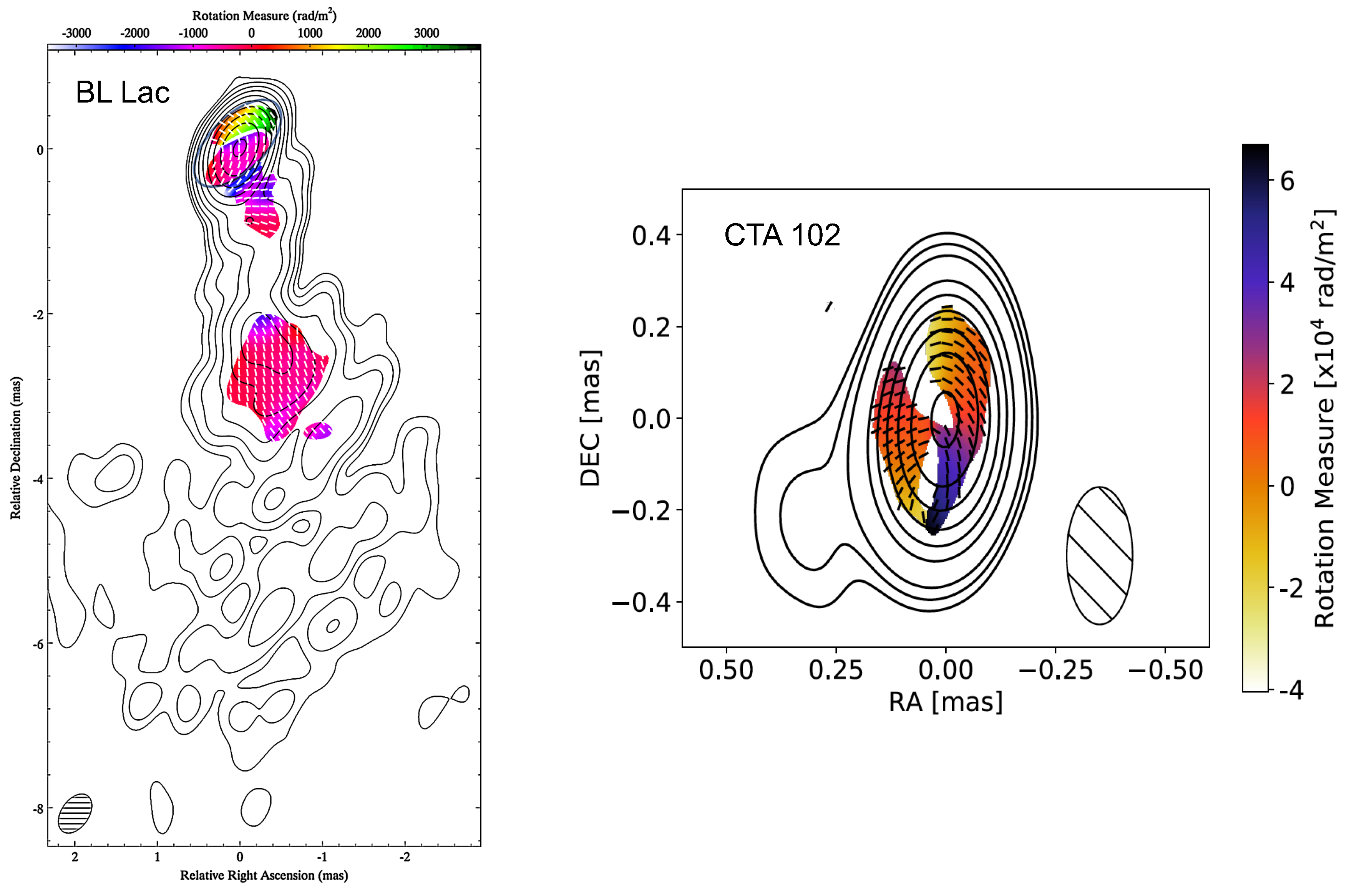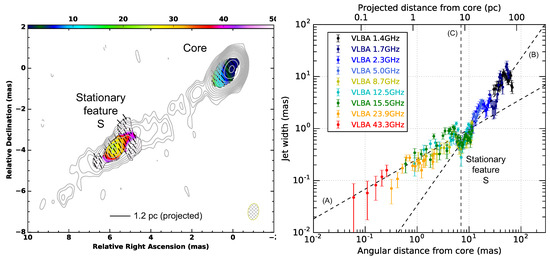 Figure 7.
VLBA observations of 1H 0323+342 by [
218
]. (
Left
) Contours are 15 GHz total intensity distributions while color scales are polarized fluxes. (
Right
) Jet width profile as a function of distance from core, showing a parabolic to conical transition at 7 mas (8 pc projected) where the stationary, compressed and polarized feature S is located. Figures adapted from work in [
218
].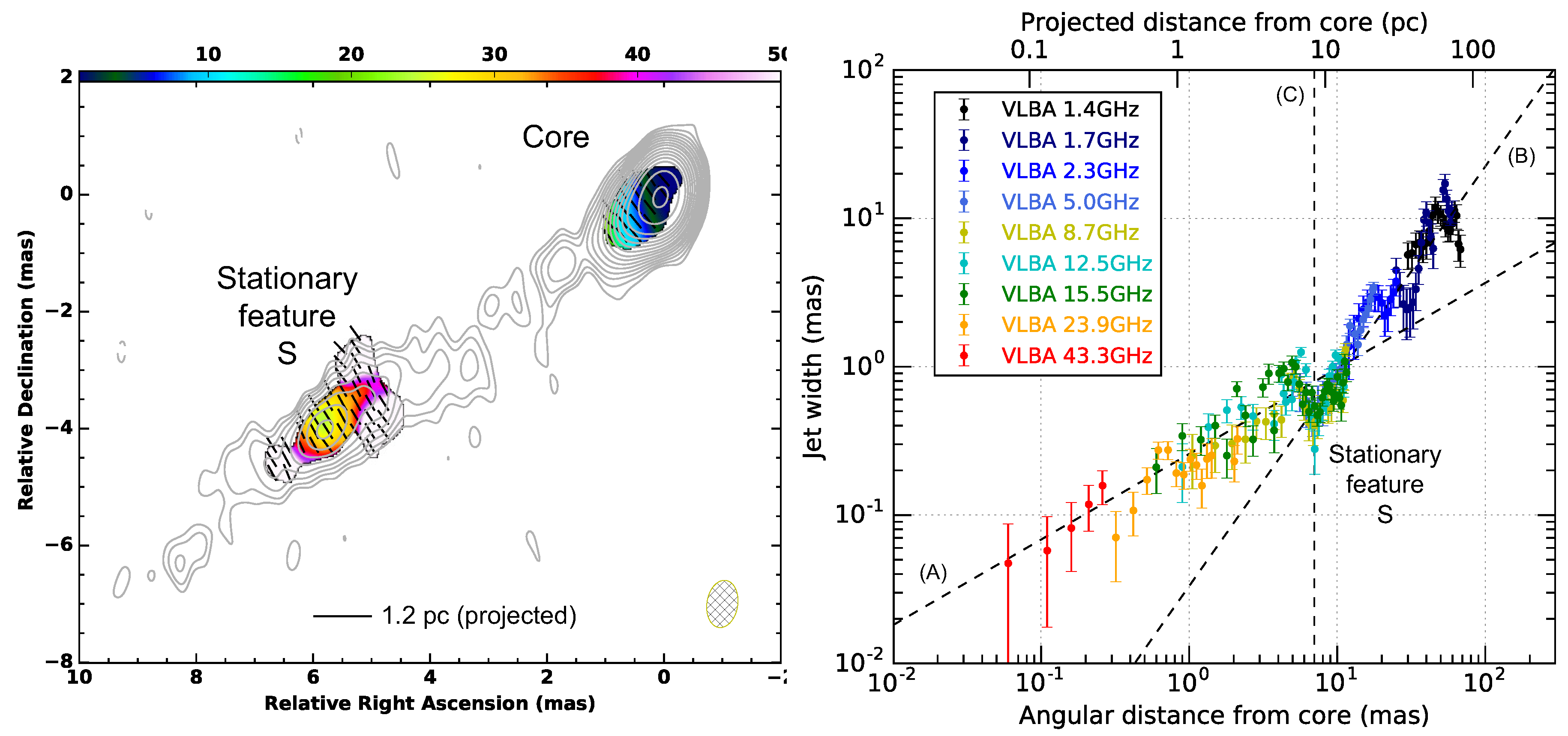 © 2019 by the author. Licensee MDPI, Basel, Switzerland. This article is an open access article distributed under the terms and conditions of the Creative Commons Attribution (CC BY) license (http://creativecommons.org/licenses/by/4.0/).