Theoretical Discourse on Producing High Temporal Yields of Nuclear Excitations in Cosmogenic 26Al with a PW Laser System: The Pathway to an Astrophysical Earthbound Laboratory
1
Extreme Light Infrastructure (ELI-NP) & Horia Hulubei National Institute for R & D in Physics and Nuclear Engineering (IFIN-HH), Str. Reactorului No. 30, P.O. Box MG-6, 077125 Bucharest– Măgurele, Romania
2
Department of Physics and Astronomy, Clemson University, Clemson, SC 29634-0978, USA
*
Author to whom correspondence should be addressed.
Received: 7 November 2018 / Revised: 10 December 2018 / Accepted: 14 December 2018 / Published: 26 December 2018
Abstract
The development of the 10 PW laser system at the Extreme Light Infrastructure is a crucial step towards the realization of an astrophysical Earthbound laboratory. The interaction of high-power laser pulses with matter results in ultrashort (fs-ps) pulses of 10s of MeV ions and radiation that can create plasma and induce nuclear reactions therein. Due to the high fluxes of reaction-driving beam pulses, high yields of radioactive target nuclei in their ground and excited states can be provided in situ on short time scales. Cosmogenic
26
Al, which is of pronounced astrophysical interest, is a prime candidate for evaluating these new experimental possibilities. We describe how, for a short duration of
, laser-driven protons with energies above
can induce the compound nucleus reaction
26
Mg(p, n)
26
Al leading to high and comparable yields of the three lowest-lying states in
26
Al including the short-lived,
= 1.20 ns state at 417 keV. In the aftermath of the reaction, for a short duration of
, the yield ratios between the ground and the two lowest-lying excited states will resemble those present at thermodynamic equilibrium at high temperatures, thus mimicking high
26
Al entropies in cold environments. This can be seen as a possible first step towards an investigation of the interplay between those states in plasma environments. Theory suggests an intricate coupling of the ground state
26
Al
g.s.
and the first excited isomer
26m
Al via higher-lying excitations such as the
state at 417 keV resulting in a dramatic reduction of the effective lifetime of
26
Al which will influence the isotope's abundance in our Galaxy.
View Full-Text
►

▼

Figures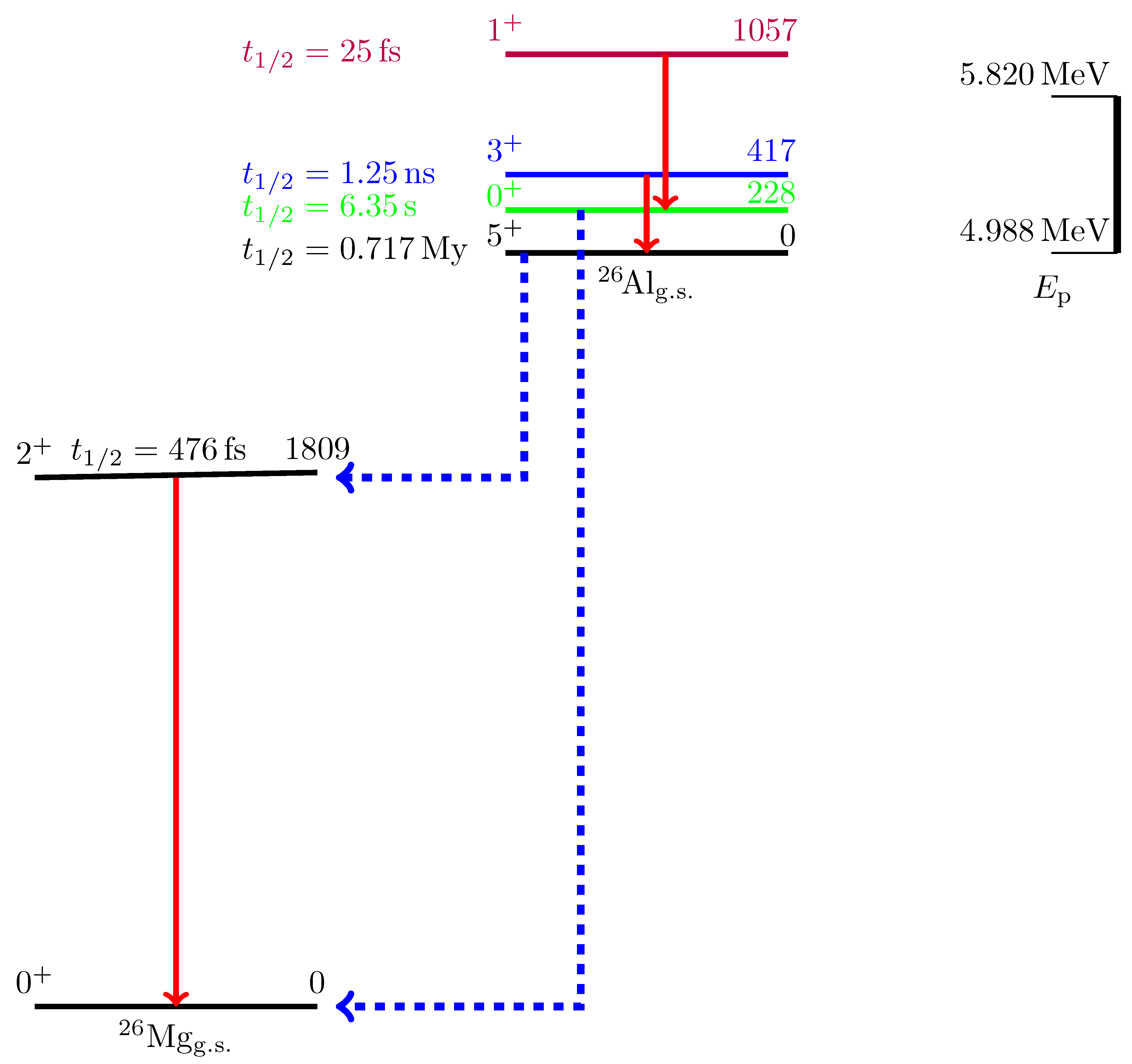 Figure 1
This is an open access article distributed under the
Creative Commons Attribution License
which permits unrestricted use, distribution, and reproduction in any medium, provided the original work is properly cited (CC BY 4.0).

Share & Cite This Article
MDPI and ACS Style
Spohr, K.M.; Doria, D.; Meyer, B.S. Theoretical Discourse on Producing High Temporal Yields of Nuclear Excitations in Cosmogenic 26Al with a PW Laser System: The Pathway to an Astrophysical Earthbound Laboratory. Galaxies 2019, 7, 4.
Note that from the first issue of 2016, MDPI journals use article numbers instead of page numbers. See further details here.
Related Articles
Comments
[Return to top]