UV Monochromatic Imaging of the Protoplanetary Nebula Hen 3-1475 Using
HST

STIS

1

Laboratory for Space Research, Faculty of Science, University of Hong Kong, Pokfulam Road, Hong Kong, China

2

Department of Physics, Faculty of Science, University of Hong Kong, Pokfulam Road, Hong Kong, China

3

Instituto de Astrofísica de Andalucía (IAA-CSIC), Glorieta de la Astronomía s/n, E-18008 Granada, Spain

4

AEGORA Research Group, Facultad de Ciencias, Universidad Complutense, E-28040 Madrid, Spain

5

Instituto de Radioastronomía y Astrofísica, UNAM Campus Morelia, Apartado Postal 3-72, Morelia 58090, Michoacán, Mexico

6

Department of Astronomy, University of Washingtgon, Seattle, WA 98 195-1580, USA

7

Departament de Física i Enginyeria Nuclear, EUETIB, Universitat Politécnica de Catalunya, E-08036 Barcelona, Spain

*

Author to whom correspondence should be addressed.

Received: 8 August 2018 / Revised: 10 December 2018 / Accepted: 11 December 2018 / Published: 14 December 2018
Abstract
Collimated outflows and jets play a critical role in shaping planetary nebulae (PNe), especially in the brief transition from a spherical AGB envelope to an aspherical PN, which is called the protoplanetary nebula (pPN) phase. We present UV observations of Hen 3-1475, a bipolar pPN with fast, highly collimated jets, obtained with STIS on board the
Hubble Space Telescope
(
HST
). The deep, low-dispersion spectroscopy enabled monochromatic imaging of Hen 3-1475 in different UV nebular emission lines; this is the first of such attempt ever conducted for a pPN. The northwest inner knot (NW1) is resolved into four components in Mg
ii
2800. Through comparison analysis with the
HST
optical narrowband images obtained 6 yr earlier, we found that these components of NW1 hardly move, despite of a negative gradient of high radial velocities, from −1550 km s
on the innermost component to ∼−300 km s
on the outermost. These NW1 knot components might thus be quasi-stationary shocks near the tip of the conical outflow of Hen 3-1475.
View Full-Text
►

▼

Figures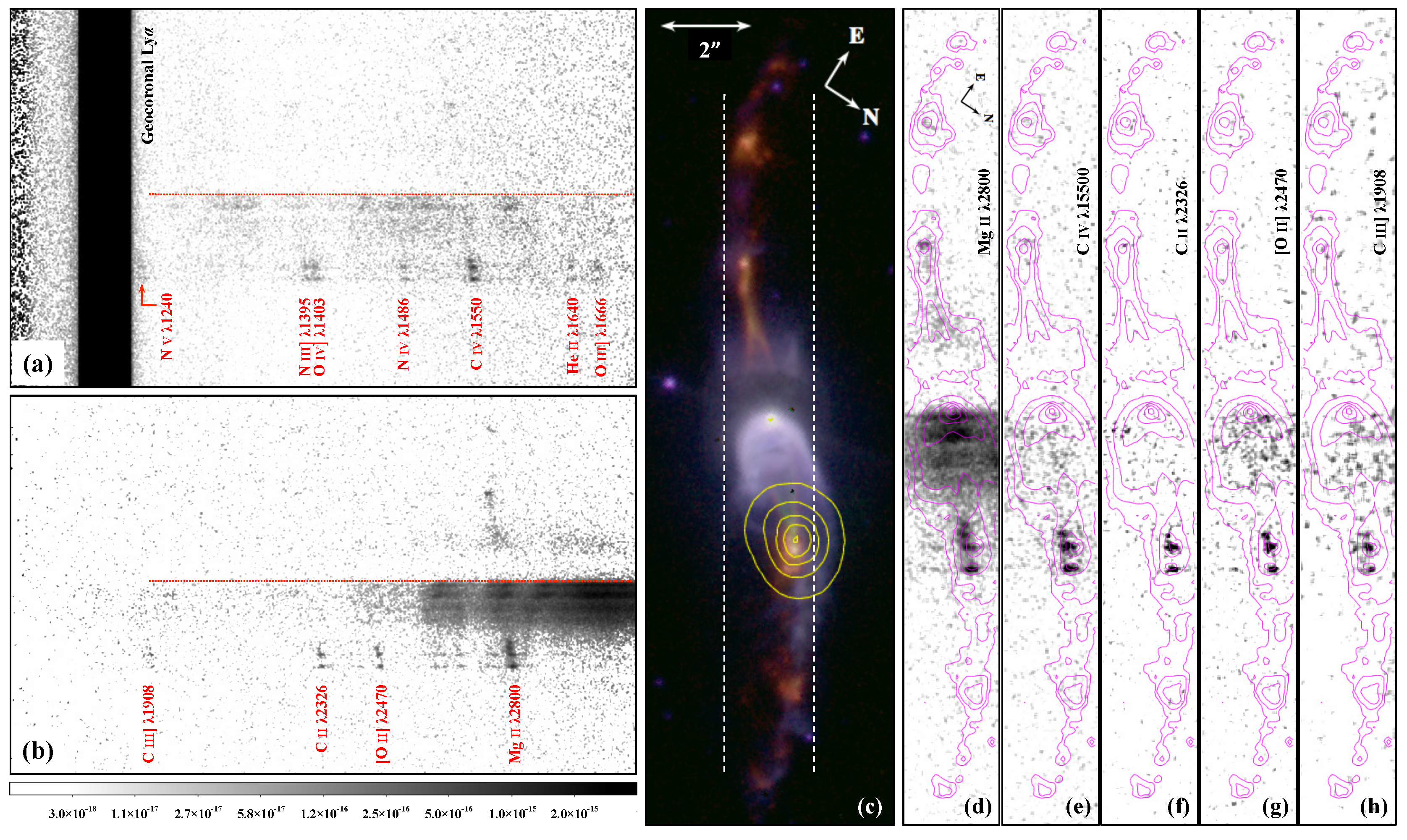 Figure 1
This is an open access article distributed under the
Creative Commons Attribution License
which permits unrestricted use, distribution, and reproduction in any medium, provided the original work is properly cited (CC BY 4.0).

Share & Cite This Article
MDPI and ACS Style
Fang, X.; Guerrero, M.A.; Gómez de Castro, A.I.; Toalá, J.A.; Balick, B.; Riera, A. UV Monochromatic Imaging of the Protoplanetary Nebula Hen 3-1475 Using HST STIS. Galaxies 2018, 6, 141.
Note that from the first issue of 2016, MDPI journals use article numbers instead of page numbers. See further details here.
Related Articles
Comments
[Return to top]