Open Access This article is
freely available
re-usable
Communication
Point-of-Care/Chairside aMMP-8 Analytics of Periodontal Diseases' Activity and Episodic Progression
1
Department of Oral and Maxillofacial Diseases, Head and Neck Center, University of Helsinki and Helsinki University Hospital, PO Box 63 (Haartmaninkatu 8), 00014 Helsinki, Finland
2
Institute for Molecular Diagnostics (IMOD), Bonner Str. 84, 42697 Solingen, Germany
3
Division of Periodontology, Department of Dental Medicine, Karolinska Institute, SE-171 77 Stockholm, Sweden
*
Author to whom correspondence should be addressed.
Received: 27 September 2018 / Accepted: 18 October 2018 / Published: 22 October 2018
Abstract
:
Traditional periodontal disease diagnostics are based mainly on clinical examination and radiographs. They assess only past tissue destruction and provide no information on the current disease status or its future progression. The objective is to find out if an active matrix metalloproteinase-8 (aMMP-8) point-of-care (PoC) test could provide a cost-effective way to get around this limitation. This cross-sectional study used 47 adolescents and 70 adults, who were clinically examined and their aMMP-8 PoC tested. The aMMP-8 PoC test results and patients' treatment need, based on the community periodontal index of treatment needs (CPITN), were compared and analyzed using Fisher's exact test. In terms of CPITN, the aMMP-8 PoC test gave no false positives for both adolescents and adults. All healthy patients got a negative test result, while a positive test result indicated periodontal treatment need correctly. Finally, there was a significant association between a patient's aMMP-8 PoC test result and his/her treatment need (
p
= 0.001 for adolescents,
p
= 0.001 for adults). In conclusion, more accurate diagnostics of periodontal diseases' activity and progression using an aMMP-8 PoC test may help to reduce oral health care costs by reducing patient overtreatment, improving patient outcome, and reducing the need for complex periodontal therapy.
Keywords:
matrix metalloproteinases; periodontal diseases; periodontitis; point-of-care testing
Author Contributions
Conceptualization of the study was done by T.S., E.S., A.M.H., D.-R.G., G.-J.v.d.S., and I.T.R. The methodology was done by T.S., G.-J.v.d.S., and I.T.R. Validation was done by G.-J.v.d.S. and I.T.R. Formal analysis was done by A.M.H., E.S., T.T., and I.T.R. Resources were acquired by T.S., A.M.H., and E.S. Data curation was done by A.M.H., E.S., and I.T.R. The original draft was written by I.T.R., T.S., and A.M.H. It was reviewed and edited by T.S., P.v.d.S., E.S., G.-J.v.d.S., D.-R.G., and T.T. Visualization was done by G.-J.v.d.S., I.T.R., T.S., and T.T. Supervision was done by T.S. Project administration was done by T.S. Funding acquisition was done by T.S and A.M.H. All authors accepted the final version of the manuscript to be submitted.
Funding
This work was financially supported by the Helsinki University Hospital Research Foundation, Finland under the grants TYH 2016251, TYH 2017251, TYH 2018229, TYH 2019319, Y1014SL017, and Y1014SL018 and the Karolinska Institutet, Stockholm, Sweden.
Conflicts of Interest
Timo Sorsa is an inventor of US-patents 5652227, 5736341, 5866432, and 6143476. Timo Sorsa and Dirk-Rolf Gieselmann are inventors of patent 20170023571. Other authors report no conflict of interest.
Figure 1.
Distribution of the aMMP-8 point-of-care (PoC)/chairside test results according to patients' treatment need, determined by a patient's highest CPITN score found in six sextants [
9
,
10
]. Percentage of positive and negative test results per CPITN score groups is displayed over each column. (
a
) Adolescents,
n
= 47 (aged 15–17, described by Heikkinen et al. [
11
]). (
b
) Adults,
n
= 70 (aged 27–88, collected from the database of 15,000 patients of Finnish dental health care company called Oral Hammaslääkärit). TS− = aMMP-8 PoC test negative, TS+ = aMMP-8 PoC test positive, CPITN = community periodontal index of treatment needs.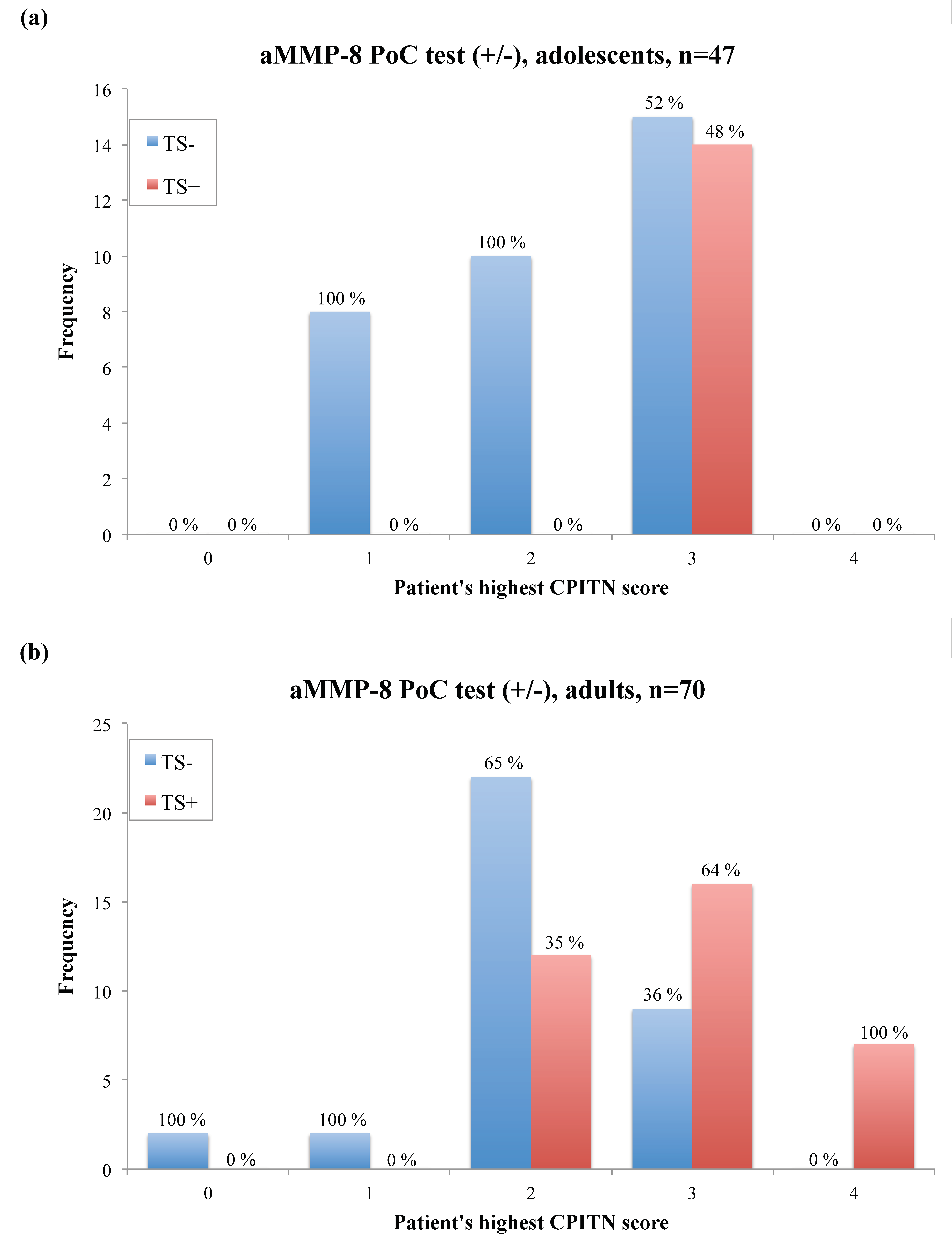 © 2018 by the authors. Licensee MDPI, Basel, Switzerland. This article is an open access article distributed under the terms and conditions of the Creative Commons Attribution (CC BY) license (http://creativecommons.org/licenses/by/4.0/).