Open Access This article is
freely available
re-usable
Review
New Applications of High-Resolution Analytical Methods to Study Trace Organic Compounds in Extraterrestrial Materials
1
Research Center for Planetary Trace Organic Compounds, Kyushu University, 744 Motooka, Nishi-ku, Fukuoka 819-0395, Japan
2
Department of Earth and Planetary Sciences, Kyushu University, 744 Motooka, Nishi-ku, Fukuoka 819-0395, Japan
3
Graduate School of Pharmaceutical Sciences, Kyushu University, 3-1-1 Maidashi, Higashi-ku, Fukuoka 812-8582, Japan
*
Author to whom correspondence should be addressed.
Received: 4 June 2019 / Accepted: 22 July 2019 / Published: 26 July 2019
Abstract
:
Organic compounds are present as complex mixtures in extraterrestrial materials including meteorites, which may have played important roles in the origin of life on the primitive Earth. However, the distribution and formation mechanisms of meteoritic organic compounds are not well understood, because conventional analytical methods have limited resolution and sensitivity to resolve their molecular complexity. In this study, advanced instrumental development and analyses are proposed in order to study the trace organic compounds of extraterrestrial materials: (1) a clean room environment to avoid organic contamination during analysis; (2) high-mass-resolution analysis (up to ~150,000
m/Δm
) coupled with high-performance liquid chromatography (HPLC) in order to determine the elemental composition using exact mass for inferring the chemical structure; (3) superior chromatographic separation using a two-dimensional system in order to determine the structural and optical isomers of amino acids; and (4) in situ organic compound analysis and molecular imaging of the sample surface. This approach revealed a higher complexity of organic compounds with a heterogeneous distribution in meteorites. These new methods can be applied to study the chemical evolution of meteoritic organic compounds as well as the molecular occurrence in very-low-mass extraterrestrial materials such as asteroid-returned samples.
Keywords:
extraterrestrial materials; high mass resolution; high-resolution chromatography; in situ analysis; molecular imaging; enantiomeric amino acids
1. Introduction
Organic compounds are distributed widely in natural environments, and are characterized by their diverse chemical structures. The occurrence of organic molecules in astrobiological samples such as meteorites is critical to understand the chemical evolution and biological activity in the universe. In particular, primitive asteroids and comets may have contributed to the delivery of organic matter and water to the primitive Earth. In 2010, the Hayabusa spacecraft successfully returned to Earth with surface grains from asteroid 25143 Itokawa, and this asteroid-return sample has allowed for the investigation of a direct relationship between asteroids and meteorites. Based on chemical and isotopic analyses, the grains of Itokawa are equivalent to LL5-6 ordinary chondrite [
1
,
2
]. However, although the water content of the Itokawa grains has been reported [
3
], no indigenous organic matter has yet been discovered from the Itokawa samples [
4
]. In 2018, the Hayabusa2 spacecraft reached asteroid Ryugu (a C-type asteroid, carbonaceous meteorite equivalent), to collect surface samples, which will be delivered to Earth in late 2020.
Organic compounds in geochemical samples are frequently analyzed by mass spectrometry coupled with chromatography. However, extraterrestrial organic compounds are typically present in very low concentrations, yet occur as very complex mixtures. Compounding this problem, the quantity of material obtained by sample-return missions from asteroids is extremely limited. Hence, in order to obtain detailed information concerning asteroidal organic compounds, the development of ultra-high-sensitivity and resolution analyses is required. As terrestrial organic contaminants are common in routine laboratory conditions, analytical procedures must be performed under clean conditions to avoid terrestrial contamination. Moreover, non-destructive organic analysis is preferred in order to preserve precious sample material for possible future additional study.
The Research Center for Planetary Trace Organic Compounds (PTOC) of Kyushu University is dedicated to the study of trace organic compounds under clean conditions. In this article, we will introduce the development of analytical methods for meteoritic organic compounds at the PTOC Center: (1) clean room technology; (2) high-mass-resolution mass spectrometry; (3) superior chromatographic separation; and (4) in situ organic compound analysis with molecular imaging.
3. Sample and Analytical Procedures
4. Results and Discussion
4.1. NanoLC/HRMS
The total ion current (TIC) chromatogram of nanoLC/HRMS analysis with its mass spectrum is shown in
Figure 4
. Many of the intense peaks were assigned to C
n
H
m
N
2
+
and C
n
H
m
N
+
chemical compositions within the mass precision of 5 ppm. In particular, the C
n
H
2

n

−1
N
2
+
and C
n
H
2

n

−6
N
+
series were predominant, and their original chemical compositions were C
n
H
2

n

−2
N
2
and C
n
H
2

n

−7
N, respectively, given the protonation during ionization, which would be assigned to alkylated imidazoles and pyridines, respectively. The occurrence of these CHN homologous compounds were very similar to that of the Murchison extract in a previous study using conventional HPLC/HRMS with ESI [
10
]. Approximately 800 mg of powder of the Murchison meteorite was used in the previous study [
10
], but this study used only ~50 μg of sample grain (i.e., more than four orders of magnitude less sample material). The single small grain of sample was directly soaked in a very small volume of methanol (5 μL), and the simple preparation procedure required less time. However, the nanoLC/HRMS signal intensity showed more fluctuation compared to the conventional HPLC/HRMS analysis due to the lower nanoLC/HRMS signal intensity. Moreover, the mass precision (typically up to 5 ppm) of this study was a little lower than that of the previous conventional HPLC/HRMS analysis (approx. 1 ppm) [
10
].
The mass chromatograms of the alkylated homologues of C
n
H
2

n

−1
N
2
+
and C
n
H
2

n

−6
N
+
series are shown in
Figure 5
. Using reverse-phase C18 column chromatography, the homologous compounds showed regular chromatographic shifts, where the longer alkyl-chain homologues exhibited longer retention times with increasing hydrophobicity. This systematic chromatographic shift indicates that the core structures (imidazole and pyridine) were identical for these homologues with different alkyl chain lengths. Moreover, the alkylimidazoles were more abundant than the alkylpyridines in this study of the Murchison meteorite (
Figure 4
), in contrast to the previous study which found that the alkylpyridines were more abundant than the alkylimidazoles [
10
]. The different relative abundance of alkylpyridines vs. alkylimidazoles for differently-sized sub-samples both taken from the Murchison meteorite implies a heterogeneity of both the absolute abundances of CHN compounds, and also a heterogeneity of the relative abundances of CHN compounds on a small scale of sampling (confirmed by DESI/HRMS analysis, below).
4.2. Enantiomer Distribution of Amino Acids
Eight chiral amino acids were chosen as targets in this study: alanine (Ala), valine (Val), 2-aminobutyric acid (2AB), norvaline (nVal),
N
-methylalanine (
N
-MeAla), isovaline (iVal),
N
-ethylalanine (
N
-EtAla), and
N
-methy-2-aminobutyric acid (
N
-Me2AB). In both powder and grain samples, proteinogenic amino acids (Ala and Val) showed a strong L-enrichment, which is similar to the recent result measured by GC/MS [
19
], and it is likely that the L-rich proteinogenic amino acids were contributed from terrestrial contamination prior to the analysis. In contrast, most non-proteinogenic amino acids showed an almost 50/50 ratio of D/L enantiomeric distribution, with 2AB being relatively abundant and clearly present as racemic mixtures (
Figure 6
).
The grain-level amino acid analysis showed heterogeneous concentrations of 2AB (4 to 13 nmol/g). Although three grains (Nos. 1, 2, and 4) yielded close to a 50/50 D/L ratio of 2AB, one sample (No. 3) showed L enrichment (
Figure 6
). This result may suggest a heterogeneous distribution of 2AB enantiomers in the Murchison meteorite, and is consistent with previously reported results [
20
,
21
,
22
]. Further detailed examination is needed to confirm the possible spatial distribution of the enantiomeric excess in extraterrestrial materials, and will require analytical methods such as those developed in this study which can facilitate examination of the enantiomer distribution using microgram-sized samples.
4.3. DESI/HRMS Analysis
The spatial distribution of some CHN compounds in the Murchison meteorite measured by DESI/HRMS is shown in
Figure 7
. The alkylated homologues of the C
n
H
2

n

−1
N
2
+
(alkylimidazole) and C
n
H
2

n

−6
N
+
(alkylpyridine) series were the most abundant CHN compounds, consistent with the nanoLC/HRMS analyses. These CHN compounds were observed to be distributed heterogeneously in the matrix, and all of the homologues in each homologous CHN series had the same spatial distribution—that is, all of the alkylimidazole compounds were co-located with the other alkylimidazole compounds, and all of the alkylpyridine compounds were co-located with the other alkylpyridine compounds. This study of the Murchison meteorite found that the alkylimidazole and alkylpyridine compounds were co-located with each other (i.e., these two homologous CHN series were co-located). This is in contrast with a previous DESI/HRMS study of the Murray meteorite, which found that the alkylimidazole and alkylpyridine compounds occurred in different locations—that is, these two homologous CHN series were not co-located [
17
]. Furthermore, a previous DESI/HRMS study of the Murchison meteorite found only alkylimidazole compounds, and no alkylpyridine compounds were detected [
18
].
These different spatial distributions for the different CHN homologous series in the Murray and Murchison meteorites might be attributed to differential fluid activity associated with minerals in the matrix or to different reaction processes for the CHN compounds on the parent bodies. Further DESI/HRMS chemical imaging will improve our understanding of organic compound distributions with respect to mineral interactions and/or reaction processes in meteorites.
5. Applications
The technical development of analytical instrumentation will allow for the improved identification of organic compounds with more sensitivity compared to current analyses, and will advance comprehensive studies of the formation pathways and origins of extraterrestrial organic compounds. Furthermore, the new techniques will allow for the definitive identification of organic compounds in greatly reduced sample sizes (using micrograms of sample vs. current milligram requirements) under clean conditions to avoid terrestrial contamination, and will contribute to the successful analysis of the future sample-return mission from asteroid Ryugu by the Hayabusa2 spacecraft.
The Hayabusa2 spacecraft was launched on 3 December 2014, and arrived at asteroid 162173 Ryugu in August, 2018. The Ryugu asteroid has a surface with C-type reflectance spectra, suggesting that the asteroid surface is mainly composed of materials similar to that of carbonaceous chondrites, and the presence of hydrous minerals was confirmed by near-infrared spectroscopy (2.72 μm in wavelength) [
23
]. The first touch-and-go sampling was successfully performed on 22 February 2019, and the second sampling was also successful on 11 July 2019. The Hayabusa2 spacecraft will deliver the collected sample material to Earth in December, 2020.
The initial analysis of the Ryugu samples will focus on: (1) the detailed chemical and mineralogical characterization of the samples; (2) understanding the history of Ryugu and the Solar System in order to maximize the scientific achievement of the project; and (3) to prove the scientific potential of the samples to the community and demonstrate the analytical opportunities that are available [
24
]. A comprehensive study of soluble organic matter is planned by an international team for the initial analysis of the returned samples, in order to reveal the chemical evolution of Ryugu using high-sensitivity and high-resolution analytical methods as follows:
(1)

High-resolution mass spectroscopy (HRMS) of various solvent extracts with electrospray ionization coupled with or without nano-liquid chromatography;

(2)

DL-amino acid analysis using high-resolution column chromatography with high-sensitivity fluorescence spectroscopy coupled with HRMS; and

(3)

In situ organic compound analysis and molecular imaging using DESI/HRMS.
6. Conclusions
New analytical techniques have been developed to study extraterrestrial organic compounds available in very limited quantities, especially for asteroidal materials returned by spacecraft. Clean room technology is essential to avoid terrestrial contamination and minimize the analytical background for the trace analysis. High-mass-resolution mass spectroscopy is very useful to definitively identify specific organic compounds from a very complex matrix of organic compounds. High-resolution and/or multi-dimensional chromatography can separate the complex organic compounds of structural and stereo isomers, and can reduce background signals. DESI/HRMS can provide in situ compound analysis with molecular mapping. These methods also provide high sensitivity, and sometimes non-destructive analysis, of these precious small and very-limited-quantity samples, such as the samples to be returned to Earth from the asteroid Ryugu by the Hayabusa2 spacecraft.
Author Contributions
H.N. designed this study and wrote the paper. H.N. performed nanoLC/HRMS analysis. Y.S. and K.H. performed 2D-HPLC analysis. M.H. and H.N. performed DESI/HRMS analysis.
Funding
This research was funded by Grant-in-Aid for Scientific Research (S) of Japan Society for the Promotion of Science (JSPS Grant No. JP15H05749).
Acknowledgments
Simon Poulson is acknowledged for improvement of the manuscript. Two anonymous reviewers' comments were invaluable in revising the manuscript.
Conflicts of Interest
The authors declare no conflict of interest.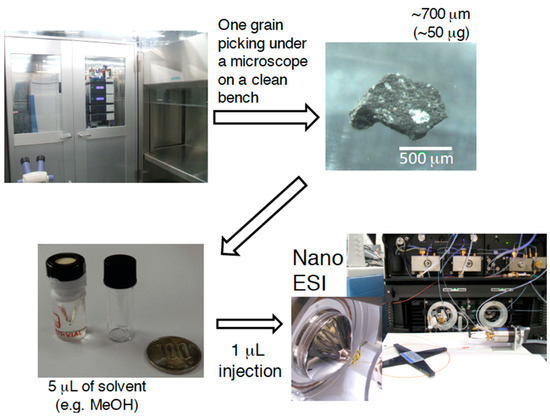 Figure 1. One grain analysis for the methanol extract of the Murchison meteorite by nanoLC-nanoESI/HRMS.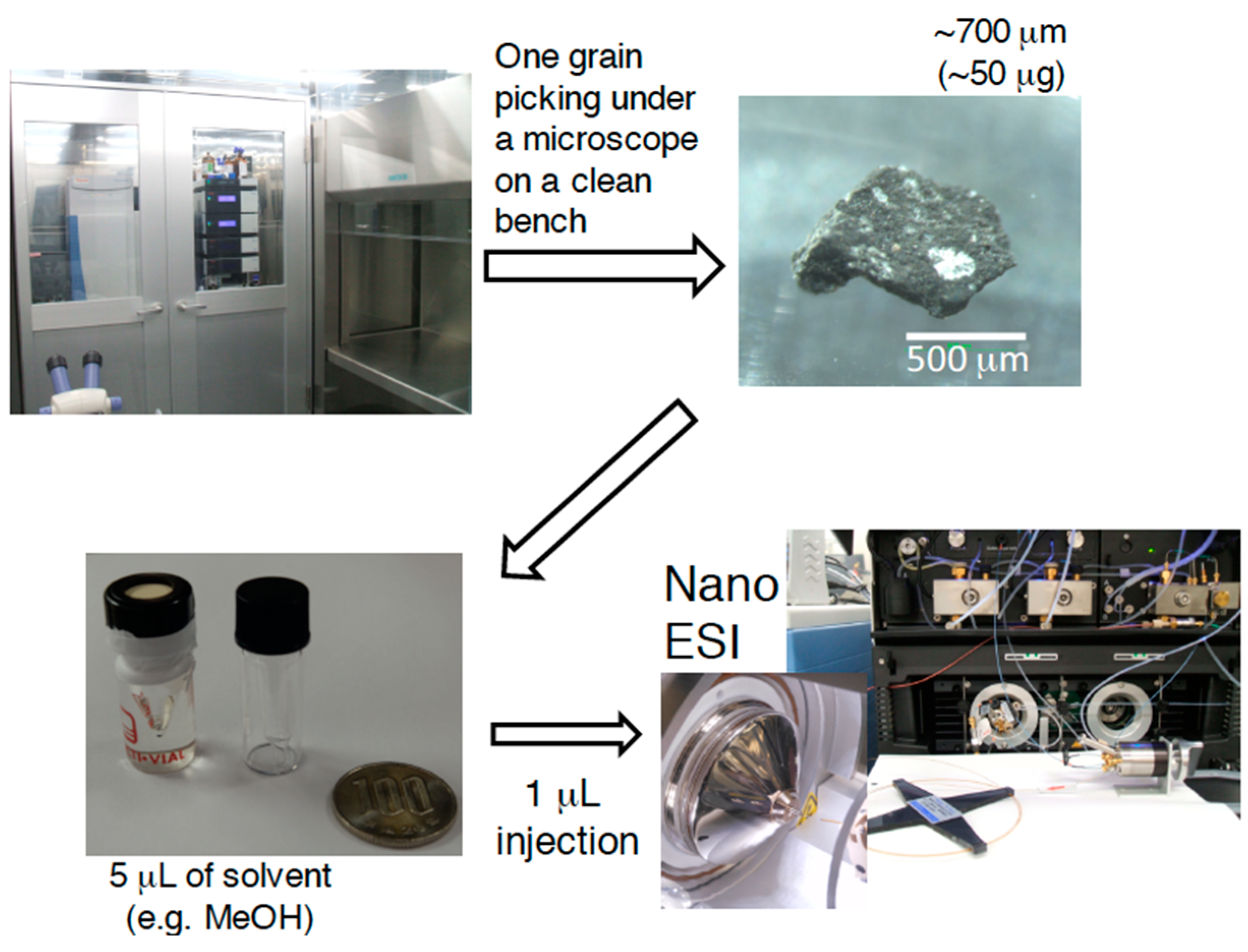 Figure 2. Schematic flow diagram of 2D-HPLC for enantiomeric analysis of trace amino acids. MP, mobile phase; P, pump; AS, auto sampler; CO, column oven; FLD, fluorescence detector; HPV, high-pressure valve; W, waste. C1: Column 1, Capcell Pak C18 ACR S3 (1.5 mm i.d. × 1000 mm, 45 °C); C2: Column 2, KSAACSP-001S (1.5 mm i.d. × 250 mm, 25 °C).

Figure 3. Molecular imaging on the surface of the Murchison meteorite by desorption electrospray ionization/high-resolution mass spectrometry (DESI/HRMS) under ambient conditions in the clean room of the Research Center for Planetary Trace Organic Compounds (PTOC). HV denotes high voltage.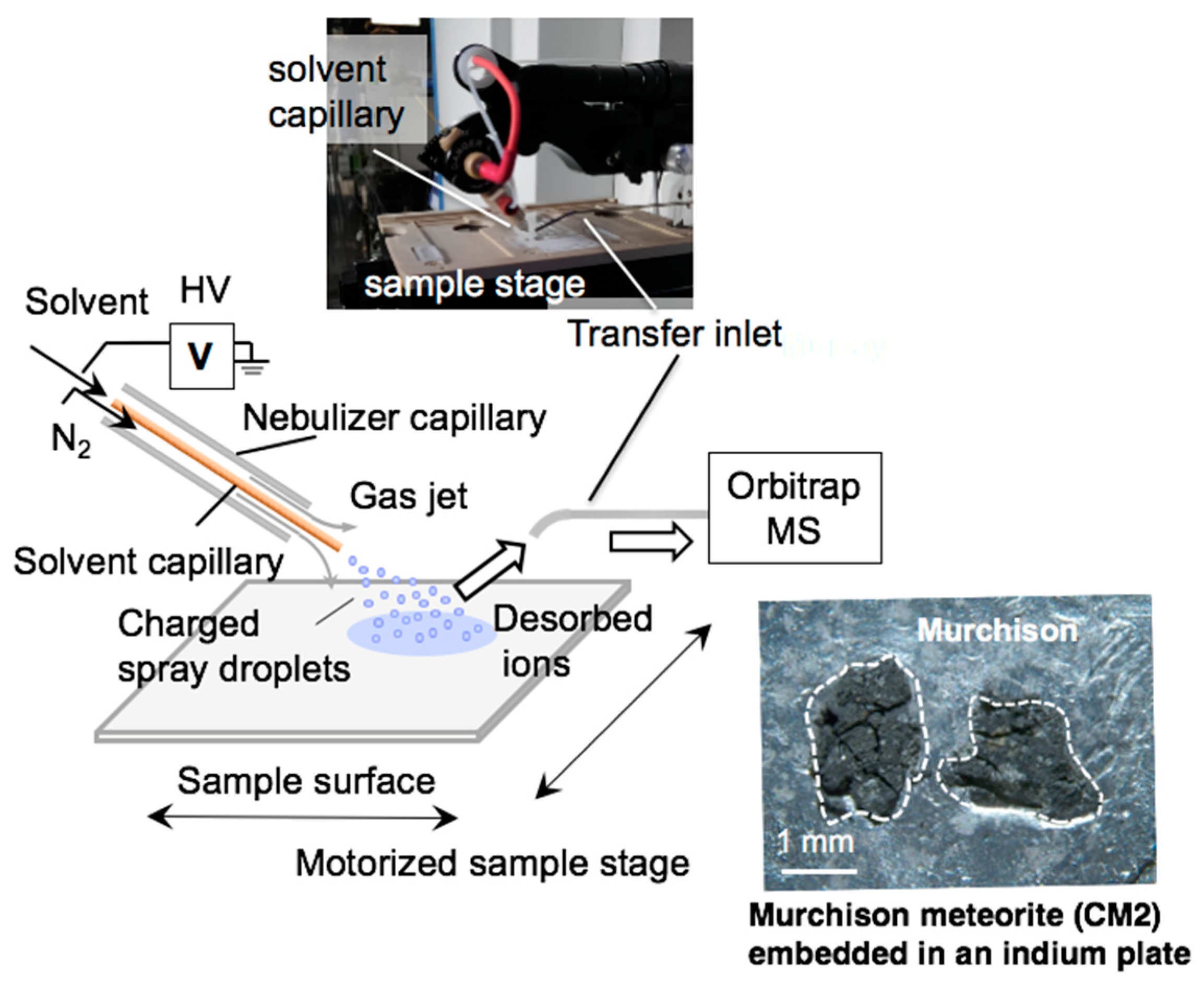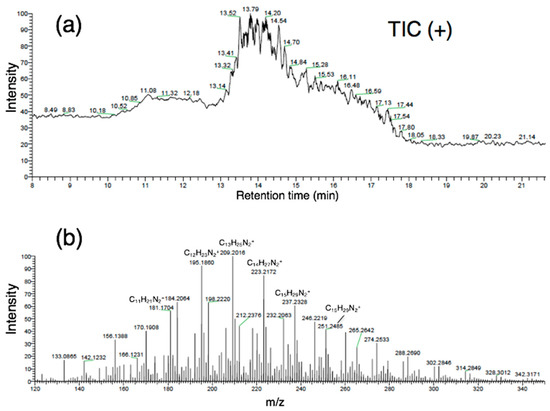 Figure 4. (a) Total ion current (TIC) chromatogram and (b) its mass spectrum obtained from one grain (~50 μg) of the Murchison meteorite by nanoLC/HRMS.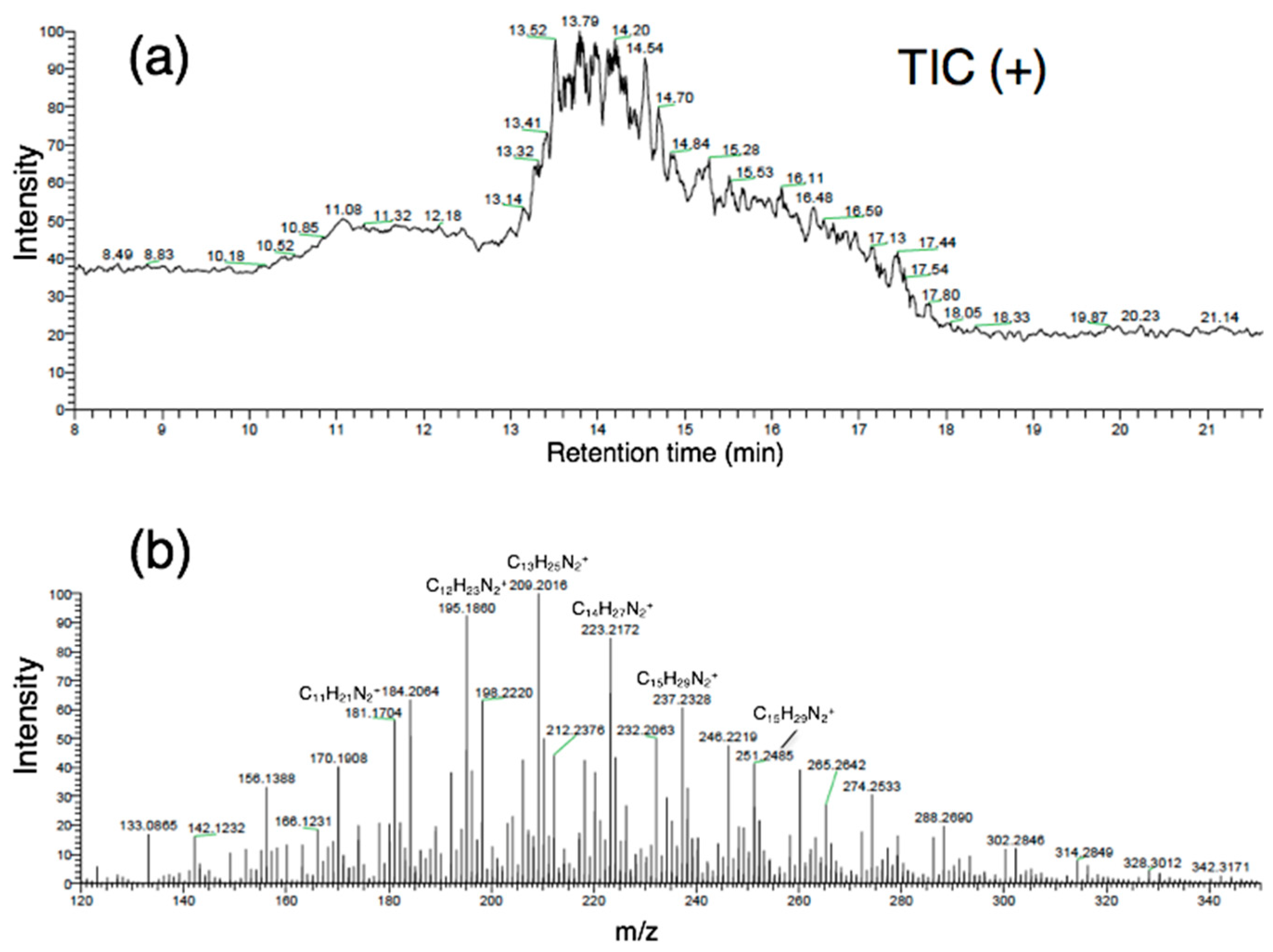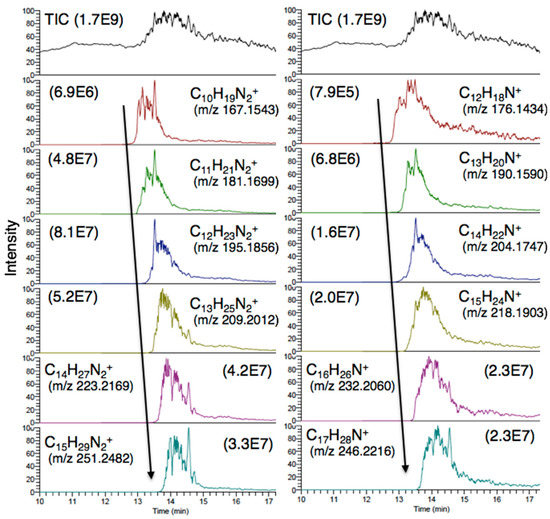 Figure 5.
Mass chromatograms of C
n
H
2

n

−1
N
2
+
series (
left
) and C
n
H
2

n

−6
N
+
series (
right
) by nanoLC/HRMS of the methanol extract from one grain (~50 μg) of the Murchison meteorite. Numbers in parentheses denote the intensity of the total ion current (TIC) for each ion (
m/z
). Note that the longer alkyl-chain homologues exhibited longer retention times with increasing hydrophobicity using reverse-phase C18 column chromatography.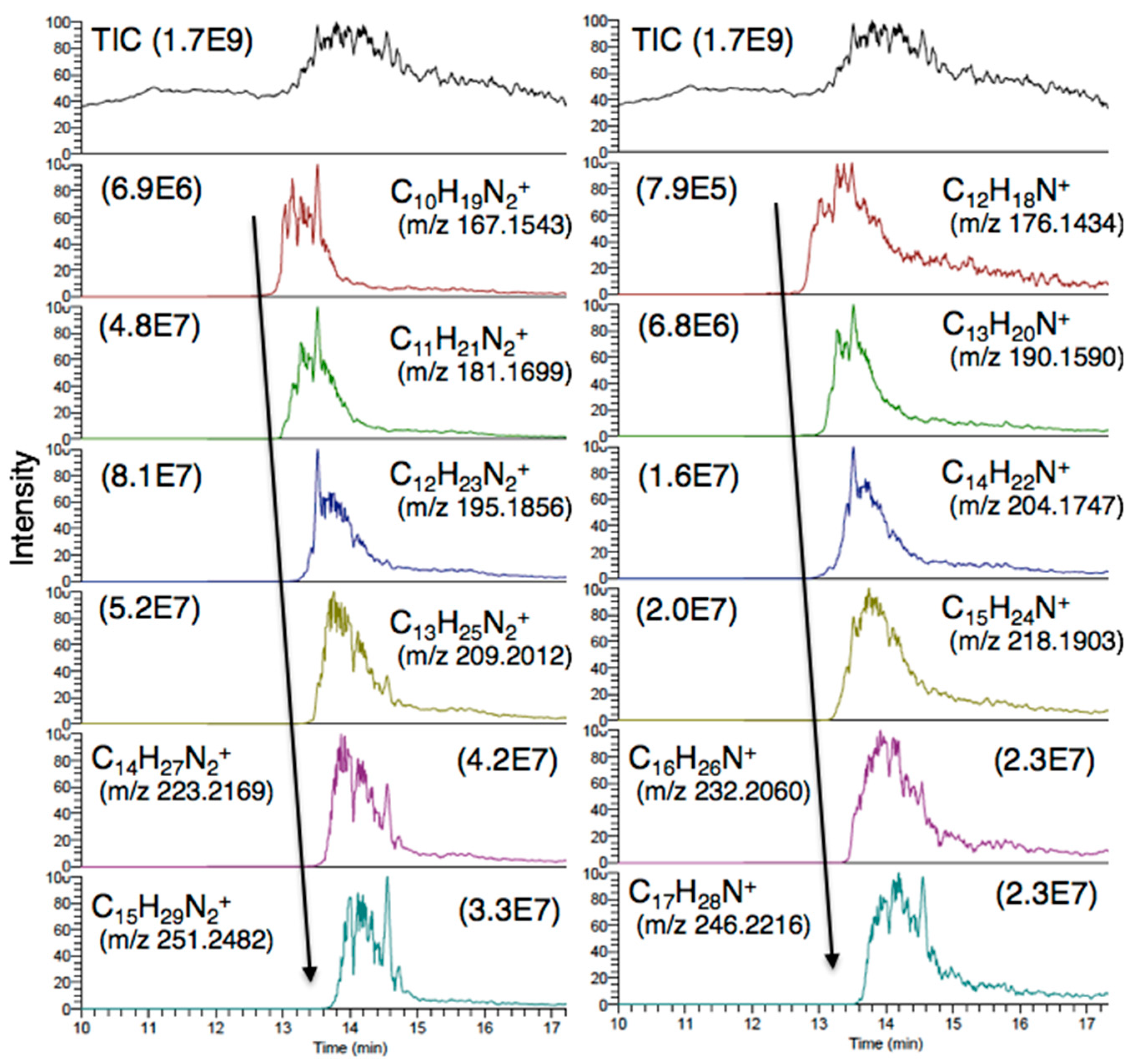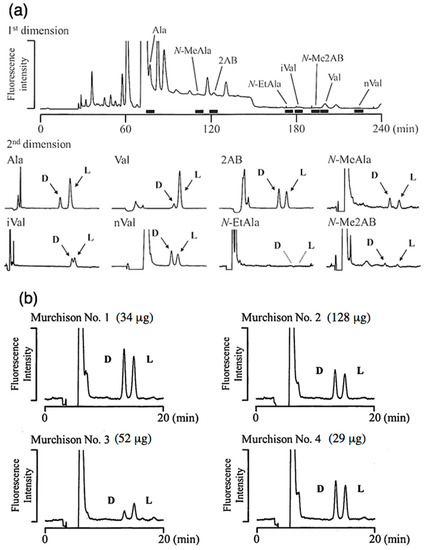 Figure 6. 2D-HPLC separation of amino acid enantiomers in the Murchison meteorite by high-sensitivity fluorescence detection. (a) Chromatograms of eight enantiomeric amino acids using 2.11 mg of powder sample, and (b) the enantiomeric distribution of 2-amino butyric acid (2AB) from the four fragments (34–128 μg).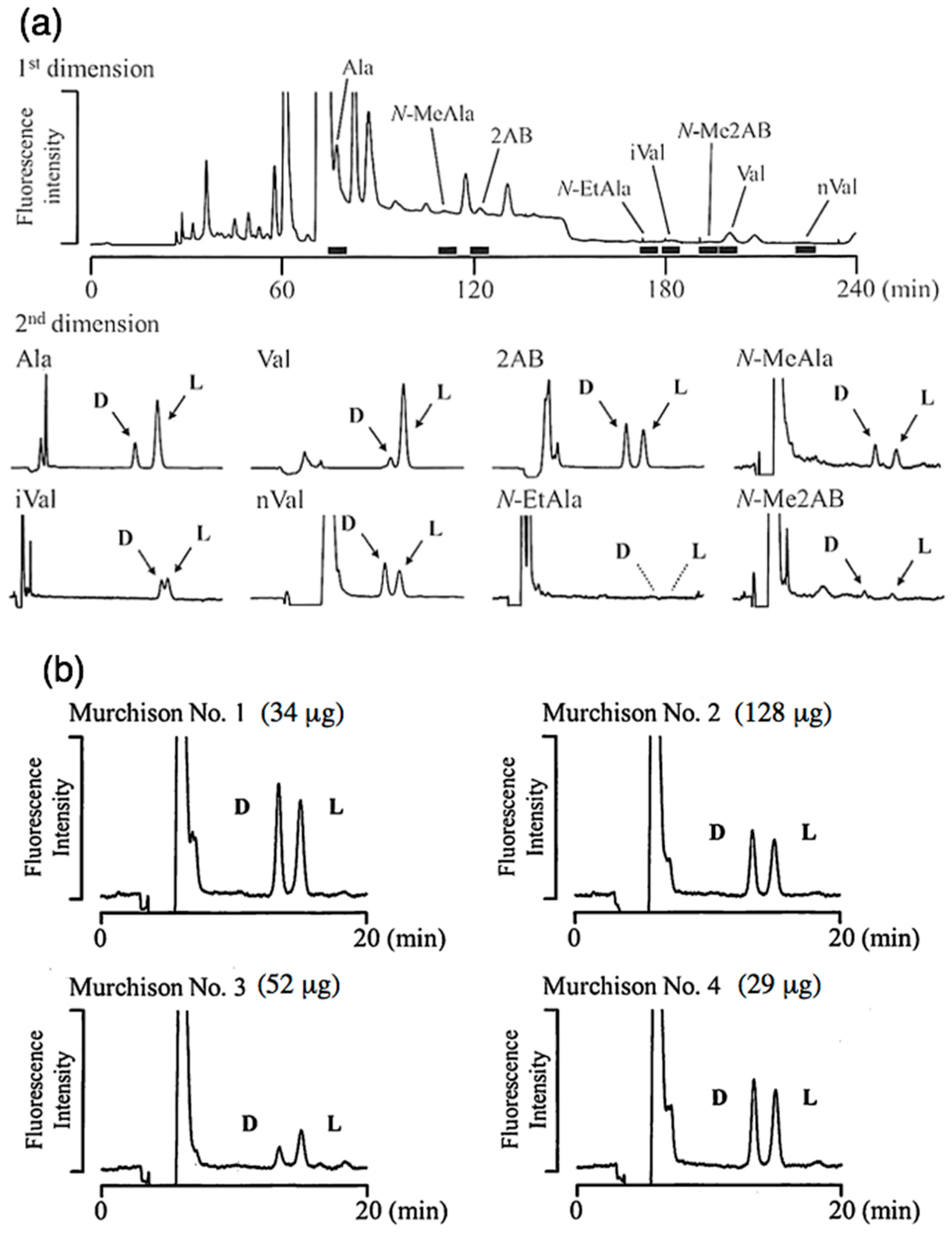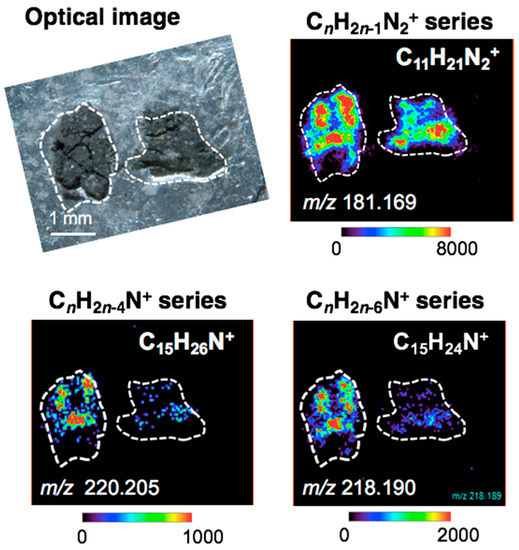 Figure 7.
Spatial distribution of CHN compounds in the Murchison meteorite revealed by DESI/HRMS. The spatial distribution of C
n
H
2

n

−1
N
2
+
, C
n
H
2

n

−4
N
+
, and C
n
H
2

n

−6
N
+
—corresponding to alkylimidazoles, unsaturated-, and saturated-alkylated pyridines, respectively—is similar. Color bars show ion intensity (note that scales are different for the three CHN series).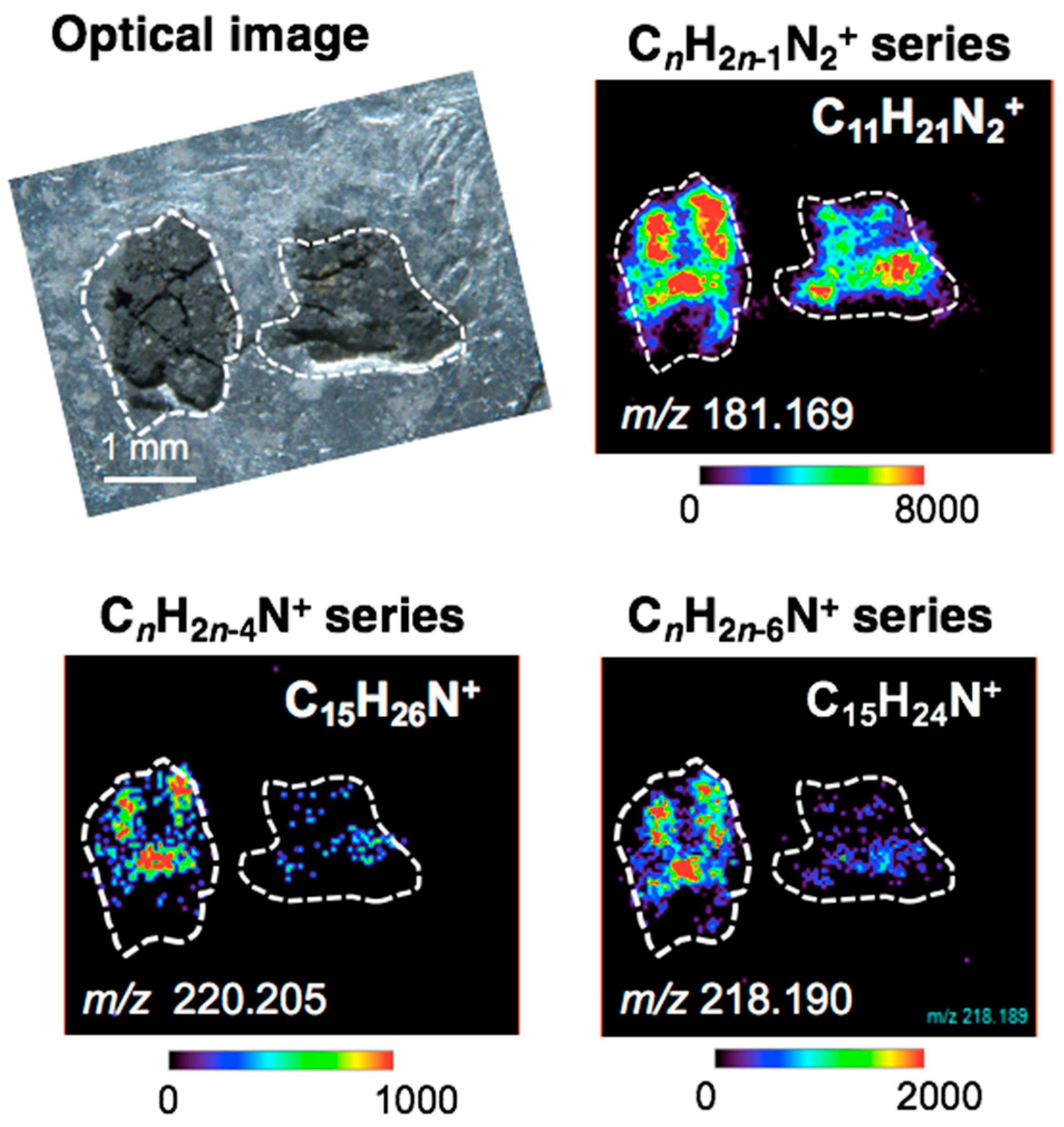 © 2019 by the authors. Licensee MDPI, Basel, Switzerland. This article is an open access article distributed under the terms and conditions of the Creative Commons Attribution (CC BY) license (http://creativecommons.org/licenses/by/4.0/).