Open Access This article is
freely available
re-usable
Article
Wet-Dry Cycling Delays the Gelation of Hyperbranched Polyesters: Implications to the Origin of Life
Earth-Life Science Institute, Tokyo Institute of Technology, Meguro, Tokyo 152-8550, Japan
Received: 7 May 2019 / Accepted: 28 June 2019 / Published: 1 July 2019
Abstract
:
In extant biology, biopolymers perform multiple crucial functions. The biopolymers are synthesized by enzyme-controlled biosystems that would not have been available at the earliest stages of chemical evolution and consist of correctly sequenced and/or linked monomers. Some of the abiotic "messy" polymers approximate some functions of biopolymers. Condensation polymers are an attractive search target for abiotic functional polymers since principal polymers of life are produced by condensation and since condensation allows for the accurate construction of high polymers. Herein the formation of hyperbranched polyesters that have been previously used in the construction of enzyme-like catalytic complexes is explored. The experimental setup compares between the branched polyesters prepared under mild continuous heating and the wet-dry cycling associated with environmental conditions, such as dew formation or tidal activities. The results reveal that periodic wetting during which partial hydrolysis of the polyester occurs, helps to control the chain growth and delays the gel transition, a mechanism contributing to the tar formation. Moreover, the NMR and mass spec analyses indicate that continuously dried samples contain higher quantities of crosslinked and macrocyclic products, whereas cycled systems are enriched in branched structures. Ostensibly, environmental conditions have the ability to exert a rudimentary pressure to selectively enrich the polyesterification products in polymers of different structures and properties. At the early stages of chemical evolution, in the absence of biological machinery, this example of environmental control could have been for selectivity in chemical systems. As expected in marginally controlled systems, the identification of each component of the heterogeneous system has proved challenging, but it is not crucial for drawing the conclusions.
Keywords:
hyperbranched polyester; functional polymer; chemical evolution; wet-dry cycle; gelation prevention; condensation polymer; origin of life
2. Materials and Methods
Reagent grade citric acid and glycerol were purchased from Sigma-Aldrich and used without further purification.
A typical polyesterification reaction was conducted starting with 5ml of an aqueous solution containing 330 mM of citric acid and 660 mM glycerol. The pH of the solution was not adjusted; the pH was measured at 2 and remained unchanged throughout the polymerization process. The samples undergoing wet-dry cycle were allowed to air dry for 48 h at 85 °C, reconstituted, and incubated for 48 h at 75 °C. Sample tubes were removed at the end of first, second, fourth, and eighth periods of both wetting and drying. Continuously dried samples were allowed to air dry and incubated at 85 °C and sampled after 48, 96, 192, and 384 h. An additional sealed sample was incubated for 384 h. Schematic representation of the incubation and sampling schedule is depicted in
Scheme 2
. Prior to analysis, the dry samples were reconstituted and stirred at room temperature for 12 h. Aliquots were collected from all solutions, freeze dried, and dissolved in appropriate solvents.
For size exclusion chromatography (SEC) analysis, the reconstituted dry and wet samples were diluted 1:1 in deionized water. The analysis was performed on an Advanced Polymer Chromatography system (Waters Corporation, Manchester, UK) interfaced with a UV-vis detector equipped with Acquity APC AQ column [125 Å, 2.5 μm, 4.6 mm Å~ 30 mm, Waters Corp] and Acquity APC XT column (125 Å, 2.5 μm, 4.6 mm Å~ 30 mm, Waters Corp). An isocratic flow of 0.500 mL min−1 using H2O or 80%/20% THF/Methanol was utilized. The column temperature was set at 40 °C.
MALDI-MS spectra were collected on an ultrafleXtreme Bruker Daltonics MALDI-TOF-MS (Bruker Corporation, Billerica MA, USA) in positive ion mode. External mass calibration was conducted using standard peptide mixtures. Sample preparation matrix (trans-2-(3-(4-tert-butylphenyl)-2-methyl-2-propenylidene)malononitrile or (DCTB)) was dissolved 80%/20% THF/Methanol. Subsequently, the freeze-dried samples and the matrix were mixed at a 1:10 [
v
/
v
] ratio in advance and then the mixture was applied to the plate before analysis. ESI-MS spectra were collected on a Bruker micrOTOF II (Bruker Corporation, Billerica MA, USA) in positive ion mode. The samples were dissolved in 80%/20% THF/Methanol.
1H Nuclear Magnetic Resonance [NMR] spectra were recorded on a Bruker Avance 400 spectrometer (Bruker Corporation, Billerica MA, USA) at 25 °C. The spectra were collected employing 30° inversion pulses with 11s acquisition time, and 1s recycle delay.
5. Conclusions
The results described above describe the polymerization ion citric acid-glycerol polyester formation to form a branched polyester. The polymerization was conducted under continuous drying and subjected to wet-drying cycles. The continuous drying yielded an insoluble glass-like swellable in water product after 48 h. In contrast, the system subjected to wet-dry cycling yielded a water-soluble product after 768-h experiment. The NMR studies indicated that the insoluble product was enriched in citric acid, a stoichiometry that favors crosslinking. While the analysis has proven challenging as expected in abiotic mixtures with significant heterogeneous content, the two experimental setups have produced polymeric products with different properties. In branched systems, the intermittent wetting has provided means to control the chain growth and delayed the gel transition. The described system is a model for further exploration of the formation of functional polymers under prebiotically plausible conditions.
Supplementary Materials
The following are available online at
https://www.mdpi.com/2075-1729/9/3/56/s1
, Figure S1: Normal phase SEC analysis of the citric acid glycerol polymerization products, Figure S2: ESI mass spectra Figure S3: 1H NMR spectra of citric acid glycerol polymerization controls.
Funding
This research was supported by Kakenhi Kiban C grant # 17K01943, MEXT, Japan and World Premier International Research Center Initiative [WPI], MEXT, Japan.
Acknowledgments
I thank Yuki Suna and Kugako Sugimoto for the technical support, Nicholas Guttenberg and Nathaniel Virgo for helpful discussions, and Naohiro Yoshida for the use of his NMR spectrometer.
Conflicts of Interest
The author declares no conflict of interest.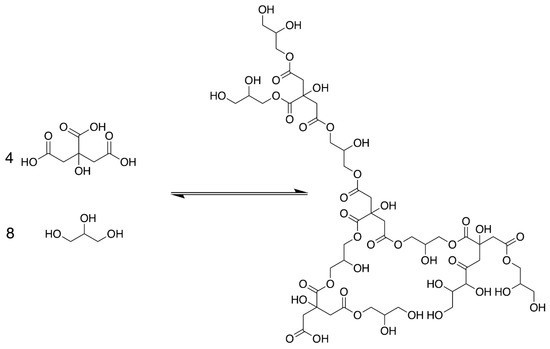 Scheme 1. Schematic representation of citric acid and glycerol polyesterification. The formation of one of the possible oligomers comprised from four citric acid and eight glycerol monomers is depicted. The polymerization is of A3 + B3 type. Here A refers to carboxylic acid groups, B refers to alcohol groups, subscript refers to the number of the functional group in each monomer.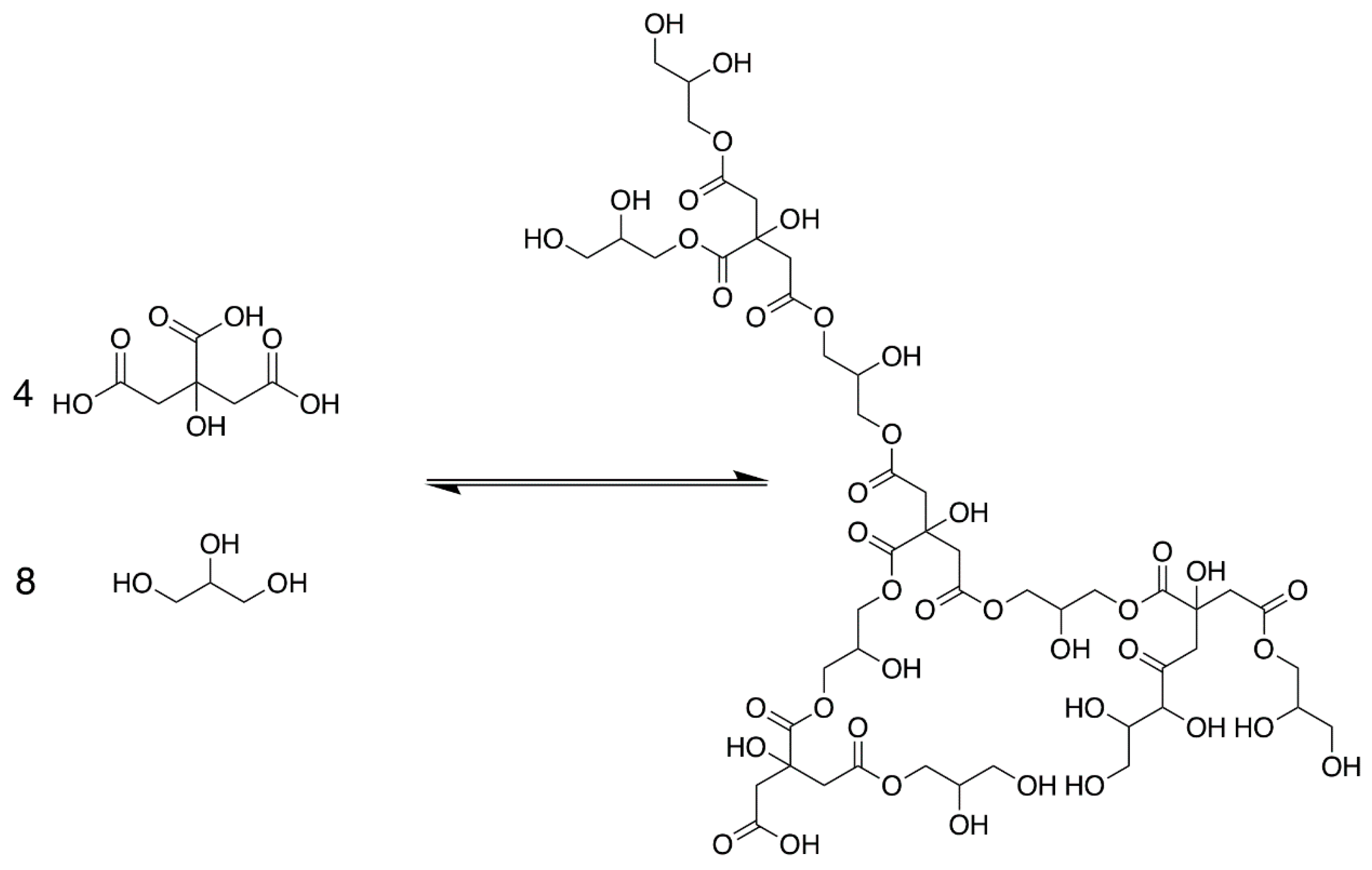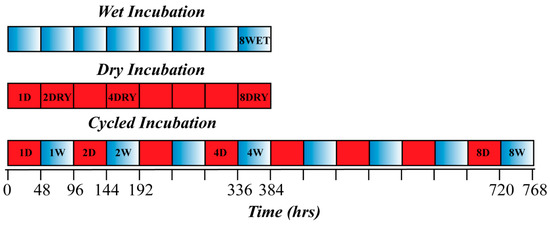 Scheme 2. Schematic representation of experimental setup and the sampling schedule. Red squares represents the dry heating period, blue-shaded squares represent the wet incubation period. The samples were collected at the end of labeled periods.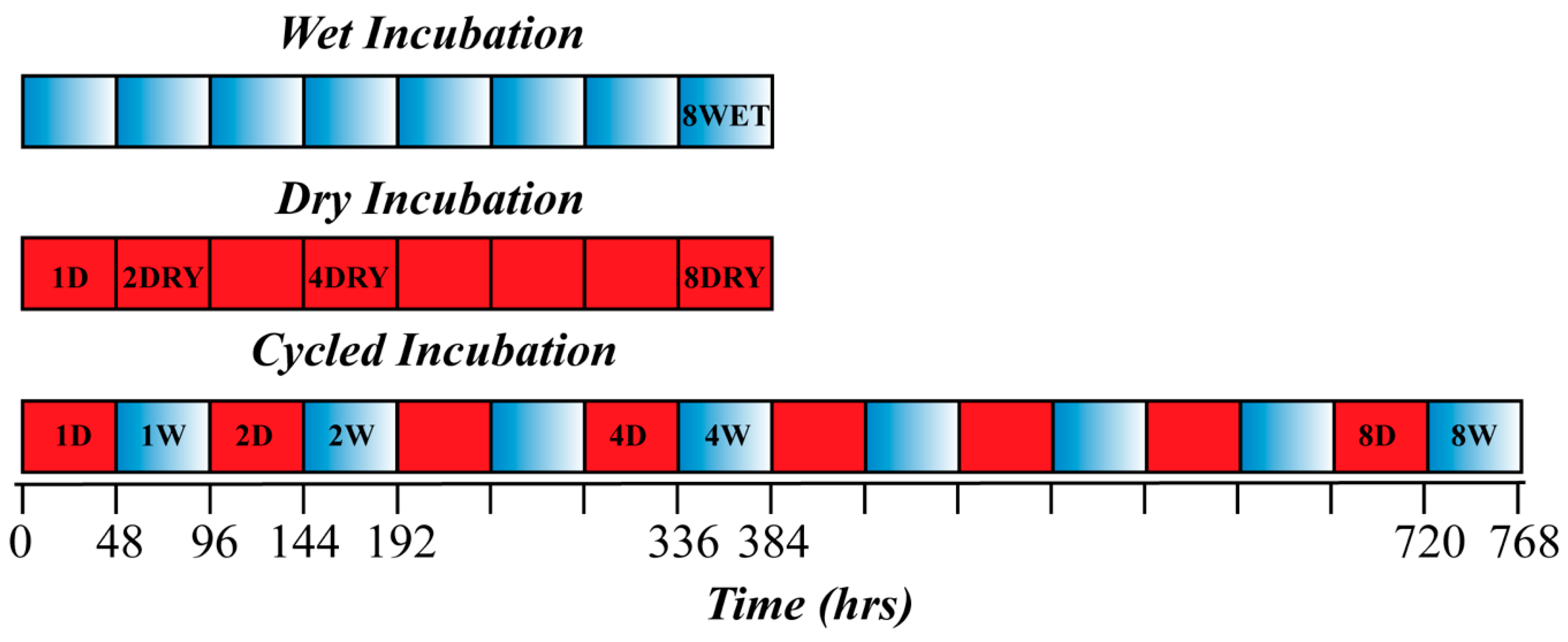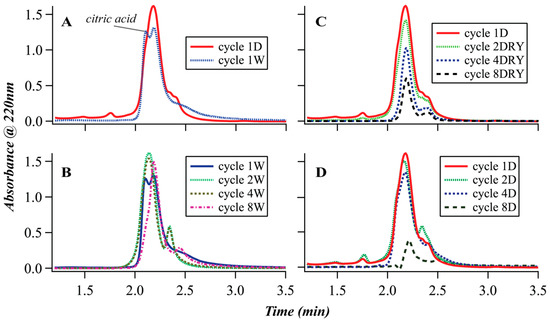 Figure 1. Size exclusion chromatography (SEC) analysis of the citric acid glycerol polymerization products (A) Comparison between the samples collected at the end of the first dry and wet cycle; (B) Comparison between the samples collected at the end of wet cycles (W series); (C) Comparison between samples of the DRY series; (D) Comparison of the samples collected at the end of dry period in the cycled series (D series).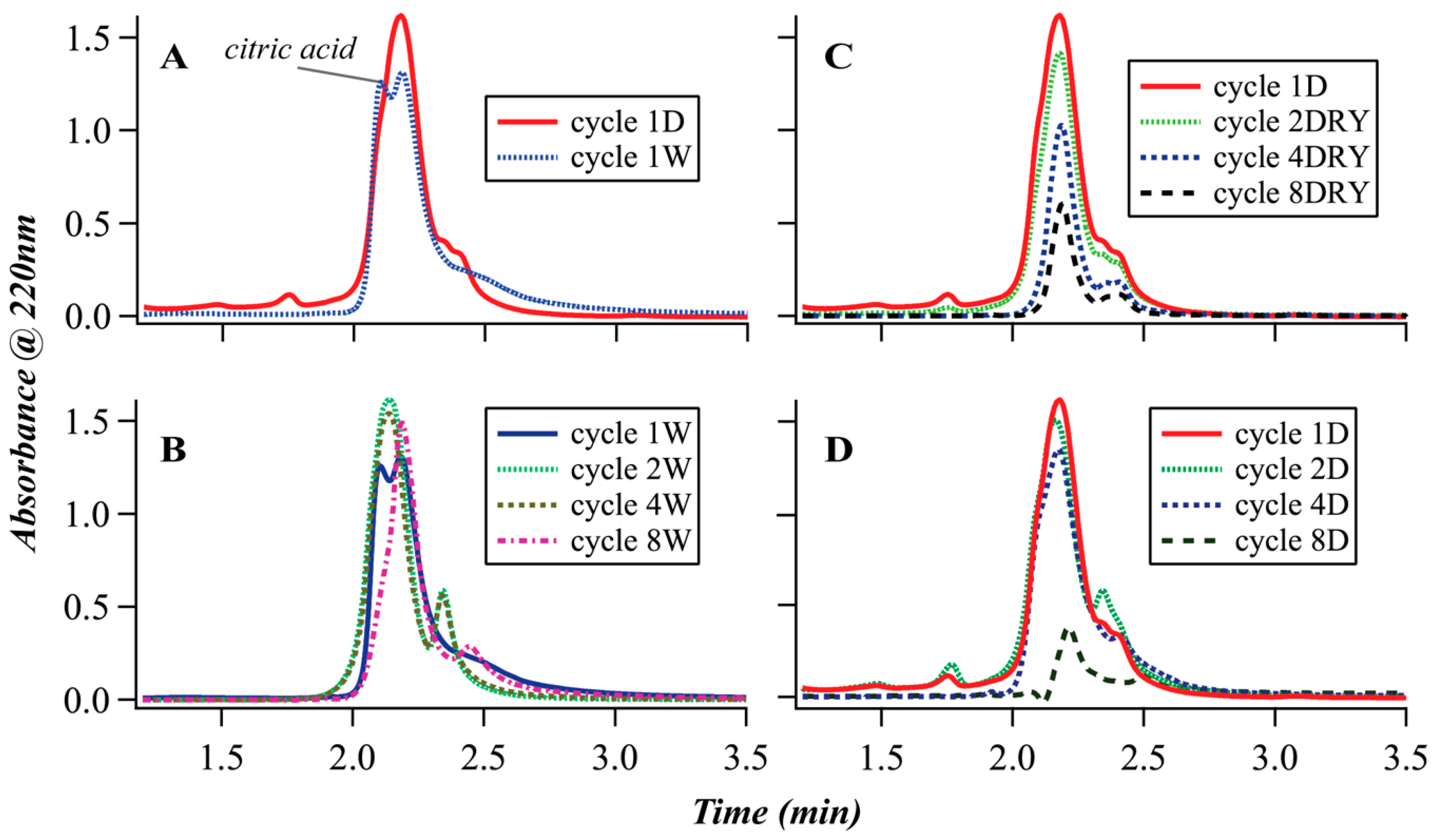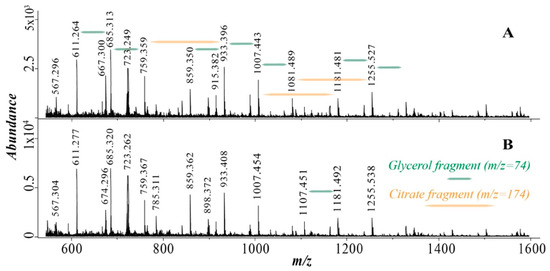 Figure 2. MALDI mass spectra of (A) the water-soluble fraction of the continuously dried sample collected after 8 periods (8DRY) and (B) cycled sample collected at the end of the experiment (8W). All labeled species correspond to (M + 23)+ ions (sodium adducts).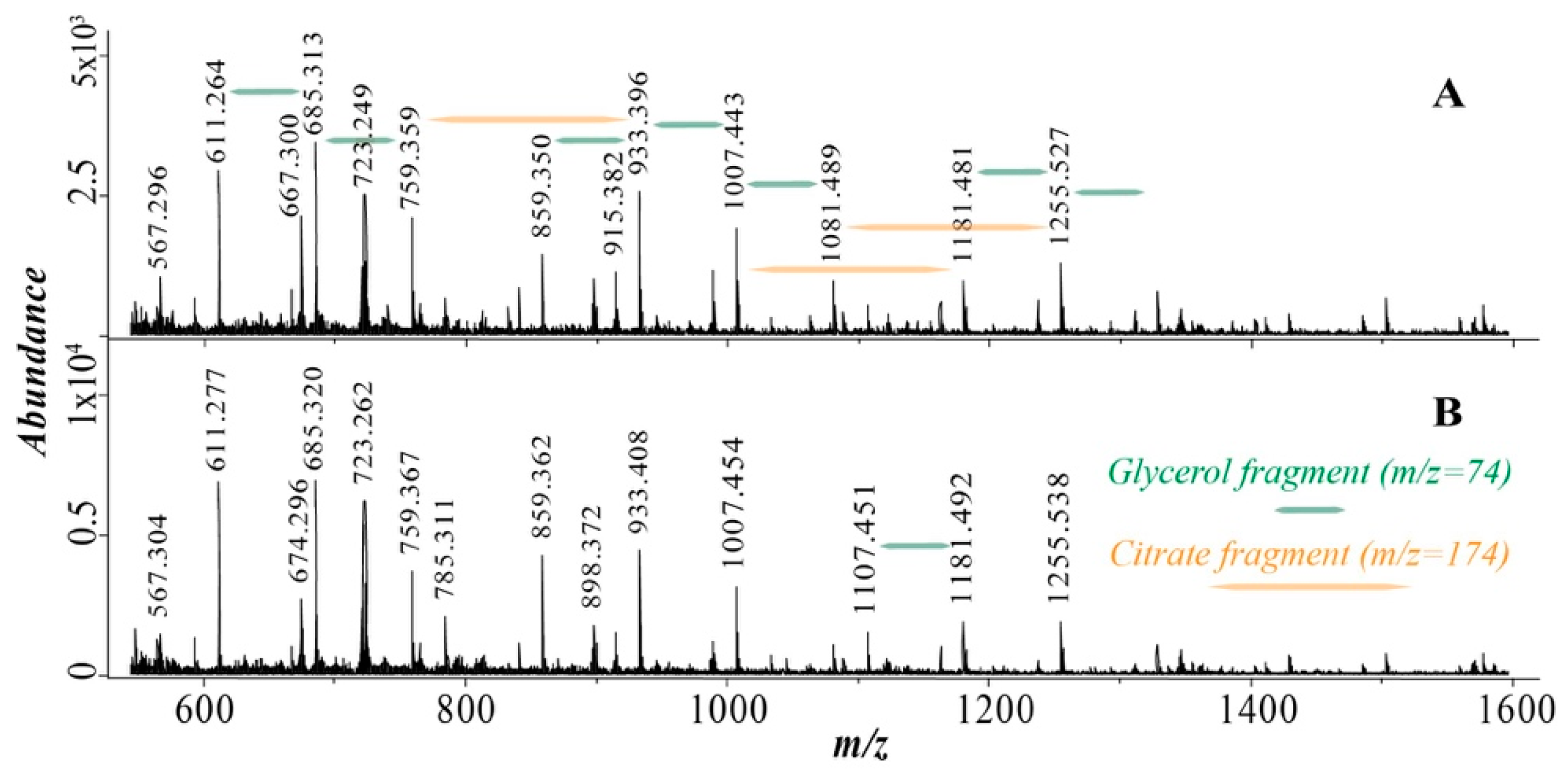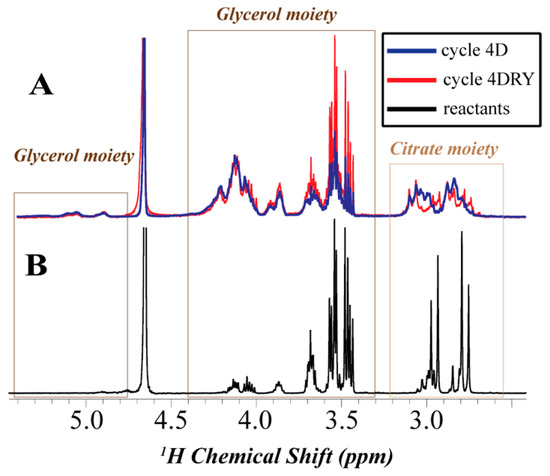 Figure 3. Representative 1 H NMR spectra of the glycerol-citric acid polymerization products in D2O along with general peak assignments. (A) The overlaid spectra of the soluble fraction of the 4DRY sample [red] and the 4D sample [blue]; (B) The spectrum of the unreacted sample.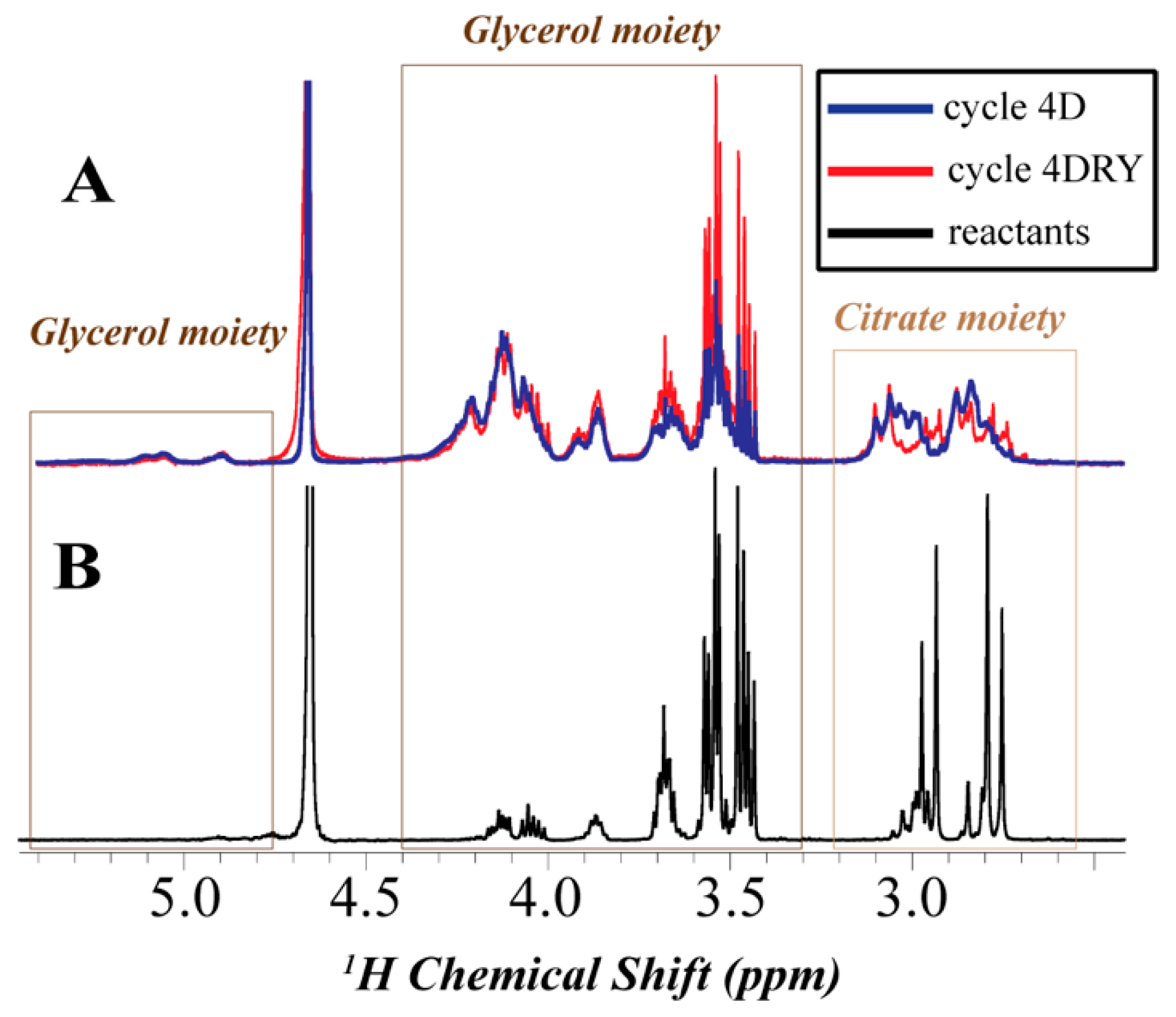 | Oligomer | m/z (+Na) | Normalized Abundance in 8D Sample 2 | Normalized Abundance in 8W Sample 2 |
| --- | --- | --- | --- |
| G2C2 1 | 537.2 | 1 | 1 |
| G3C2 | 611.3 | 2.50 | 1.87 |
| G4C2 * | 667.3 | 0.71 | 0.27 |
| G4C2 | 685.3 | 2.93 | 1.88 |
| G5C2 | 759.4 | 1.78 | 0.94 |
| G4C3 | 859.4 | 1.22 | 1.14 |
| G5C3 * | 915.4 | 0.96 | 0.41 |
| G5C3 | 933.4 | 2.18 | 1.21 |
| G6C3 * | 989.4 | 0.98 | 0.32 |
| G6C3 | 1007.4 | 1.63 | 0.85 |
| G7C3 | 1081.5 | 0.82 | 0.30 |
| G5C4 | 1107.5 | 0.47 | 0.37 |
| G6C4 | 1181.5 | 0.82 | 0.31 |
| G7C4 * | 1237.5 | 0.54 | 0.14 |
| G7C4 | 1255.6 | 1.01 | 0.52 |
| G8C4 | 1329.6 | 0.67 | 0.29 |
1 G2C2 refers to oligomer containing two glycerol (G) and two citrate (C) units. 2 The abundances are normalized to the absolute abundance of G2C2. * Mass Consistent with macrocyclic oligomers.

Table 2. Relative stoichiometries of non-exchangeable protons in citrate and glycerol moieties in the different polymeric products based on 1H NMR signal integrations. In the DRY series, only visibly water-soluble fraction is analyzed.
| Series/Cycles | DRY | D | W | Initial | WET |
| --- | --- | --- | --- | --- | --- |
| 0 | | | | 4H:9.93H (1C:2.0G) | |
| 1 | 4H 1:9.89H (1C:2.0G) | 4H:9.89H (1C:2.0G) | 4H:9.81H (1C:2.0G) | | |
| 2 | 4H:10.14H (1C:2.0G) | 4H:9.94H (1C:2.0G) | 4H:9.92H (1C:2.0G) | | |
| 4 | 4H:14.03H (1C:2.8G) | 4H:10.20H (1C:2.0G) | 4H:10.28H (1C:2.1G) | | |
| 8 | 4H:11.99H (1C:2.4G) | | 4H:10.37H (1C:2.1G) | | 4H:9.74H (1C:1.9G) |
1 The 4 citrate non-exchangeable protons were set as constant; the glycerol signal integrals were measures relative to citrate signal integrals. The derives relative quantities of citric acid units (C) and glycerol units (G) are given in parentheses.

© 2019 by the author. Licensee MDPI, Basel, Switzerland. This article is an open access article distributed under the terms and conditions of the Creative Commons Attribution (CC BY) license (http://creativecommons.org/licenses/by/4.0/).