Open Access This article is
freely available
re-usable
Review
State-of-the-Art Genetic Modalities to Engineer Cyanobacteria for Sustainable Biosynthesis of Biofuel and Fine-Chemicals to Meet Bio–Economy Challenges
1
State Key Laboratory of Microbial Metabolism, School of Life Sciences and Biotechnology, Shanghai Jiao Tong University, Shanghai 200240, China
2
School of Life Science and Food Engineering, Huaiyin Institute of Technology, Huaian 223003, China
3
Bio-X Institute, Key Laboratory for the Genetics of Developmental and Neuropsychiatric Disorders (Ministry of Education), Shanghai Jiao Tong University, Shanghai 200030, China
4
Tecnologico de Monterrey, School of Engineering and Sciences, Campus Queretaro, Epigmenio Gonzalez 500, Queretaro CP 76130, Mexico
5
Tecnologico de Monterrey, School of Engineering and Sciences, Campus Monterrey, Ave. Eugenio Garza Sada 2501, Monterrey CP 64849, N.L., Mexico
*
Authors to whom correspondence should be addressed.
Received: 22 April 2019 / Accepted: 26 June 2019 / Published: 27 June 2019
Abstract
:
In recent years, metabolic engineering of microorganisms has attained much research interest to produce biofuels and industrially pertinent chemicals. Owing to the relatively fast growth rate, genetic malleability, and carbon neutral production process, cyanobacteria has been recognized as a specialized microorganism with a significant biotechnological perspective. Metabolically engineering cyanobacterial strains have shown great potential for the photosynthetic production of an array of valuable native or non-native chemicals and metabolites with profound agricultural and pharmaceutical significance using CO2 as a building block. In recent years, substantial improvements in developing and introducing novel and efficient genetic tools such as genome-scale modeling, high throughput omics analyses, synthetic/system biology tools, metabolic flux analysis and clustered regularly interspaced short palindromic repeats (CRISPR)-associated nuclease (CRISPR/cas) systems have been made for engineering cyanobacterial strains. Use of these tools and technologies has led to a greater understanding of the host metabolism, as well as endogenous and heterologous carbon regulation mechanisms which consequently results in the expansion of maximum productive ability and biochemical diversity. This review summarizes recent advances in engineering cyanobacteria to produce biofuel and industrially relevant fine chemicals of high interest. Moreover, the development and applications of cutting-edge toolboxes such as the CRISPR-cas9 system, synthetic biology, high-throughput "omics", and metabolic flux analysis to engineer cyanobacteria for large-scale cultivation are also discussed.
Keywords:
cyanobacteria; metabolic engineering; commodity chemicals; genome-scale modeling; metabolic flux analysis; CRISPR/cas system
1. Introduction
This review encompasses the recent advances in engineering cyanobacteria for the production of biofuel and many other industrially relevant fine-chemicals. The development and applications of advanced technique and toolboxes for engineering cyanobacteria for their large-scale cultivation are also discussed.
2. Advanced Tools for Engineering Cyanobacteria
3. Engineering Cyanobacteria for Environmental Stress Resistance
Cyanobacterial cell factories display much potential due to their survival against diverse environmental stresses. These environmental stresses were mainly concentrated on four aspects:
(1)

Seawater or industrial wastewater is utilized for larger-scale cyanobacterial culturing than that of sterilized fresh water because of economic and environmental costs, where the presence of heavy metals, salts, and many other potential toxins will interrupt the normal cellular growth and metabolism of cyanobacterial cell factories.

(2)

Application of selective conditions for bio-contamination control such as extreme low/high pH and elevated NaCl concentration can also impede the normal growth and metabolism.

(3)

The accumulation of toxic intermediates products and metabolites in the cultivation system.

(4)

Temperature or light intensities in the real environmental situations will be controlled in a rhythm, with peak levels that are too extreme for cyanobacterial strains to acclimate.
The metabolic capacities optimized at the lab scale will be disturbed and declined under the imbalanced intracellular as well as extracellular environmental conditions. Therefore, these factors intended to be retained in an optimal fashion to achieve an optimum titer of target bio-products. For instance, high pH has recently been described as playing a key contribution in the biosynthesis and recovery of pyruvate and succinate by cyanobacterial cell factories [
67
]. Though, appropriately designing process-engineering approaches might alleviate abiotic stresses by maintaining stabilized cultivation conditions, the greater stress-tolerances capacity of the cyanobacteria is of paramount significance to generate robust photosynthetic manufacturing in outdoor environments. The selection of promising and more suitable cyanobacterial chassis can also be considered as another option. Nevertheless, lack of clear genetic backgrounds and widespread genetic engineering tools are the major hindrances, and recent synthetic biology and metabolic engineering-based concerted efforts have only been devoted on model cyanobacterial organisms, such as
Synechocystis
6803,
Synechococcus
7942, and
Synechococcus
7002 owing to the easy genetic modifications [
31
]. In this context, designing and engineering newer tools and technologies of broader sophistication could enhance metabolic physiology and robustness in cyanobacteria.
3.1. Introducing Heterologous Stress Tolerance Proteins
Extremophilic bacteria can grow, reproduce, and survive in severe environmental situations. Identification and installation of tolerance-relevant genes from extremophiles appear as a promising approach to improve the metabolic physiology and cellular robustness of cyanobacteria [
5
]. Following the introduction of molecular devices from a halotolerant cyanobacterium, the salinity stress tolerance of freshwater cyanobacterial strains has been effectively improved. Numerous salts-tolerance pertinent genes have recently been identified and characterized in a halotolerant cyanobacterium
Aphanothece halophytica
, which can grow and survive in hyper-osmotic settings in the presence of 3 M NaCl salt [
68
]. Waditee et al. [
69
] isolated a
nhaP
gene from
A. halophytica
and introduced into a cyanobacterial strain
S. elongates
PCC7942. Results showed that the resulting recombinant strain was able to grow and survive in the presence of 0.5 M NaCl [
69
]. In addition, the PCC7942 strain showed an optimized growth performance in seawater by the co-expression of
nhaP
(encoding a Na+/H+ antiporter) with
katE
(
E. coli
-sourced catalase gene). However, the salt tolerating capacity was not further enhanced [
69
]. The production and accumulation of glycine betaine are regarded as another indispensable way for
A. halophytica
to tolerate high osmotic stress imposed by high concentrations of salt. For example, incorporation of the glycine betaine encoding devices or system to two freshwater cyanobacteria
Anabaena sp.
PCC7120 and
A. doliolum
resulted in the production of glycine betaine, which in turn effectively enhanced salt tolerance [
70
]. Improvement in system biology and simulation of metabolic network's tools enable more effective identification and prediction of functional devices related to the resistance under harsh environmental conditions.
3.2. Enhancing Cyanobacterial Robustness by Overexpressing Heat Shock Proteins
Heat shock proteins (HSPs) are a family of proteins that constitute the most significant components for a bacterial stress-related response. Primarily, these proteins are induced under different kinds of environmental stresses preventing protein aggregation/denaturation and facilitate the proteins folding. Overexpression of
groESL
enhanced the cellular physiological resistances against various stresses enabling the growth of the nitrogen-fixing cyanobacterium
Anabaena
sp. PCC7120 strain at 42 °C and 50% NaCl (0.15 M) [
71
]. Similarly, the overexpression of
clpB1
in
Synechocystis
6803 increased cell survival rates up to 20-folds under rapid heat shock conditions by preventing protein disaggregation [
72
]. The outdoor cultivation malleability of
Synechococcus
7942 was significantly improved by the overexpression of a small HSP-encoding
hspA
gene, and the resulted engineered strain exhibited continuous growth in seawater containing closed photo-bioreactors under outdoor settings of temperature and light intensities, and high salt [
73
].
Table 2
displays the growth of various engineered cyanobacterial strains under different stress conditions and growth system.
4. Engineering Cyanobacteria for Biofuel and Fine Chemicals Production
5. Concluding Remarks and Future Perspectives
Recent developments of metabolic engineering and synthetic biology based sophisticated and state-of-the-art tools, in the last two decades, have presented noteworthy progress in making cyanobacteria as a promising photosynthetic platform for the manufacturing of biofuels, and many commodity chemicals by fine-tuning cyanobacterial metabolism. Despite numerous successful proof-of-concept reports, however, limited work is currently being carried out to scale-up this technology. Since the commercial realization lies in the titer, productivity, and steadiness, the attributes that can only be achieved by genetically engineered cyanobacterial strains at the industrial level. This scenario quests the experimental determination of the theoretical production rates. Many concerted research efforts are required to direct or redirect a significant percentage of the fixed carbon towards the target products. In addition to the upgrade of low-cost bioreactors or open ponds infrastructure, the resulting products harvesting technology also needs to be established. Notwithstanding many challenges to the commercial feasibility of cyanobacterial chassis, the distinct perspective of these photosynthetic microorganisms is attracting continuous metabolic engineer's interest as a green and sustainable production system.
Author Contributions
Conceptualization, A.Z.K.; M.B.; and H.M.N.I.; literature review, A.Z.K.; and S.M.; writing—original draft preparation, A.Z.K.; S.M.; A.S.; and M.B.; figures, H.M.N.I.; tables, M.B.; writing—review and editing, M.B.; A.S.; and H.M.N.I.; and revisions and final editing, M.B.; and H.M.N.I.
Funding
This work received no external funding.
Acknowledgments
All authors are grateful to their representative institutes for providing literature facilities.
Conflicts of Interest
The authors declare no conflict of interest.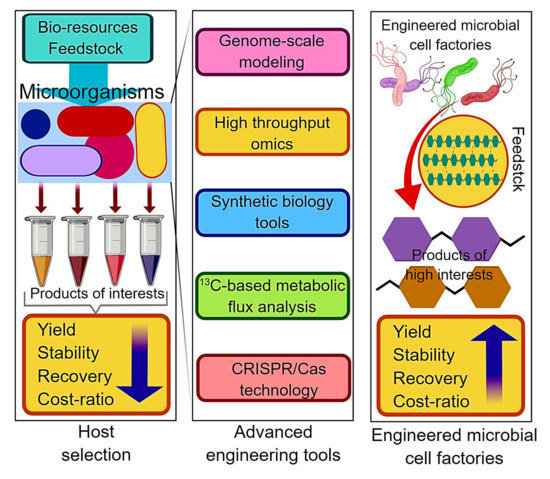 Figure 1. Advanced engineering tools to construct microbial cell factories for induced production of an array of value-added biochemicals.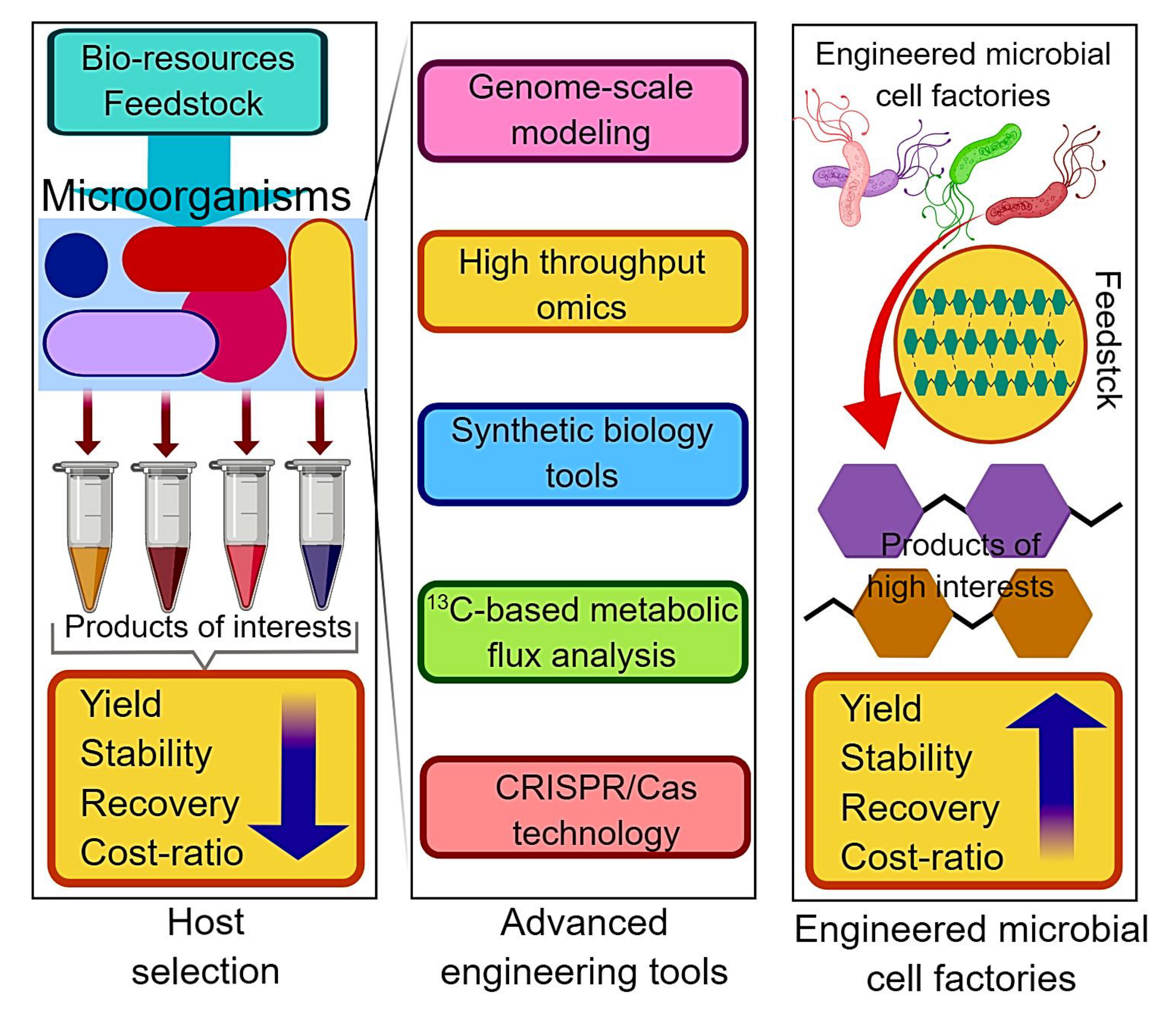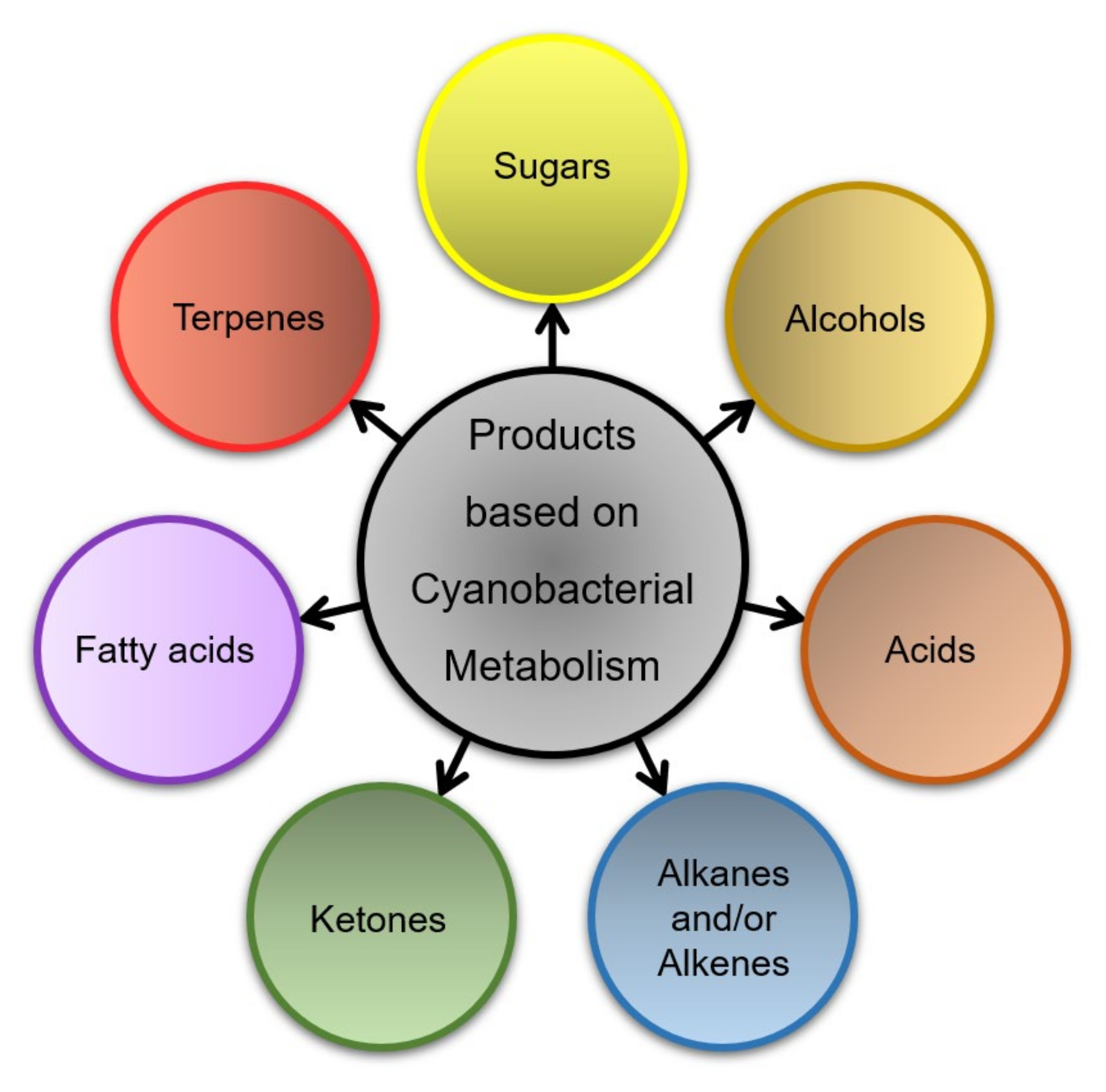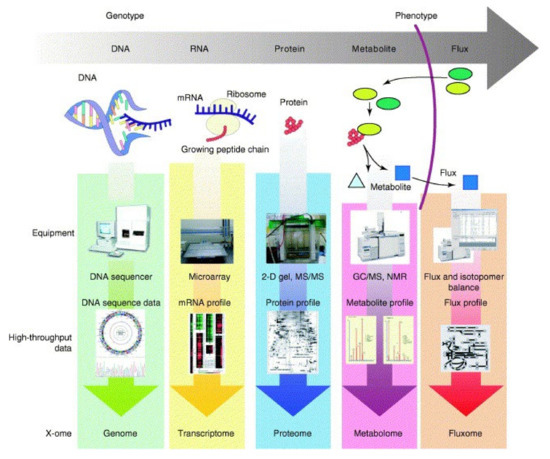 Figure 3.
High-throughput omics research. Genomics advanced by the development of high-speed DNA sequencing is now accompanied by transcriptome profiling using DNA microarrays. Proteome profiling is joining the high-throughput race as 2D-gel electrophoresis combined with mass spectrography is advancing. Metabolome profiling is also rapidly advancing with the development of better GC/MS, LC/MS, and NMR technologies. Isotopomer profiling followed by challenging with isotopically labeled substrate allows determination of flux profiles in the cell (fluxome). Reprinted from Lee et al. [
45
], with permission from Elsevier. Copyright (2005) Elsevier Ltd.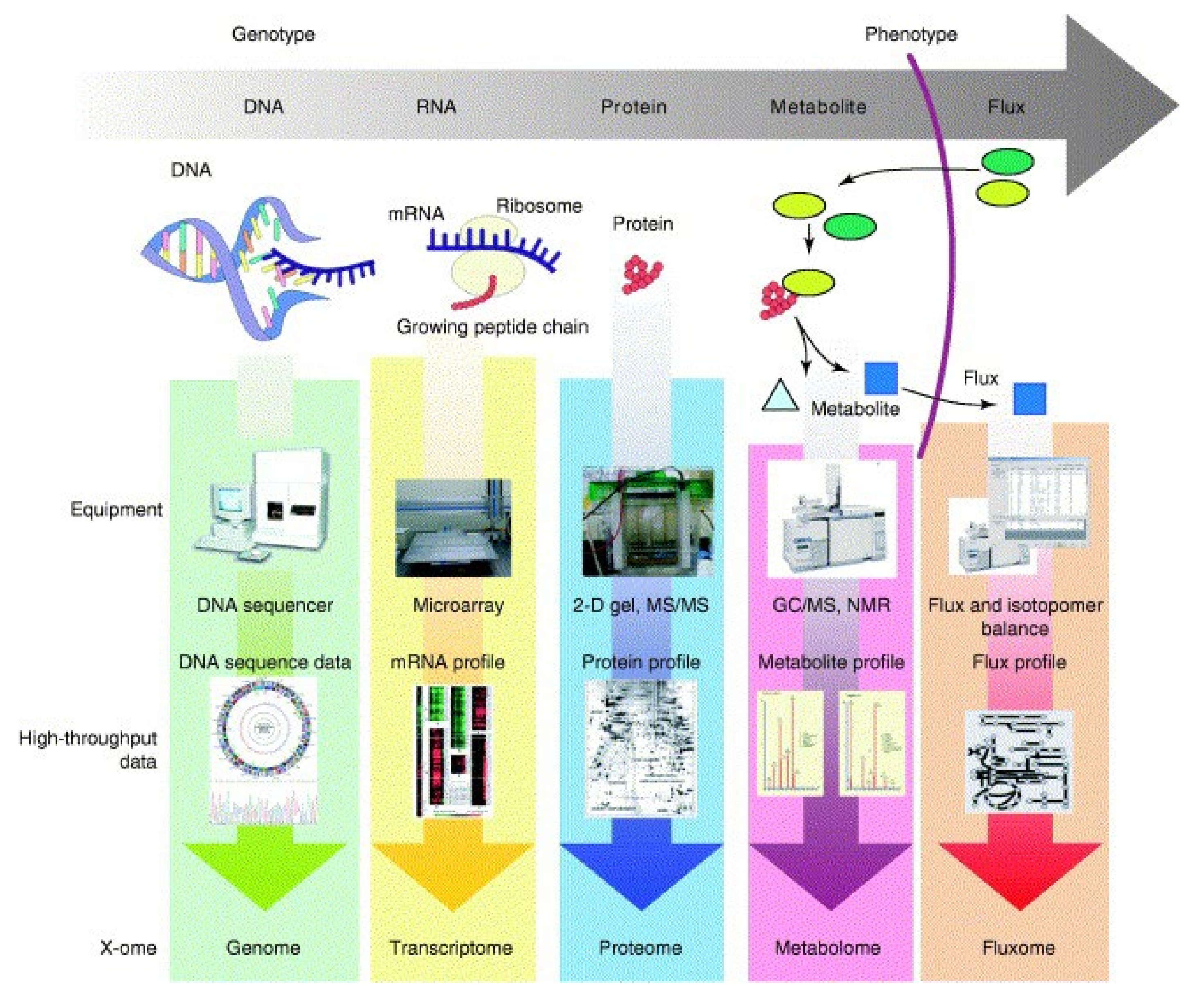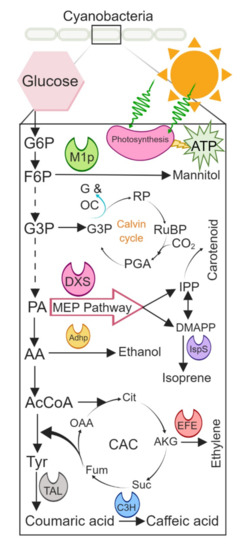 Figure 4. Graphical illustration of the metabolic pathway in cyanobacteria for the biosynthesis of value-added products. During the reduction of compounds into their target molecules, energy is required, which is supplied by photosystem in cyanobacteria where sunlight energy transferred H2O into energy-rich ATP and NADPH molecules. Abbreviations: G6P: glucose 6-phosphate; F6P: fructose 6-phosphate; G3P: glyceraldehyde 3-phosphate; RP: ribulose phosphate; RuBP—ribulose-1,5-bisphosphate; PGA: phosphoglycerate; M1p: mannitol-1-phosphatase; G and OC: glucose and other carbohydrates; PA: pyruvic acid; MEP: methylerythritol 4-phosphate; IPP: isopentenyl pyrophosphate; DMAPP: dimethylallyl pyrophosphate; DXS: 1-deoxy-d-xylulose-5-phosphate synthase; IspS: isoprene synthase; AA: acetaldehyde; Adhp: alcohol dehydrogenase; AcCoA: acetyl-clostridium coenzyme A (CoA); CAC: citric acid cycle; Cit: citrate; KAG: α-ketoglutarate; Suc: succinate; Fum: fumarate; OAA: oxaloacetate; Tyr: tyrosine; EFE: ethylene-forming enzyme; TAL: tyrosine ammonia-lyase; C3H: coumarate-3-hydroxylase.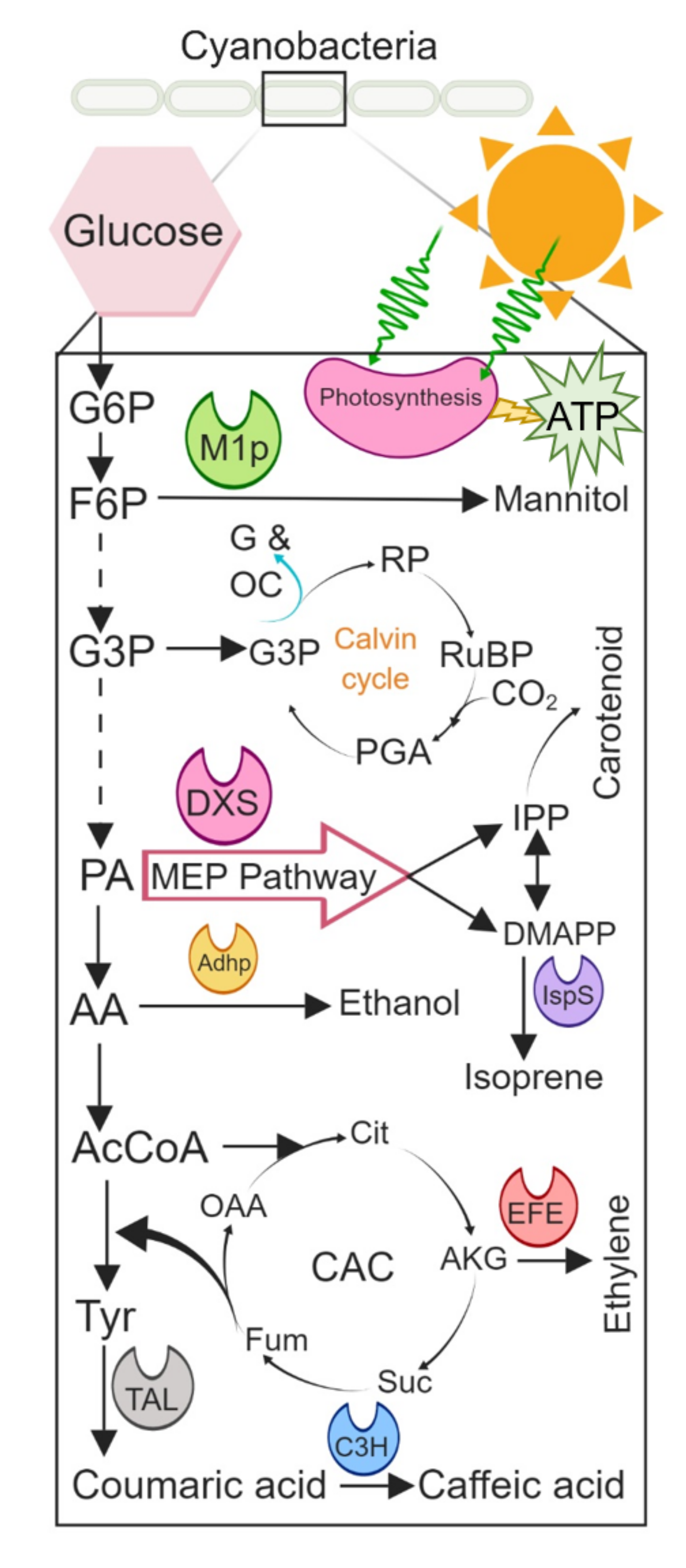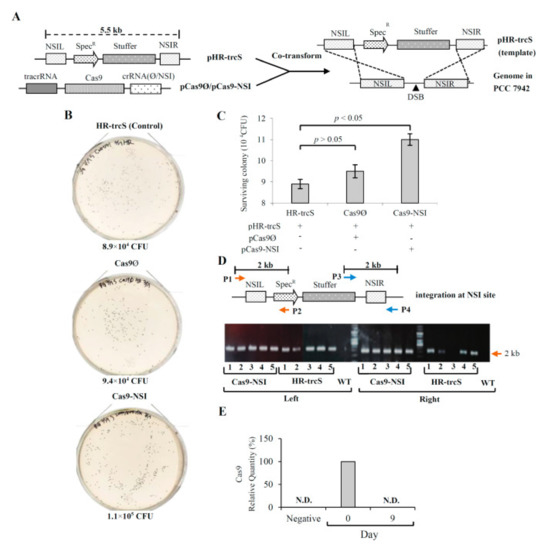 Figure 5.
CRISPR/Cas9-mediated double strand break (DSB) promoted homologous recombination in PCC 7942. (
A
) Schematic illustration of the template plasmid pHR-trcS containing spectinomycin resistance (SpecR) gene, stuffer DNA and homology arms for NSI (NSIL and NSIR). (
B
) Photographs of spectinomycin-resistant colonies. (
C
) Quantification of spectinomycin-resistant colonies. (
D
) Colony PCR/electrophoresis to confirm precise integration. (
E
) Analysis of residual pCas9-NSI. Cells were singly transformed with 2000 ng pHR-trcS (HR-trcS group), co-transformed with 2000 ng pHR-trcS and 500 ng pCas9-NSI (Cas9-NSI group) or co-transformed with 2000 ng pHR-trcS and 500 ng pCas9Ø (Cas9Ø group). The cells were diluted 103-fold and streaked onto BG-11/agar plates containing 20 μg/mL spectinomycin. Five colonies were picked for colony PCR. Primer pairs P1/P2 and P3/P4 were designed to verify precise integration at the left and right junctions, respectively. Precise integration would give 2 kb amplicons after colony PCR. The residual pCas9-NSI plasmid was quantified by qPCR analysis of Cas9 gene in the cells. Reprinted from Li et al. [
60
], with permission from Elsevier. Copyright (2016) International Metabolic Engineering Society. Published by Elsevier Inc.

Table 1. List of industrially important chemicals produced by cyanobacterial strains, engineering strategies used, and cultivation conditions.
Host Strain
Engineering Strategies
Growth Conditions
Chemicals
Production (mg/L)
Refs

S. elongatus

UTEX 2973

ΔM744_RS12430:P lac - cscB -Cmr

38 °C, 3% CO2, 250 μE m−2 s−1 light, 150 mM NaCl
Sucrose
35.5/h
Song, et al. [15]

S. elongatus

PCC 7942

cscB

- ΔInvA – ΔGlgC-

CMr

35°C, 2% CO2, 65 μE m−2 s−1 light, 150 mM NaCl
Sucrose
36.1/h
Ducat et al. [16]

S. elongatus

PCC 7942

CscB

overexpression
32 °C, 2% CO2, ~80 μE m−2s−1 PAR
Sucrose
28.3/d
Weiss et al. [17]

Synechocystis

sp. PCC6803
slr9394: Kan Prbc pdc and slr1192
slr0168: Omega Prbc pdc and slr1192
32 °C, 5% CO2, 100 μE m−2 s−1 light,
Ethanol
212/d
Gao et al. [18]

S. elongatus

PCC 7942
NSI: Bb1s-dxs-idi-ispA NSII: k- PcpcB1-cpcB1·SF·SQS NSIII:c-PcpcB1-cpcB1·SF·SQS
30 °C, 5% CO2, 100 μE m−2 s−1 light, 10 mM MOPS
Squalene
7.08/OD730
Choi et al. [19]

Synechococcus

sp. PCC 7002
30 °C, 2% CO2, 600 μmol photons m−2 s−1
Glycogen
3500
Aikawa et al. [20]

Synechocystis

sp. PCC6803
5′-NS Ptrc10-lims (Ms)–ter-kmR- 3′-NS
30 °C, 2% CO2, 50 μmol photons m−2 s−1
Limonene
6.7
Lin et al. [21]

S. elongatus

PCC 7942
NSI:Ptrc10-

ls

30 °C, 5% CO2, 100 μE m−2 s−1 light, 10 mM N-[Tris(hydroxymethyl)methyl]-2-aminoethanesulfonic acid
Limonene
5
Wang et al. [22]

Synechococcus

sp. PCC 7002
NSI:ΔglgC:LS
37 °C, 1% CO2, 250 μmol photons m−2 s−1
Limonene
4
Davies et al. [23]

Synechococcus

sp. PCC 7002
ΔSYNPCC7002_A2842:PtetO2-DHDPS-aacC1ΔSYNPCC7002_A2542:Pclac94-ybjE-aphII
37 °C, 1% CO2 and 200 µmol photons m−2 s−1
Lysine
400
Korosh et al. [24]

Synechocystis

sp. PCC6803
pEEK2-Ptrccore-

kivd

-

ADH

Δddh

37 °C, 50 mM NaHCO3 and 50 µmol photons m−2 s−1
Isobutanol
600
Miao et al. [25]

S. elongatus

PCC 7942
AL257+NSIII:lacIq; Ptrc: alsD-alsS-adh; gentR + NSI:lacIq; Ptrc: galP-zwf-gnd; specR +cp12: lacIq; Ptrc: prk-rbcLXS; kanR
30 °C, glucose (10 or 15 g/L), 50 mM NaHCO3, 30 μmol photons·m−2 s−1
2,3-butanediol
12,600
Kanno et al. [26]

Table 2. Growth of engineered cyanobacterial strains under different stress conditions and growth system.
Strain
Genotype/Growth
Stress Conditions
Target
Growth System
Results
Refs.

Spirulina subsalsa

Industrial wastewater (25%)
Protein
batch reactors
166.20 mg L−1d−1
Jiang et al. [74]
Industrial wastewater (25%)
Lipid
64.23 mg L−1d−1
Industrial wastewater (50%)
Carbohydrates
48.98 mg L−1d−1

Synechocystis

sp. PCC 6803
30 °C, 1% (v/v) CO2, 50–70 μmol photons m−2 s−1
Artificial Sea water + Nitrogen + Phosphorus
Glycogen
Closed
Iijima et al. [75]
Artificial Sea water + NPHEPHES media
BGG-11 media

Synechocystis

sp. PCC 6803
28 °C, 150 μmol photons m−2 s−1
pH-7.5
Growth
Continuous culture
12.1 mg L−1d−1
Touloupakis et al. [76]
pH-8.5
11.7 mg L−1d−1
pH-9.5
11.8 mg L−1d−1
pH-10.0
11.5 mg L−1d−1
pH-10.5
10.6 mg L−1d−1
pH-11.0
8.2 mg L−1d−1

Synechocystis

Syn-HZ24
pH-11+ NaCl (300mM)
Ethanol
Closed
0.9 g/L
Zhu et al. [77]

© 2019 by the authors. Licensee MDPI, Basel, Switzerland. This article is an open access article distributed under the terms and conditions of the Creative Commons Attribution (CC BY) license (http://creativecommons.org/licenses/by/4.0/).