Open Access This article is
freely available
re-usable
Review
Exploring the Emergence of RNA Nucleosides and Nucleotides on the Early Earth
RNA Therapeutics Institute, University of Massachusetts Medical School, Worcester, 01605 MA, USA
Received: 2 October 2018 / Accepted: 3 November 2018 / Published: 6 November 2018
Abstract
:
Understanding how life began is one of the most fascinating problems to solve. By approaching this enigma from a chemistry perspective, the goal is to define what series of chemical reactions could lead to the synthesis of nucleotides, amino acids, lipids, and other cellular components from simple feedstocks under prebiotically plausible conditions. It is well established that evolution of life involved RNA which plays central roles in both inheritance and catalysis. In this review, we present historically important and recently published articles aimed at understanding the emergence of RNA nucleosides and nucleotides on the early Earth.
Keywords:
origin of life; prebiotic chemistry; nucleotide and nucleoside synthesis
Funding
This research received no external funding.
Acknowledgments
I would like to thank Michele Fiore for the invitation to write this review. Also, I would like to thank Peter Strazewski for his advice about this review.
Conflicts of Interest
The author declares no conflict of interest.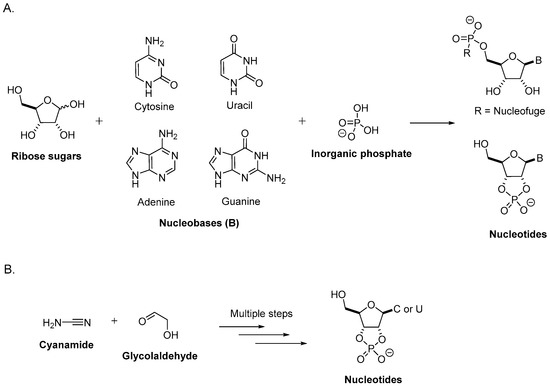 Figure 1. Possible routes for the synthesis of nucleotides. (A) The traditional RNA disconnection route, which is based on the hypothesis that nucleotides are formed from a ribose sugar, nucleobases, and inorganic phosphate, each prepared separately and assembled. (B) Alternative approach to synthesize nucleotides where sugars and nucleobases are formed during the same process.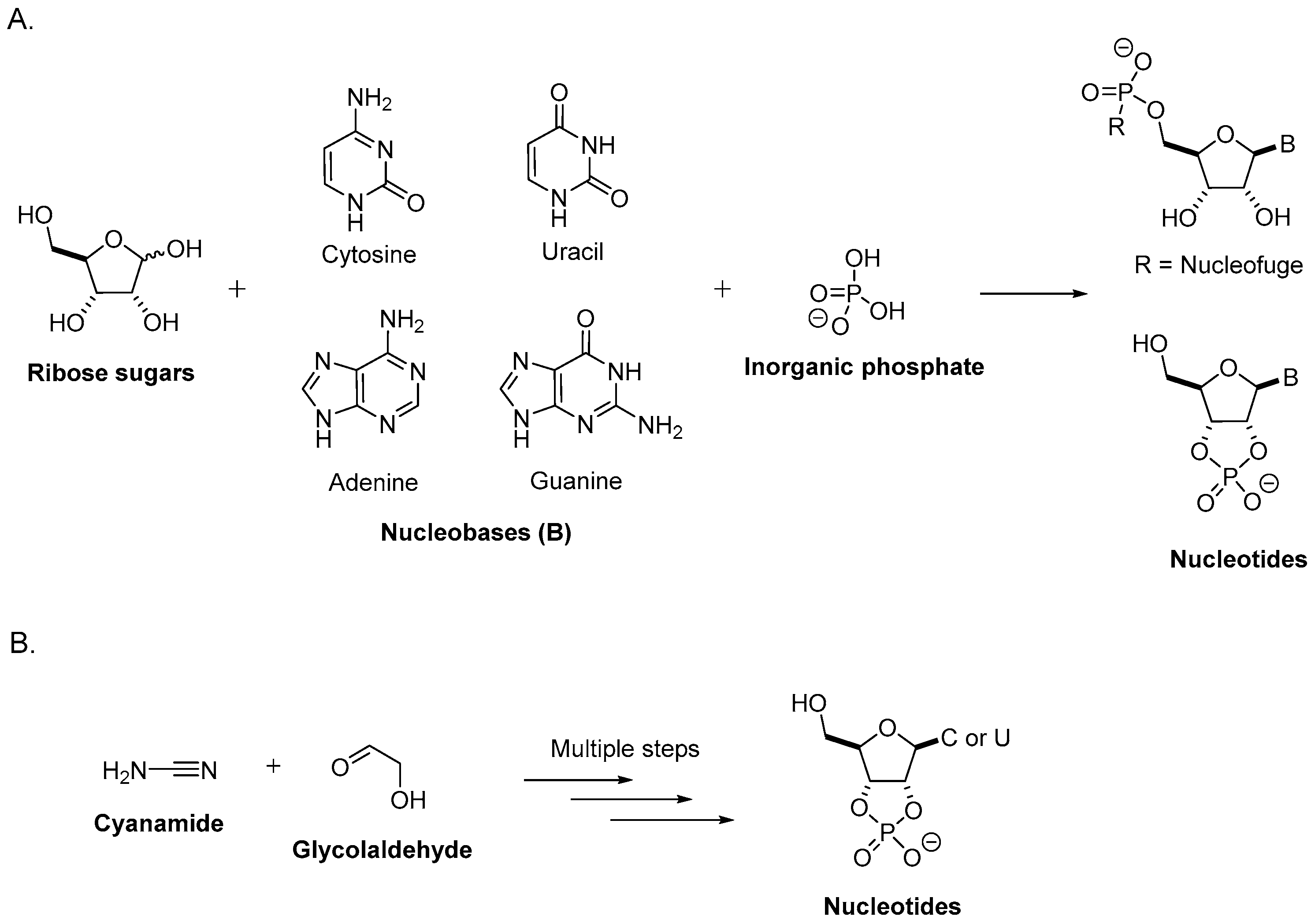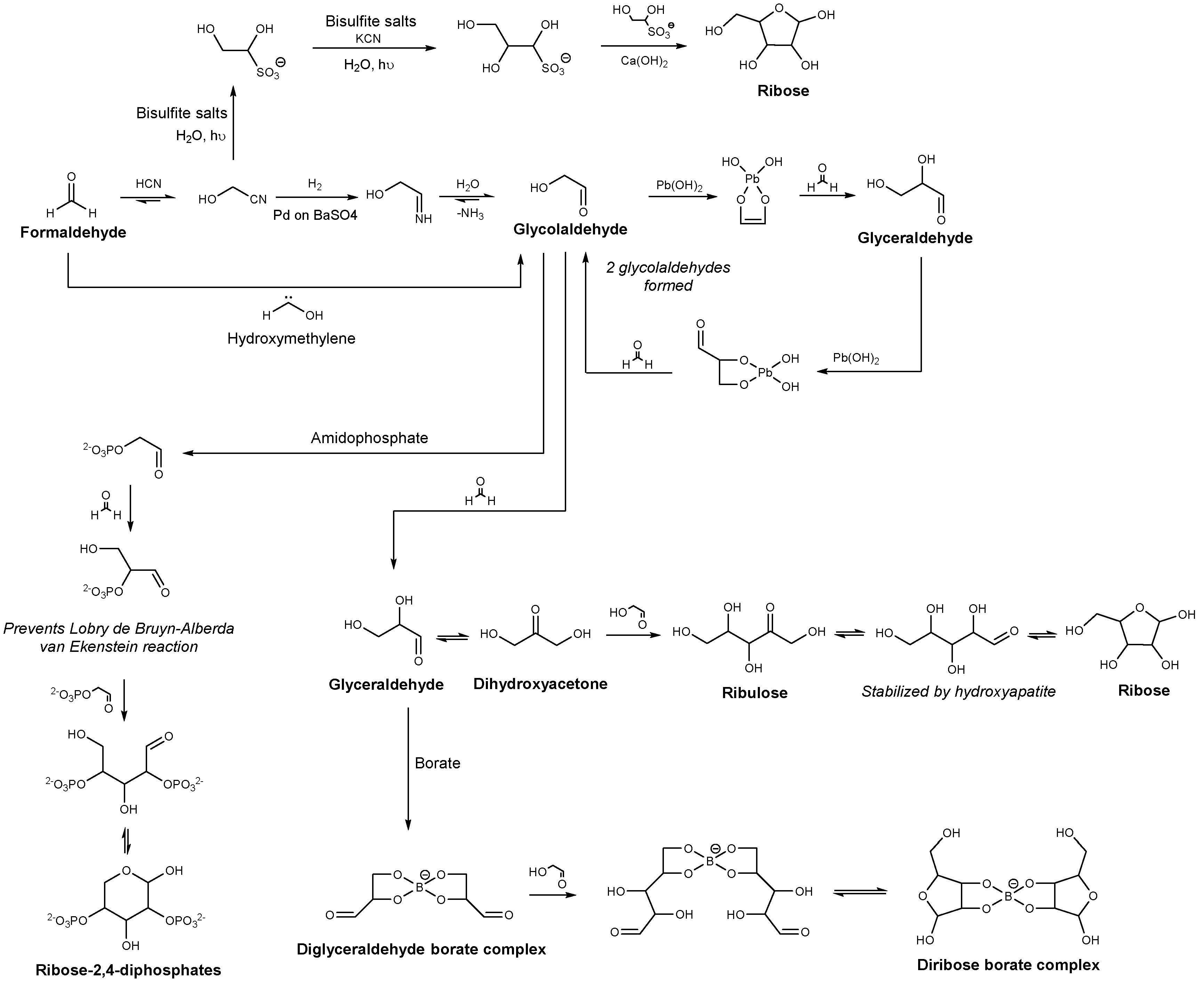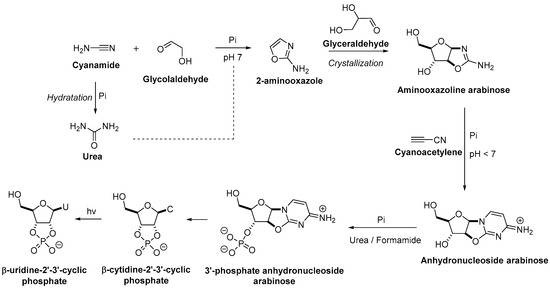 Figure 4. Possible prebiotic route for the synthesis of pyrimidine nucleotides. U = uridine; C = cytidine; Pi = inorganic phosphate.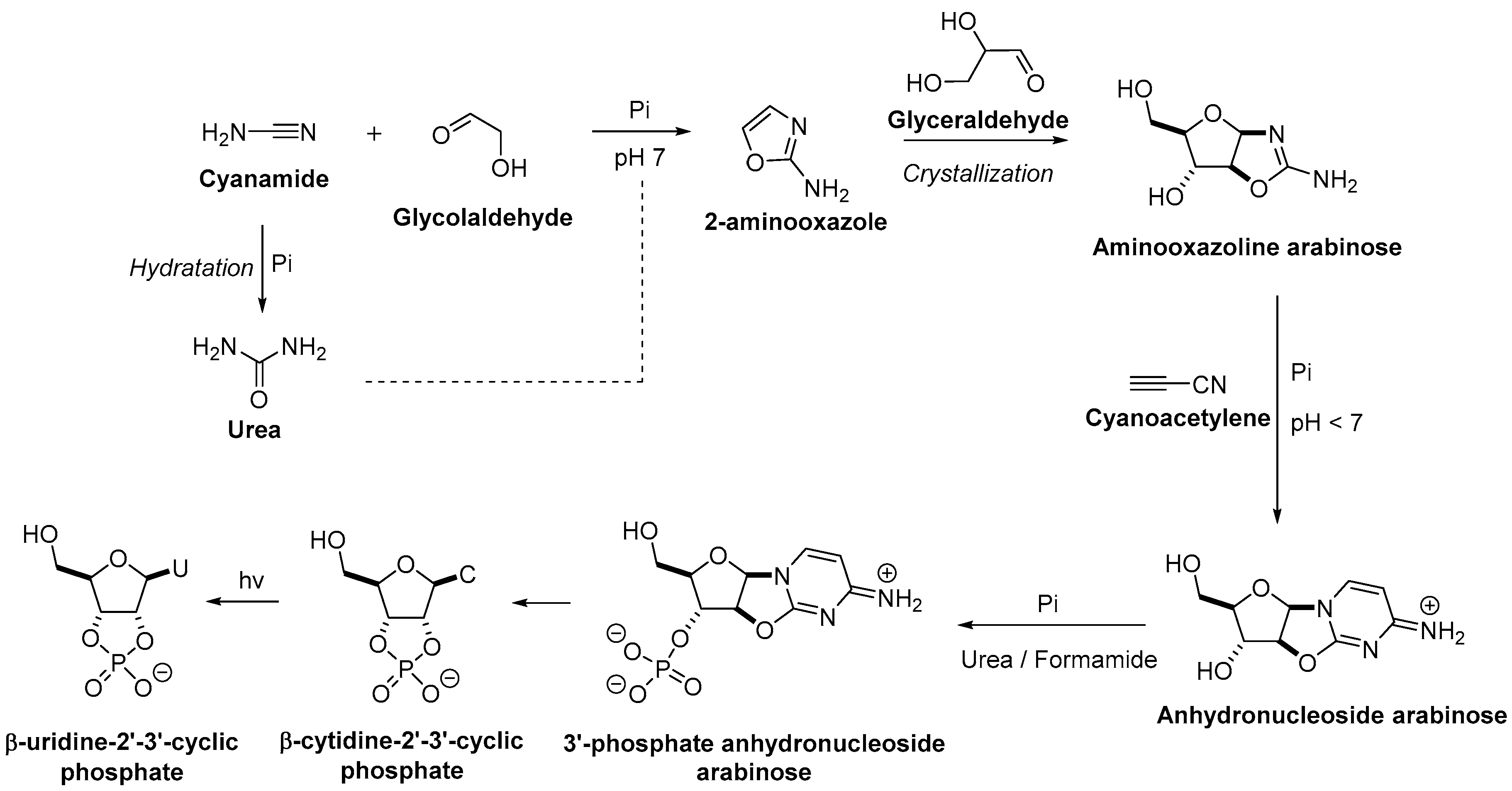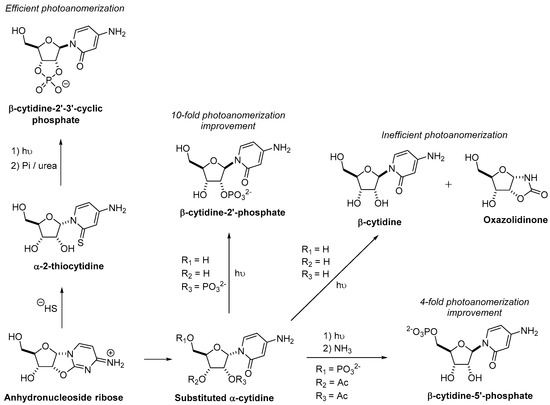 Figure 5. Alternatives to improve photoanomerization α→β for the formation of pyrimidine nucleotides. Pi = inorganic phosphate; Ac = acetyl.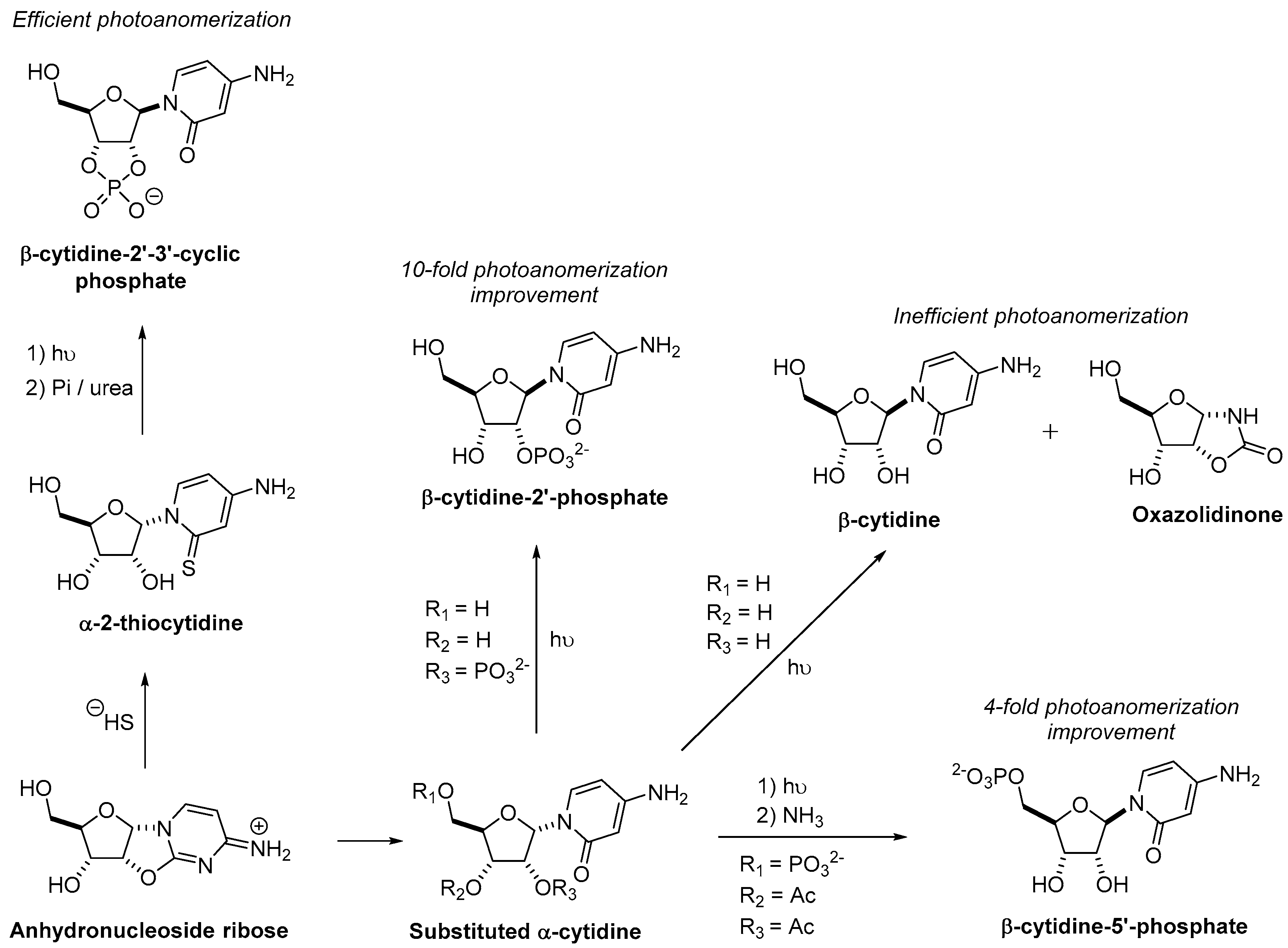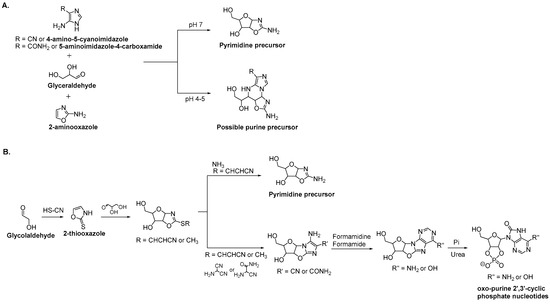 Figure 6. Possible prebiotic formation of both pyrimidine and purine precursors from a common environment. (A) Possible purine precursor from 4-amino-5-cyanoimidazole or 5-aminoimidazole-4-carboxamide, 2-aminooxazole, and glyceraldehyde. (B) Possible pyrimidine and oxo-purine from 2-thiooxazole. Pi = inorganic phosphate.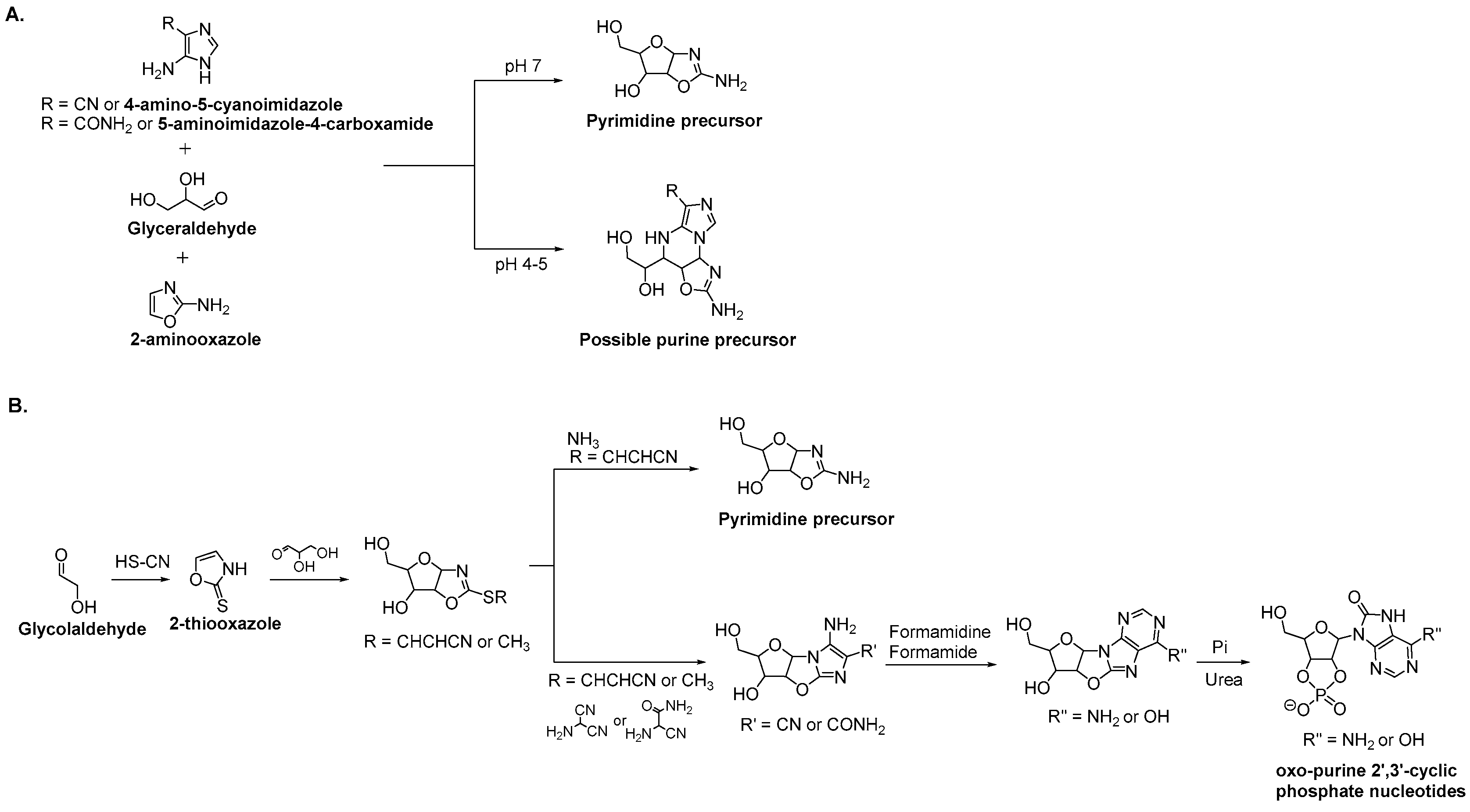 © 2018 by the author. Licensee MDPI, Basel, Switzerland. This article is an open access article distributed under the terms and conditions of the Creative Commons Attribution (CC BY) license (http://creativecommons.org/licenses/by/4.0/).