Open Access This article is
freely available
re-usable
Article
Exposed Areas Above Sea Level on Earth >3.5 Gyr Ago: Implications for Prebiotic and Primitive Biotic Chemistry
1
Scripps Institution of Oceanography, University of California, San Diego, CA 92093, USA
2
Department of Geology and Geophysics, Yale University, New Haven, CT 06520, USA
*
Author to whom correspondence should be addressed.
Received: 22 August 2018 / Accepted: 1 November 2018 / Published: 4 November 2018
Abstract
:
How life began on Earth is still largely shrouded in mystery. One of the central ideas for various origins of life scenarios is Darwin's "warm little pond". In these small bodies of water, simple prebiotic compounds such as amino acids, nucleobases, and so on, were produced from reagents such as hydrogen cyanide and aldehydes/ketones. These simple prebiotic compounds underwent further reactions, producing more complex molecules. The process of chemical evolution would have produced increasingly complex molecules, eventually yielding a molecule with the properties of information storage and replication prone to random mutations, the hallmark of both the origin of life and evolution. However, there is one problematic issue with this scenario: On the Earth >3.5 Gyr ago there would have likely been no exposed continental crust above sea level. The only land areas that protruded out of the oceans would have been associated with hotspot volcanic islands, such as the Hawaiian island chain today. On these long-lived islands, in association with reduced gas-rich eruptions accompanied by intense volcanic lightning, prebiotic reagents would have been produced that accumulated in warm or cool little ponds and lakes on the volcano flanks. During seasonal wet–dry cycles, molecules with increasing complexity could have been produced. These islands would have thus been the most likely places for chemical evolution and the processes associated with the origin of life. The islands would eventually be eroded away and their chemical evolution products would have been released into the oceans where Darwinian evolution ultimately produced the biochemistry associated with all life on Earth today.
Keywords:
continental crust; exposed land; prebiotic chemistry; volcanic islands; volcanic lightning
2. Early Exposed Areas Above Sea Level
To discuss exposed land masses on the early Earth, we first need to understand the following two notions: (1) the area of exposed continent crust is different from the mass of continental crust, and (2) plate tectonics, which affect almost all aspects of modern geological processes including the generation of continental crust, may have been absent on early Earth.
3. WLPs Chemistry and Prebiotic Chemistry
4. Lake Waiau: A Modern Volcanic Island WLP?
A relevant modern analogue of a modern WLP is Lake Waiai (
Figure 4
) located in the Pu'u Waiau cinder cone near the summit of presently dormant Mauna Kea volcano on the island of Hawai'i (see [
51
,
52
,
53
,
54
,
55
] and references therein for various properties). This small (6000–7000 m
2
), shallow (3 m at full capacity) lake has existed for thousands of years. An ash layer in a sediment core from the lake indicates it was close to a local eruption that took place about 4500 BP. Lake water is supplied by local precipitation (mainly snow because of the 3870 m altitude) in the winter months. There is no evidence of any input of hydrothermal water into the lake. Melting snow water often overloads the lake's holding capacity, which results in outflow into a nearby gully. In the summer, lake water evaporates and the lake size shrinks dramatically. In the winter the dissolved components of the lake are consistent with the sea spray enriched Hawaiian Island rainwater (
Table S1
). This is not surprising considering the Hawaiian Islands are ocean-encircled. However, the composition of sea spray (and thus rainwater) on the early Earth was likely much different than today because of the ancient ocean composition [
14
], being depleted in Mg
2+
and enriched in Fe
2+
relative to today.
With Lake Waiau, summer evaporation is often extensive that in some years the lake has been nearly completely desiccated. Lake surface temperatures vary seasonally from ~0 °C to 13 °C and the lake generally freezes over during winter months. The lake had a pH of 8.6–9.1 from May–September, 1977. The bottom temperature of the lake is essentially a constant 6 °C throughout the year.
On the early Earth, Lake Waiau-like WLPs on volcanic islands could have been major sites for prebiotic synthesis reactions. Seasonal wet–dry cycles like on Lake Waiau today could have provided eutectic brines, concentrating reagents that would have then readily reacted to produce simple compounds, which in turn could have been converted into ones with increasingly complexity [
55
]. These types of processes may have provided the reactions and ingredients needed to eventually produce complex molecules with the properties of information storage and replication prone to random mutations, the hallmark of both the origin of life and evolution.
5. Conclusions
The scenario presented here has interesting consequences. With many hotspot volcanic islands on the early Earth and their associated WLPs and lakes, there could have been several different localities scattered across early Earth that allowed for various stages of prebiotic chemistry and chemical evolution. If chemical evolution proceeded to the point of producing complex molecules with the capacity for imperfect self-replication, there could have been a range of differing primitive biochemistries that emerged. As Darwin so eloquently noted "
Daily it is forced home on the mind of the geologist, that nothing, not even the wind that blows, is so unstable as the level of the crust of this
earth." [
56
]. Volcanic islands would have eventually eroded and their diverse inventory and possible primitive biochemistries been released into the oceans, where competition for increasingly more effective biochemistries could have taken place. This thus would have begun the process of Darwinian evolution that eventually gave rise to the biochemistry we know today.
Supplementary Materials
The following are available online at
https://www.mdpi.com/2075-1729/8/4/55/s1
, Figure S1: Miller's "volcanic" spark discharge apparatus, Figure S2: Laboratory based volcanic lighting (courtesy Betty Scheu and Donald Dingwell), Table S1: Lake Waiau (LW) and Rain Water Composition Relative to Na+ = 1.0*.
Author Contributions
Conceptualization, J.L.B. and J.K.; Investigation, J.L.B. and J.K.
Funding
JLB was partly supported jointly by NSF and the NASA Astrobiology Program, under the NSF Center for Chemical Evolution, CHE-1504217. JK's contribution is based upon work supported in part by the U.S. National Aeronautics and Space Administration through the NASA Astrobiology Institute under Cooperative Agreement No. NNA15BB03A issued through the Science Mission Directorate.
Acknowledgments
We thank Scott Rowland, Keith Kefford, Ben Pearce, Fritz Klasner and Jane Massey Licata for help in getting information and photographs. The photography of Lake Waiau was obtained from the U.S. Geological Survey Denver Library Photographic Collection. H. James Cleaves and three anonymous reviewers provided many useful suggestions on manuscript changes and revision. Also we thank Donald Dingwell and Bettina Scheu for the collaboration using their laboratory based volcanic lightning apparatus. Krickette Pacubas kindly provided the paper the Bishop Museum Occasional Papers.
Conflicts of Interest
The authors declare no conflict of interest.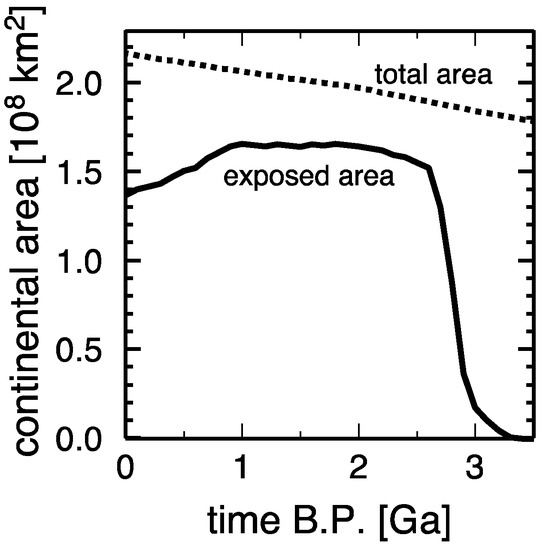 Figure 1.
Likely evolution of continental area on the Earth based on continental freeboard modeling: exposed above sea level (solid) and total (dashed) (based on Figure 4d in ref. [
20
]).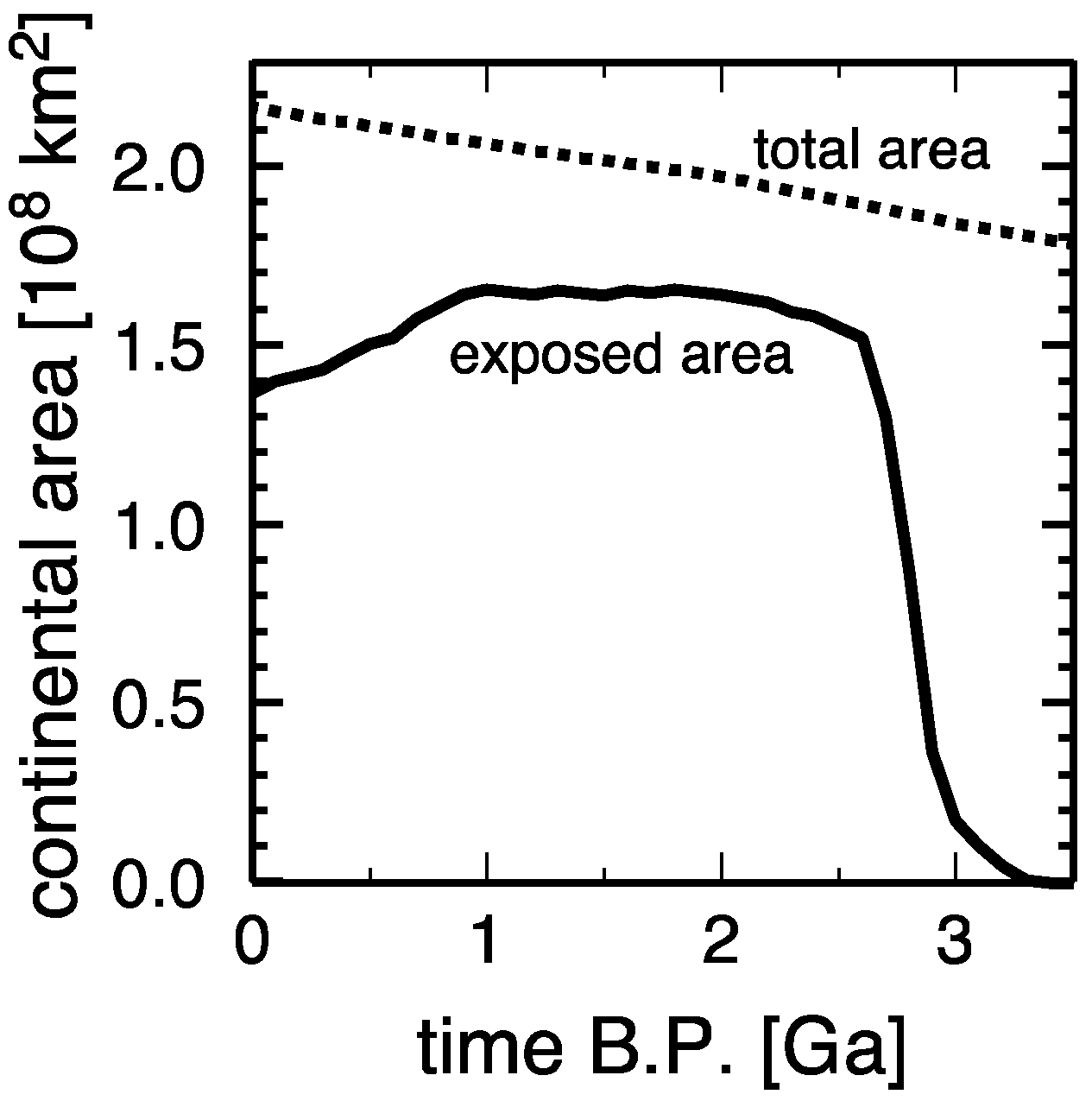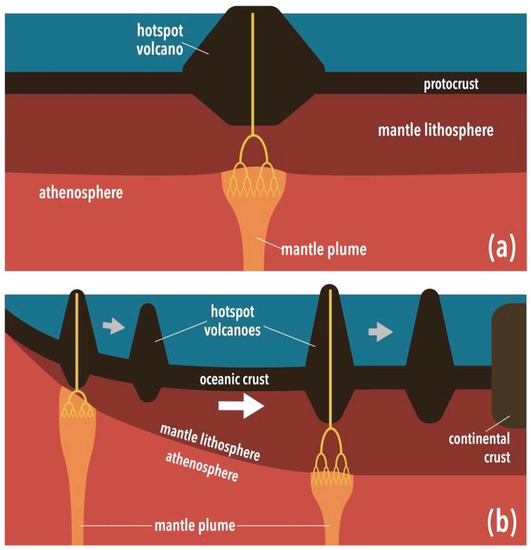 Figure 2. (a) Hotspot island formation in the stagnant lid regime of mantle convection. An island considerably larger than a typical hotspot island today can be constructed by continuous magma input from a stationary mantle plume. (b) Two contrasting fates of hotspot islands in early plate tectonics. Those formed on young ocean floor would have subsided as quickly as present-day hotspot islands, whereas those on older ocean floor could have been subaerial on a longer time scale because of subdued seafloor subsidence. See text for further explanation.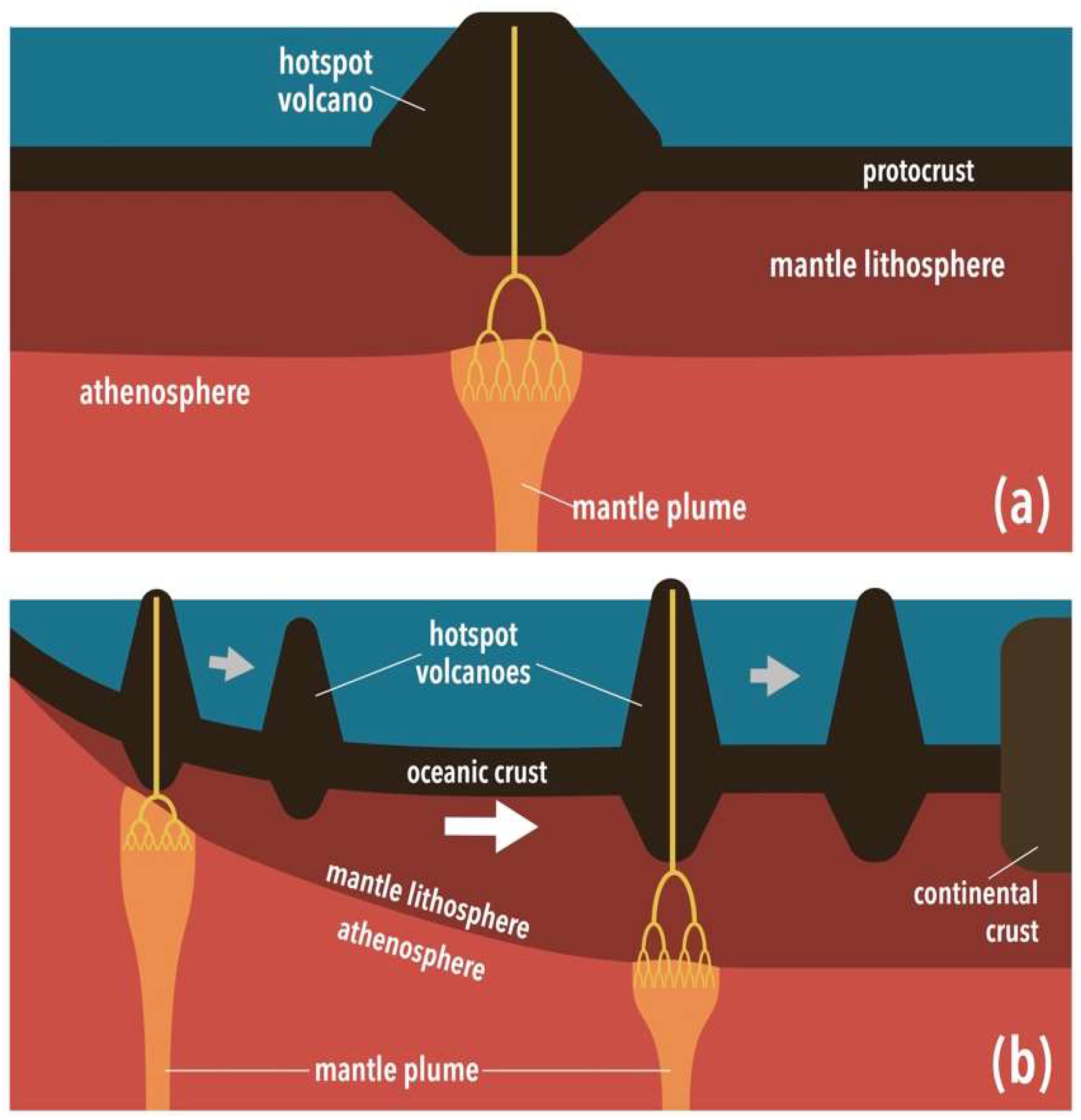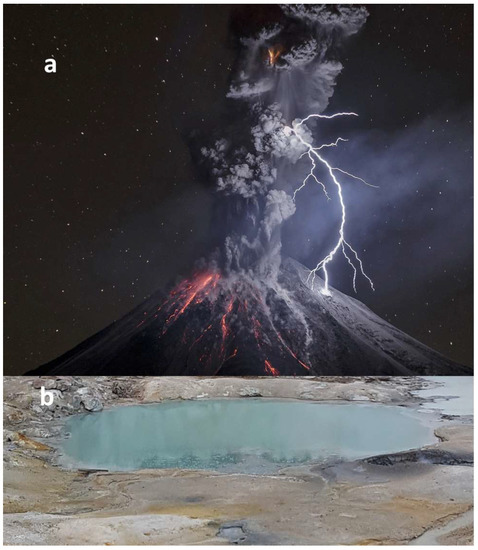 Figure 3. (a) Volcanic lightning associated with an eruption of the Colima Volcano in 2015 (photo credit: Sergio Tapiro); (b) a nearby "warm little pond" (WLP) on a volcano flank (Courtesy Ben K. D. Pearce).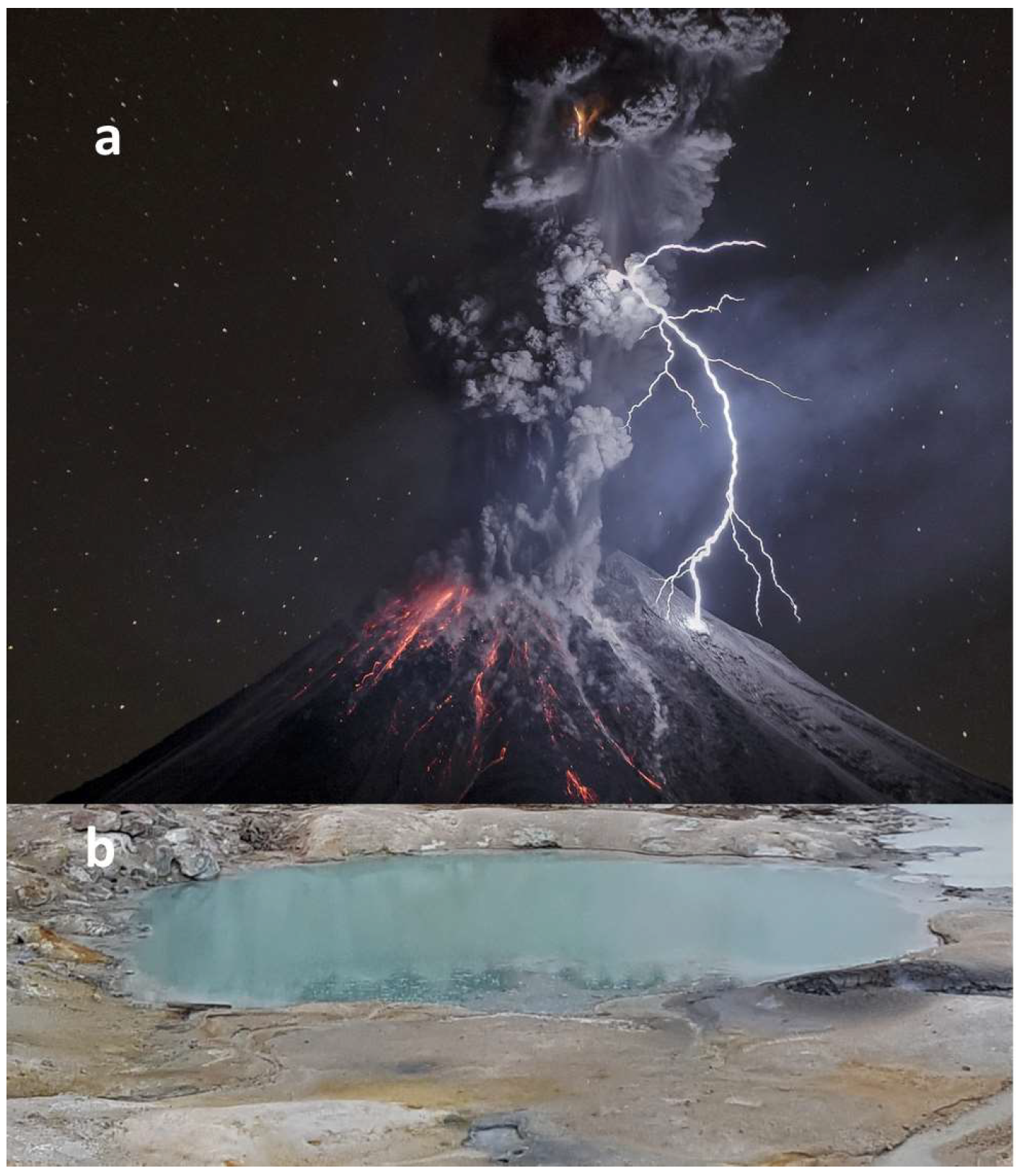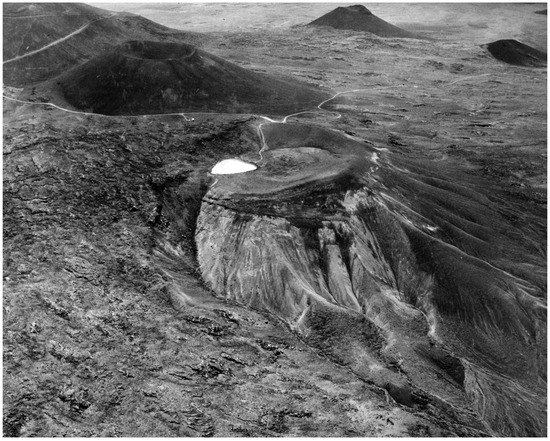 Figure 4. Aerial view taken in 1965 of ice-covered Lake Waiau in the Pu'u Waiau cinder cone near the summit of the Mauna Kea volcano on the island of Hawai'i (USGS Library, Denver; Photo KPA-N183].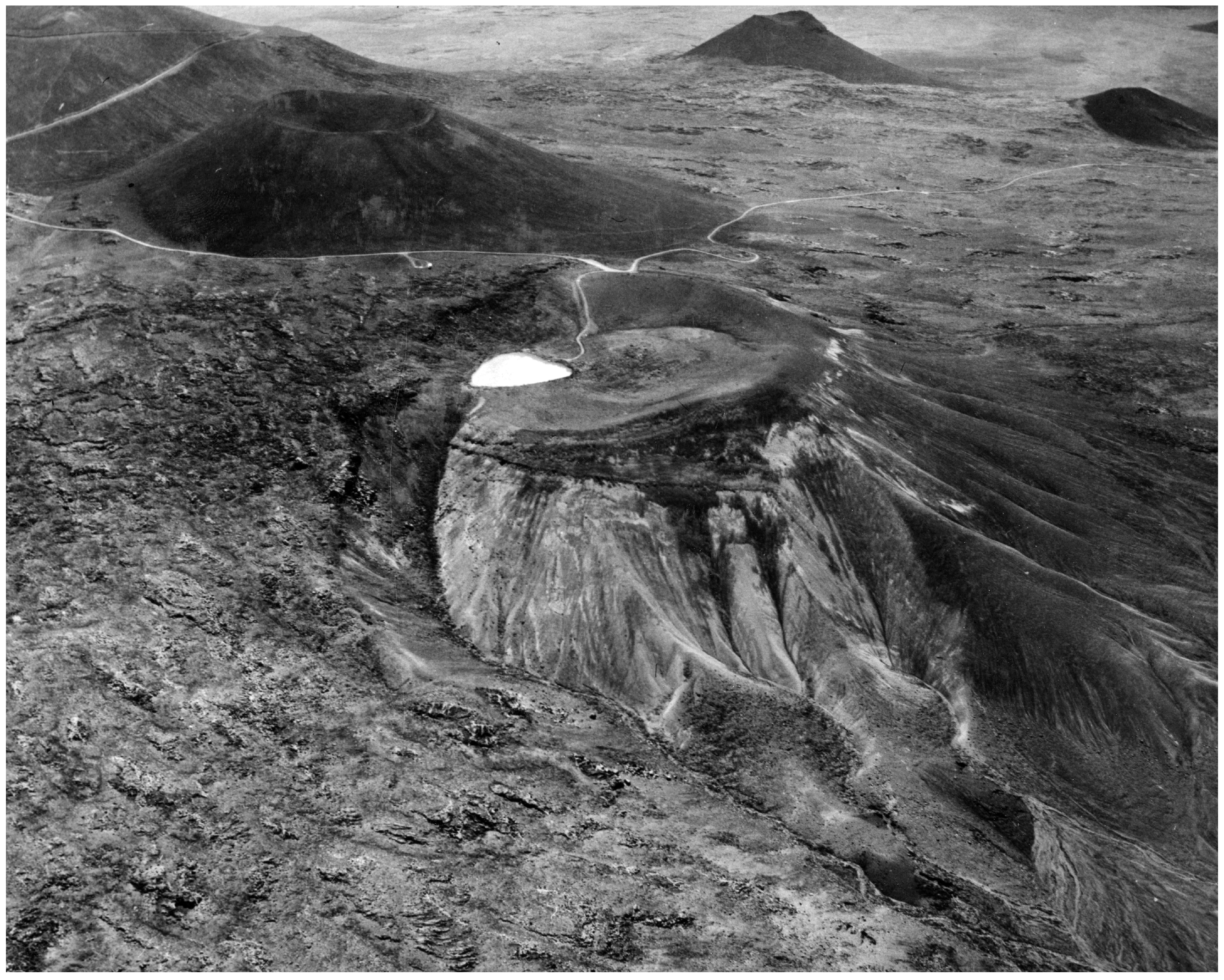 © 2018 by the authors. Licensee MDPI, Basel, Switzerland. This article is an open access article distributed under the terms and conditions of the Creative Commons Attribution (CC BY) license (http://creativecommons.org/licenses/by/4.0/).