Hydrothermal Alteration of Eudialyte-Hosted Critical Metal Deposits: Fluid Source and Implications for Deposit Grade
1
Faculty of Earth and Life Sciences, University of Amsterdam, Boelelaan 1085, 1081 HV Amsterdam, The Netherlands
2
School of Earth & Environmental Sciences, University of St Andrews, North Street, St Andrews KY16 9AL, UK
3
School of Geosciences, University of the Witwatersrand, Private Bag 3, Johannesburg 2050, South Africa
*
Author to whom correspondence should be addressed.
Received: 30 May 2019 / Revised: 27 June 2019 / Accepted: 5 July 2019 / Published: 10 July 2019
Abstract
Eudialyte-hosted critical metal deposits potentially represent major sources of rare earth elements (REE), zirconium and niobium. Here, we study the chemical and isotopic composition of fresh and altered eudialyte in nepheline syenite from the Ilímaussaq Complex, Greenland, one of the world's largest known eudialyte-hosted deposits. Late-magmatic hydrothermal alteration caused partial replacement of primary magmatic eudialyte by complex pseudomorph assemblages of secondary Zr-, Nb-, and REE-minerals. Three secondary assemblage types are characterised by the zirconosilicates catapleiite, gittinsite and zircon, respectively, of which the catapleiite type is most common. To investigate elemental exchange associated with alteration and to constrain the nature of the metasomatic fluids, we compare trace elements and Sm/Nd isotope compositions of unaltered eudialyte crystals and their replaced counterparts from five syenite samples (three catapleiite-type, one gittinsite-type, and one zircon-type assemblage). Trace element budgets for the catapleiite-type pseudomorphs indicate a 15–30% loss of REE, Ta, Nb, Zr, Sr and Y relative to fresh eudialyte. Moreover, the gittinsite- and zircon-type assemblages record preferential heavy REE (HREE) depletion (≤50%), suggesting that the metasomatic fluids mobilised high field strength elements. Initial Nd isotope ratios of unaltered eudialyte and catapleiite- and gittinsite-type pseudomorphs are indistinguishable, confirming a magmatic fluid origin. However, a higher initial ratio and stronger HREE depletion in the zircon-type pseudomorphs suggests a different source for the zircon-forming fluid. Although alteration reduces the metal budget of the original eudialyte volume, we infer that these elements re-precipitate nearby in the same rock. Alteration, therefore, might have little effect on overall grade but preferentially separates heavy and light REE into different phases. Targeted processing of the alteration products may access individual rare earth families (heavy vs. light) and other metals (Zr, Nb, Ta) more effectively than processing the fresh rock.
View Full-Text
►

▼

Figures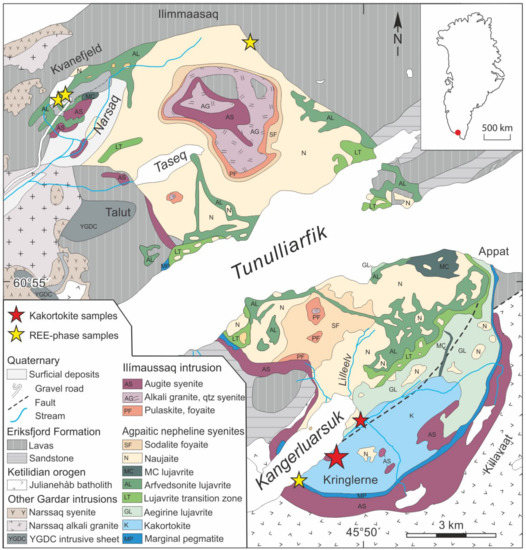 Figure 1
This is an open access article distributed under the
Creative Commons Attribution License
which permits unrestricted use, distribution, and reproduction in any medium, provided the original work is properly cited (CC BY 4.0).

Share & Cite This Article
MDPI and ACS Style
van de Ven, M.A.J.; Borst, A.M.; Davies, G.R.; Hunt, E.J.; Finch, A.A. Hydrothermal Alteration of Eudialyte-Hosted Critical Metal Deposits: Fluid Source and Implications for Deposit Grade. Minerals 2019, 9, 422.
Note that from the first issue of 2016, MDPI journals use article numbers instead of page numbers. See further details here.
Related Articles
Comments
[Return to top]