Metamorphic and Metasomatic Kyanite-Bearing Mineral Assemblages of Thassos Island (Rhodope, Greece)
1
GeoRessources, Faculté des Sciences et Technologies, Université de Lorraine, CNRS, F-54506 Vandœuvre-lès-Nancy, France
2
Department of Geology & Geoenvironment, National and Kapodistrian University of Athens, 15784 Athens, Greece
3
Département de Géologie et de Génie Géologique, Université Laval, Québec, QC G1V 0A6, Canada
4
Laboratoire de Planétologie et Géodynamique, Université de Nantes, CNRS UMR 6112, 44322 Nantes, France
5
PANGEA Research Centre, School of Biological, Earth and Environmental Sciences, University of New South Wales, Sydney, NSW 2052 Australia
*
Author to whom correspondence should be addressed.
Received: 27 February 2019 / Revised: 19 April 2019 / Accepted: 23 April 2019 / Published: 25 April 2019
Abstract
The Trikorfo area (Thassos Island, Rhodope massif, Northern Greece) represents a unique mineralogical locality with Mn-rich minerals including kyanite, andalusite, garnet and epidote. Their vivid colors and large crystal size make them good indicators of gem-quality materials, although crystals found up to now are too fractured to be considered as marketable gems. The dominant lithology is represented by a garnet–kyanite–biotite–hematite–plagioclase ± staurolite ± sillimanite paragneiss. Thermodynamic Perple_X modeling indicates conditions of ca. 630–710 °C and 7.8–10.4 kbars. Post-metamorphic metasomatic silicate and calc-silicate (Mn-rich)-minerals are found within (i) green-red horizons with a mineralogical zonation from diopside, hornblende, epidote and grossular, (ii) mica schists containing spessartine, kyanite, andalusite and piemontite, and (iii) weakly deformed quartz-feldspar coarse-grained veins with kyanite at the interface with the metamorphic gneiss. The transition towards brittle conditions is shown by Alpine-type tension gashes, including spessartine–epidote–clinochlore–hornblende-quartz veins, cross-cutting the metamorphic foliation. Kyanite is of particular interest because it is present in the metamorphic paragenesis and locally in metasomatic assemblages with a large variety of colors (zoned blue to green/yellow-transparent and orange). Element analyses and UV-near infrared spectroscopy analyses indicate that the variation in color is due to a combination of Ti
4+
–Fe
2+
, Fe
3+
and Mn
3+
substitutions with Al
3+
. Structural and mineralogical observations point to a two-stage evolution of the Trikorfo area, where post-metamorphic hydrothermal fluid circulation lead locally to metasomatic reactions from ductile to brittle conditions during Miocene exhumation of the high-grade host-rocks. The large variety of mineral compositions and assemblages points to a local control of the mineralogy and
f
O
2
conditions during metasomatic reactions and interactions between hydrothermal active fluids and surrounding rocks.
View Full-Text
►

▼

Figures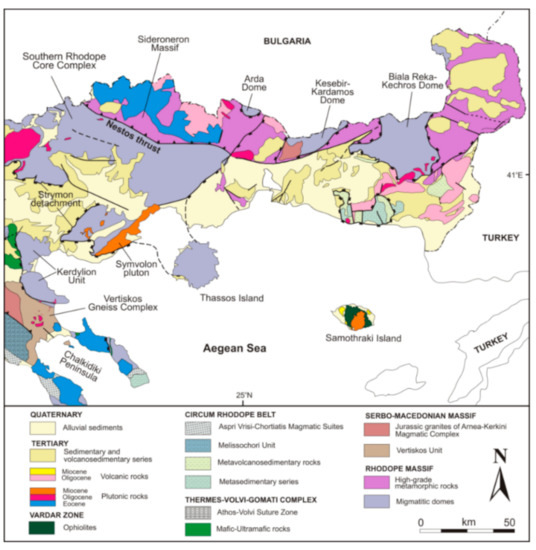 Figure 1
This is an open access article distributed under the
Creative Commons Attribution License
which permits unrestricted use, distribution, and reproduction in any medium, provided the original work is properly cited (CC BY 4.0).

Share & Cite This Article
MDPI and ACS Style
Tarantola, A.; Voudouris, P.; Eglinger, A.; Scheffer, C.; Trebus, K.; Bitte, M.; Rondeau, B.; Mavrogonatos, C.; Graham, I.; Etienne, M.; Peiffert, C. Metamorphic and Metasomatic Kyanite-Bearing Mineral Assemblages of Thassos Island (Rhodope, Greece). Minerals 2019, 9, 252.
Note that from the first issue of 2016, MDPI journals use article numbers instead of page numbers. See further details here.
Related Articles
Comments
[Return to top]