Mineralogy of Cobalt-Rich Ferromanganese Crusts from the Perth Abyssal Plain (E Indian Ocean)
1
Faculty of Geosciences, Institute of Marine and Coastal Sciences, University of Szczecin, Mickiewicza 16A, 70383 Szczecin, Poland
2
Faculty of Geology, Geophysics and Environmental Protection, Department of Economic Geology, AGH University of Science and Technology, Mickiewicza 30, 30059 Kraków, Poland
3
Faculty of Chemical Technology and Engineering, West Pomeranian University of Technology Szczecin, Pułaskiego 10, 70322 Szczecin, Poland
*
Author to whom correspondence should be addressed.
Received: 26 December 2018 / Revised: 24 January 2019 / Accepted: 27 January 2019 / Published: 29 January 2019
Abstract
Mineralogy of phosphatized and zeolitized hydrogenous cobalt-rich ferromanganese crusts from Dirck Hartog Ridge (DHR), the Perth Abyssal Plain (PAP), formed on an altered basaltic substrate, is described. Detail studies of crusts were conducted using optical transmitted light microscopy, X-ray Powder Diffraction (XRD) and Energy Dispersive X-ray Fluorescence (EDXRF), Differential Thermal Analysis (DTA) and Electron Probe Microanalysis (EPMA). The major Fe-Mn mineral phases that form DHR crusts are low-crystalline vernadite, asbolane and a feroxyhyte-ferrihydrite mixture. Accessory minerals are Ca-hydroxyapatite, zeolites (Na-phillipsite, chabazite, heulandite-clinoptilolite), glauconite and several clay minerals (Fe-smectite, nontronite, celadonite) are identified in the basalt-crust border zone. The highest Ni, Cu and Co contents are observed in asbolane and Mn-(Fe) vernadite. There is significant enrichment of Ti in feroxyhyte−ferrihydrite and vernadite. The highest rare earth element (REE) content is measured in the phosphate minerals, less in phyllosilicates and Na-phillipsite. The geochemical composition of minerals in the DHR crusts supports the formation of crusts by initial alteration, phosphatization and zeolitization of the substrate basalts followed by oscillatory Fe-Mn oxyhydroxides precipitation of hydrogenous vernadite (oxic conditions) and diagenous asbolane (suboxic conditions).
View Full-Text
►

▼

Figures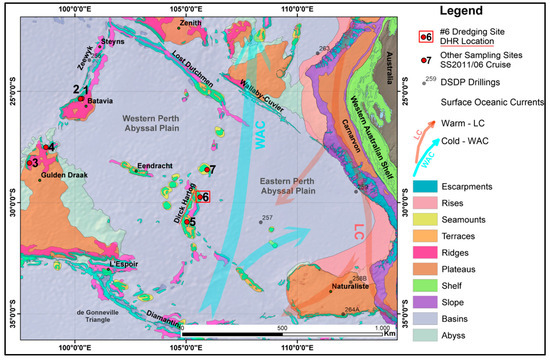 Figure 1
This is an open access article distributed under the
Creative Commons Attribution License
which permits unrestricted use, distribution, and reproduction in any medium, provided the original work is properly cited (CC BY 4.0).

Share & Cite This Article
MDPI and ACS Style
Maciąg, Ł.; Zawadzki, D.; Kozub-Budzyń, G.A.; Piestrzyński, A.; Kotliński, R.A.; Wróbel, R.J. Mineralogy of Cobalt-Rich Ferromanganese Crusts from the Perth Abyssal Plain (E Indian Ocean). Minerals 2019, 9, 84.
Note that from the first issue of 2016, MDPI journals use article numbers instead of page numbers. See further details here.
Related Articles
Comments
[Return to top]