Unique PGE–Cu–Ni Noril'sk Deposits, Siberian Trap Province: Magmatic and Tectonic Factors in Their Origin
1
Vernadsky Institute of Geochemistry and Analytical Chemistry, Russian Academy of Sciences, 19 Kosygin st., Moscow 119991, Russia
2
Geological Department, Lomonosov Moscow State University, Leninsky Gory, 1, Moscow 119992, Russia
3
Schmidt Institute of the Physics of the Earth, Russian Academy of Sciences, 10 Bolshaya Gruzinskaya, Moscow 123995, Russia
4
Geological Department, Perm State University, 15 Bukireva, Perm 614990, Russia
5
Institute of Geology of Ore Deposits, Petrography, Mineralogy and Geochemistry, Russian Academy of Sciences, 35 Staronometny per., Moscow 119017, Russia
6
Polyarnaya Expedition, Lomonosov, 24, Pobedy str., Lomonosov, St.-Petersburg 198412, Russia
*
Author to whom correspondence should be addressed.
Received: 11 December 2018 / Revised: 17 January 2019 / Accepted: 18 January 2019 / Published: 21 January 2019
Abstract
The unique and very large PGE–Cu–Ni Noril'sk deposits are located within the Siberian trap province, posing a number of questions about the relationship between the ore-forming process and the magmatism that produced the traps. A successful answer to these questions could greatly increase the possibility of discovering new deposits in flood basalt provinces elsewhere. In this contribution, we present new data on volcanic stratigraphy and geochemistry of the magmatic rocks in the key regions of the Siberian trap province (Noril'sk, Taimyr, Maymecha-Kotuy, Kulyumber, Lower Tunguska and Angara) and analyze the structure of the north part of the province. The magmatic rocks of the Arctic zone are characterized by variable MgO (3.6–37.2 wt %) and TiO
2
(0.8–3.9 wt %) contents, Gd/Yb (1.4–6.3) and La/Sm (2.0–10.4) ratios, and a large range of isotopic compositions. The intrusions in the center of the Tunguska syneclise and Angara syncline have much less variable compositions and correspond to a "typical trap" with MgO of 5.6–7.2 wt %, TiO
2
of 1.0–1.6 wt %, Gd/Yb ratio of 1.4–1.6 and La/Sm ratio of 2.0–3.5. This compositional diversity of magmas in the Arctic zone is consistent with their emplacement within the paleo-rift zones. Ore-bearing intrusions (the Noril'sk 1, Talnakh, Kharaelakh) are deep-situated in the Igarka-Noril'sk rift zone, which has three branches, namely the Bolsheavamsky, Dyupkunsky, and Lower Tunguska, that are prospected for discovering new deposits. One possible explanation for the specific position of the PGE–Cu–Ni deposits is accumulation of sulfides in these long-lived zones from the Neoproterozoic to the Mesozoic era during magmatic and metamorphic processes. Thus, trap magmatism, itself, does not produce large deposits, but mobilizes earlier formed sulfide segregations in addition carrying metals in the original magmas. These deposits are the results of several successive magmatic events, in which emplacement of the traps was the final event.
View Full-Text
►

▼

Figures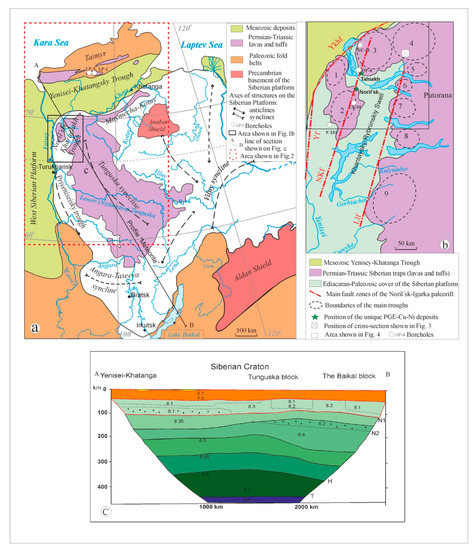 Figure 1
This is an open access article distributed under the
Creative Commons Attribution License
which permits unrestricted use, distribution, and reproduction in any medium, provided the original work is properly cited (CC BY 4.0).

Share & Cite This Article
MDPI and ACS Style
Krivolutskaya, N.A.; Latyshev, A.V.; Dolgal, A.S.; Gongalsky, B.I.; Makarieva, E.M.; Makariev, A.A.; Svirskaya, N.M.; Bychkova, Y.V.; Yakushev, A.I.; Asavin, A.M. Unique PGE–Cu–Ni Noril'sk Deposits, Siberian Trap Province: Magmatic and Tectonic Factors in Their Origin. Minerals 2019, 9, 66.
Note that from the first issue of 2016, MDPI journals use article numbers instead of page numbers. See further details here.
Related Articles
Comments
[Return to top]