Evolution of Clays in Cretaceous Marly Series (Álava Block, Basque Cantabrian Basin, Spain): Diagenesis and Detrital Input Control
1
Departamento de Mineralogía y Petrología, Facultad de Ciencia y Tecnología, Universidad del País Vasco/EHU, Apdo. 644, 48080 Bilbao, Spain
2
CAI de Técnicas Geológicas, Universidad Complutense de Madrid, C/ José Antonio Novais no. 2, 28040 Madrid, Spain
3
Departamento de Mineralogía y Petrología, IACT, Universidad de Granada-CSIC, Av. Fuentenueva s/n, 18002 Granada, Spain
4
IUCA-Facultad de Ciencias, Universidad de Zaragoza, Pedro Cerbuna 12, 50009 Zaragoza, Spain
*
Author to whom correspondence should be addressed.
Received: 10 October 2018 / Revised: 26 December 2018 / Accepted: 4 January 2019 / Published: 12 January 2019
Abstract
Two stratigraphic sections of carbonate sediments with significant thickness differences and without appreciable tectonic deformation were studied near the trough and on a threshold zone at the Álava Trough. Such characteristics make them appropriate to analyze the influence of a slow progression of the diagenesis over the original clay suite. X Ray Diffraction (XRD), Transmission Electron Microscopy (TEM) and Analytical Electron Microscopy (AEM) techniques were applied in natural and alkylammonium-treated samples. Diagenesis slightly modified the clay mineralogy, the disappearance of smectite, and the variation in the content and ordering of the I/S mixed layer, with burial being the most noteworthy process. The total charge in the 2:1 expandable layers of smectite and I/S shows a slight increase, preferentially located on tetrahedral sheets, with depth. The data suggest a moderate diagenesis grade for the studied materials. The combination of techniques allowed identification of several types of detrital micaceous phases, as well-crystallized K-rich micas, Na-K micas, mica-chlorite stacks, and illites, with an expandable behaviour after the alkylammonium treatment. The total charge of illites did not change with diagenesis, suggesting their detrital origin. This research shows that the detrital assemblage masks the diagenetic evolution in the basin, which indicates the importance of the combination of different techniques to infer correctly the diagenetic grade in a sedimentary basin.
View Full-Text
►

▼

Figures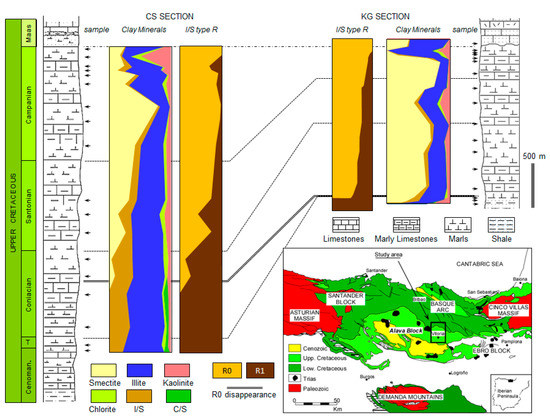 Figure 1
This is an open access article distributed under the
Creative Commons Attribution License
which permits unrestricted use, distribution, and reproduction in any medium, provided the original work is properly cited (CC BY 4.0).

Share & Cite This Article
MDPI and ACS Style
Arostegui, J.; Arroyo, X.; Nieto, F.; Bauluz, B. Evolution of Clays in Cretaceous Marly Series (Álava Block, Basque Cantabrian Basin, Spain): Diagenesis and Detrital Input Control. Minerals 2019, 9, 40.
Note that from the first issue of 2016, MDPI journals use article numbers instead of page numbers. See further details here.
Related Articles
Comments
[Return to top]