Structural Control on Clay Mineral Authigenesis in Faulted Arkosic Sandstone of the Rio do Peixe Basin, Brazil
1
Post-Graduation Program on Geodynamics and Geophysics, Universidade Federal do Rio Grande do Norte, Natal, RN 59078-970, Brazil
2
Department of Chemistry, Life Sciences and Environmental Sustainability, University of Parma, I-43124 Parma, Italy
3
Department of Geology, Federal University of Rio Grande do Norte, Natal, RN 59078-970, Brazil
4
Department of Petroleum Engineering, Federal University of Campina Grande, Campina Grande, PB 58100-000, Brazil
5
Petrobras Research Center—CENPES, Rio de Janeiro, RJ 21941-915, Brazil
*
Author to whom correspondence should be addressed.
Received: 3 July 2018 / Revised: 29 August 2018 / Accepted: 13 September 2018 / Published: 14 September 2018
Abstract
Clay minerals in structurally complex settings influence fault zone behavior and characteristics such as permeability and frictional properties. This work aims to understand the role of fault zones on clay authigenesis in arkosic, high-porosity sandstones of the Cretaceous Rio do Peixe basin, northeast Brazil. We integrated field, petrographic and scanning electron microscopy (SEM) observations with X-ray diffraction data (bulk and clay-size fractions). Fault zones in the field are characterized by low-porosity deformation bands, typical secondary structures developed in high-porosity sandstones. Laboratory results indicate that in the host rock far from faults, smectite, illite and subordinately kaolinite, are present within the pores of the Rio do Peixe sandstones. Such clay minerals formed after sediment deposition, most likely during shallow diagenetic processes (feldspar dissolution) associated with meteoric water circulation. Surprisingly, within fault zones the same clay minerals are absent or are present in amounts which are significantly lower than those in the undeformed sandstone. This occurs because fault activity obliterates porosity and reduces permeability by cataclasis, thus: (1) destroying the space in which clay minerals can form; and (2) providing a generally impermeable tight fabric in which external meteoric fluid flow is inhibited. We conclude that the development of fault zones in high-porosity arkosic sandstones, contrary to other low-porosity lithologies, inhibits clay mineral authigenesis.
View Full-Text
►

▼

Figures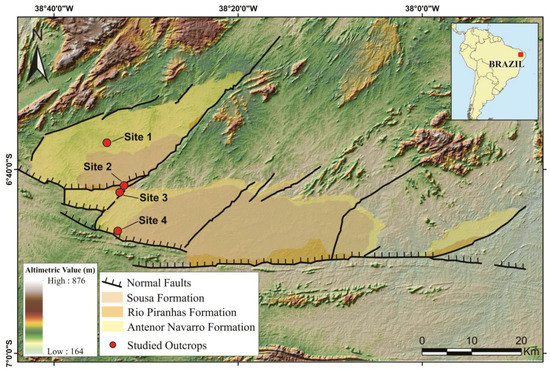 Figure 1
This is an open access article distributed under the
Creative Commons Attribution License
which permits unrestricted use, distribution, and reproduction in any medium, provided the original work is properly cited (CC BY 4.0).

Share & Cite This Article
MDPI and ACS Style
Maciel, I.B.; Dettori, A.; Balsamo, F.; Bezerra, F.H.; Vieira, M.M.; Nogueira, F.C.; Salvioli-Mariani, E.; Sousa, J.A.B. Structural Control on Clay Mineral Authigenesis in Faulted Arkosic Sandstone of the Rio do Peixe Basin, Brazil. Minerals 2018, 8, 408.
Note that from the first issue of 2016, MDPI journals use article numbers instead of page numbers. See further details here.
Related Articles
Comments
[Return to top]