New Occurrence of Rusinovite, Ca10(Si2O7)3Cl2: Composition, Structure and Raman Data of Rusinovite from Shadil-Khokh Volcano, South Ossetia and Bellerberg Volcano, Germany
1
Department of Geochemistry, Mineralogy and Petrography, Faculty of Earth Sciences, University of Silesia, Będzińska 60, 41-200 Sosnowiec, Poland
2
Institute of Mineralogy and Petrography, University of Innsbruck, Innrain 52, 6020 Innsbruck, Austria
3
Insitute of Geology of Ore Deposits, Petrography, Mineralogy and Biochemistry, RAS, Staromonetny 35, 119017 Moscow, Russia
4
Vladikavkaz Scientific Centre of the Russian Academy of Sciences, Markov str. 93a, 362008 Vladikavkaz, Republic of North Ossetia-Alania, Russia
*
Author to whom correspondence should be addressed.
Received: 28 August 2018 / Revised: 7 September 2018 / Accepted: 8 September 2018 / Published: 10 September 2018
Abstract
Rusinovite, Ca
10
(Si
2
O
7
)
3
Cl
2
, was found at two new localities, including Shadil-Khokh volcano, South Ossetia and Bellerberg volcano, Caspar quarry, Germany. At both of these localities, rusinovite occurs in altered carbonate-silicate xenoliths embedded in volcanic rocks. The occurrence of this mineral is connected to specific zones of the xenolith characterized by a defined Ca:Si < 2 ratio. Chemical compositions, as well as the Raman spectra of the investigated rusinovite samples, correspond to the data from the locality of rusinovite holotype—Upper Chegem Caldera, Northern Caucasus, Russia. The most intense bands of the Raman spectra are related to vibrations of (Si
2
O
7
) groups. Unit cell parameters of rusinovite from South Ossetia are:
a
= 3.76330(4) Å,
b
= 16.9423(3) Å,
c
= 17.3325(2) Å,
V
= 1105.10(4) Å
3
, Z = 2. The performed synchrotron radiation diffraction experiments did not confirm a doubling of
c
as reported for the synthetic phase, Ca
10
(Si
2
O
7
)
3
Cl
2
. However, one-dimensional diffuse scattering parallel to
b
* has been observed. This can be interpreted with an ordered arrangement of Si
2
O
7
groups creating layers with a doubled
a
parameter. Consequently, the two different displacements of neighbouring layers allow random stacking faults to occur.
View Full-Text
►

▼

Figures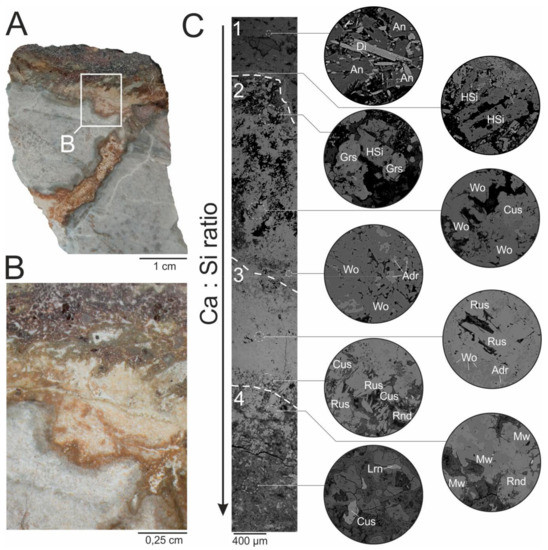 Figure 1
This is an open access article distributed under the
Creative Commons Attribution License
which permits unrestricted use, distribution, and reproduction in any medium, provided the original work is properly cited (CC BY 4.0).

Share & Cite This Article
MDPI and ACS Style
Środek, D.; Juroszek, R.; Krüger, H.; Krüger, B.; Galuskina, I.; Gazeev, V. New Occurrence of Rusinovite, Ca10(Si2O7)3Cl2: Composition, Structure and Raman Data of Rusinovite from Shadil-Khokh Volcano, South Ossetia and Bellerberg Volcano, Germany. Minerals 2018, 8, 399.
Note that from the first issue of 2016, MDPI journals use article numbers instead of page numbers. See further details here.
Related Articles
Comments
[Return to top]