Dynamic Disorder of Fe3+ Ions in the Crystal Structure of Natural Barioferrite
1
Faculty of Earth Sciences, University of Silesia, Będzińska 60, 41-200 Sosnowiec, Poland
2
Kola Science Centre, Russian Academy of Sciences, 14 Fersman street, Apatity 184200, Russia
*
Author to whom correspondence should be addressed.
Received: 13 July 2018 / Revised: 3 August 2018 / Accepted: 6 August 2018 / Published: 8 August 2018
Abstract
A natural barioferrite, BaFe
3+
12
O
19
, from a larnite–schorlomite–gehlenite vein of paralava within gehlenite hornfels of the Hatrurim Complex at Har Parsa, Negev Desert, Israel, was investigated by Raman spectroscopy, electron probe microanalysis, and single-crystal X-ray analyses acquired over the temperature range of 100–400 K. The crystals are up to 0.3 mm × 0.1 mm in size and form intergrowths with hematite, magnesioferrite, khesinite, and harmunite. The empirical formula of the barioferrite investigated is as follows: (Ba
0.85
Ca
0.12
Sr
0.03
)
∑1
(Fe
3+
10.72
Al
0.46
Ti
4+
0.41
Mg
0.15
Cu
2+
0.09
Ca
0.08
Zn
0.04
Mn
2+
0.03
Si
0.01
)
∑11.99
O
19
. The strongest bands in the Raman spectrum are as follows: 712, 682, 617, 515, 406, and 328 cm
−1
. The structure of natural barioferrite (
P
6
3
/
mmc
,
a =
5.8901(2) Å,
c
= 23.1235(6) Å, V = 694.75(4) Å
3
,
Z
= 2) is identical with the structure of synthetic barium ferrite and can be described as an interstratification of two fundamental blocks: spinel-like
S
-modules with a cubic stacking sequence and
R
-modules that have hexagonal stacking. The displacement ellipsoids of the trigonal bipyramidal site show elongation along the [001] direction during heating. As a function of temperature, the mean apical Fe–O bond lengths increase, whereas the equatorial bond lengths decrease, which indicates dynamic disorder at the Fe2 site.
View Full-Text
►

▼

Figures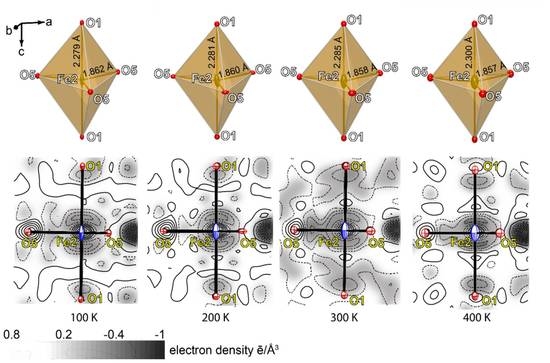 Graphical abstract
This is an open access article distributed under the
Creative Commons Attribution License
which permits unrestricted use, distribution, and reproduction in any medium, provided the original work is properly cited (CC BY 4.0).

Printed Edition Available!
A printed edition of this Special Issue is available
here
.
Share & Cite This Article
MDPI and ACS Style
Krzątała, A.; Panikorovskii, T.L.; Galuskina, I.O.; Galuskin, E.V. Dynamic Disorder of Fe3+ Ions in the Crystal Structure of Natural Barioferrite. Minerals 2018, 8, 340.
Note that from the first issue of 2016, MDPI journals use article numbers instead of page numbers. See further details here.
Related Articles
Comments
[Return to top]