Accumulation of Platinum Group Elements in Hydrogenous Fe–Mn Crust and Nodules from the Southern Atlantic Ocean
1
Shirshov Institute of Oceanology, Russian Academy of Sciences, 36, Nahimovskiy prt., 117997 Moscow, Russia
2
Institute of Chemistry and Problems of Sustainable Development, D. Mendeleev University of Chemical Technology of Russia, 9, Miusskya Sq., 125047 Moscow, Russia
*
Author to whom correspondence should be addressed.
Received: 27 May 2018 / Revised: 22 June 2018 / Accepted: 25 June 2018 / Published: 28 June 2018
Abstract
Distribution of platinum group elements (Ru, Pd, Pt, and Ir) and gold in hydrogenous ferromanganese deposits from the southern part of the Atlantic Ocean has been studied. The presented samples were the surface and buried Fe–Mn hydrogenous nodules, biomorphous nodules containing predatory fish teeth in their nuclei, and crusts. Platinum content varied from 47 to 247 ng/g, Ru from 5 to 26 ng/g, Pd from 1.1 to 2.8 ng/g, Ir from 1.2 to 4.6 ng/g, and Au from less than 0.2 to 1.2 ng/g. In the studied Fe–Mn crusts and nodules, Pt, Ir, and Ru are significantly correlated with some redox-sensitive trace metals (Co, Ce, and Tl). Similar to cobalt and cerium behaviour, ruthenium, platinum, and iridium are scavenged from seawater by suspended ferromanganese oxyhydroxides. The most likely mechanism of Platinum Group Elements (PGE) accumulation can be sorption and oxidation on δ-MnO
2
surfaces. The obtained platinum fluxes to ferromanganese crusts and to nodules are close and vary from 35 to 65 ng∙cm
−2
∙Ma
−1
. Palladium and gold do not accumulate in hydrogenous ferromanganese deposits relative to the Earth's crust. No correlation of Pd and Au content with major and trace elements in nodules and crusts have been identified.
View Full-Text
►

▼

Figures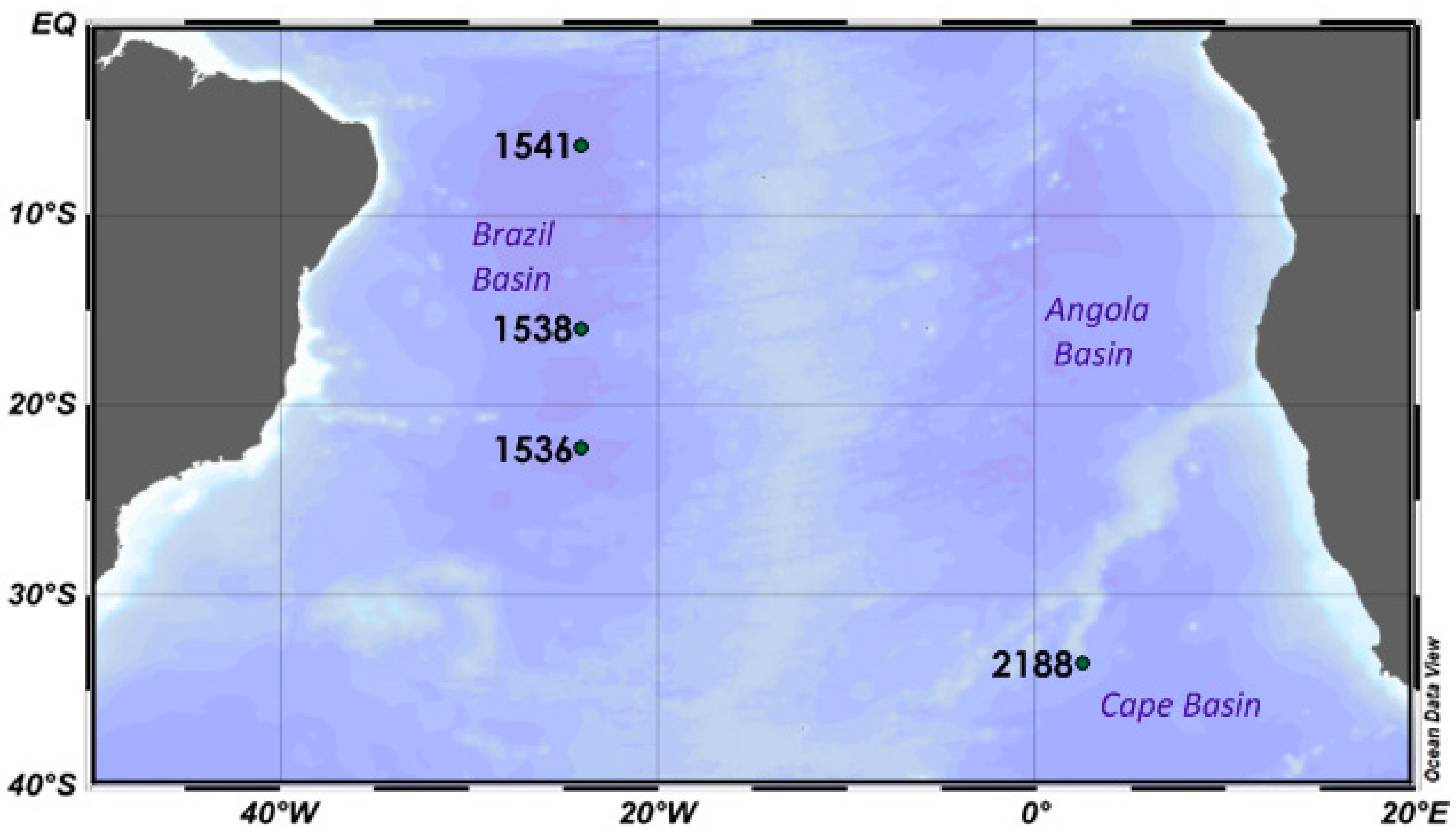 Figure 1
This is an open access article distributed under the
Creative Commons Attribution License
which permits unrestricted use, distribution, and reproduction in any medium, provided the original work is properly cited (CC BY 4.0).

Share & Cite This Article
MDPI and ACS Style
Berezhnaya, E.D.; Dubinin, A.V.; Rimskaya-Korsakova, M.N.; Safin, T.H. Accumulation of Platinum Group Elements in Hydrogenous Fe–Mn Crust and Nodules from the Southern Atlantic Ocean. Minerals 2018, 8, 275.
Note that from the first issue of 2016, MDPI journals use article numbers instead of page numbers. See further details here.
Related Articles
Comments
[Return to top]