Recovery of Residual Silver-Bearing Minerals from Low-Grade Tailings by Froth Flotation: The Case of Zgounder Mine, Morocco
1
Laboratoire de Chimie des Matériaux et de l'Environnement, Faculté des Sciences et Techniques, Université Cadi Ayyad, Marrakech BP 549/40000, Morocco
2
Zgounder Millenium Silver Mining Company, 3 Rue de l'Epargne, 1st Floor Racine, Casablanca 20100, Morocco
3
Materials Science and Nano-engineering Department, Mohammed VI Polytechnic University, Lot 660, Hay Moulay Rachid, Ben Guerir 43150, Morocco
4
Institut de Recherche en Mines et en Environnement, Université du Québec en Abitibi-Témiscamingue, 445 Boulevard de l'Université, Rouyn-Noranda, QC J9X5E4, Canada
5
Geology and Sustainable Mining Department, Mohammed VI Polytechnic University, Lot 660, Hay Moulay Rachid, Ben Guerir 43150, Morocco
*
Authors to whom correspondence should be addressed.
Received: 23 May 2018 / Revised: 23 June 2018 / Accepted: 25 June 2018 / Published: 27 June 2018
Abstract
The need to explore more complex and low-grade silver ores and to develop novel and cost-effective processes to recover silver from waste is becoming an important challenge. This paper aims to characterize old, low-grade, silver tailings generated by the former Zgounder silver mine, located in Morocco. Understanding the mineralogical composition, particularly the silver deportment, was critical to allow the recovery of silver from these tailings. More than 88 samples of low grade tailings were sampled and characterized using chemical and mineralogical techniques. Froth flotation was used to recover silver bearing minerals using a combination of different collectors (dithiophosphate, dialkyl dithiophosphinates, Aero 7518, Aero 7640, alkyl dithiophosphates and potassium butyl-xanthate). The main goal was to optimize the flotation process at a laboratory scale through the testing of different parameters, such as collectors and frother types and dosage, activators and sulphidizing agents, and pH conditions. The characterization results showed that silver content varied between 30 and 440 ppm with an overall average content of 148 ppm. Silver occurs mainly in the form of native silver as well as in association with sulphides, such as acanthite and pyrite. Minor amounts of sphalerite, chalcopyrite, arsenopyrite, and hematite were identified. The flotation results showed the following optimum conditions: particle size of 63 µm, conditioning pH of 8.5, a combination of butyl-xanthate and dithiophosphate as collectors at a dosage of 80 g/t each, a concentration of 200 g/t of the activating agent (CuSO
4
), 30 g/t of methyl isobutyl carbonyl (MIBC) frother and a duration time of 8 min with slow kinetics. With these optimal conditions, it was possible to achieve a maximum silver recovery yield of 84% with 1745 ppm Ag grade to be cyanided. Moreover, the environmental behavior of the final clean tailings was demonstrated to be inert using Toxicity characteristic leaching procedure (TCLP) leaching tests.
View Full-Text
►

▼

Figures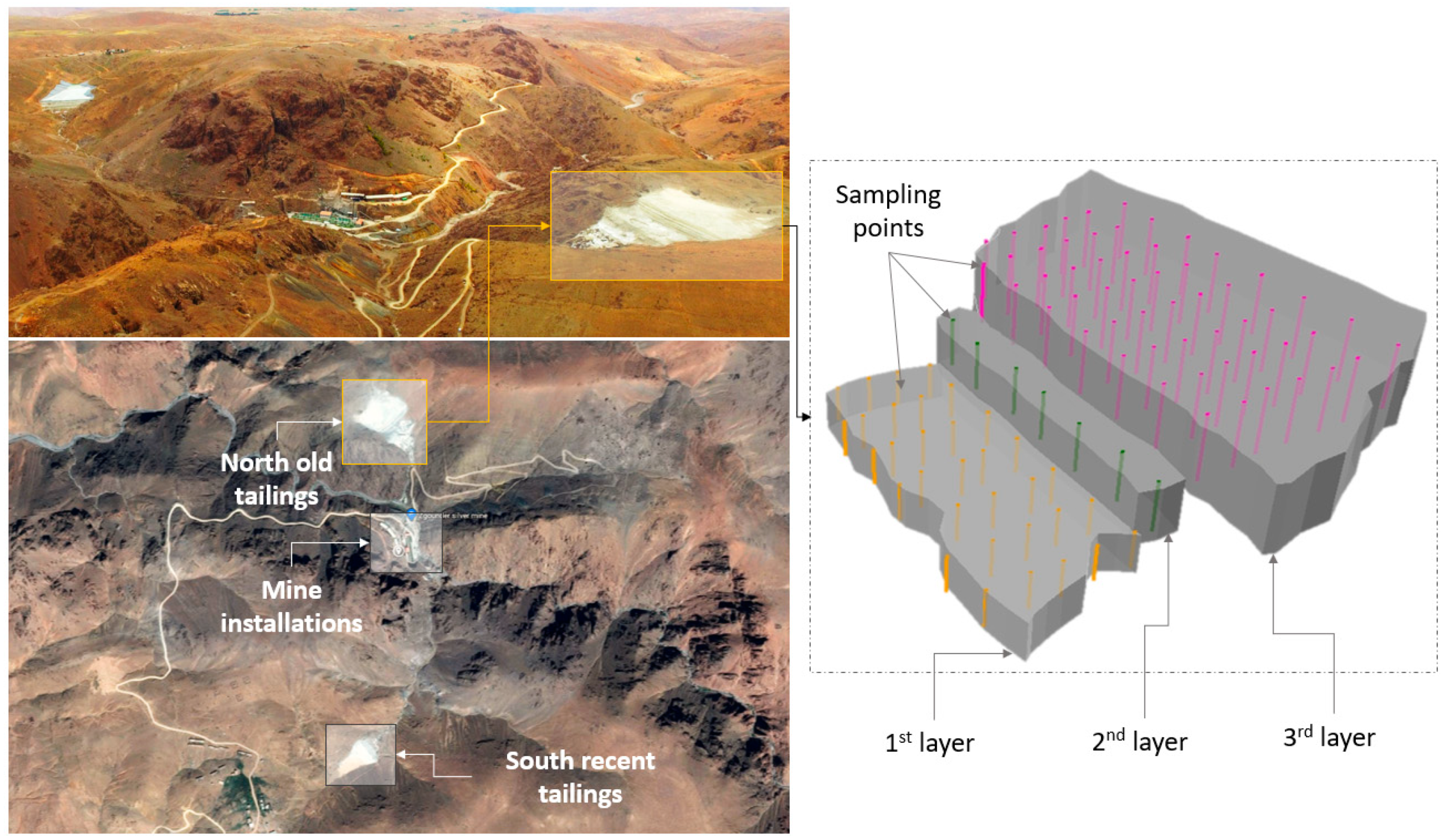 Figure 1
This is an open access article distributed under the
Creative Commons Attribution License
which permits unrestricted use, distribution, and reproduction in any medium, provided the original work is properly cited (CC BY 4.0).

Share & Cite This Article
MDPI and ACS Style
Drif, B.; Taha, Y.; Hakkou, R.; Benzaazoua, M. Recovery of Residual Silver-Bearing Minerals from Low-Grade Tailings by Froth Flotation: The Case of Zgounder Mine, Morocco. Minerals 2018, 8, 273.
Note that from the first issue of 2016, MDPI journals use article numbers instead of page numbers. See further details here.
Related Articles
Comments
[Return to top]