Origin of Reverse Zoned Cr-Spinels from the Paleoproterozoic Yanmenguan Mafic–Ultramafic Complex in the North China Craton
1
Key Laboratory of Mineral Resources, Institute of Geology and Geophysics, Chinese Academy of Sciences, P.O. Box 9825, Beijing 100029, China
2
University of Chinese Academy of Sciences, Beijing 100049, China
3
State Key Laboratory of Lithospheric Evolution, Institute of Geology and Geophysics, Chinese Academy of Sciences, P.O. Box 9825, Beijing 100029, China
4
Department of Mathematics and Geosciences, University of Trieste, Via Weiss 8, 34128 Trieste, Italy
5
Department of Earth Science, School of Physical and Mathematical Sciences, University of Ghana, P.O. Box LG 58, Legon-Accra, Ghana
*
Authors to whom correspondence should be addressed.
Received: 20 December 2017 / Revised: 7 February 2018 / Accepted: 8 February 2018 / Published: 12 February 2018
Abstract
We conducted petrological and mineral chemistry investigations of Cr-spinel in ultramafic rocks of the Yanmenguan mafic–ultramafic complex in the North China Craton. The Cr-spinel grains occur as inclusions in enstatite, tschermakite, phlogopite, and olivine, or as interstitial grains among the aforementioned silicate minerals, and show concentric or asymmetrical textures. Back-scattered electron and elemental images and compositional profiles of the spinel grains indicate the presence of Cr- and Fe-rich cores and Al- and Mg-rich rims. The host silicate minerals display a decrease in Al and Mg contents accompanied by an increase in Cr and Fe away from the spinel. These textures and compositional variations suggest that subsolidus elemental exchange more likely gave rise to the compositional zonation, resulting in the transfer of Al and Mg from the silicate minerals to the spinel. The Mn, Ni, and Ti contents in spinel and the major elements of olivine-hosted spinel are relatively stable during subsolidus elemental diffusion and thus are more reliable tracers of primary high-temperature processes. The temperature estimates reveal that the subsolidus diffusion might have occurred at 600–720 °C, which could be linked to the regional metamorphic event.
View Full-Text
►

▼

Figures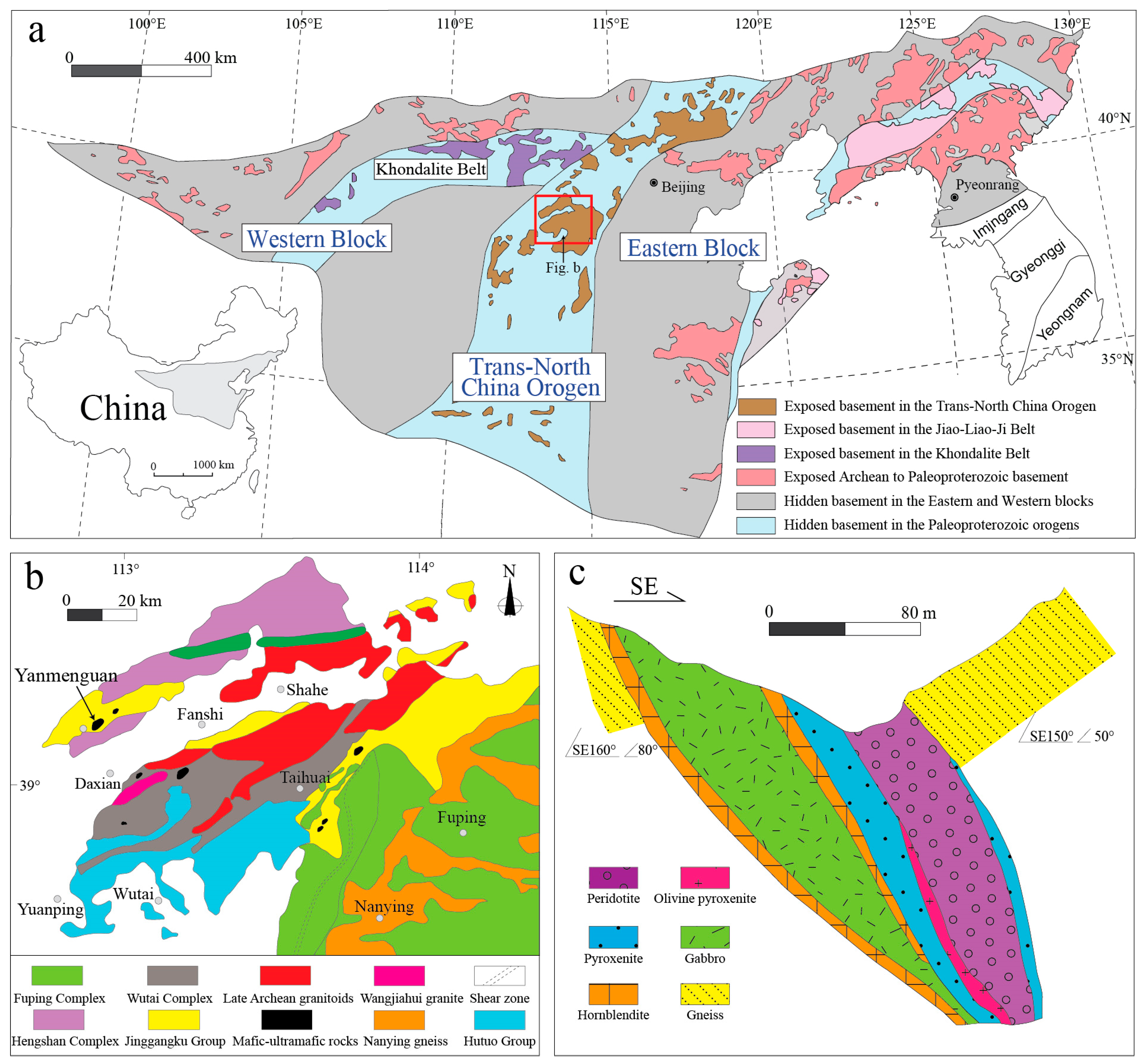 Figure 1
This is an open access article distributed under the
Creative Commons Attribution License
which permits unrestricted use, distribution, and reproduction in any medium, provided the original work is properly cited (CC BY 4.0).

Share & Cite This Article
MDPI and ACS Style
Bai, Y.; Su, B.-X.; Xiao, Y.; Lenaz, D.; Asamoah Sakyi, P.; Liang, Z.; Chen, C.; Yang, S.-H. Origin of Reverse Zoned Cr-Spinels from the Paleoproterozoic Yanmenguan Mafic–Ultramafic Complex in the North China Craton. Minerals 2018, 8, 62.
Note that from the first issue of 2016, MDPI journals use article numbers instead of page numbers. See further details here.
Related Articles
Comments
[Return to top]