Geodynamic Significance of the Mesoproterozoic Magmatism of the Udzha Paleo-Rift (Northern Siberian Craton) Based on U-Pb Geochronology and Paleomagnetic Data
1
Institute of Earth Sciences, St. Petersburg State University, 7/9 University Nab., 199034 St. Petersburg, Russia
2
Schmidt Institute of Physics of the Earth, Russian Academy of Sciences, Bolshaya Gruzinskaya St., 123242 10-1 Moscow, Russia
3
Institute of the Earth's Crust, Siberian Branch of the Russian Academy of Sciences, Lermontova St. 128, 664033 Irkutsk, Russia
4
Geological Department, Irkutsk State University, Karl Marks St. 1, 664003 Irkutsk, Russia
5
Institute of Precambrian Geology and Geochronology, Russian Academy of Sciences, Makarova Nab. 2, 199034 St. Petersburg, Russia
6
School of Natural Sciences, University of Tasmania, Churchill Ave, Hobart TAS 7005, Australia
7
Faculty of Geology, Lomonosov Moscow State University, Leninskiye Gory GSP-1.1, 119991 Moscow, Russia
*
Author to whom correspondence should be addressed.
Received: 9 November 2018 / Revised: 22 November 2018 / Accepted: 23 November 2018 / Published: 29 November 2018
Abstract
The emplacement age of the Great Udzha Dyke (northern Siberian Craton) was determined by the U-Pb dating of apatite using laser ablation inductively coupled plasma mass spectrometry (LA-ICPMS). This produced an age of 1386 ± 30 Ma. This dyke along with two other adjacent intrusions, which cross-cut the sedimentary units of the Udzha paleo-rift, were subjected to paleomagnetic investigation. The paleomagnetic poles for the Udzha paleo-rift intrusions are consistent with previous results published for the Chieress dyke in the Anabar shield of the Siberian Craton (1384 ± 2 Ma). Our results suggest that there was a period of intense volcanism in the northern Siberian Craton, as well as allow us to reconstruct the apparent migration of the Siberian Craton during the Mesoproterozoic.
View Full-Text
►

▼

Figures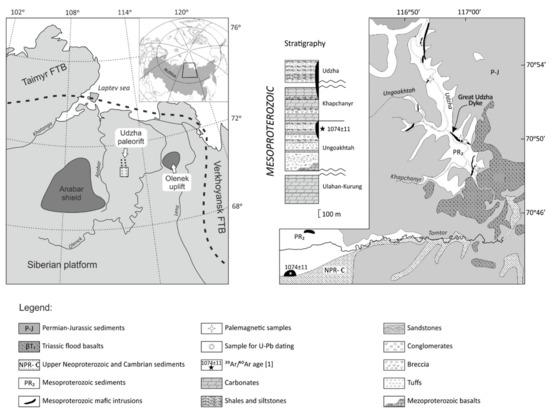 Figure 1
This is an open access article distributed under the
Creative Commons Attribution License
which permits unrestricted use, distribution, and reproduction in any medium, provided the original work is properly cited (CC BY 4.0).

Share & Cite This Article
MDPI and ACS Style
Malyshev, S.V.; Pasenko, A.M.; Ivanov, A.V.; Gladkochub, D.P.; Savatenkov, V.M.; Meffre, S.; Abersteiner, A.; Kamenetsky, V.S.; Shcherbakov, V.D. Geodynamic Significance of the Mesoproterozoic Magmatism of the Udzha Paleo-Rift (Northern Siberian Craton) Based on U-Pb Geochronology and Paleomagnetic Data. Minerals 2018, 8, 555.
Note that from the first issue of 2016, MDPI journals use article numbers instead of page numbers. See further details here.
Related Articles
Comments
[Return to top]