Geochemistry and Petrogenesis of Mesoproterozoic Dykes of the Irkutsk Promontory, Southern Part of the Siberian Craton
1
Institute of the Earth's Crust, Siberian Branch of the Russian Academy of Sciences, ul. Lermontova 128, Irkutsk 664033, Russia
2
Department of Earth Sciences, Carleton University, Ottawa, ON K1S 5B6, Canada
3
Faculty of Geology and Geography, Tomsk State University, Tomsk 634050, Russia
4
ARC Centre of Excellence for Core to Crust Fluid Systems (CCFS) and Earth Dynamics Research Group, The Institute for Geoscience Research (TIGeR), Department of Applied Geology, Curtin University, GPO Box U1987, Perth, WA 6845, Australia
*
Author to whom correspondence should be addressed.
Received: 29 October 2018 / Revised: 16 November 2018 / Accepted: 20 November 2018 / Published: 23 November 2018
Abstract
We present new geochemical and Nd isotopic data on two Mesoproterozoic Listvyanka (1350 ± 6 Ma) and Goloustnaya (1338 ± 3 Ma) mafic dyke swarms located in the Irkutsk Promontory of the southern part of the Siberian craton. Listvyanka dykes are sub-vertical with NNE trend, while Goloustnaya dykes are characterized by prevailing W trend. Listvyanka and Goloustnaya dykes are composed of medium to coarse grained dolerites. All dolerites correspond to sub-alkaline tholeiitic basalts according to their major-element compositions with lower to moderate mg#, varying from 36 to 54. The trace and rare earth element abundances in Listvyanka and Goloustnaya dolerites are generally close to basalts of the oceanic island basalts (OIB) type. The Listvyanka dolerites demonstrate slightly positive εNd(t) values varying from +1.1 to +1.5, while the Goloustnaya dolerites are characterized by lower εNd(t) values ranging from −0.9 to +0.1. Geochemical and isotopic affinities of the Listvyanka dolerites suggest their enrichment by a mantle plume related source. For the Goloustnaya dolerites, we assume also some additional lithospheric input to their mantle plume-related source. The emplacement of both studied dolerites took place in intracontinental extensional setting, caused by a single rising mantle plume. Listvyanka and Goloustnaya dolerites are coeval to several mafic magmatic events in northern Laurentia and likely represent part of the Mesoproterozoic plumbing system of a Siberian–Laurentian Large Igneous Province.
View Full-Text
►

▼

Figures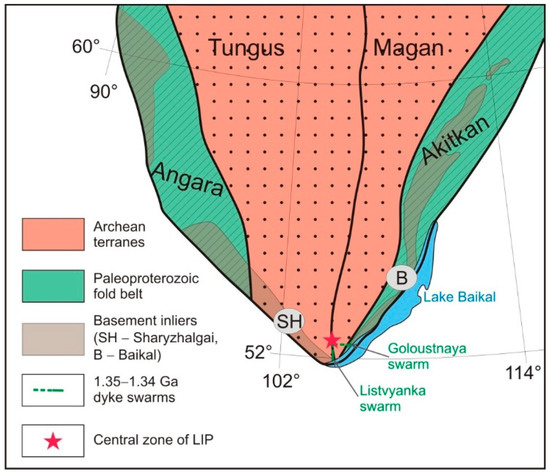 Figure 1
This is an open access article distributed under the
Creative Commons Attribution License
which permits unrestricted use, distribution, and reproduction in any medium, provided the original work is properly cited (CC BY 4.0).

Share & Cite This Article
MDPI and ACS Style
Donskaya, T.V.; Gladkochub, D.P.; Ernst, R.E.; Pisarevsky, S.A.; Mazukabzov, A.M.; Demonterova, E.I. Geochemistry and Petrogenesis of Mesoproterozoic Dykes of the Irkutsk Promontory, Southern Part of the Siberian Craton. Minerals 2018, 8, 545.
Note that from the first issue of 2016, MDPI journals use article numbers instead of page numbers. See further details here.
Related Articles
Comments
[Return to top]