Open Access This article is
freely available
re-usable
Article
On the Color and Genesis of Prase (Green Quartz) and Amethyst from the Island of Serifos, Cyclades, Greece
1
Institut für Mineralogie, Westfälische Wilhelms Universität Münster, Corrensstrasse 24, 48149 Münster, Germany
2
Faculty of Geology and Geoenvironment, National and Kapodistrian University of Athens, 15784 Athens, Greece
3
Laboratory of Mineralogy and Geology, Agricultural University of Athens, 11855 Athens, Greece
*
Author to whom correspondence should be addressed.
Received: 10 September 2018 / Accepted: 24 October 2018 / Published: 26 October 2018
Abstract
:
The color of quartz and other minerals can be either caused by defects in the crystal structure or by finely dispersed inclusions of other minerals within the crystals. In order to investigate the mineral chemistry and genesis of the famous prase (green quartz) and amethyst association from Serifos Island, Greece, we used electron microprobe analyses and oxygen isotope measurements of quartz. We show that the color of these green quartz crystals is caused by small and acicular amphibole inclusions. Our data also shows that there are two generations of amphibole inclusions within the green quartz crystals, which indicate that the fluid, from which both amphiboles and quartz have crystallized, must have had a change in its chemical composition during the crystallization process. The electron microprobe data also suggests that traces of iron may be responsible for the amethyst coloration. Both quartz varieties are characterized by isotopic compositions that suggest mixing of magmatic and meteoric/marine fluids. The contribution of meteoric fluid is more significant in the final stages and reflects amethyst precipitation under more oxidizing conditions.
Keywords:
green quartz; prase; amethyst; color; amphibole; actinolite; skarn; Serifos; Greece
2. Materials and Methods
We analyzed representative cm-sized prismatic crystals of prase (green quartz), and amethyst. To characterize both the quartz varieties and to search for possible mineral inclusions, we used optical microscopy and electron microprobe analyses (EMPA). Electron microprobe analyses on prase and its inclusions were performed with a JEOL 8530F field emission microprobe at the University of Münster (Germany). This microprobe enables us to take high-resolution back-scattered electron images and also to analyze small crystals with high accuracy. Analytical conditions for amphiboles were 15 kV accelerating voltage, 15 nA beam current, 5 µm spot size, and counting times of 10 s for peak and 5 s for the background signal except for Na and K (5 s for peak and 2 s for background). Prior to quantitative analyses all elements were standardized on matrix matched natural (Na, Mg, K, Si, Al, Ca, Fe, Mn) and synthetic (Ti, Cr) reference materials. Although quartz is known to be a robust mineral in regards to structure, hardness and weathering, it is nevertheless very sensitive to electron irradiation. Thus, special care must be taken analyzing quartz and its trace elements like Al, Fe, Ti, and K. We followed a recently published analytical protocol [
32
] using a beam current of 80 nA at 15 kV, 60 s peak and 30 s background counting time with a probe diameter of 15 µm. A blank quartz sample was measured along with the unknowns in order to check for "true-zero" concentrations. The average detection limits (3σ) for Al, K, Ti, and Fe is in the range of 0.011 wt % oxides. The phi-rho-z correction was applied to all data. To monitor accuracy and precision over the course of this study micro-analytical reference materials were analyzed and obtained results match published values within error.
Amethyst in polished sections embedded in resin, was analyzed using a JEOL JXA 8900 Superprobe equipped with four wavelength-dispersive spectrometers (WDS) and one energy-dispersive spectrometer (EDS) at the Agricultural University of Athens (Greece). All analyses were performed with an accelerating voltage of 15 kV, 15 nA beam current, slightly defocused beam (2 μm), 20 s counting time on peak position and 10 s for each background. Natural mineral standards used were jadeite (Na), quartz (Si), corundum (Al), diopside (Ca), olivine (Mg), fayalite (Fe), spessartine (Mn), microcline (K), ilmenite (Ti), chromite (Cr), apatite (P) and Ni-oxide (Ni).
Stable isotope analyses were performed at the Stable Isotope and Atmospheric Laboratories, Department of Geology, Royal Holloway, University of London (UK). The oxygen isotope composition of quartz was obtained using a CO
2
laser fluorination system similar to that described by Mattey [
33
]. Each mineral separate is weighed at 1.7 mg ± 10%. These were loaded into the 16-holes of a nickel sample tray, which was inserted into the reaction chamber and then evacuated. The oxygen was released by a 30 W Synrad CO
2
laser in the presence of BrF
5
reagent. The yield of oxygen was measured as a calibrated pressure based on the estimated or known oxygen content of the mineral being analyzed. Low yields result in low δ
18
O values for all mineral phases, so accurate yield calculations are essential. Yields of >90% are required for most minerals to give satisfactory δ
18
O values. The oxygen gas was measured using a VG Isotech (now GV Instruments, Wythenshawe, UK) Optima dual inlet isotope ratio mass spectrometer (IRMS). All values are reported relative to the Vienna Standard Mean Ocean Water (V-SMOW). The data are calibrated to a quartz standard (Q BLC) with a known δ
18
O value of +8.8‰ V-SMOW from previous measurements at the University of Paris-6 (France). This has been further calibrated for the RHUL laser line by comparison with NBS-28 quartz. Each 16-hole tray contained up to 12 sample unknowns and 4 of the Q BLC standard. For each quartz sample a small constant daily correction, normally less than 0.3‰, was applied to the data based on the average value for the standard. Overall, the precision of the RHUL system based on standard and sample replicates is better than ±0.1‰.
3. Geological Setting
Among them, ilvaite, a rare sorosilicate mineral is mainly found in Koundouros area, which is located a few kilometers north from Avessalos. Samples from this locality, are considered to be among the best of its kind.
4. Results
4.1. Mineral Chemistry
Detailed microscopy and back-scattered electron (BSE) images reveal that the Serifos green quartz contains numerous small inclusions. We find two general types of mineral inclusions. The first type comprises myriads of acicular amphibole crystals which are often 10–100 µm long, but their thickness is limited to below a few µm. These thin actinolite needles are practically found everywhere and seem to be randomly oriented. We did not observe any obvious relationship between amphibole orientation and the crystallographic orientation of the quartz crystals. Some of the needles (
Figure 3
a,b) are clearly curved, a fact that supports random orientation of the amphibole needles in relation to the host quartz crystals. With our electron microprobe we could only identify the needles as actinolitic amphibole but accurate analysis was not possible, due to the small size of the inclusions. We, therefore, assume that the chemical compositions of these thin amphibole needles are identical to the rims of the larger amphibole inclusions, a fact that also seems to be supported by electron microprobe maps (
Figure 3
e–f).
The second type consists of larger inclusions (
Figure 3
a–c) with sizes that reach a few tens of μm in length (commonly between 10 and 60 μm), and that always display zonation. EPMA analyses revealed that these inclusions are Ca-Fe-rich actinolitic amphiboles with compositions very close to the end-member ferro-actinolite. These minerals contain about 5 wt % MgO, almost no Na or K, and about 2 wt % Al
2
O
3
. All the studied larger actinolite inclusions contain a core, which is significantly lighter in BSE images. Microprobe analyses (
Table 1
) reveal that these cores are also actinolite, with some differences compared to the rims. MnO content is almost doubled compared to the rim (0.56 and 0.25 wt % respectively) and FeO is slightly higher. Subsequently, the cores contain lower MgO and (3.8 wt %) and much less Al
2
O
3
(0.3 wt %).
The CaO content is quite similar in both rim and core with values around 11.5 wt %. Finally, traces of Na2O and K2O were detected in both rim and core actinolites. Values for both elements increase towards the rims of the crystals, reaching values of up to 0.26 and 0.19 wt % respectively. Average chemical formulae for the compositions from the cores and the rims of the crystals correspond to [Ca1.95Na0.01K0.02]1.98 [Mg0.89Fe2+3.87Mn0.08Al0.07Ti0.01]4.92 [Si]8.08 O22(OH)2 and [Ca1.88Na0.08K0.04]2 [Mg1.15Fe2+3.55Fe3+0.13Mn0.03Al0.13]4.99 [Si7.85Al0.15]8 O22(OH)2, respectively. Analytical data from prase and amethyst yielded traces of Al2O3, FeO, MgO, MnO, CaO, Na2O, K2O and P2O5. The highest FeO and Al2O3 contents were found in prase (up to 0.26 and 0.024 wt % respectively). Amethyst Fe2O3 content reaches up to 0.020 wt % (calculated from the total FeO of the analyses).
4.2. Quartz Oxygen Isotopes
The quartz oxygen isotopic compositions were analyzed in hand-picked prase and amethyst crystals. The compositions of the fluid in equilibrium with the prase and amethyst crystals were calculated following Sharp et al. [
45
], using temperatures of 350°C for prase and 250 °C for amethyst, based on the respective mineral assemblages of Salemink [
43
].
The studied prase samples yielded isotopic δ
18
O
Qz
values of 12.72 and 12.74‰, which correspond to calculated δ
18
O
Fl
values of 7.32 and 7.14‰ (
Table 2
). Amethyst samples yielded δ
18
O
Qz
values of 9.94 and 9.85‰, which correspond to calculated δ
18
O
Fl
values of 1.04 and 0.95‰ respectively. The isotopic signature of prase is comparable to those of quartz samples from different assemblages of the skarn zone, but amethyst displays significantly lighter isotopic signature (
Figure 4
).
5. Discussion
Acicular and needle-shaped actinolite inclusions are scattered throughout the quartz crystals. Two types of inclusions were found: a plethora of very small (nanometer-sized) actinolites and a smaller number of larger, chemically zoned actinolite crystals, both without any obvious orientation in relation to the crystallographic orientation of the host quartz crystals.
6. Conclusions
We conclude that the green color of the Serifos green quartz is caused by nano- to micrometer-sized actinolite inclusions. We find two generations of actinolite crystals, with the earlier and larger actinolite inclusions containing less MgO (and consequently more FeO) and Al2O3, but more MnO compared to the later acicular actinolite, which is rimming the earlier larger crystals. Average chemical formulae correspond to [Ca1.95Na0.01K0.02]1.98 [Mg0.89Fe2+3.87Mn0.08Al0.07Ti0.01]4.92 [Si]8.08 O22 (OH)2 for the early cores and [Ca1.88Na0.08K0.04]2 [Mg1.15Fe2+3.55Fe3+0.13Mn0.03Al0.13]4.99 [Si7.85Al0.15]8 O22 (OH)2 for the rims, respectively. The color of Serifos' amethysts is caused of the presence of trace Fe3+. Our conclusions highlight the need for further microanalytical data of quartz crystals, regardless of the color, in order to better understand the procedures under which this unique mineralogical assemblage of Serifos Island was generated. The existence two different generations of actinolite could be used to monitor the chemical composition of the fluids from which the amphibolies and the quartz crystals in the geodes were formed. Future work should include other analytical techniques (e.g., Mössbauer spectroscopy, LA-ICP-MS, EPR etc.) that could also help to define the cause of the green color in prase and amethyst. Moreover, fluid inclusions studies in all quartz varieties from the Serifos Island skarn deposits, should be conducted, as to monitor temperature and salinity of the skarn-forming fluids.
Author Contributions
C.M. collected the samples. J.B. assisted by S.F., I.B. and S.X., evaluated the mineralogical data. P.V. and C.M. evaluated the isotopic analyses. S.K., C.M. and P.V. wrote the manuscript.
Funding
This project was partially funded by a DAAD/IKY Program between University of Münster and the Agricultural University of Athens.
Acknowledgments
The authors wish to thank M. Trogisch at Münster University for preparation of the thin sections and B. Schmitte for her help with the EMPA measurements Two anonymous reviewers are thanked for their constructive comments on the manuscript.
Conflicts of Interest
The authors declare no conflict of interest.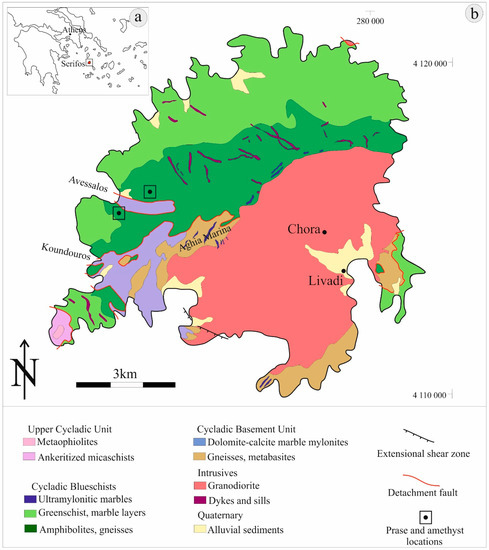 Figure 1.
(
a
) Serifos Island is located in the NW edge of the Cyclades Island complex in the Aegean Sea, Greece. (
b
) Simplified geological map of Serifos Island (modified after Ducoux et al. [
31
]). Black squares indicate the study areas of Avessalos (South) and Neroutsika (North).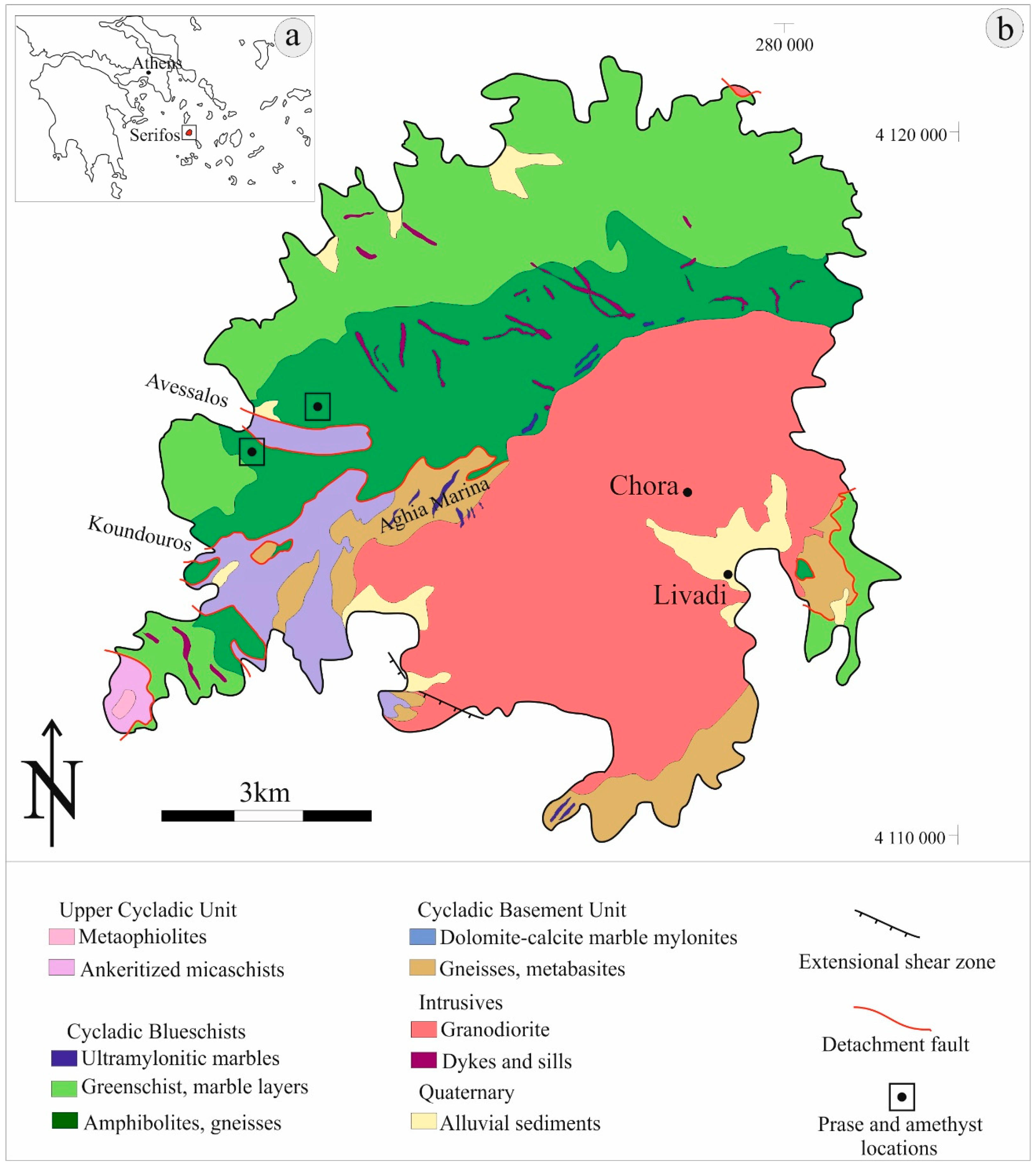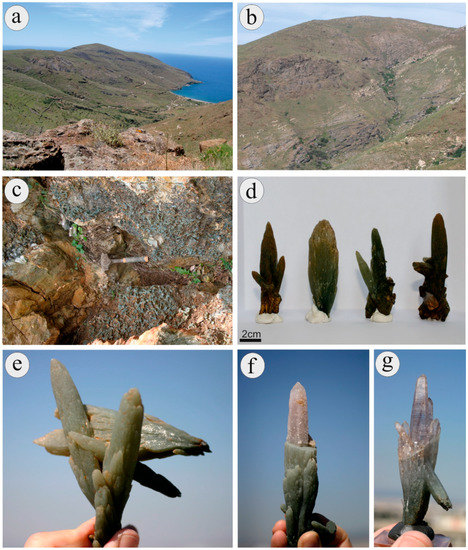 Figure 2.
Field and prase/amethyst specimen photographs: (
a
); The Avessalos location (view towards SW), famous for its prase; (
b
) The Neroutsika location (view towards NE) from where unique combinations of prase with amethyst were recovered (
Figure 2
g); (
c
) Geode within hedenbergitic skarn, filled with euhedral prase crystals, Avessalos locality; (
d
,
e
) aesthetic prase crystals combinations from Avessalos locality; (
f
) negative scepter, formed by an upper part of amethystine quartz that grows atop a basal part of prase, Avessalos locality; (
g
) bi-colored crystal consisting of a basal prase part and an upper amethyst part of gem quality, Neroutsika locality. Figures and specimen 3d and 3e–f are courtesy of C. Mavrogonatos and P. Voudouris respectively.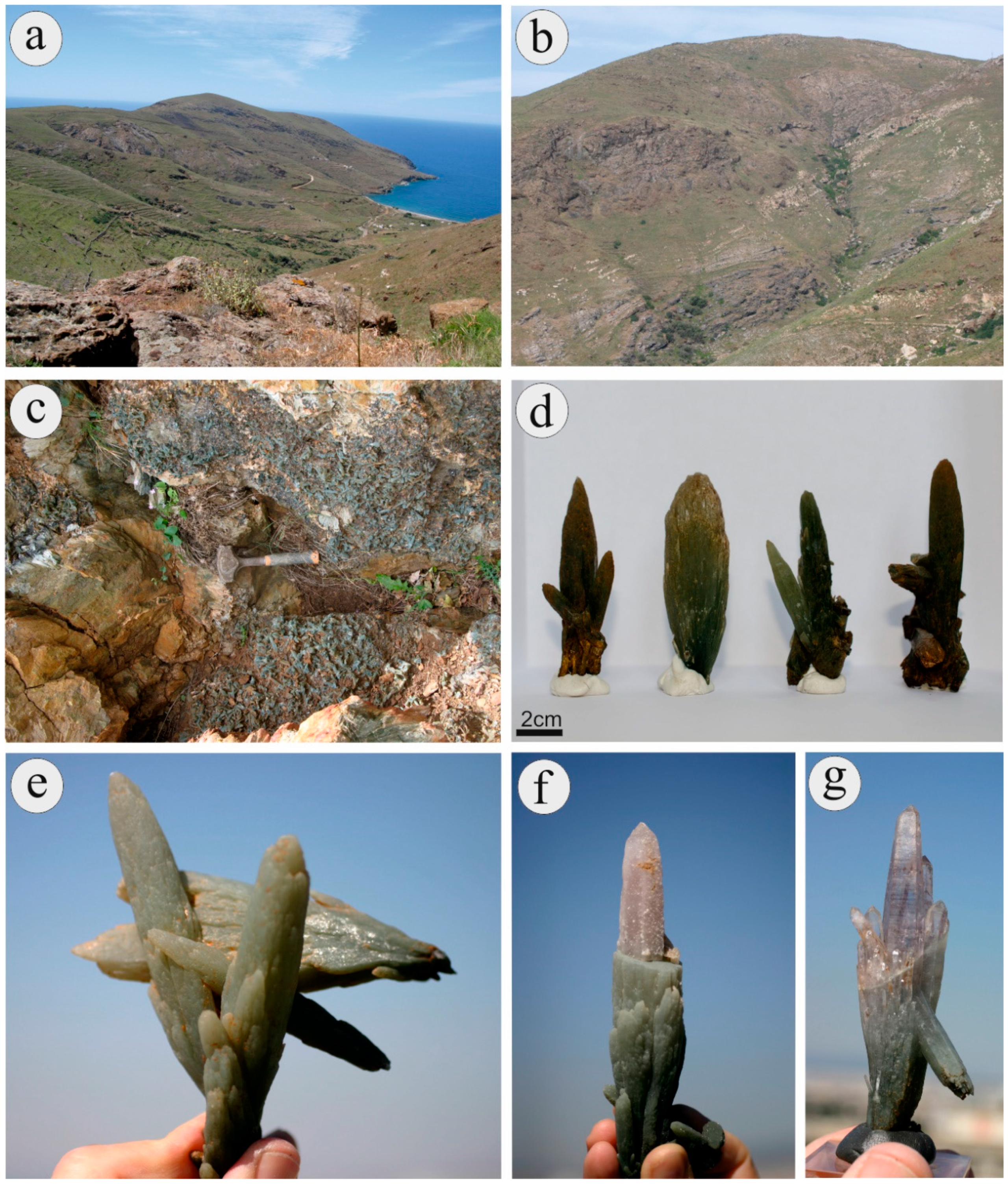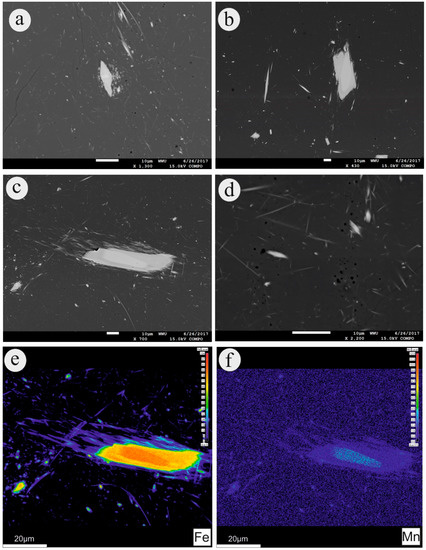 Figure 3.
Back-scattered electron (BSE) images and quantitative electron microprobe element maps. (
a
): thin, nm-sized needles of amphibole together with a larger amphibole. The latter larger actinolite contains a core of more calcic actinolite; (
b
) Large amphibole with no clearly defined edges, as the rapid growth of the crystal has stopped. Furthermore, it seems that this amphibole has already determined the outer edge of the crystal which it would have grown into if growth had not been interrupted. The origin of the observed textures is unknown; (
c
) Similar larger amphibole with a fringed edge also indicating rapid growth; (
d
) high-resolution image of the fine-grained matrix. The dark blebs are empty and are interpreted as fluid inclusions that were opened during sample preparation; (
e
) Quantitative electron microprobe map of Fe. The cores of the larger amphiboles contain significantly more FeO (
Table 1
) than the rims. The color bar on the right-hand side indicates chemical composition (wt % FeO). Note that the very thin needle-shaped (blueish in this Figure) actinolite crystals are too small to be analyzed so that the FeO-content is underestimated; (
f
) Quantitative electron microprobe map of Mn. The cores contain significantly more Mn than the rim actinolite, indicating two different generations of amphibole.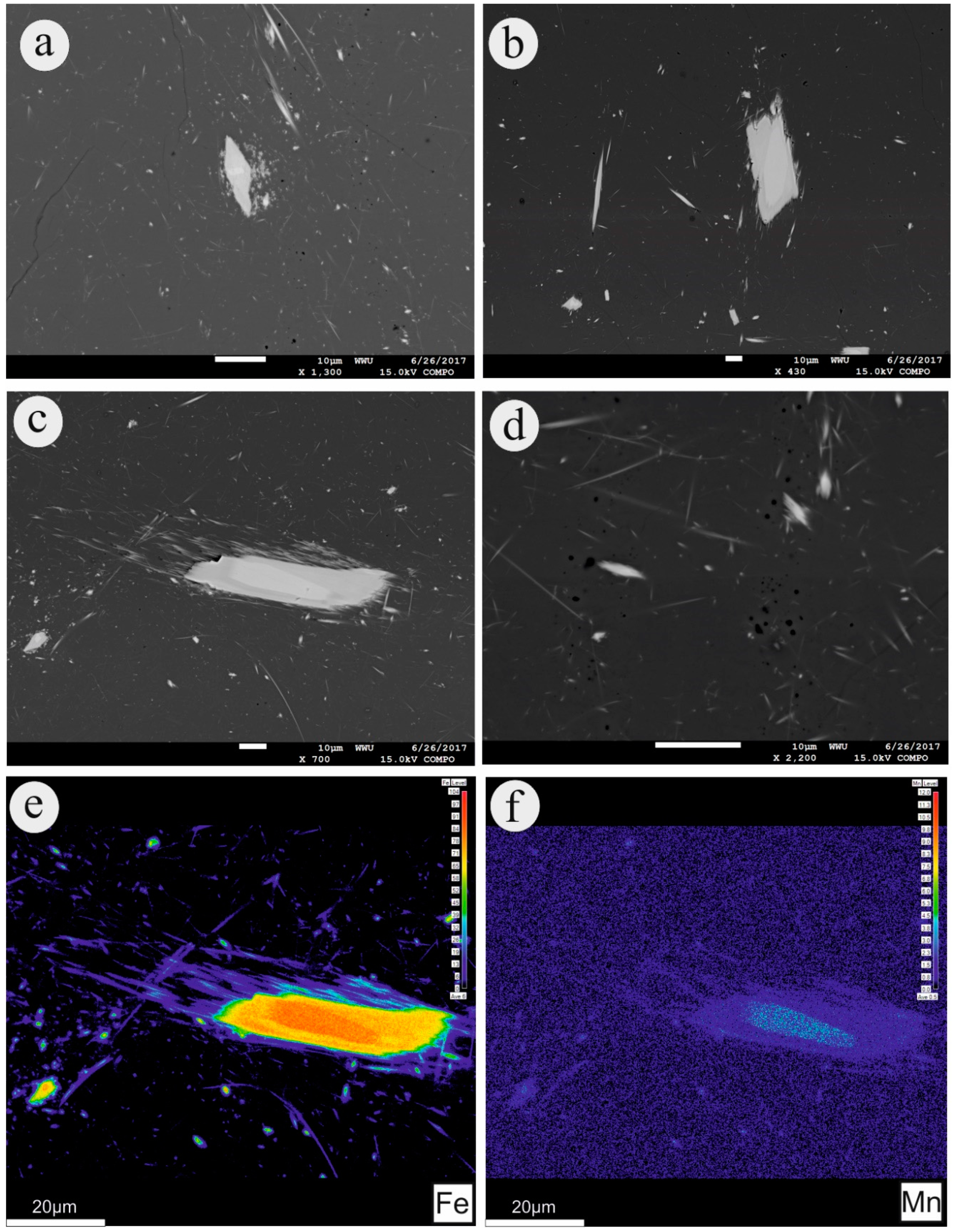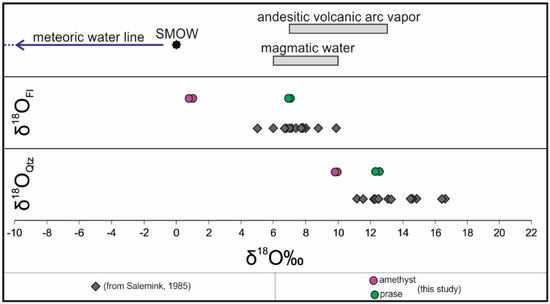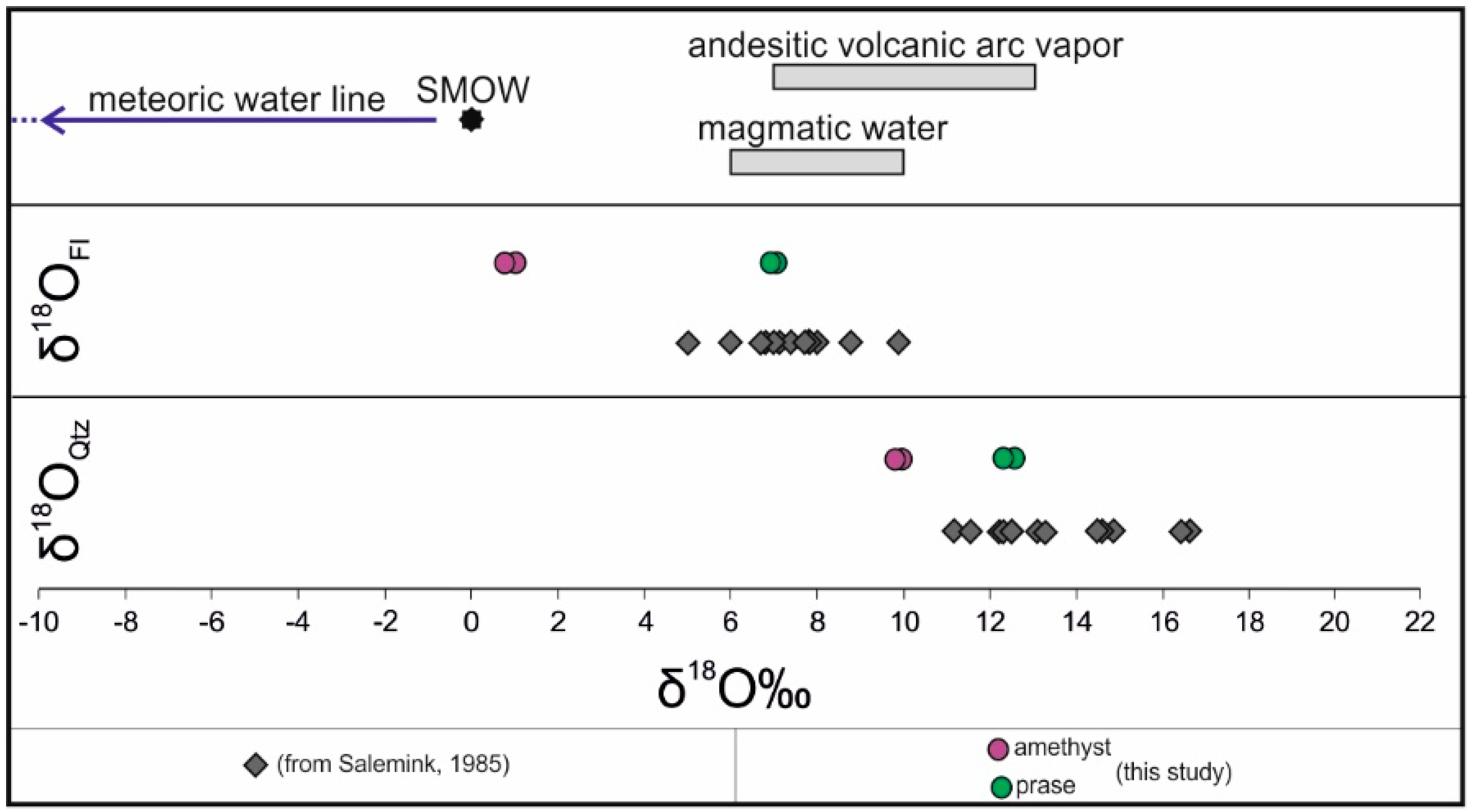 Table 1. Electron microprobe measurements of amphibole inclusions, prase and amethyst from Serifos Island.
Amphibole
Prase
Amethyst
n.o.a.
3 (core)
6 (rim)
11
14
wt %
2σ
wt %
2σ
wt %
2σ
wt %
2σ
SiO2
51.1
0.04
50.6
0.57
99.3
0.56
99.9
0.44
TiO2
0.05
0.00
0.01
0.02
-
-
0.005
0.01
Al2O3
0.38
0.01
1.54
0.57
0.26
0.12
0.123
0.11
Cr2O3
n.a.
-
n.a.
-
n.a.
-
0.006
0.01
FeO
29.4
0.40
28.3
1.15
Fe2O3
0.027
0.019
0.021
0.03
MnO
0.56
0.02
0.25
0.12
n.a.
-
0.006
0.01
MgO
3.81
0.07
4.98
0.72
n.a.
-
0.01
0.01
CaO
11.6
0.04
11.3
0.09
n.a.
-
0.008
0.01
Na2O
0.03
0.02
0.26
0.11
n.a.
-
0.01
0.01
K2O
0.09
0.02
0.19
0.05
0.008
0.007
0.006
0.01
P2O5
n.a.
-
n.a.
-
n.a.
-
0.012
0.02
Total
96.9
97.5
99.6
100.2
Structural formulae
Si
8.08
7.85
Si
0.998
0.998
AlVI
0.00
0.15
Ti
0.000
0.000
M1-3 site
Al
0.003
0.000
AlVI
0.07
0.13
Fe3+
0.000
0.0002
Ti
0.01
0.00
Mn
-
-
Fe3+
0.00
0.13
Mg
-
0.000
Mg
0.89
1.15
Ca
-
-
Fe2+
3.87
3.55
Na
-
-
Mn
0.08
0.03
K
0.000
-
Σ M1-3
4.92
5.00
P
-
0.000
M4 site
Σ All
1.001
1.009
Mg
0.00
0.00
Fe2+
0.00
0.00
Mn
0.00
0.00
Ca
1.95
1.88
Na
0.01
0.08
Σ M4
1.96
1.96
A site
Na
0.00
0.00
K
0.02
0.04
Σ A
0.02
0.04
Σ All
15.0
15.0
n.a. = not analysed; (-) = below detection, n.o.a. = number of analyses.

Table 2.
Oxygen isotope compositions of quartz from the skarn of Serifos Island [δ values in‰ relative to Standard Mean Ocean Water (SMOW)]. The oxygen isotope values in the fluid (δ
18
O
Fl
) in equilibrium with quartz have been calculated according to Sharp et al., [
45
].
| Sample | Variety | Associated Minerals | δ18OQz | T (°C) | δ18OFl |
| --- | --- | --- | --- | --- | --- |
| SR2a | prase | ac | 12.72 | 350 | 7.32 |
| SR2b | prase | ac | 12.54 | 350 | 7.14 |
| SR1a | amethyst | hem | 9.94 | 250 | 1.04 |
| SR1b | amethyst | hem | 9.85 | 250 | 0.95 |
| 20–11 * | quartz | ep | 11.4 | 400 | 6.8 |
| 27–30 * | quartz | ep | 12.6 | 400 | 8.0 |
| 26–49 * | quartz | Mt + hem | 11.6 | 410 | 7.2 |
| 26–48 * | quartz | Mt + hem | 12.3 | 400 | 7.7 |
| 26–87 * | quartz | Ep + ac | 13.3 | 405 | 13.3 |
| 137 * | quartz | Ac + cc | 14.7 | 390 | 14.7 |
| 55 * | quartz | iv | 12.6 | 350 | 6.8 |
| 55-(1) * | quartz | iv | 12.5 | 325 | 6.0 |
| 56 * | quartz | iv | 13.2 | 325 | 6.7 |
| 26–35 * | quartz | mt | 14.4 | 325 | 7.8 |
| ML-2.2 * | quartz | Ac + mt | 16.6 | 265 | 7.8 |
| ML-1 * | quartz | Ac + mt | 16.5 | 260 | 7.5 |
| 27-7B * | quartz | Py + hem + cc | 14.8 | 250 | 5.2 |
Samples marked with (*) are from Salemink [43]. Abbreviations: ac = actinolite; hem = hematite; ep = epidote; mt = magnetite; iv = ilvaite; cc = calcite; py = pyrite.

© 2018 by the authors. Licensee MDPI, Basel, Switzerland. This article is an open access article distributed under the terms and conditions of the Creative Commons Attribution (CC BY) license (http://creativecommons.org/licenses/by/4.0/).