Vanadium Mineralization in the Kola Region, Fennoscandian Shield
Geological Institute of the Federal Research Centre Kola Science Centre of the Russian Academy of Sciences, 14 Fersman Street, Apatity 184209, Russia
*
Author to whom correspondence should be addressed.
Received: 24 September 2018 / Revised: 15 October 2018 / Accepted: 18 October 2018 / Published: 23 October 2018
Abstract
In the northern Fennoscandian Shield, vanadium mineralization occurs in the Paleoproterozoic Pechenga–Imandra-Varzuga (PIV) riftogenic structure. It is localized in sulfide ores hosted by sheared basic and ultrabasic metavolcanics in the Pyrrhotite Ravine and Bragino areas and was formed at the latest stages of the Lapland–Kola orogeny 1.90–1.86 Ga ago. An additional formation of vanadium minerals was derived from contact metamorphism and metasomatism produced by the Devonian Khibiny alkaline massif in the Pyrrhotite Ravine area. Vanadium forms its own rare minerals (karelianite, coulsonite, kyzylkumite, goldmanite, mukhinite, etc.), as well as occurring as an isomorphic admixture in rutile, ilmenite, crichtonite group, micas, chlorites, and other minerals. Vanadium is inferred to have originated from two sources: (1) basic and ultrabasic volcanics initially enriched in vanadium; and (2) metasomatizing fluids that circulated along shear zones. The crystallization of vanadium and vanadium-bearing minerals was accompanied by chromium and scandium mineralization. Vanadium mineralization in Paleoproterozoic formations throughout the world is briefly considered. The simultaneous development of vanadium, chromium and scandium mineralizations is a unique feature of the Kola sulfide ores. In other regions, sulfide ores contain only two of these three mineralizations produced by one ore-forming process.
View Full-Text
►

▼

Figures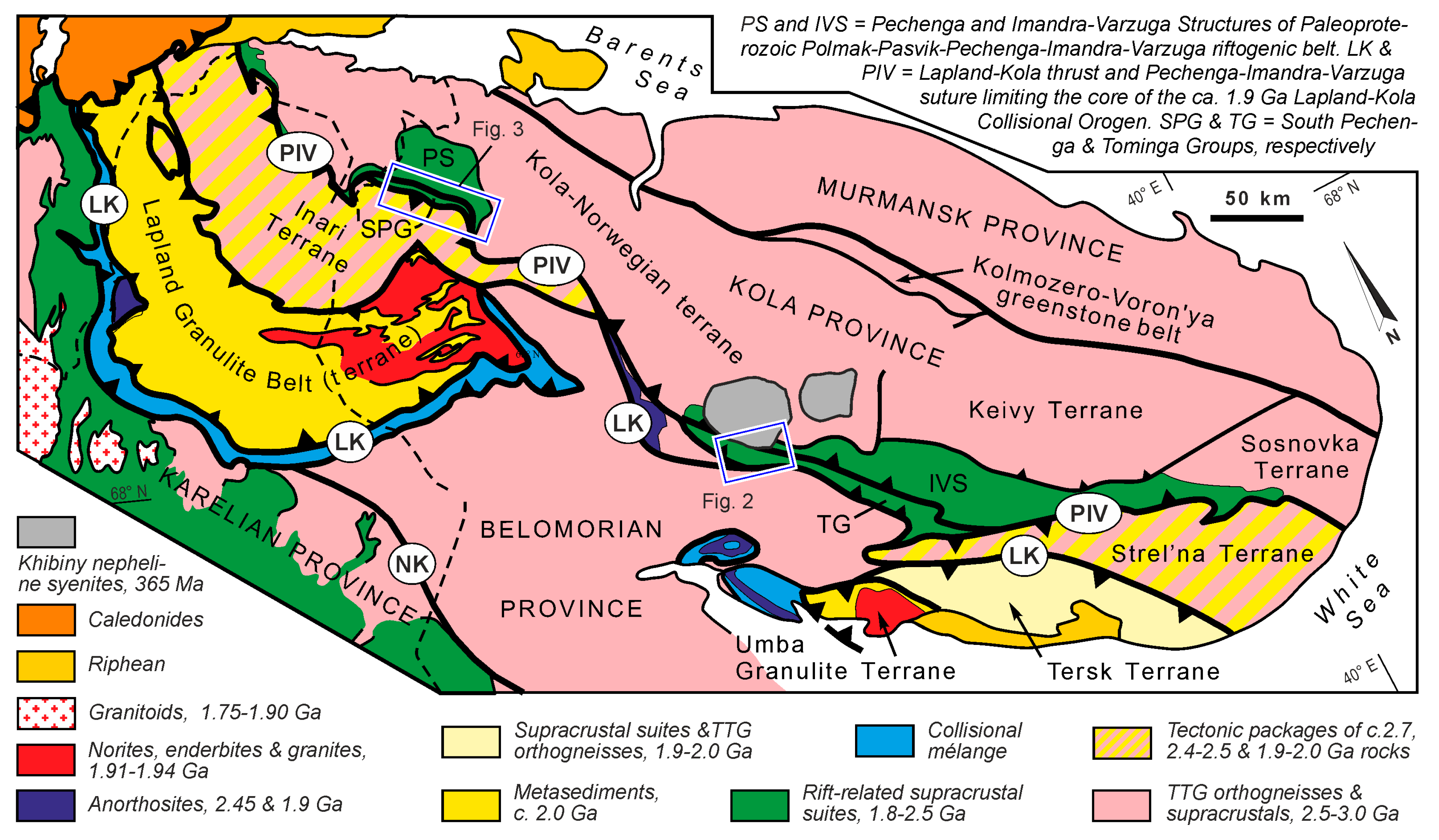 Figure 1
This is an open access article distributed under the
Creative Commons Attribution License
which permits unrestricted use, distribution, and reproduction in any medium, provided the original work is properly cited (CC BY 4.0).

Share & Cite This Article
MDPI and ACS Style
Kompanchenko, A.A.; Voloshin, A.V.; Balagansky, V.V. Vanadium Mineralization in the Kola Region, Fennoscandian Shield. Minerals 2018, 8, 474.
Note that from the first issue of 2016, MDPI journals use article numbers instead of page numbers. See further details here.
Related Articles
Comments
[Return to top]