Transmission X-ray Microscopy—A New Tool in Clay Mineral Floccules Characterization
1
School of Chemistry, Physics and Mechanical Engineering, Queensland University of Technology, 2 George Street, GPO Box 2434, Brisbane Qld 4001, Australia
2
National Synchrotron Radiation Research Center, 101 Hsin-Ann Road, Hsinchu Science Park, Hsinchu 30076, Taiwan, China
*
Authors to whom correspondence should be addressed.
Received: 11 July 2012 / Revised: 5 September 2012 / Accepted: 21 September 2012 / Published: 18 October 2012
Abstract
Effective flocculation and dewatering of mineral processing streams containing clays are microstructure dependent in clay-water systems. Initial clay flocculation is crucial in the design and for the development of a new methodology of gas exploitation. Microstructural engineering of clay aggregates using covalent cations and Keggin macromolecules have been monitored using the new state of the art Transmission X-ray Microscope (TXM) with 60 nm tomography resolution installed in a Taiwanese synchrotron. The 3-D reconstructions from TXM images show complex aggregation structures in montmorillonite aqueous suspensions after treatment with Na
+
, Ca
2+
and Al
13
Keggin macromolecules. Na-montmorillonite displays elongated, parallel, well-orientated and closed-void cellular networks, 0.5–3 µm in diameter. After treatment by covalent cations, the coagulated structure displays much smaller, randomly orientated and openly connected cells, 300–600 nm in diameter. The average distances measured between montmorillonite sheets was around 450 nm, which is less than half of the cell dimension measured in Na-montmorillonite. The most dramatic structural changes were observed after treatment by Al
13
Keggin; aggregates then became arranged in compacted domains of a 300 nm average diameter composed of thick face-to-face oriented sheets, which forms porous aggregates with larger intra-aggregate open and connected voids.
View Full-Text
►

▼

Figures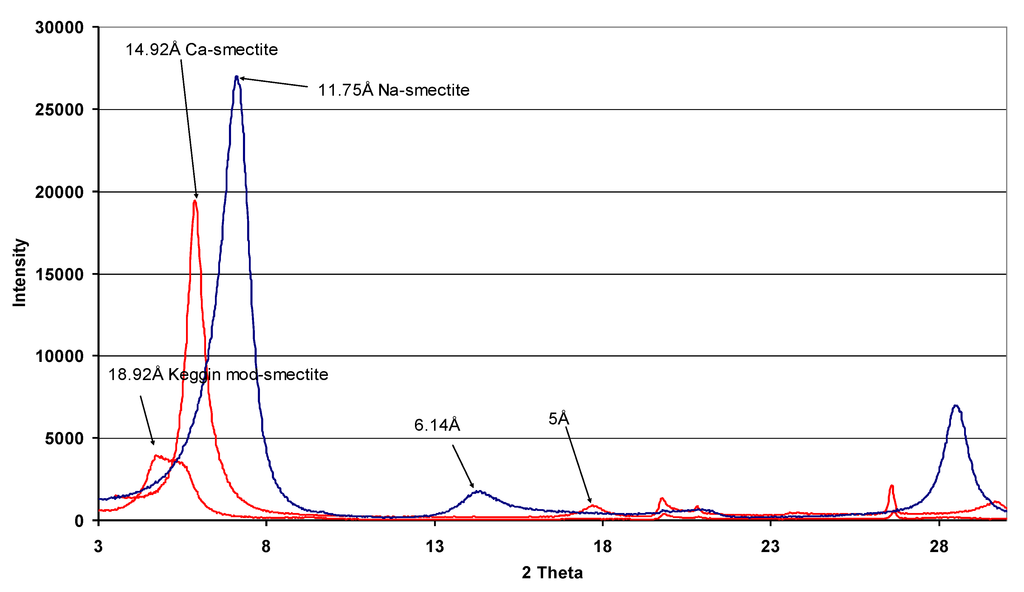 Figure 1

Share & Cite This Article
MDPI and ACS Style
Żbik, M.S.; Song, Y.-F.; Frost, R.L.; Wang, C.-C. Transmission X-ray Microscopy—A New Tool in Clay Mineral Floccules Characterization. Minerals 2012, 2, 283-299.
Related Articles
Comments
[Return to top]