A Study of the Effect of Djurliete, Bornite and Chalcopyrite during the Dissolution of Gold with a Solution of Ammonia-Cyanide
1
CanmetMining, 555 Booth Street, Ottawa, K1A 0G1 Canada
2
Eldorado Gold Corporation, 1188-550 Burrard Street, Vancouver, V6C2B5, Canada
3
Barrick Gold Corporation, 161 Bay Street, Toronto, M5J2S1, Canada
*
Author to whom correspondence should be addressed.
Received: 25 July 2012 / Revised: 28 September 2012 / Accepted: 18 October 2012 / Published: 20 November 2012
Abstract
The high solubility of copper sulphide minerals is an issue in the cyanidation of gold ores. The objective of this study was to quantify the effect of individual copper sulphide minerals on the Hunt process, which showed advantages over cyanidation. High purity djurleite, bornite and chalcopyrite, with a P
70
of 70–74 microns, were mixed with fine quartz and gold powder (3–8 micron) to obtain a copper concentration of 0.3%. The ammonia-cyanide leaching of slurry with djurleite proved to be more effective than cyanidation; producing comparable extraction of gold (99%), while reducing the cyanide consumption from 5.8 to 1.2 kg/t NaCN. Lead nitrate improved the Hunt leaching. The lower cyanide consumption is associated to a significant reduction of copper dissolved. XPS surface analysis of djurleite showed that lead nitrate favored the formation of Cu(OH)
2
species. Lead was also detected on the surface (oxide or hydroxide). Sulphide and copper compounds (cyanide and sulphide) were reaction products responsible for inhibiting the dissolution of gold. Lead nitrate added in the Hunt leaching of bornite produced 99% gold extraction. Surface reaction products were similar to djurleite. The cyanide consumption (~4.4 kg/t NaCN) was not reduced by the addition of ammonia. Cyanidation of chalcopyrite showed a lower consumption of cyanide 0.33 kg/t NaCN compared to 0.21 kg/t NaCN for Hunt. No significant interferences were observed in gold leaching with a slurry containing chalcopyrite.
View Full-Text
►

▼

Figures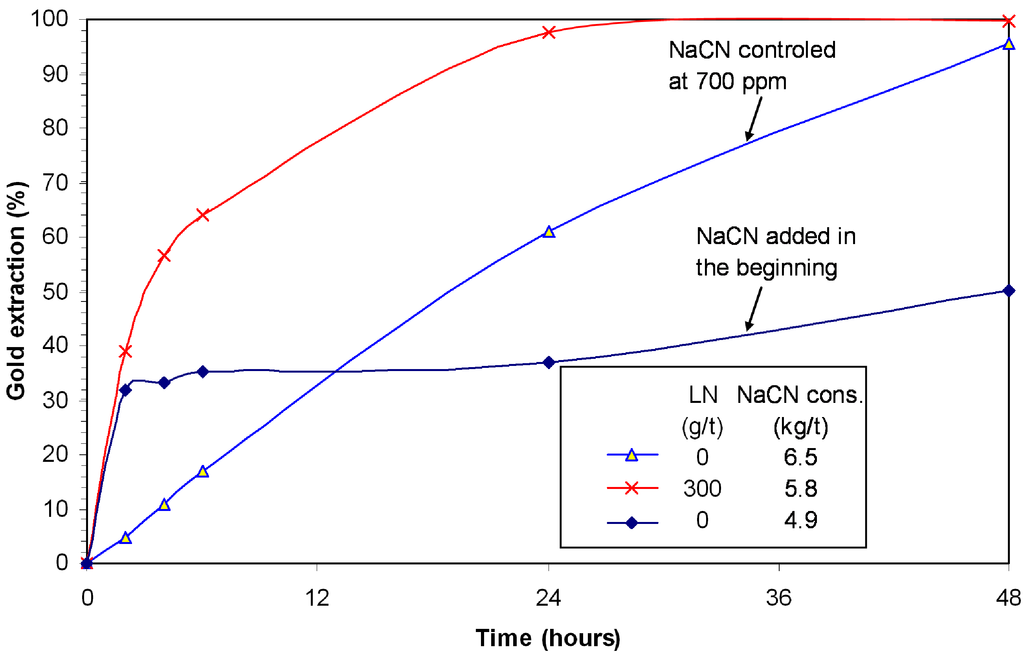 Figure 1

Share & Cite This Article
MDPI and ACS Style
Deschênes, G.; Guo, H.; Xia, C.; Pratt, A.; Fulton, M.; Choi, Y.; Price, J. A Study of the Effect of Djurliete, Bornite and Chalcopyrite during the Dissolution of Gold with a Solution of Ammonia-Cyanide. Minerals 2012, 2, 459-472.
Related Articles
Comments
[Return to top]