Open Access This article is
freely available
re-usable
Article
Fluid Inclusion Characteristics of the Kışladağ Porphyry Au Deposit, Western Turkey
1
Department of Geological Engineering, Istanbul University-Cerrahpaşa, Avcılar, 34320 Istanbul, Turkey
2
Department of Geological Engineering, Pamukkale University, 20070 Denizli, Turkey
3
School of Earth and Environment, University of Leeds, Leeds LS2 9JT, UK
4
Institute of Geology of Ore Deposits, Petrography, Mineralogy and Geochemistry, Russian Academy of Sciences, 119017 Moscow, Russia
5
TÜPRAG Metal Madencilik, Ovacık Mevki Gümüşkol Köyü, Ulubey Merkez, 64902 Uşak, Turkey
*
Author to whom correspondence should be addressed.
Received: 17 November 2019 / Accepted: 10 January 2020 / Published: 13 January 2020
Abstract
:
The deposit occurs in a mid-Miocene monzonite magmatic complex represented by three different intrusions, namely Intrusion 1 (INT#1), Intrusion 2 (INT#2, INT #2A), and Intrusion 3 (INT#3). Gold mineralization is hosted in all intrusions, but INT#1 is the best mineralized body followed by INT#2. SEM-CL imaging has identified two different veins (V1 and V2) and four distinct generations of quartz formation in the different intrusions. These are: (i) CL-light gray, mosaic-equigranular quartz (Q1), (ii) CL-gray or CL-bright quartz (Q2) that dissolved and was overgrown on Q1, (iii) CL-dark and CL-gray growth zoned quartz (Q3), and (iv) CL-dark or CL-gray micro-fracture quartz fillings (Q4). Fluid inclusion studies show that the gold-hosted early phase Q1 quartz of V1 and V2 veins in INT#1 and INT#2 was precipitated at high temperatures (between 424 and 594 °C). The coexisting and similar ranges of Th values of vapor-rich (low salinity, from 1% to 7% NaCl equiv.) and halite-bearing (high salinity: >30% NaCl) fluid inclusions in Q1 indicates that the magmatic fluid had separated into vapor and high salinity liquid along the appropriate isotherm. Fluid inclusions in Q2 quartz in INT#1 and INT#2 were trapped at lower temperatures between 303 and 380 °C and had lower salinities between 3% and 20% NaCl equiv. The zoned Q3 quartz accompanied by pyrite in V2 veins of both INT#2 and INT#3 precipitated at temperatures between 310 and 373 °C with a salinity range from 5.4% to 10% NaCl eq. The latest generation of fracture filling Q4 quartz, cuts the earlier generations with fluid inclusion Th temperature range from 257 to 333 °C and salinity range from 3% to 12.5% NaCl equiv. The low salinity and low formation temperature of Q4 may be due to the mixing of meteoric water with the hydrothermal system, or late-stage epithermal overprinting. The separation of the magmatic fluid into vapor and aqueous saline pairs in the Q1 quartz of the V1 vein of the INT#1 and INT#2 and CO2-poor fluids indicates the shallow formation of the Kışladağ porphyry gold deposit.
Keywords:
SEM-CL imaging; fluid inclusion; porphyry Au deposit; Kışladağ; Turkey
Author Contributions
Investigation, N.H. and G.B., formal analysis, N.H. and V.P., writing—original draft preparation, N.H., Ö.B., and D.A.B.; resources, N.H., G.B., D.B., Ö.B., and Y.Ö.All authors have read and agreed to the published version of the manuscript.
Funding
This research received no external funding.
Acknowledgments
The authors would like to thank the TÜPRAG mining company for their permission to investigate the mining site.
Conflicts of Interest
The authors declare no conflicts of interest.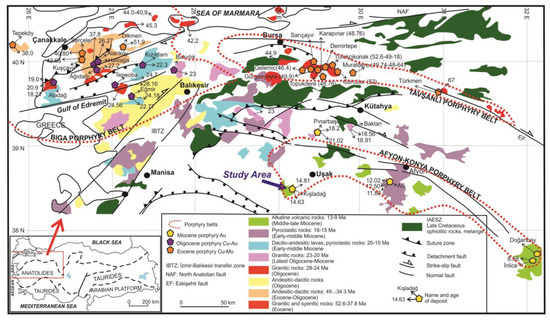 Figure 1.
Simplified regional geological map of western Anatolia (location shown in the inset) showing Eocene to Miocene magmatic rocks and porphyry ore deposit belts (simplified from [
12
]).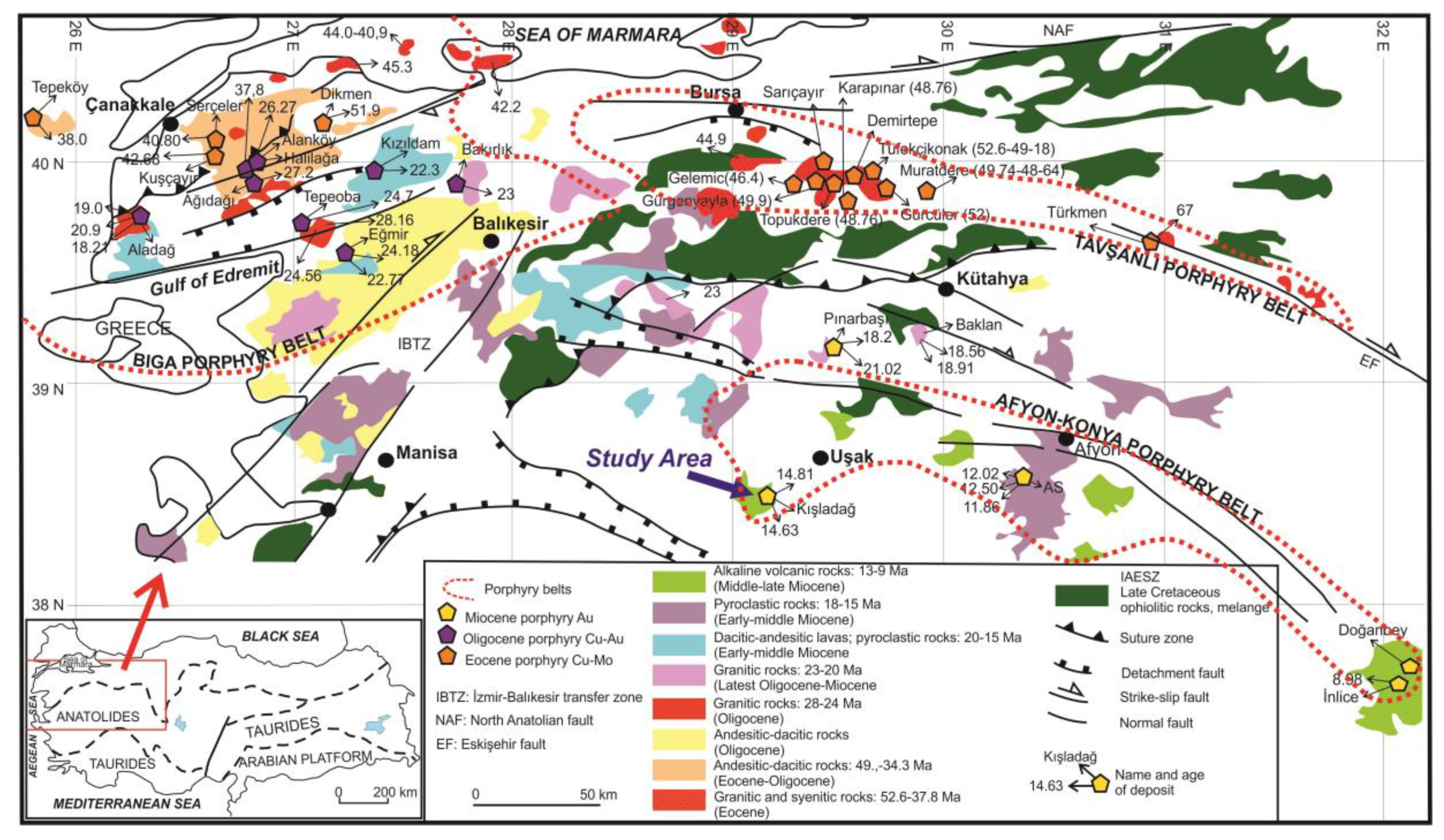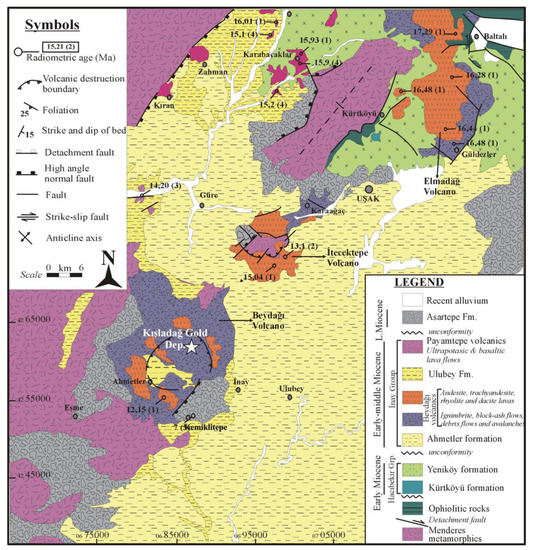 Figure 2.
Geological map of the Uşak area [
11
] and location of the Kışladağ gold deposit.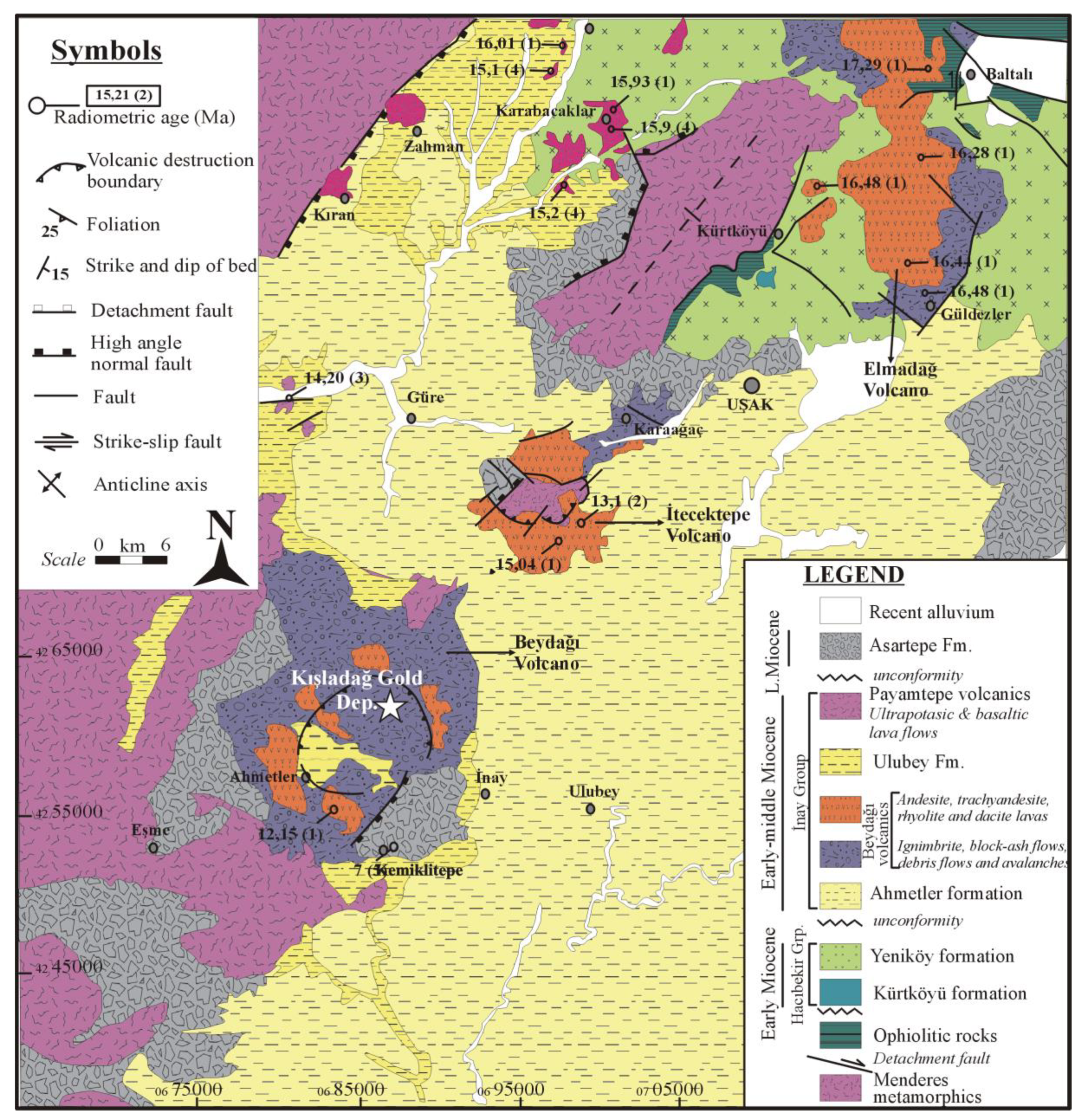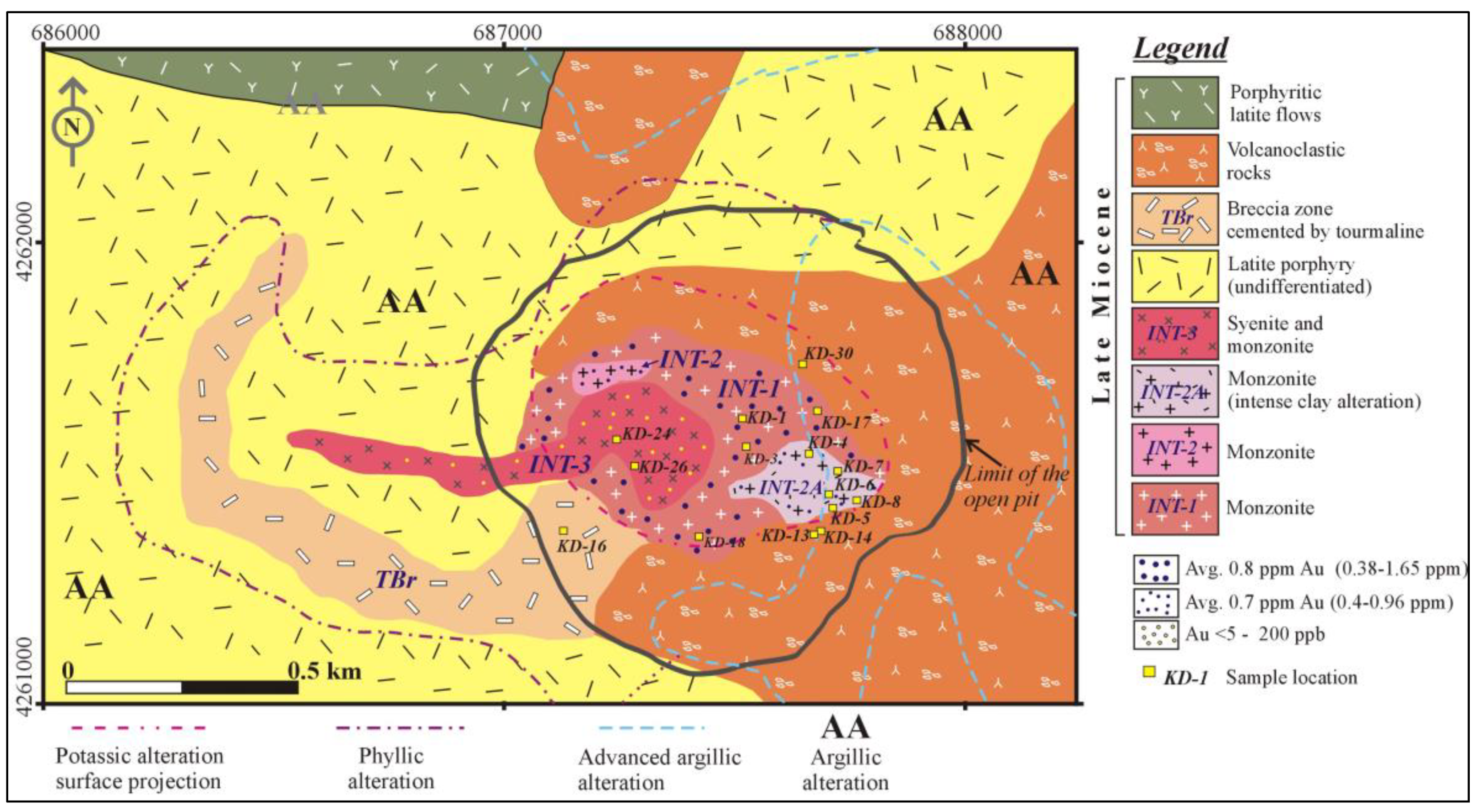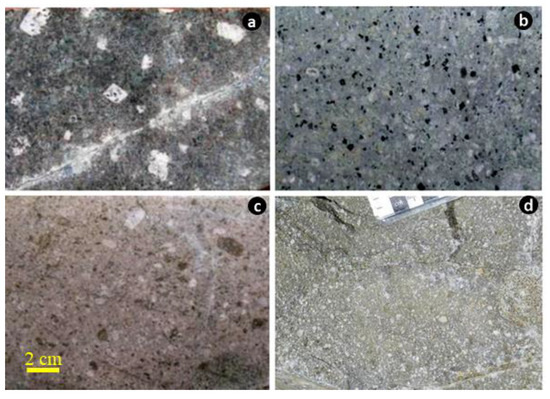 Figure 4. Macroscopic view of different intrusive rocks. (a) Intrusive 1: coarse-grained (~1 cm) euhedral K-feldspars within the feldspar-rich groundmass. (b) Intrusive 2: medium to fine-grained (1–2 mm) subhedral plagioclase, biotite, hornblende phenocrysts within the K-feldspar dominant groundmass associated with biotite and tourmaline. (c) Intrusive 2A: intensely altered (kaolinization, sericitization) feldspar phenocrysts within the hydrothermal biotite-bearing clay-rich (phyllosilicate) altered groundmass. (d) Intrusive 3: fine-grained (<1 mm) unaltered feldspar and partly-chloritized amphibole phenocrysts within the feldspar and quartz groundmass (note that the width of the photos are 16 cm).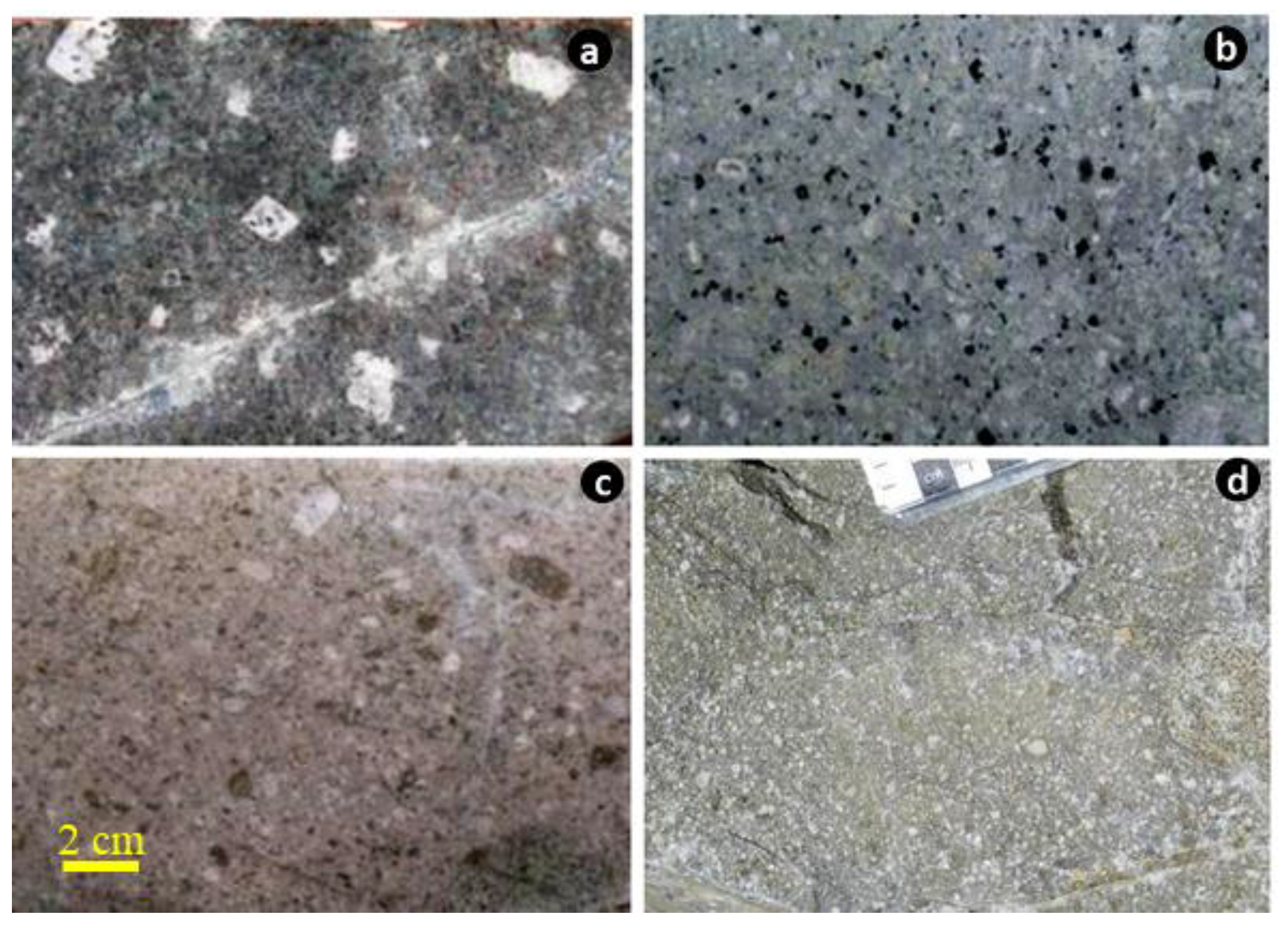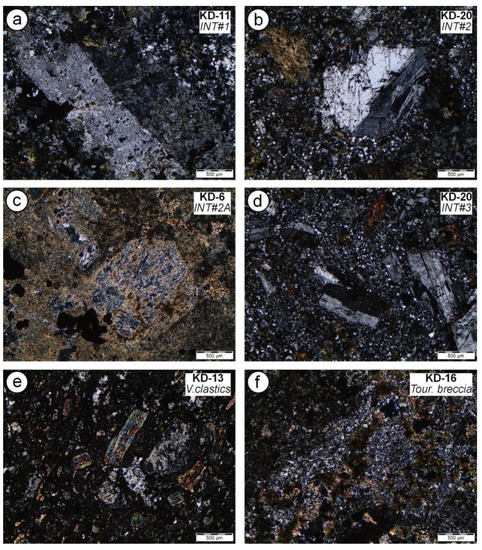 Figure 5. Optical microscopic photomicrographs of representative samples from different intrusions and volcanoclastic rocks. (a) Coarse-grained (megacryst) K-feldspar phenocryst within a silicified and hydrothermal biotite-bearing groundmass. (b) Poly-synthetic zoned plagioclase and biotite phenocrysts in a silica-rich groundmass. (c) Intensively sericitized and kaolinitized feldspar phenocrysts and groundmass with opaque minerals. (d) Euhedral poly-synthetic twinned plagioclase and partly-chloritized amphibole phenocrysts within the silicified groundmass. (e) Vitrophyric porphyritic pyroclastic rock containing silicified pumice and sericitized biotites within the devitrified volcanic groundmass. (f) Radial tourmaline occurrences and fine-grained quartz associations in the sample from the tourmaline breccia zone.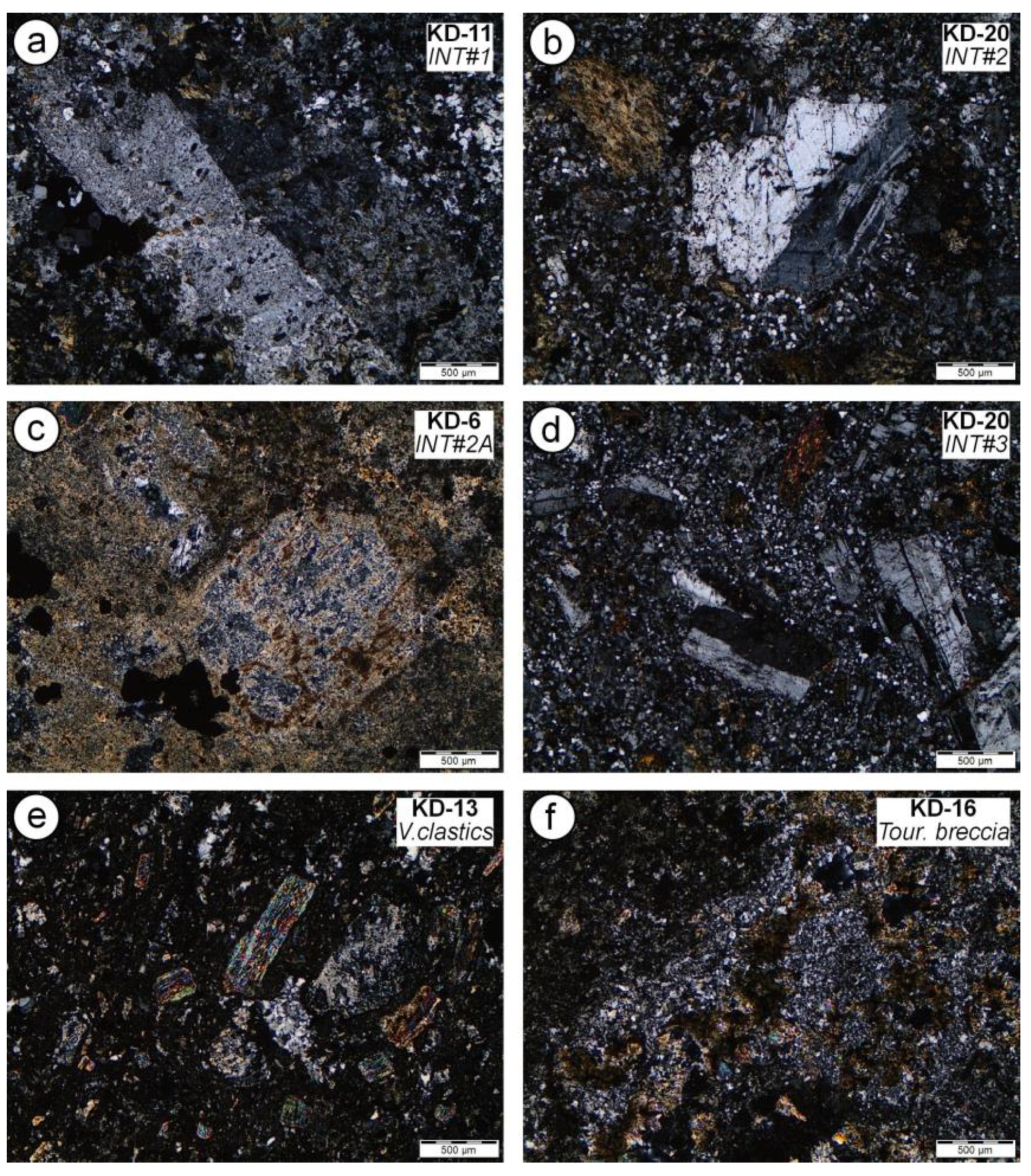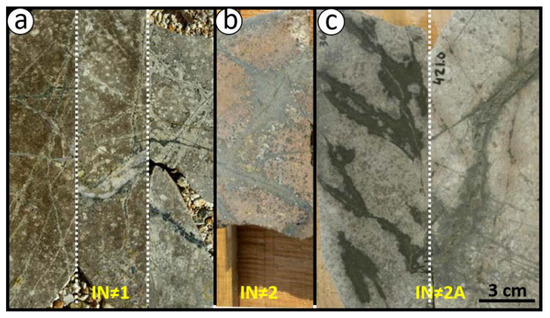 Figure 6.
(
a
) Typical examples of mineralized stockwork veins with 1.12–0.607 g/t Au content in Intrusion (INT#1). (
b
) Tourmaline–quartz vein contains 0.27 g/t Au overprinting the K-feldspar alteration in Intrusion 2 (INT#2). (
c
) Example of the "sooty" pyrite veins with pyrite, marcasite, and tourmaline envelopes in Intrusion 2A (INT#2A) [
17
].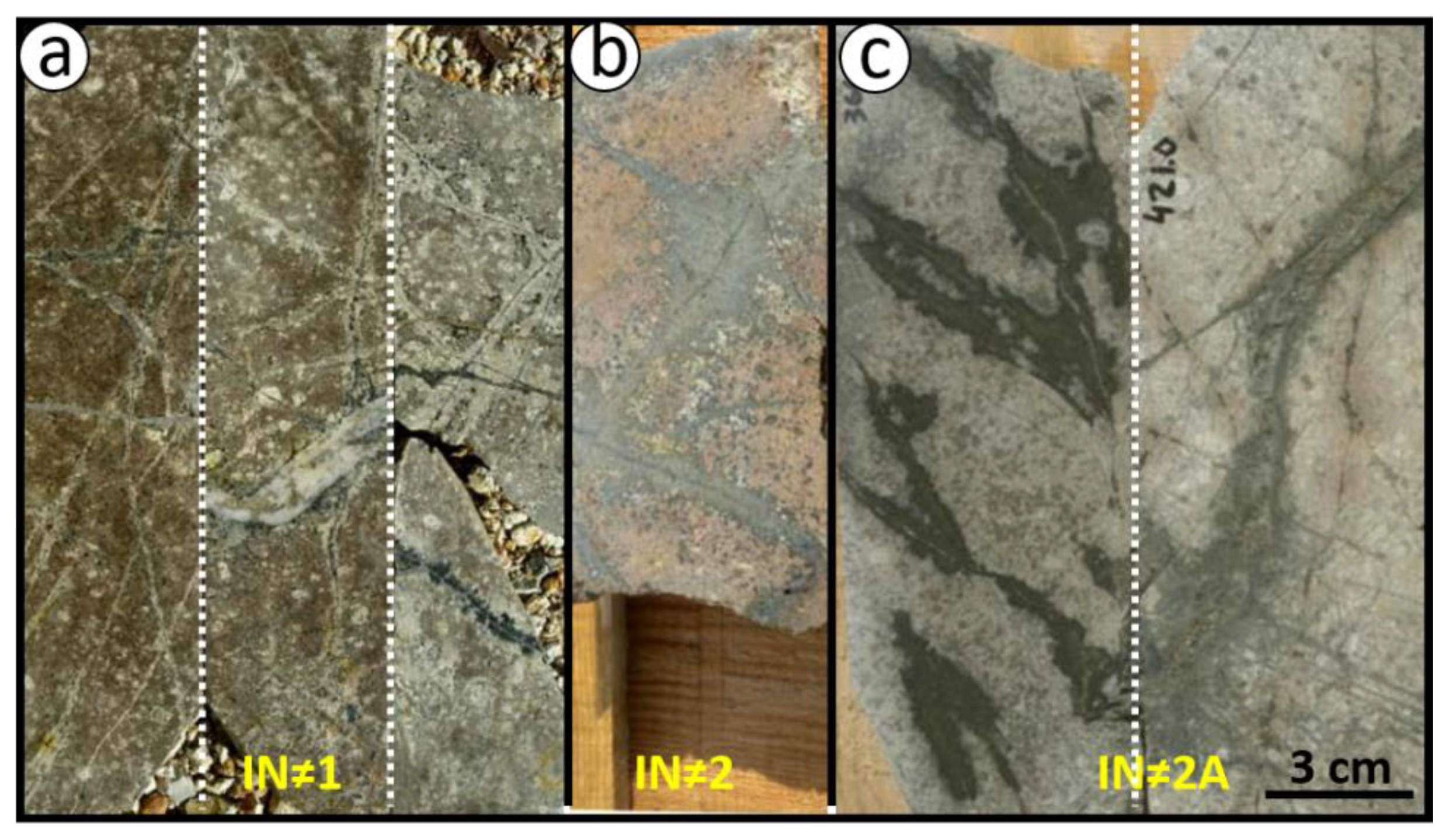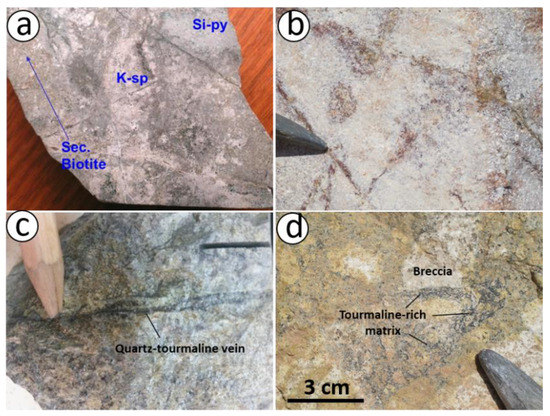 Figure 7.
(
a
) Potassic alteration developed in INT#1. Early secondary biotite alteration is replaced by silica–pyrite (Si–py) flooding that is cut by later K-feldspar (K-sp) veining [
17
]. (
b
) Advanced argillic alteration in INT#2A. (
c
) Quartz-tourmaline vein cuts the potassic alteration in INT#1 and (
d
) tourmaline–rich matrix-supported hydrothermal wall rock breccias.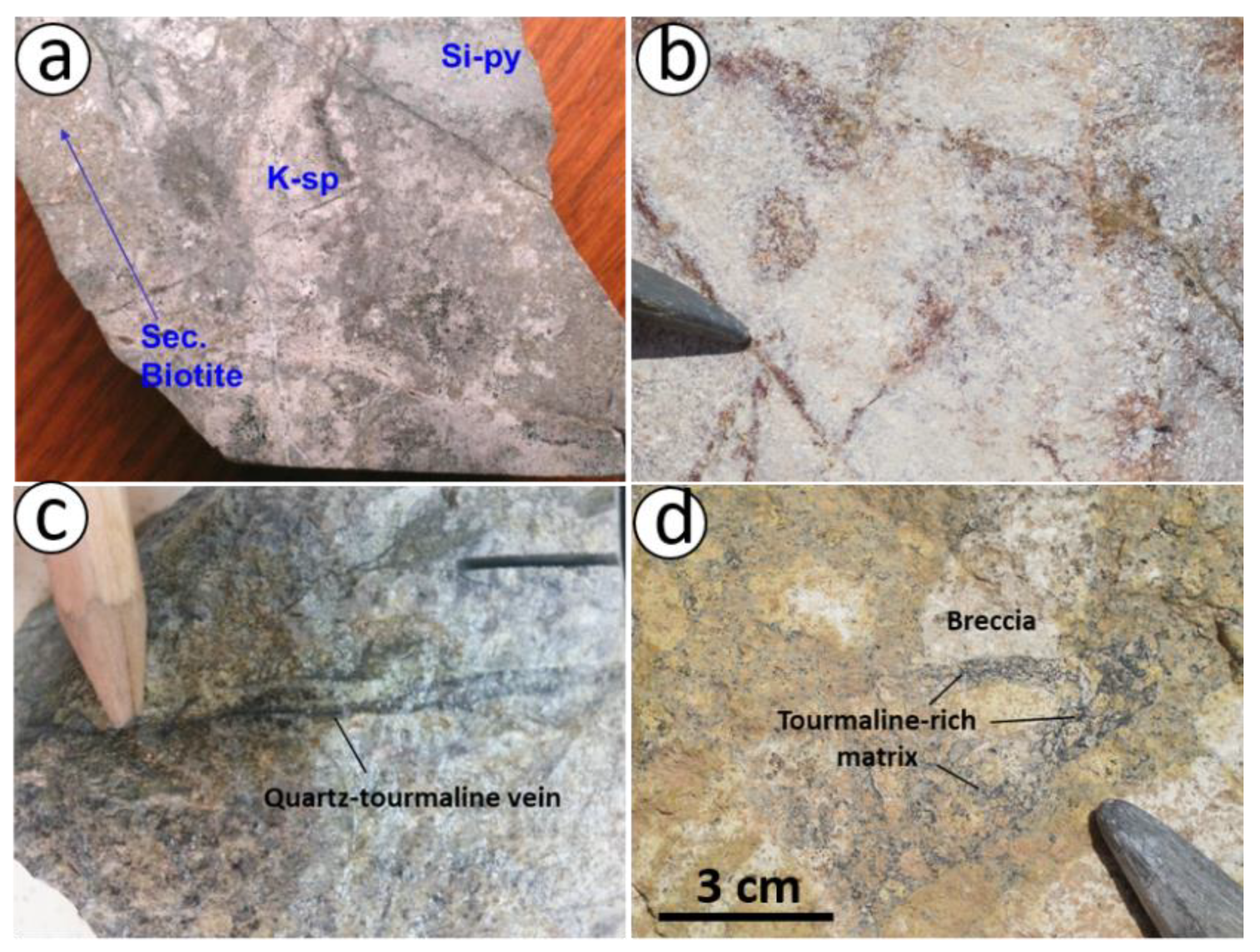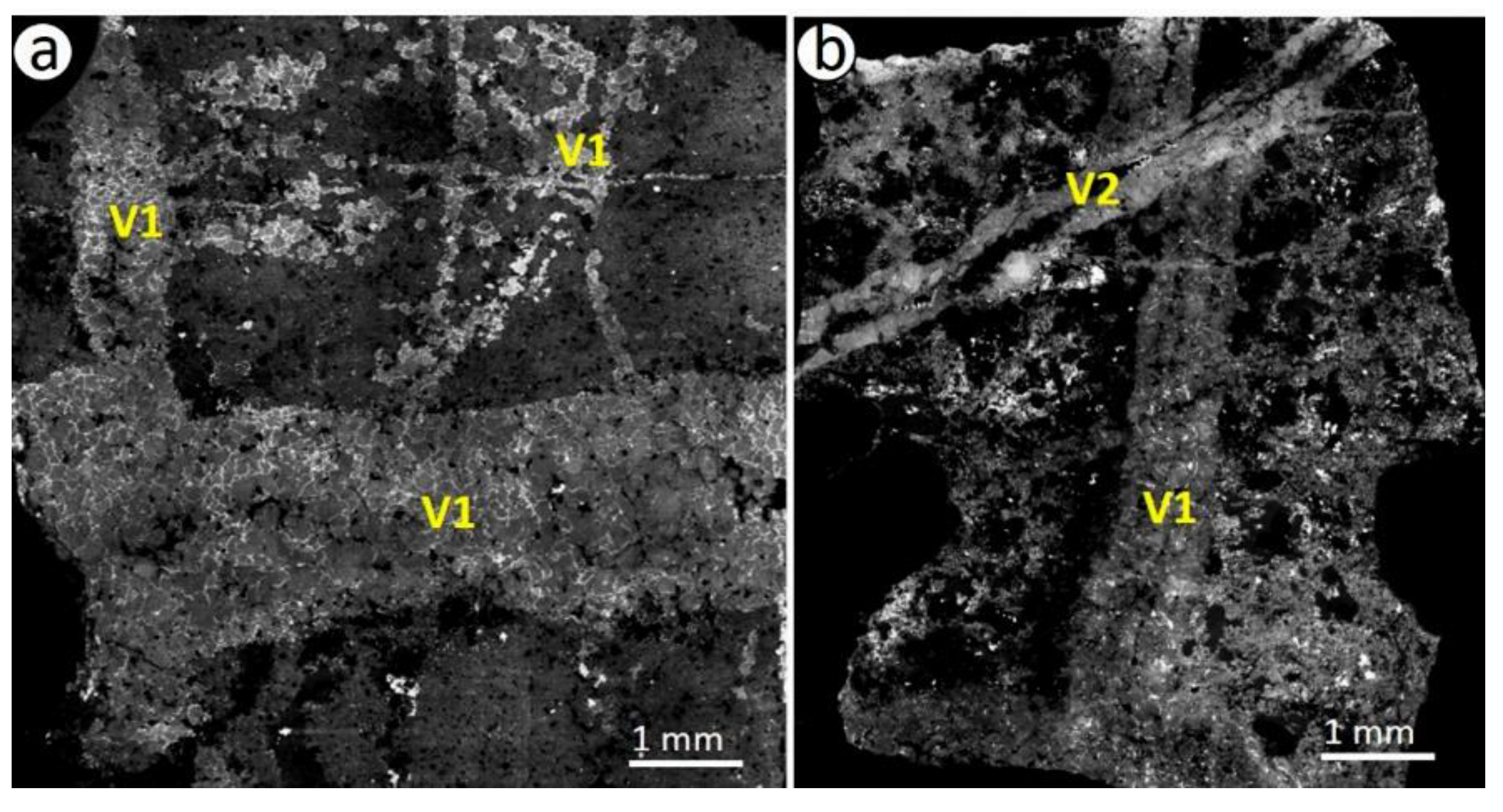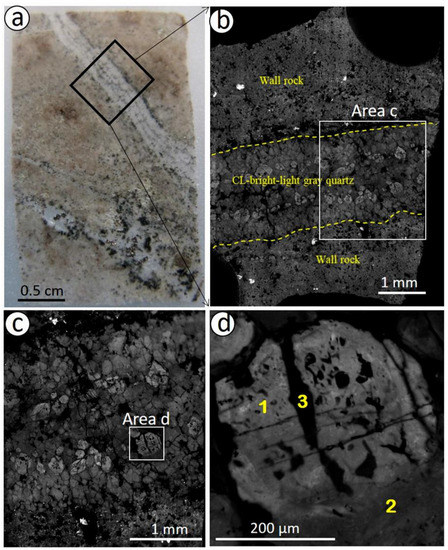 Figure 9. (a) Doubly polished thin section of INT#1 (sample KD-3a). (b) SEM-CL image of early quartz vein cutting potassic alteration. (c) SEM-CL image clearly shows multiple generations of quartz with CL-bright and CL-gray quartz. (d) At least three generations of quartz formation (1 to 3) are identified as CL- bright, CL-gray (dissolution qtz), and CL-dark, which is the last generation.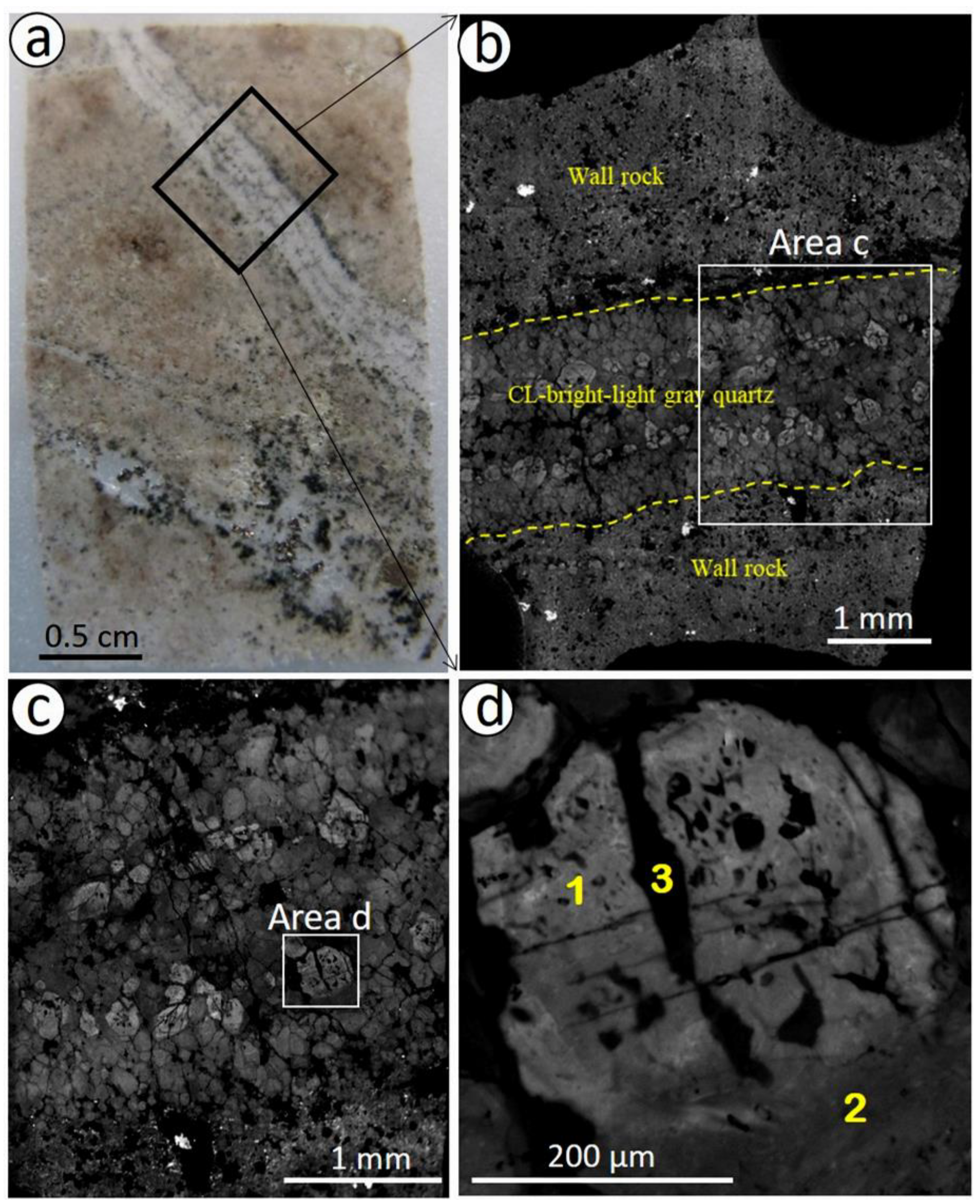 Figure 10. Multiple generations of quartz formation identified by SEM-CL imaging in (a) INT#1, (b) INT#2, and (c) INT#3. (Q1) CL-bright, light grey early generation, (Q2 and yellow arrows) CL-dark grey, dissolution quartz, (Q3) CL-dark grey and light grey bands, concentric zoning quartz, and (Q4) CL-grey to dark grey, micro-fracture filling, late-stage quartz.


Figure 11. Fluid inclusion assemblages (FIAs) identified at room temperature as (a) LV-type in INT#2, (b) LVS-type in INT#1, and (c) VL-type in INT#2. (S: solid phase; L: homogenization into liquid phase; V: homogenization into vapor phase). Numbers and letters are the temperature and type of homogenization, Liquid or Vapor.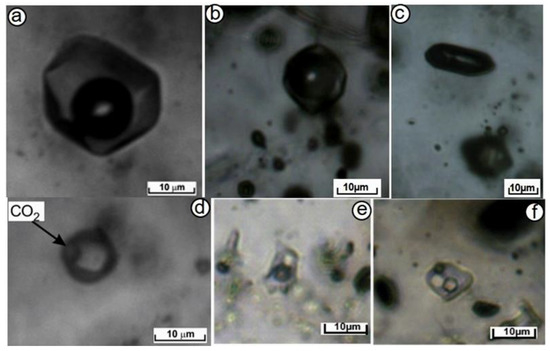 Figure 12. Fluid inclusion types distinguished according to the phases present at room temperature. (a) LV-type, (b,c) VL-type, (d) LCV-type, and (e,f) LVS-type inclusions.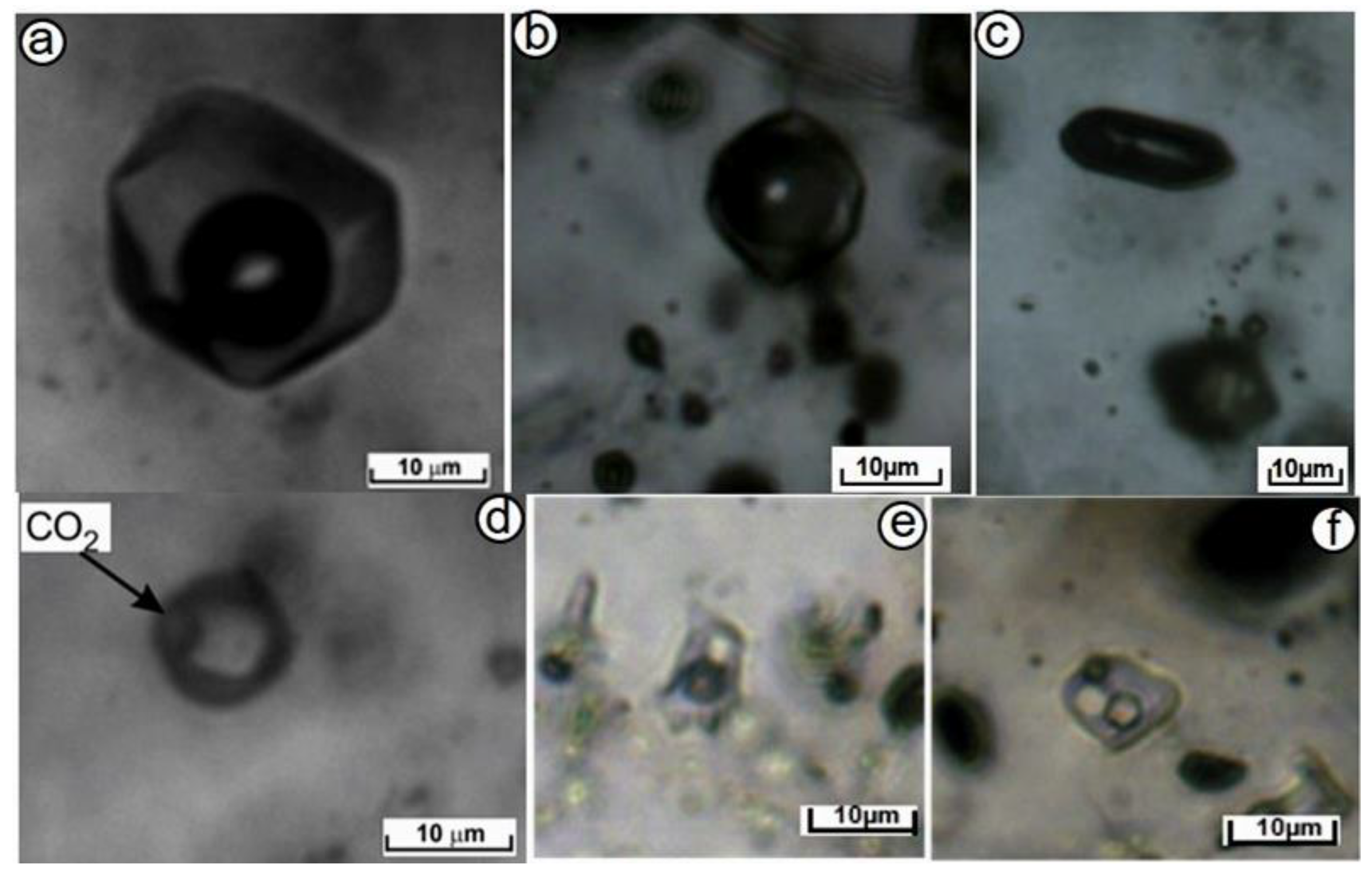 Figure 13. The distribution of the homogenization temperatures (Th, °C) of the fluid inclusions in different generations of quartz from the different intrusions.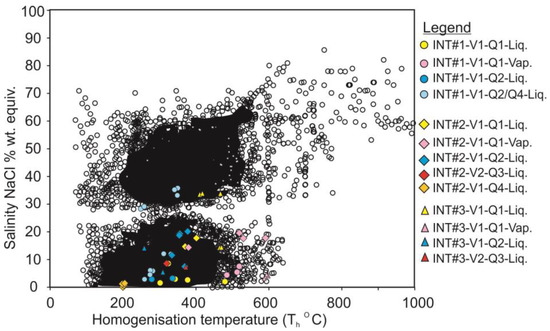 Figure 14.
Homogenization temperature versus salinity of world porphyry copper deposits (from [
33
]) compared with Kışladağ data.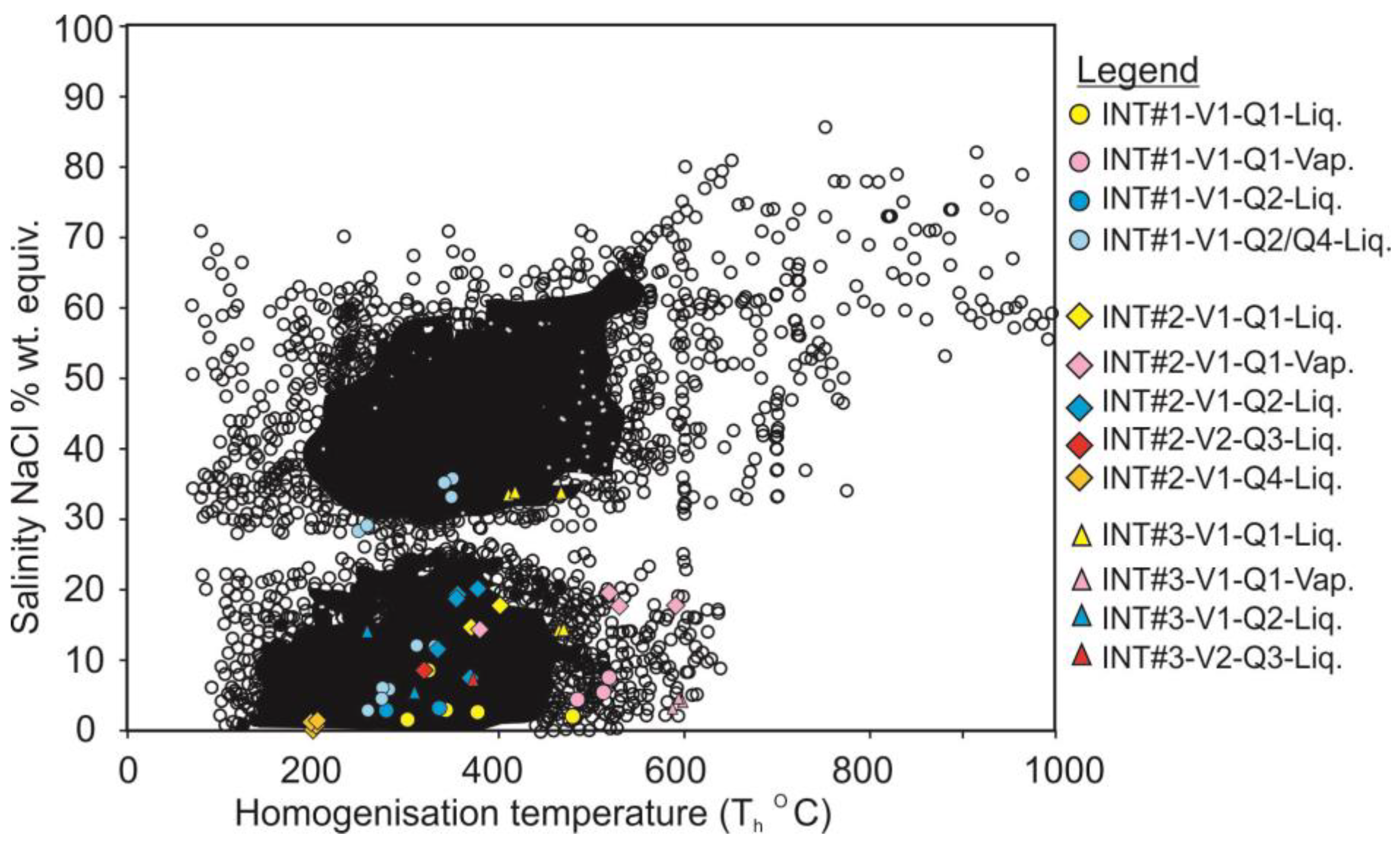 Table 1. Summary of microthermometric results from the different veins and quartz types of Kışladağ Au deposit (Te: eutectic temperature; Tm: melting temperature; Clth: clathrate; L: liquid; V: vapor; n: number, n.d. = not determined).
Intrusion
Vein Type
Quartz Generation
Fluid Inclusion Type, (n)
Te
°C
Tm-CO2
°C
Tm-Ice °C
Tm-Clth °C
Th-CO2
°C
Tm-Halite
°C
Salinity
NaCl
wt % equiv.
Th Values
°C
Th Mode
INT#1
V1
Q1
LVS, (5)
−70 to −17
-
-
-
-
250 to 412
34 to 49
435 to 510
L
V1
Q1
LV (7)
−71 to −30
-
−7 to −1
-
-
-
2 to 11
293 to 378
L
V1
Q1
VL (3)
n.d.
-
−5.3 to −1.8
-
-
-
1 to 7
424 to 520
V
V1
Q2
LV (3)
n.d.
-
−8 to −1
-
-
-
3 to 11
336 to 346
L
V1
Q2
LCV (4)
−70 to −67
−58.5 to −54
-
-
21
-
-
350
L
V1
Q2–Q4
LVS
−26
-
-
-
-
112 to 261
28 to 35
250 to 351
L
V1
Q2–Q4
LV (14)
−45 to −26
-
−8.5 to −2
2.6
-
-
3 to 12.5
257 to 333
L
INT#2
V1
Q1
LV (4)
−68 to −43
-
−11 to −14
-
-
-
15 to 18
371 to 443
L
V1
Q1
VL (4)
−68 to −38
-
-
-
-
-
-
480 to 594
V
V1
Q2
LV (10)
−52 to −28
-
−17 to −5
-
-
-
20 to 7.5
303 to 380
L
V1
Q2
VL (2)
−38 to −36
-
−11 to −4
-
-
-
15 to 7
377 to 381
V
V2
Q3
LV (3)
−42 to −37
-
−7 to −5
-
-
-
10 to 7
340 to 300
L
INT#3
V1
Q1
LVS (2)
−93 to −40
-
-
-
-
228 to 219
33
412 to 469
L
V1
Q1
LV (8)
−101 to −40
-
−10.4
7.2
-
15 to 5
310 to 520
L
V1
Q1
VL (2)
−90.3
-
-
7.8
-
-
4.3
600
V
V2
Q3
LV (5)
−26.4
-
−4.8 to −3.3
-
-
-
7.6 to 5.4
373 to 310
L

© 2020 by the authors. Licensee MDPI, Basel, Switzerland. This article is an open access article distributed under the terms and conditions of the Creative Commons Attribution (CC BY) license (http://creativecommons.org/licenses/by/4.0/).