Open Access This article is
freely available
re-usable
Review
Green Cloud Computing: A Literature Survey
Department of Research, Faculty of Economics and Business Administration, Alexandru Ioan Cuza University of Iasi, Bulevardul Carol I 11, 700506 Iasi, Romania
Received: 31 October 2017 / Accepted: 27 November 2017 / Published: 30 November 2017
Abstract
:
Cloud computing is a dynamic field of information and communication technologies (ICTs), introducing new challenges for environmental protection. Cloud computing technologies have a variety of application domains, since they offer scalability, are reliable and trustworthy, and offer high performance at relatively low cost. The cloud computing revolution is redesigning modern networking, and offering promising environmental protection prospects as well as economic and technological advantages. These technologies have the potential to improve energy efficiency and to reduce carbon footprints and (e-)waste. These features can transform cloud computing into green cloud computing. In this survey, we review the main achievements of green cloud computing. First, an overview of cloud computing is given. Then, recent studies and developments are summarized, and environmental issues are specifically addressed. Finally, future research directions and open problems regarding green cloud computing are presented. This survey is intended to serve as up-to-date guidance for research with respect to green cloud computing.
Keywords:
green cloud computing; green information and communication technologies; environmental protection; sustainability
1. Introduction
Sustainability has been gaining importance among software and hardware developers and users in the last two decades, due to the rapid growth in energy consumption. The influence of information and communication technologies (ICTs) on the environment throughout the entire life cycle has been studied, in order to promote green and sustainable developments. These can contribute significantly to the improvement of the current condition of the environment by weakening the negative impacts that have intensified during the last decades. There is a great deal of pressure on producers to fall into line with environmental regulations and to develop products and services that minimize negative influences on the ecosystem. In relation to ICTs, the green characteristics of products and services are seen in sustainability-related concepts such as green ICTs, ecological informatics, environmental informatics, sustainable computing, and green computing. According to Hilty et al. [
1
], the decisions made with regard to the sustainable development of ICTs and the relation between these two fields must consider the positive and negative influences of ICTs on the environment both in the present and in the future. The attractiveness of the technologies has led, in many cases, to the neglect of environmental issues by both the producers and the users. Their degree of maturity, together with pressure from international environmental organizations, has determined a shift towards the use of ICTs in compliance with environmental regulations. It is also clear that there is an interest in monitoring and protecting the ecosystem. Nevertheless, there are some obstacles to developing and implementing certain sustainable strategies in ICTs, such as the associated costs, a lack of the time and interest required to deal with the strategies' challenges, lack of responsibility for environmental impacts, or lack of cooperation between departments within companies (ICT companies and others).
Cloud computing, as a subfield of ICTs, is the subject of studies on the environment. There are arguments and views for and against these technologies. Apart from the interest shown by the providers of cloud-type products and services, there is considerable pressure from governmental organizations to reduce negative effects on the environment.
The development of green cloud computing is closely related to the evolution of green data centers, because the data centers are the core of the cloud computing. According to Koomey [
2
], the energy consumed by data centers in 2010 represented 1.3% of the total consumption. A report published by GeSI [
3
], which is considered "one of the most comprehensive and well-recognized snapshots of the Internet's energy demand at the global level", estimates an increase in the share of total carbon dioxide (CO
2
) emissions from ICTs from 1.3% of global emissions in 2002 to 2.3% in 2020. With cloud computing and energy consumption in mind, a group of researchers at Lawrence Berkeley National Laboratory and Northwestern University created a modeling tool called the Cloud Energy and Emissions Research Model (CLEER). Their model calculates the energy savings from transferring local network software and computing into the server farms. These server farms make up the cloud. The results estimate that the primary energy footprint of email, productivity software and Customer Relationship Management software might be reduced by as much as 87% if all business users in the US shifted to cloud computing [
4
]. Even if the model does not take into account all the variables, it can prove useful in leading to energetic efficiency in the data centers which belong to Internet companies. It could ensure an increase in energetic transparency and inform consumers to enable them to choose the best offer. The benefits of cloud computing are more significant for environment protection if data centers are built on the green computing principle.
The purpose of this paper is to survey the existing literature on green cloud computing and to identify the key issues that have been researched and applied. The most important contributions of cloud computing to environmental protection are identified in the following sections. This paper does not present new solutions for green cloud computing. Instead, it highlights the interest and efforts of researchers and society in a very important area: sustainable technological evolution. Academic literature is concerned with innovation and always presents the latest discoveries and achievements in the researched field. However, in the field of environmental protection, many actors in society, such as journalists, bloggers, Non-Governmental Organizations (NGOs), human rights defenders and ordinary people, play an important role. For this reason, we choose to present both academic literature and non-academic studies in the field of green cloud computing in this paper.
The rest of the survey is organized as follows. In
Section 2
we present a brief overview of cloud computing. In
Section 3
, we provide a discussion on research methods. In
Section 4
and
Section 5
, we present recent developments in green cloud computing in the academic literature. In
Section 6
, we explore how this field is presented in non-academic studies in reports published, respectively, by ICT companies, NGOs, ICT consulting companies, and other sources. Finally, the future research directions and open problems regarding green cloud computing are given in
Section 7
, and conclusions are formed in
Section 8
.
2. Overview of Cloud Computing
3. Research Method
According to Webster and Watson [
14
], reviewing the literature is important for creating a reliable foundation for advancing knowledge. In order to obtain a sense of the current state of green cloud computing studies, we surveyed both the academic literature and non-academic studies. In the former case, we collected information from conference papers, journal papers, technical reports, and books from multiple scientific databases, including ISI Web of Science, Association for Computing Machinery (ACM) Digital Library, IEEE Computer Science, Scopus, and Science Direct. These databases allow access to leading computer science journals and high-quality peer-reviewed computer science conference publications [
15
]. The keywords used were "green cloud computing", "sustainable cloud computing" and "sustainable" in combination with "cloud computing". Using these searches, we identified 1922 results (
Table 1
).
For the following steps, we used EndNote. The filtering criteria involved the exclusion of redundant articles, conference reviews, and announcements of conferences or other events. For the rest of the papers we read the title, keywords, and abstracts, and eliminated the papers unrelated to the topic of this research. These exclusion criteria reduced the results to 90 articles that were considered relevant and reasonable for our research. The year 2009 was selected as starting point, since the concept of green cloud computing has attracted the attention of researchers since that year.
For non-academic studies, we analyzed reports published directly by ICT organizations, by ICT consulting companies, NGOs, and other sources. We analyzed these studies and opinions because they strongly influence the attitude towards green cloud computing for a wide variety of users (companies, governmental organizations, and individuals). In some cases, they could better reflect the real impact of technological change, as they can control the market and, implicitly, the new trends. Academic and non-academic research complement each other. The study of both sources offers a complete picture of green cloud computing, which is very important technically and socially.
4. Green Cloud Computing Status and Trends
Interest in studying the influence of cloud computing on the environment is on the rise due to the attention received by green computing from the computing community. It was a reaction to the report published by Gartner [
16
], which estimated that the global ICT industry accounted for approximately 2% of global CO
2
. In 2009, Liu et al. [
11
] presented GreenCloud a new architecture which aims to decrease data center power consumption. However, the interest in finding methods to decrease energy consumption in data centers is even older, and has intensified since 2009. These studies were very important for green cloud computing evolution. Green data centers—where energy efficiency is maximized and CO
2
emissions and e-waste are minimized, not only for ICT equipment, but for all environmental aspects (building, lightning, cooling, etc.)—are the basis for actual and future green cloud computing. Green computing is not limited to the energy consumption of computer devices. It includes the energy consumption of networks or cooling equipment, but also other environmental issues, such as CO
2
emissions, (e-)waste management, and consumption of natural resources. In this context, researchers' interests have been divided in the subfield of green computing. They began by analyzing the relationship between "sustainability" and "cloud computing". The evolution of this research was determined by the increase in interest in the environment and by the extended use of cloud computing.
Figure 2
illustrates the growing interest in green cloud computing in the academic literature between 2009 and 2016, with the single exception of 2013.
We identified five categories of green cloud computing studies: models and methods, architectures, frameworks, algorithms, and general issues. These studies analyze and propose solutions for the following environmental issues: improving energy efficiency, efficient management of data center resources (hardware and software), reducing operational costs, and reducing carbon emissions. Some authors present their proposals and solutions for two or more environmental issues and some studies could fall into two of the categories mentioned above, e.g., frameworks and algorithms, models and/or methods and architectures or models and/or methods and algorithms.
Table 2
presents the reviewed papers by category and according to the environmental issues addressed. For each paper, we identified the main category and one or more environmental issues for which solutions were proposed.
Efficient resource management will improve cloud computing performance by reducing energy consumption, e-waste, and costs. In green cloud computing, resource management means using heterogeneous and geographically distributed resources to meet clients' requests with the minimum negative effect on the environment. Fortunately, some factors which benefit cloud computing providers also bring benefits for the environment. For example, reducing energy consumption will cut providers' costs, but will also result in reduced CO2 emissions.
The most studied topic is optimization of energy consumption, followed by resource management (
Figure 3
).
Figure 4
presents the five categories of green cloud computing studies (models and methods, architectures, frameworks, algorithms, and general issues) identified in the literature review between 2009 and 2016.
In the papers on green cloud computing, the authors have proposed new methods and models to optimize resource management or to reduce energy consumption. Algorithms are presented in a substantial number of articles. Other aspects such as metrics, general studies of negative influences on the environment, and the involvement of providers in environmental protection are included in the general issues category.
5. Discussion of the Topics in the Review Articles
Other general solutions for achieving green cloud computing identified in the reviewed articles are related to the fact that providers and customers should buy and use the most environmentally friendly ICTs (hardware and software). Cloud computing providers should measure and understand the existing power consumption of servers, their cooling requirements, the power consumption of various applications used by clients, and their influences on the environment. Software used at different levels should facilitate ecological efficiency, and the design solutions should be holistic and should consider all the factors (cooling, memory, network, CPU, etc.) in the scheduling and resource provisioning of software.
6. Green Cloud Computing in Non-Academic Studies
7. Challenges and Future Research Directions
Research into environmental protection is a challenge, with winners and losers. All efforts are important and could lead to constructive results. The final winner is the entire society and the next generation. Green ICT is very important in this field, and it is seen as solution and problem for the environment. Green cloud computing is an important component of this field. A significant part of research was focused on cloud computing security [
120
] and on quality of services. This quality has to include both customer satisfaction [
121
] and meeting the requirement of environmental protection. The design of a green cloud has two types of challenges: technical and non-technical. Some of the technical aspects related to green cloud computing are software design, virtualization techniques, and thermal-aware management techniques.
Software design is important for green cloud computing. Applications can improve energy efficiency and resource management. The communication between software components has to be efficient. The typology has to be dynamic: resources should be automatically added or removed based on server loading. Some of the open problems are: the dynamic allocation of resources and energy, the reduction of execution costs and time of the tasks, and the reduction of energy consumption.
A VM allocation strategy could reduce energy consumption and expenses. The virtualization techniques could be improved by the migration of workload between machines, along with VM migration, between geographically distributed data centers. The workloads could be concentrated in green cloud data centers. Open problems in this case are: balancing the workload between energy efficient data centers, especially to those based on renewable energy; reducing the number of physical servers but increasing the processing power; increasing the VM size while maintaining or reducing energy consumption.
Thermal-aware management techniques are important for the heating problem in cloud data centers. To solve this problem, the workload schedule has to be performed based on thermal aspects, and the heat recirculation has to be improved. The building of data centers in areas with free cooling resources is a non-technical solution for this problem.
"Non-technical aspects" refers to standards, internal and international regulations regarding the environment, and the internal policies and strategies of the organization. There are two problems in this case: the international regulations are focused on security issues in the cloud, and the international regulations are different across countries. Some of them have adopted and applied strict environmental protection regulations. Others are very permissive in this field—they either do not have regulations, or do not apply them properly. Another non-technical issue is the cost of green cloud computing. These costs are transferred from the cloud providers to the cloud customers, and providers will increase the price of services. The use of renewable energy is a non-technical issue. The intermittency of this energy is a challenge for cloud computing providers and disrupts the conventional methods for planning operations in the cloud. To ensure that SLAs' requirements are respected, the use of a mix of energy sources that complement one another is necessary. Some cloud providers have already built data centers in geographical areas where renewable energy sources are available or may become available during the operational stage.
This paper is not without limitations: The first limitation is that we included only five databases. Others which are very important in the field (such as SpringerLink) were not analyzed in our study. Fortunately, some papers published by these are indexed in researched databases (such as Scopus, ISI Web of Science, ACM Digital Library) and were extracted, filtered, read, and cited in our article. A second limitation is that the paper is a theoretical piece. It does not offer new solutions, technical or non-technical, for green cloud computing. Third, the environmental issues of green cloud computing have been analyzed separately. A holistic management of green cloud computing problems is also necessary to meet specific sustainable development requirements. Future research should be oriented in this direction.
8. Conclusions
Cloud computing is a new model that integrates already-existing technologies in order to increase the efficiency of resource use. The results of using these technologies are varied. The suppliers of such services and the authors of studies undertaken by organizations interested in environmental protection have highlighted both favorable and unfavorable aspects of the effects of cloud computing on the ecosystem. Broadly speaking, cloud computing is likely to favor a harmonious relationship with the environment to the extent to which the ICT equipment producers and the companies supplying services in the field align themselves with environmental policies and agree to the proposals of non-governmental organizations regarding methods of diminishing the negative effects of hardware and software. This paper discusses the contribution of cloud computing to environmental protection according to the studies on this topic undertaken so far. The most important aspects are as follows:
The main advertised benefits are those which refer to energy efficiency. In order to comply with regulations on environmental protection, the companies which offer cloud services should reduce to a minimum the consumption of energy from non-renewable sources and replace it with renewable energy consumption. The studies undertaken so far have highlighted that the index of clean energy usage is still quite high, outrunning the energy obtained from non-renewable sources.

An increase in the consumption of energy from renewable sources will lead to lower CO2 emissions, but considering that the first indicator is not yet accomplished as expected, carbon emission reductions are unlikely to meet the expectations of environmental organizations.

Minimizing e-waste is another controversial aspect leading to high expectations. The use of cloud computing may influence the reduction in the amount of equipment required by organizations and the speed of replacement. Nevertheless, this is a long-term benefit and it is difficult to estimate if cloud computing will be a solution to this current, controversial, and global issue.
However, the cloud market is constantly growing and, if the current tendency continues, the effects on the system will be seen sometime in the future. Clearly, favorable effects on the ecosystem will be seen if cloud computing suppliers and consumers become fully involved in the issues, as is the case for any policy or strategy which highlights the importance of the environment.
The data collected in this study should help to familiarize readers with the current state of green cloud computing. As a result of the research undertaken, we mention the following aspects, which should be considered by cloud suppliers as well as users if cloud computing is to have a favorable relationship with the environment. (1) Providers of cloud computing services should justify the benefits to organizations in terms of a proper cost–benefit ratio. (2) Cloud technologies should be implemented according to green ICT principles, with the minimum possible negative influences on the environment. (3) Reducing energy consumption, CO2 emissions, and e-waste should be a priority for the suppliers of cloud services, as well as for consumers when they choose their suppliers. (4) Environmental organizations should make sure that information is clearly available on the influence of cloud technologies on the environment. Specific objective analyses should be performed, aimed at providing data to organizations interested in adopting these technologies. (5) Cloud service suppliers should be aware of all the environmental recommendations in every country and adapt their activities accordingly.
Conflicts of Interest
The author declare no conflict of interest.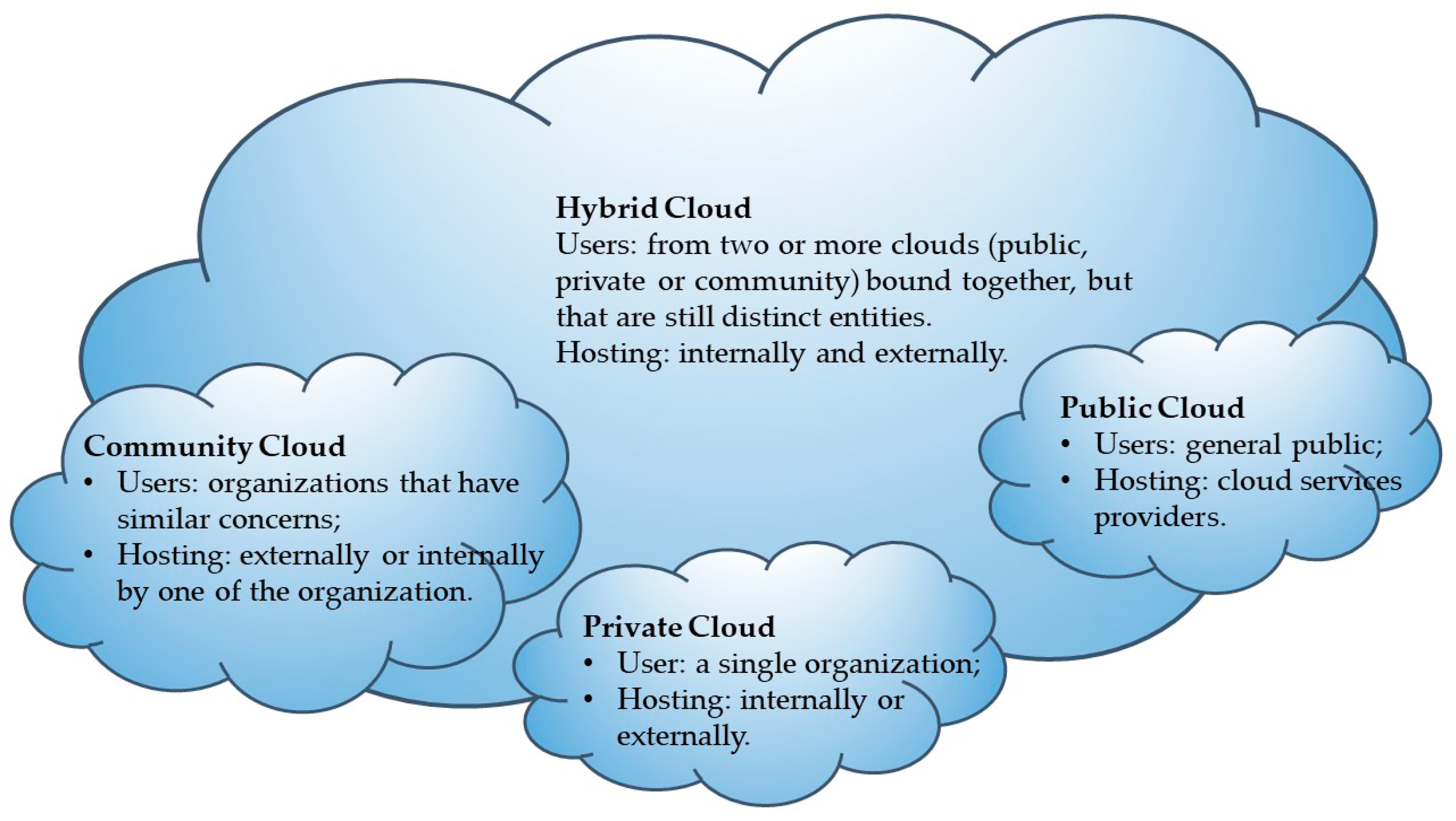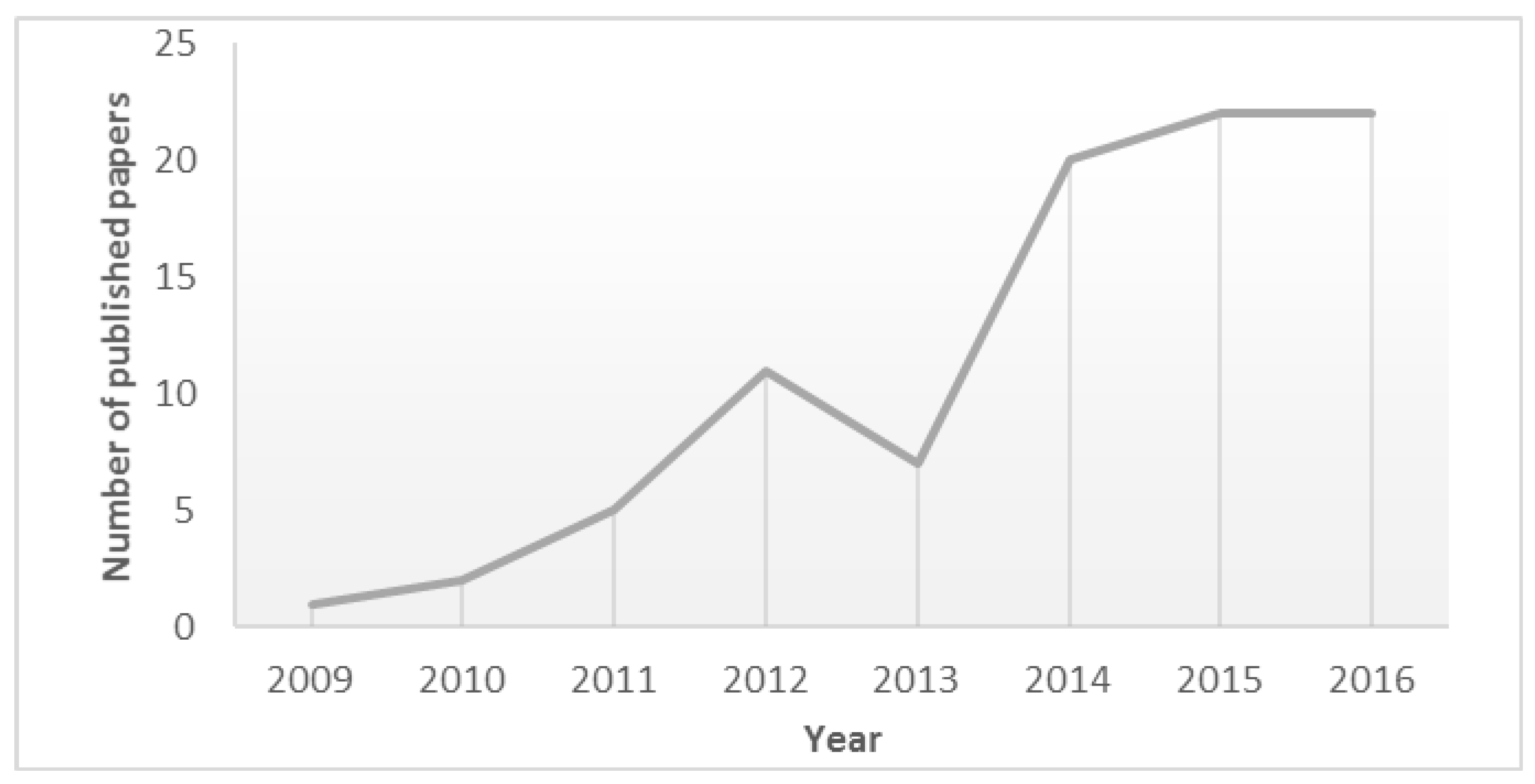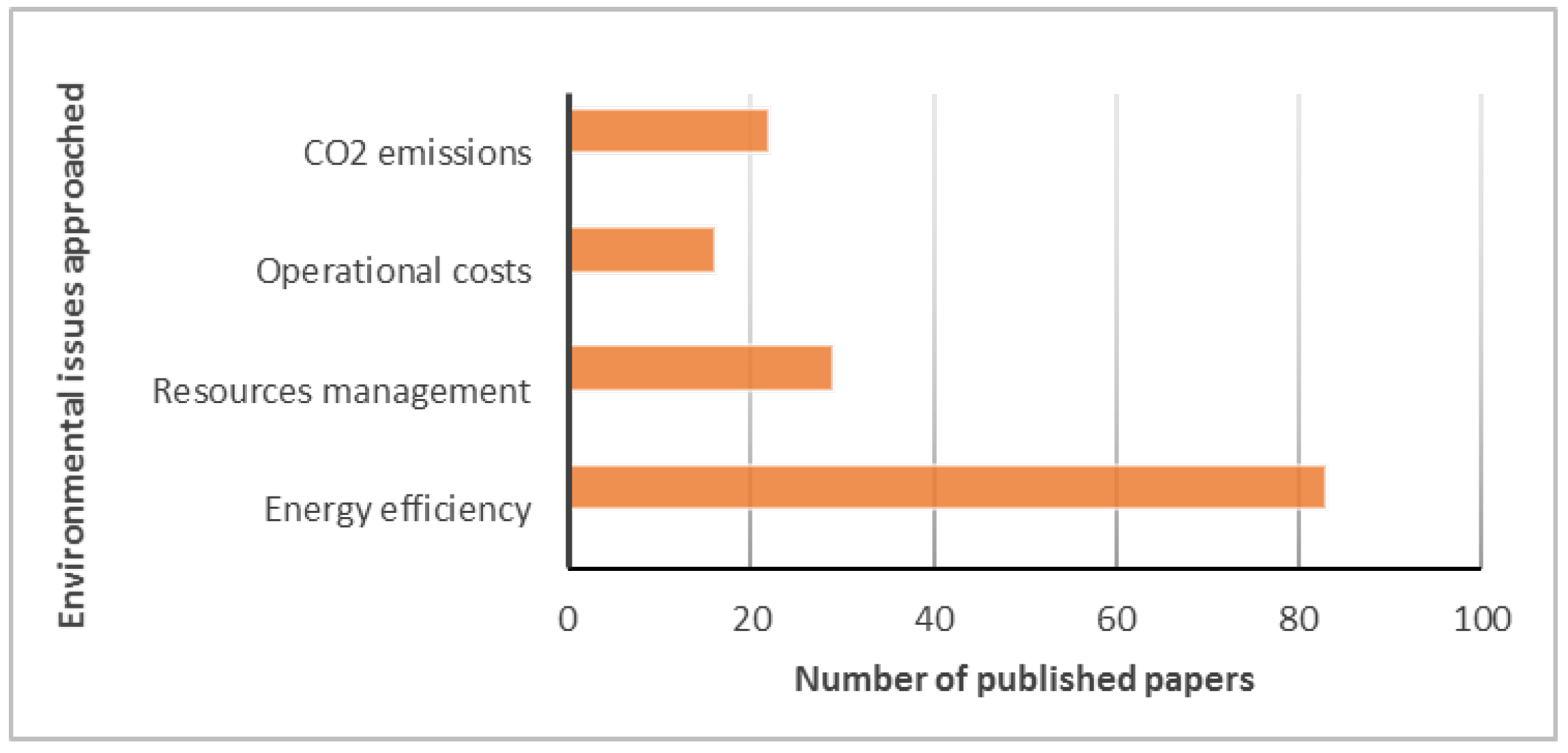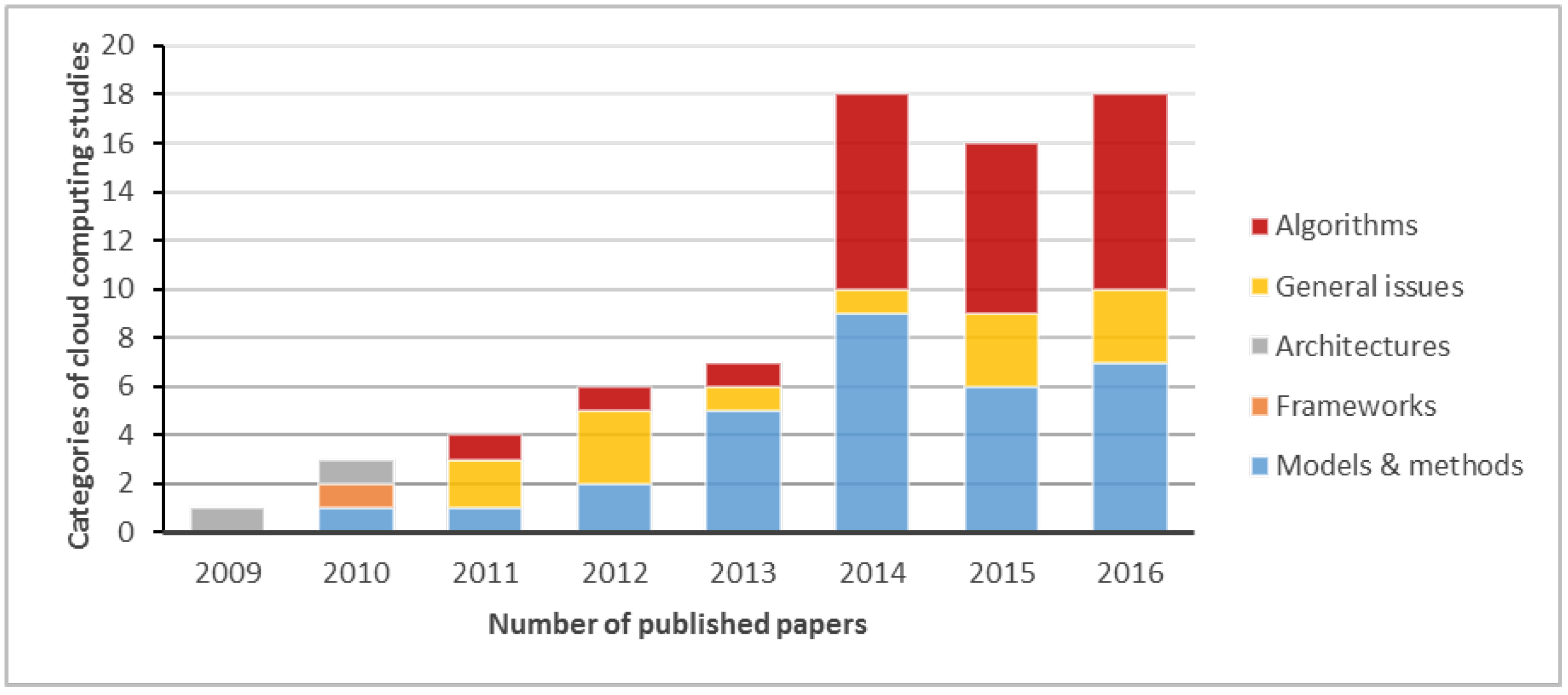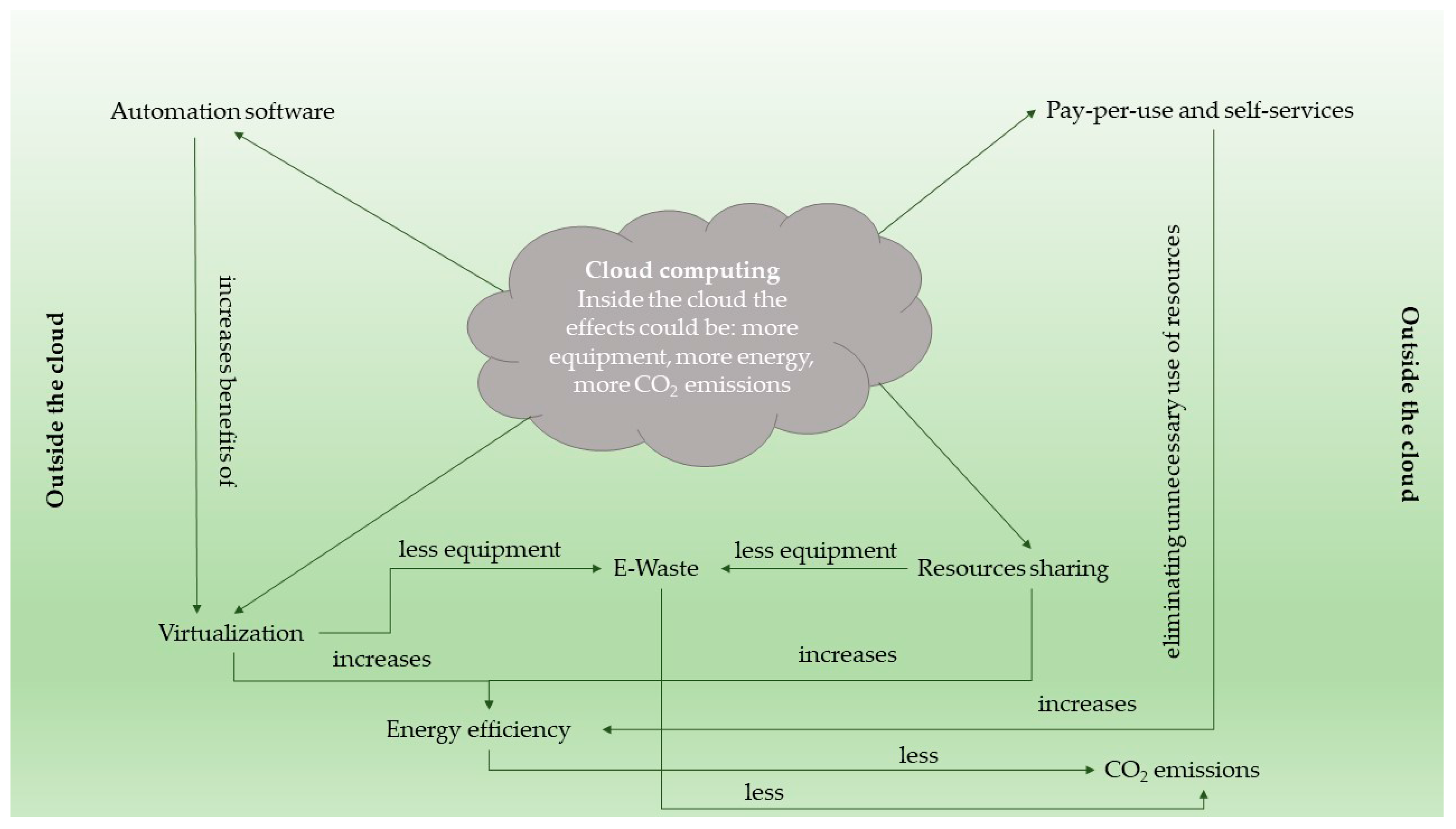 Year
Database
Web of Science
ACM Digital Library
IEEE Computer Society
Scopus
Science Direct
2009
7
4
4
8
10
2010
3
4
12
17
19
2011
12
15
21
42
41
2012
22
12
37
70
73
2013
31
12
43
82
83
2014
61
12
51
84
142
2015
65
3
63
84
201
2016
48
16
48
94
266
Total
249
78
279
481
835
Category
Surveys
Survey Focus
Energy Efficiency
Resource Management
Operational Costs
CO2 Emissions
Algorithms
[17,18,19,20,21,22,23,24,25]
√
√
[26,27]
√
√
[28,29,30,31,32,33,34,35,36,37,38]
√
[39,40]
√
√
[41]
√
√
√
[42]
√
√
√
Architectures
[11,43,44,45]
√
√
[12,46,47,48,49,50]
√
[51]
√
√
Frameworks
[52]
√
[53,54]
√
√
[55,56]
√
√
√
[57]
√
√
[58,59]
√
General Issues
[60,61,62,63,64,65]
√
[66,67,68]
√
√
[69]
√
√
[70]
√
√
√
[71]
√
√
[72]
√
[73]
√
√
√
Models & Methods
[74,75]
√
√
√
[76,77,78,79,80]
√
√
[81,82,83,84,85,86,87]
√
√
√
[88]
√
[89,90,91,92,93,94,95,96,97,98]
√
[99,100,101]
√
[102]
√
√
√
[103]
√
√
[104]
√
√
Cloud Datacenters
Coal
Nuclear
Clean
2012
2016
2012
2016
2012
2016
Amazon
34%
30%
30%
26%
14%
17%
Apple
55%
5%
28%
5%
15%
83%
Facebook
39%
15%
13%
9%
36%
67%
Google
29%
15%
15%
10%
39%
56%
HP
50%
27%
14%
5%
19%
50%
IBM
50%
27%
12%
15%
12%
29%
Microsoft
39%
31%
26%
10%
14%
32%
Oracle
49%
36%
17%
25%
7%
8%
Salesforce
34%
16%
31%
15%
4%
43%

© 2017 by the author. Licensee MDPI, Basel, Switzerland. This article is an open access article distributed under the terms and conditions of the Creative Commons Attribution (CC BY) license (http://creativecommons.org/licenses/by/4.0/).