Open Access This article is
freely available
re-usable
Review
Possible Roles of Amphiphilic Molecules in the Origin of Biological Homochirality
1
Department of Chemistry, College of Science, Rikkyo University, Toshima-ku, Tokyo 171-8501, Japan
2
Department of Molecular Design and Engineering, Graduate School of Engineering, Nagoya University, Chikusa-ku, Nagoya 464-8603, Japan
3
Faculty of Fisheries Sciences, Hokkaido University, Hakodate 041-8611, Japan
4
Japan Association for Inspection and Investigation of Foods Including Fats and Oils, 3-27-8, Nihonbashi-Hamacho, Chuo-ku, Tokyo 103-0007, Japan
*
Authors to whom correspondence should be addressed.
Received: 12 July 2019 / Accepted: 25 July 2019 / Published: 1 August 2019
Abstract
:
A review. The question of homochirality is an intriguing problem in the field of chemistry, and is deeply related to the origin of life. Though amphiphiles and their supramolecular assembly have attracted less attention compared to biomacromolecules such as RNA and proteins, the lipid world hypothesis sheds new light on the origin of life. This review describes how amphiphilic molecules are possibly involved in the scenario of homochirality. Some prebiotic conditions relevant to amphiphilic molecules will also be described. It could be said that the chiral properties of amphiphilic molecules have various interesting features such as compositional information, spontaneous formation, the ability to exchange components, fission and fusion, adsorption, and permeation. This review aims to clarify the roles of amphiphiles regarding homochirality, and to determine what kinds of physical properties of amphiphilic molecules could have played a role in the scenario of homochirality.
Keywords:
lipid; supramolecular assembly; symmetry breaking; homochirality
1. Introduction
The question of homochirality arises from the simple fact that living organisms are composed of chiral molecules. Functional biomolecules, such as nucleic acids, proteins, and lipids, are made of enantiomerically-pure chiral building blocks (e.g., sugars, amino acids, and glycerolphosphates). Typical questions regarding homochirality are "How did life choose chirality?", "Why does the enantiopurity of chiral molecules need to be high in living organisms?", "How and when did the homochirality occur?". One specific question about lipids is "Why is the chiral moiety of archaea (
sn
-glycerol-1-phosphate) the mirror image of that of bacteria and eukaryotes (
sn
-glycerol-3-phosphate) [
1
,
2
,
3
]?". One reason that makes it difficult to answer these questions is that we do not know how life appeared, nor when it emerged. Some researchers assume that life emerged when functional biopolymers, such as RNA or proteins, emerged from a soup of their monomers and oligomers, represented by the RNA world [
4
,
5
,
6
], protenoid microsphere [
7
,
8
], and the protein world [
9
]. Others postulate that it was not these polymers, but the formation of a supramolecular assembly that came first (e.g., micelle, vesicles, coacervate, oil droplets, etc.), represented by a lipid world hypothesis [
10
,
11
,
12
]. The latter view is held by relatively few scientists, but it is gaining attention and could provide new insight into the problem of homochirality.
To understand how amphiphilic molecules may have affected homochirality, approaches from a wide range of sciences are required. The importance of amphiphilic molecules, from the view point of the origin of life, has been largely recognized by researchers in system chemistry [
13
]. This field provides a bird's eye view of the origin of life, including the roles of lipids, as well as RNA and proteins. Computational methods in this field do not require chemicals and can explore the key features of a supramolecular assembly, including compositional information, reproduction, and the evolution of life [
14
]. Supramolecular chemistry is key in understanding the roles of cell membranes in a prebiotic system [
15
], and also provides profound insight into homochirality [
16
]. The field may be able to answer the basic questions of homochirality: "How are chiral properties connected with the various features of a supramolecular assembly, such as critical aggregate concentration, chemical reaction, and the permeation of chemicals through the boundary of the assembly, etc.?". The amplification of the chirality is an important phenomena, and a mechanistic study could provide a general framework with which to understand the origin of homochirality [
17
]. Organic chemistry provides knowledge of the synthetic routes of prebiotic chemicals taking prebiotic reaction conditions into account. In addition to inorganic catalysts, the growing field of organocatalysis may drastically change the view of stereoselective chemical reactions under prebiotic conditions [
18
]. Analytical chemistry provides basic information about lipids under prebiotic conditions by establishing analytical methods to separate and identify lipids. One surprising fact is that vesicles can be formed from lipids extracted from meteorites [
19
], and identifying the chemical structures of the components by analytical methods may uncover possible prebiotic molecules, since meteorites are recognized as carbon sources on earth.
This review focuses on amphiphilic molecules in the context of homochirality and aims to (1) show how could amphiphiles be emerged prior to biopolymers, (2) review prebiotic conditions and candidates of prebiotic molecules, and (3) clarify the connection between the features of amphiphilic molecules and homochirality. The main interest lies in (3), but before going into depth, it is worth considering (1), and understand why amphiphilic molecules, specifically lipids, are attracting attention from scientists who are studying the origin of life. By knowing what kinds of prebiotic conditions and prebiotic molecules are probable with the aim of (2), researchers will be able to construct plausible experimental systems or devise theories to solve the problems of homochirality.
2. Amphiphilic Molecules and the Origin of Life
In the following sections, the authors attempt to briefly summarize the relevance of amphiphilic molecules in the context of the origin of life. The emphasis is placed on amphiphiles rather than metabolism in this review (see ref. [
13
] for a broader view encompassing the metabolic system).
2.1. Theories of Origin of Life
2.2. Lipid World Hypothesis
Lancet and coworkers proposed the concept of the "lipid world" in 1999 [
10
], and emphasized the importance of the amphiphilic molecules in the context of the origin of life (see ref. [
14
] for a review written in 2018). It seems that Dyson considers the role of the cell as an inert compartment of the metabolic system, and he was focused more on the cell content that dominates metabolism and reproduction (i.e., protein enzymes), rather than the cell boundary itself (i.e., assembly of lipid and amphiphilic molecules). However, Lancet proposed that the lipid and amphiphilic molecules could also play an important role in information carriage, reproduction, catalysis, selection, and evolution.
Lancet developed a graded autocatalysis replication domain (GARD) model (
Figure 2
) to investigate the possibility of the lipid world hypothesis. The model assumes that amphiphilic molecules are formed from high energy monomers, while some amphiphiles show weak catalytic activity. Examples of the catalytic reaction with a supramolecular assembly are reported with the help of metal ions [
42
,
43
]. The catalytic activity is described by parameter
β
derived from a receptor affinity distribution (RAD) model [
10
] (p. 132) [
44
,
45
]. The simulation can describe the growth and splitting of the amphiphilic assembly and monitor the compositional changes during growth and fission. Fission generates progeny assemblies, and it may be problematic if one follows all of the generated assemblies, since the population exponentially increases. For the GARD simulation, one of the two progeny assemblies is discarded in the simulation [
10
] (p. 4), so the model basically focuses on one assembly. This simulation enables one to investigate the relationship among the compositional information, reproduction, catalysis, selection, and evolution. Unlike the experimental approach, the model is not necessarily restricted by the availability of molecules, but it can introduce kinetic constants derived from experiments which may be more plausible [
46
,
47
]. The model is based on the idea of the autocatalytic set by Kauffman, and he defines the term as follows: "
By autocatalytic set we mean that each member is the product of at least one reaction catalyzed by at least one other member
" [
48
] (p. 50). The meaning of the autocatalytic set, and the similar terms, autocatalytic reaction and autocatalytic cycle, are sometimes confusing; the difference was recently clarified by Hordijk [
49
]. A comparison among the models proposed by Lancet, Dyson, and Kauffman is reported in reference [
50
]. Other cell replication models are also proposed by Solé based on a dissipative particle dynamics approach [
51
].
The stated ideas of Dyson and Lancet are examples of the recently described metabolism first claim, and are often contrasted with the genetic first claim represented by the RNA world. Both approval [
14
,
52
] and disapproval [
53
] can be found for the metabolism first claim, but it is recognized that there is no decisive evidence to choose between the two, since each has its own shortcomings [
13
] (p. 287).
2.3. Amphiphiles and Definition of Life
Another piece of key research seeking to unvover the relation between the origin of life and amphiphiles was carried out by Luisi and coworkers (see reviews [
15
,
39
,
55
,
56
,
57
]). In the context of the origin of life, he points out that the criterion of life and criterion of evolution are often confused [
39
]. Having the question "What is life?" in mind, he introduced the word "autopoiesis" (i.e., self-reproduction) to supramolecular chemistry [
15
]. The autopoietic system is defined as "
a system which continuously produces the components that specify it, while at the same time realizing it (the system) as a concrete unity in space and time, which makes the network of production of components possible
" [
58
]. The definition can differentiate the criteria of evolution from those of the living or dead. In addition, it helps to think of a minimal living unit based on the supramolecular assembly.
Figure 3
describes this situation. A unit of assembly S (surfactant) is formed from a precursor A. S forms the decay product P, which is eliminated from the system. The kinetics of formation and destruction of S determines whether the assembly grows, maintains (being the state of homeostasis), or decays.
The actual self-reproducible supramolecular system of reversed micelles, micelles, and vesicles are reported [
15
] (p. 3642). The process of self-reproduction is often referred to as autocatalytic, meaning "the catalysis of a reaction by the products" in this context. For example, in the case of autocatalytic micelles [
59
], the system is composed of two phases (water and oil), and micelles of sodium caprylates are formed in the aqueous phase by hydrolysis from ethyl caprylate (insoluble in water and forms an oil phase). The rate of the reaction is initially slow, but it exponentially increases after the formation of a certain number of micelles.
It could be interesting to ask whether the finding of the autocatalytic micelle means the discovery of the model system in which the surfactants show a catalytic activity as described in the GARD model. However, the mechanism of the autocatalytic micelle was attributed to a transport phenomenon rather than micellar catalysis [
60
,
61
,
62
]. This indicated that the catalytic property of the autocatalytic micelle is not the identical definition of catalytic activity assumed in the previously described GARD model. Even if this is true, finding a surfactant with catalytic activity or establishing a method to measure the low catalytic activity in the experimental system would be a big challenge, and it enables a dialog between the experiment and theory. It will benefit experimentalists to have guidance by a theoretical model, and it also benefits theoreticians to use the significant phenomena observed by experiment in the model.
3. Prebiotic Condition and Amphiphiles
3.1. Sources of Amphiphiles in Prebiotic Condition
3.2. Chiral Amphiphiles in Prebiotic Condition
It has been reported that carbonaceous chondrites show an enantiomeric excess of organic compounds. Amino acid and sugar are thought to be important chiral organic molecules, since they are chiral building blocks of proteins and nucleic acids. It is interesting that many of the amino acids and sugars found in meteorites have excess L and D configurations, respectively [
101
,
102
]. The chirality coincides with the handedness of the building blocks of biopolymers of present life and the fact supports that the source of the organic molecules are extraterrestrial.
It is also interesting that some of the amphiphiles extracted from a carbonaceous chondrite have an asymmetric carbon in their structures (e.g., branched monocarboxylic acids in the Murchison meteorite [
64
], and hydroxy acids found in the Murchison, GRA 95229 and LAP 02342 meteorites [
81
]). Most of these chemicals may have a very high solubility in water to form a membrane structure, but some could be seen as model chiral amphiphiles to investigate how the chiral structure affects the properties of a self-assembled entity.
4. Amphiphilic Molecule and Homochirality
The question of "How amphiphiles and homochirality are related?" is less understood compared to the relationship between polymers and homochirality. One reason for this is that it has been thought that the first biological entities were biopolymers, such as proteins and RNA, rather than lipids; thus, the discussion of homochirality has been mainly limited to biopolymers. The question was examined relatively recently [
13
,
103
] (p. 303). The relation between a supramolecular assembly and chirality is complicated compared to biopolymers, and it is necessary to clarify the connection between the features of an amphiphilic molecule and homochirality. Lancet and coworkers listed the advantages of lipid assemblies compared to biopolymers in the context of the origin of life [
14
]. In
Figure 4
, the physical properties in the list and two other physical properties (adsorption and permeation) are shown. Each physical property could be influenced by the chiral properties. The following sections are devoted to review studies related to chirality, and to some of the physical properties of the amphiphilic molecules.
5. Conclusions
Though it may not be a common view compared to the RNA world, the lipid world hypothesis provides new insight into the scenario of the origin of life. It emphasizes that an amphiphilic molecule could have played a key role in the origin of life prior to the emergence of the biopolymers. This area of research provides new knowledge about the supramolecular assembly and its interaction with other biomolecules and biopolymers. Far less is known about the relationship between the lipid world and homochirality, and it seems that there are various undiscovered features that chiral amphiphiles have when one considers the physical properties that are unique to supramolecular assemblies (compositional information, spontaneous formation, fission, permeation, etc.). Considering the scenario of homochirality, it is of great interest to determine how those properties could have connected with mirror symmetry breaking, and to elucidate the cooperative phenomena of chiral molecules, such as the sergeants-and-soldiers principal and majority rules.
Author Contributions
Conceptualization, N.S. and Y.I.; Writing-Original Draft Preparation, N.S. and Y.I.; Writing—Review and Editing, N.S. and Y.I., Supervision, N.S. and Y.I.
Funding
This study was supported by JSPS KAKENHI Grant Number JP17K14083.
Acknowledgments
N.S. thanks E. Yashima, T. Ikai, and D. Taura, and the group members for the fruitful discussion on the amplification of chirality in helical polymers and supramolecular assembly.
Conflicts of Interest
The authors declare no conflict of interest.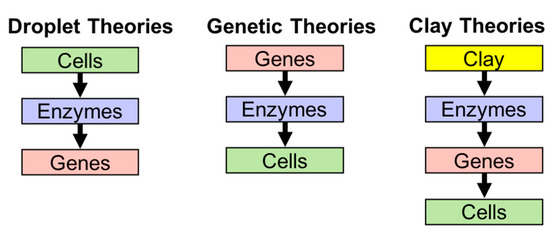 Figure 1.
The three theories described by Dyson [
21
].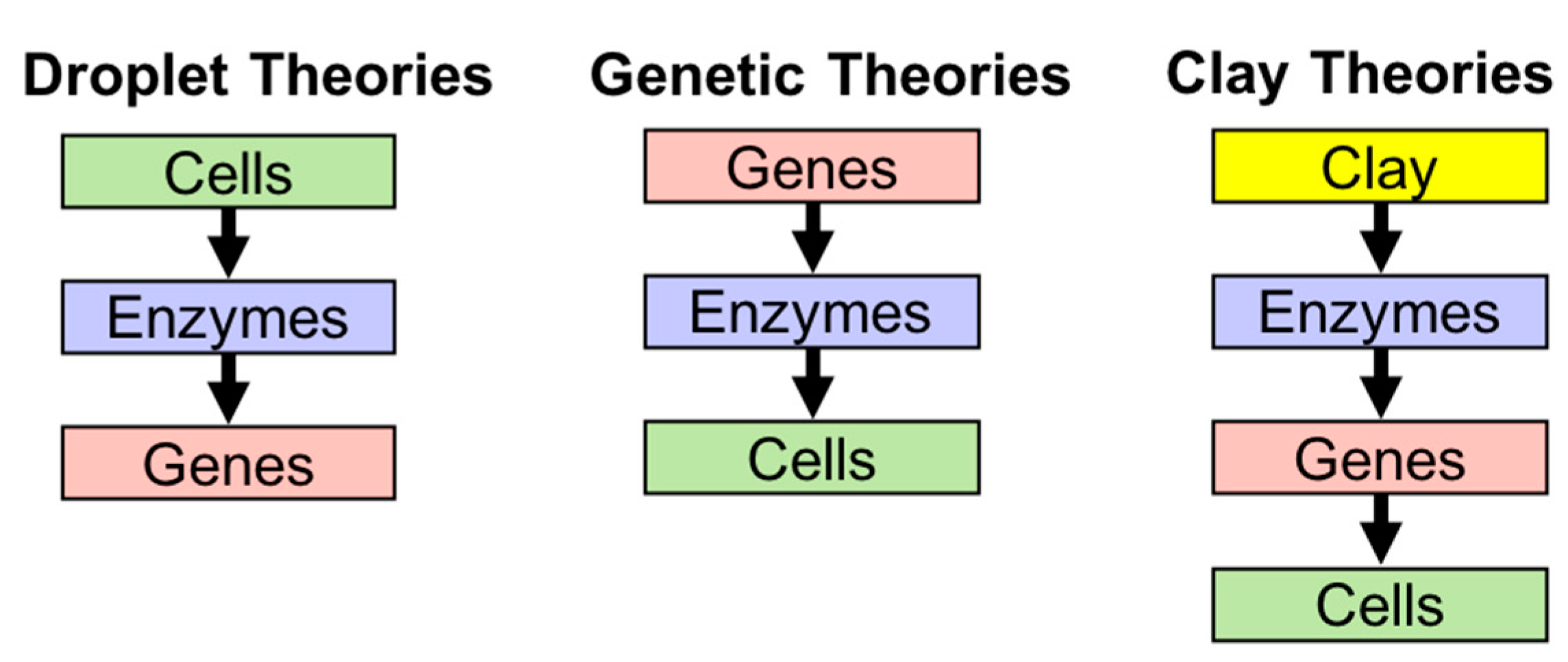 Figure 2.
Description of GARD model based on ref [
50
,
54
]. (
a
) Chemical reaction of amphiphilic dimer, D, from monomers, M. Constants
k
+ij
and
k
−ij
indicates association and dissociation rate constants for a reaction forming a dimer (D
ij
) from monomers (M
i
and M
j
), respectively. The semicircle arrow indicates the catalysis of the formation and degradation reactions of D
ij
by D
pq
with the factor
β
ij,pq
. (
b
) Assumed condition of GARD model. Monomers are supplied from the outside and the components of assembly catalyze the reaction. (
c
)
β
matrix of the reaction. The gray scaled color indicates the value of
β
. (
d
) Rate equation of the system.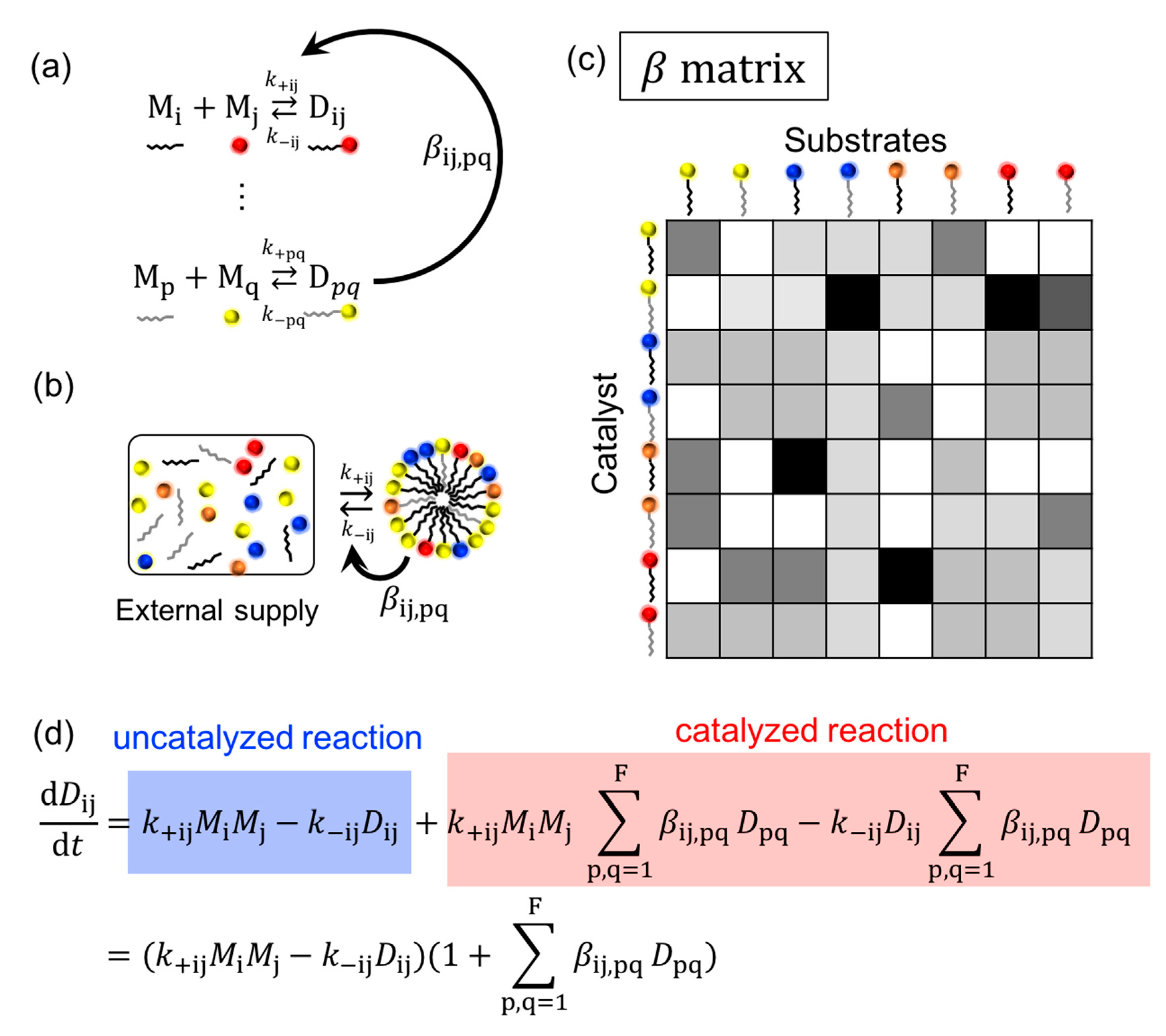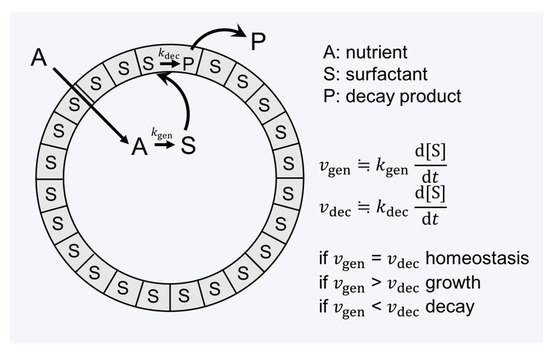 Figure 3.
The concept of autopoiesis applied to the supramolecular assembly from reference [
55
].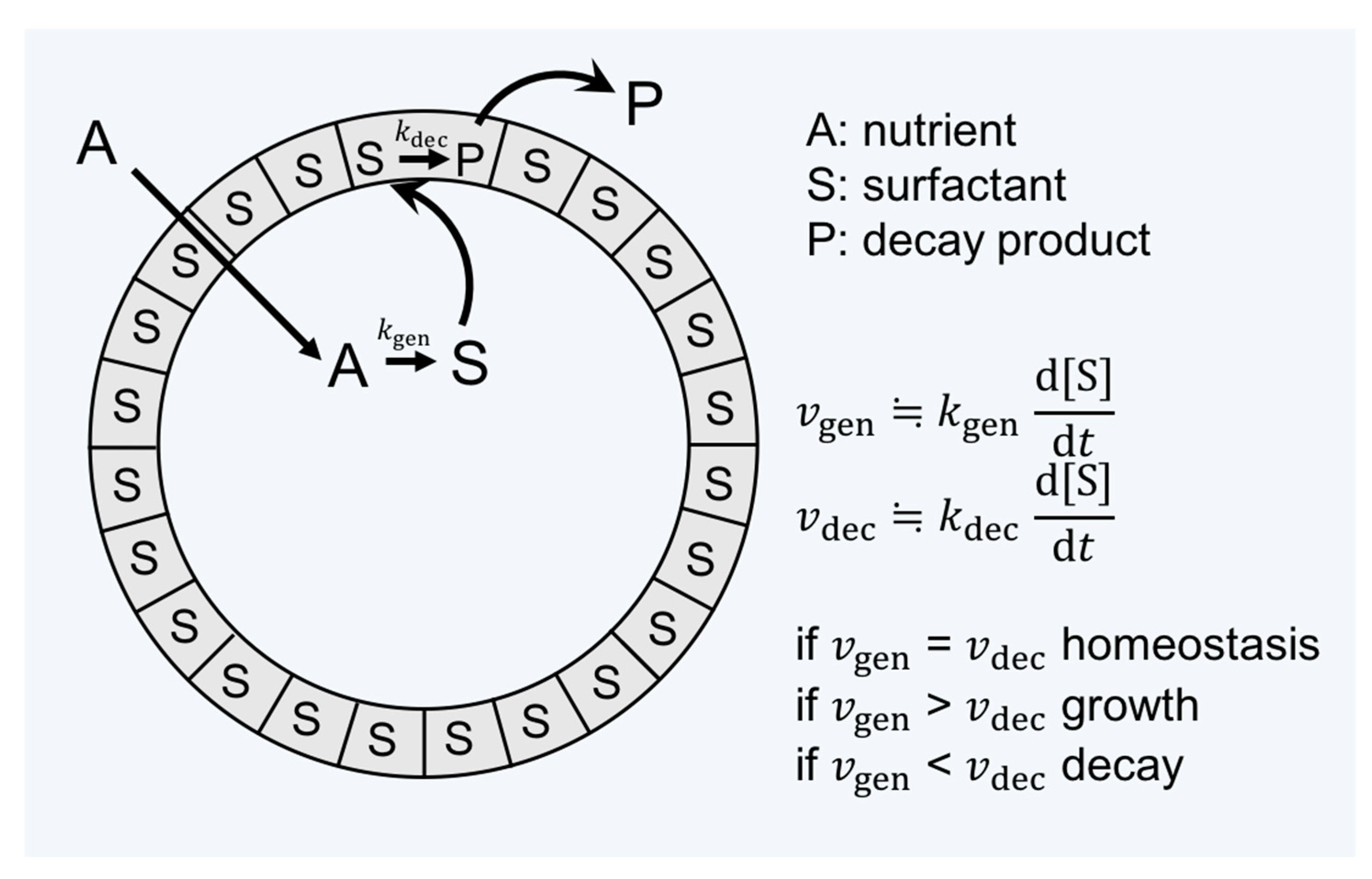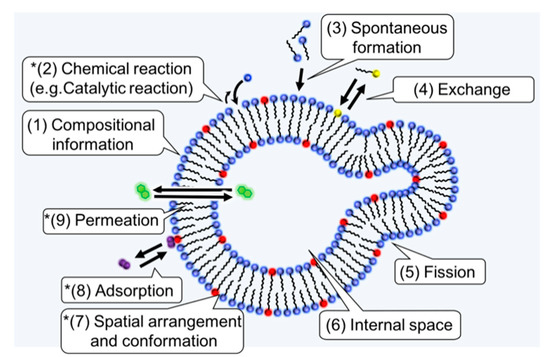 Figure 4.
Functions of amphiphiles that could be important for the origin of life and homochirality. The properties (1)–(6) were taken from a table in reference [
14
] (p. 19) and slightly modified. (7)–(9) were added in this review to discuss the possible roles of chiral amphiphiles. In this article, only the properties with an asterisk are reviewed in detail.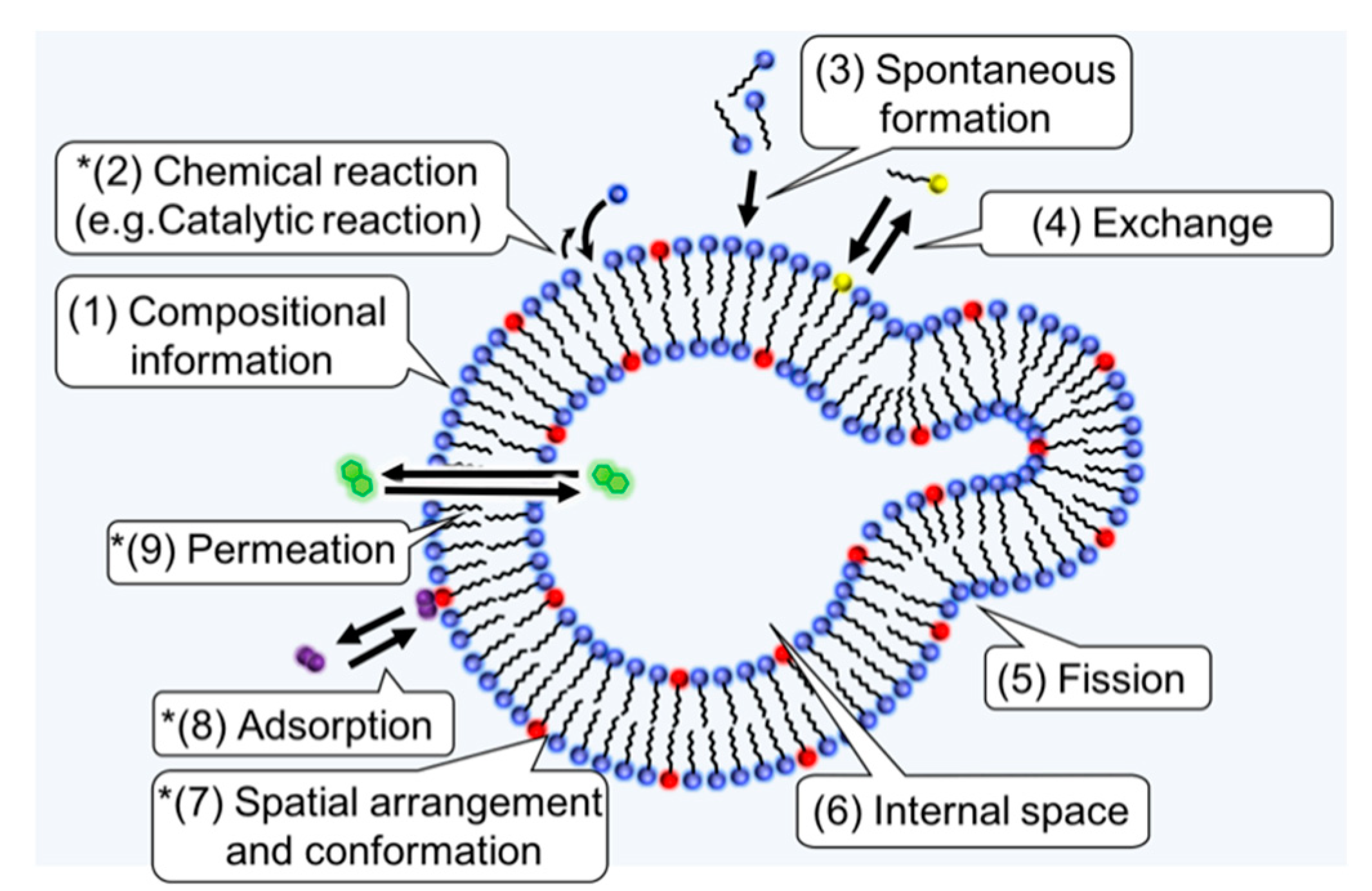 Figure 6.
Function of from reference [
105
]. (
a
) Racemizing process. (
b
) Neutral process. (
c
) Deracemizing process.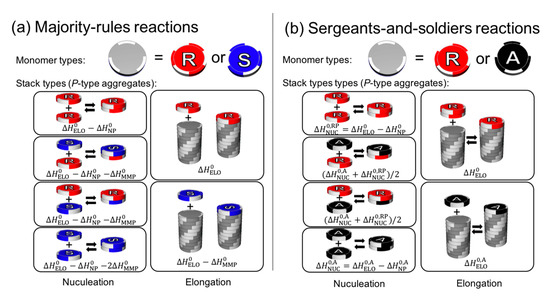 Figure 7.
Theoretical models of cooperative supramolecular copolymerization from reference [
17
]. Formation of
M
- and
P
-type helical aggregates are possible but only the
P
-type aggregates are shown in this figure for the sake of simplicity. The
M
-type helical aggregate can be described in a similar manner by switching the helicity of the aggregates from
P
to
M
and switching the (
S
) and (
R
)-isomers. (
a
) Majority-rules reactions. Two types of monomers, (
R
)-isomer (red) and (
S
)-isomer (blue), forming
P
-type helical aggregate. The model is described by
ΔH
0
ELO
,
ΔH
0
NP
,
ΔH
0
MMP
, and
ΔS
0
, where
ΔH
0
ELO
is the elongation enthalpy,
ΔH
0
NP
is the nucleation penalty,
ΔH
0
MMP
is the mismatch penalty, and
ΔS
0
is the entropy. The (
R
)-isomer prefer
P
-helicity while (
S
)-isomer prefer
M
-helicity. This preference is taken in account by
ΔH
0
MMP
. (
b
) Sergeants-and-soldiers reactions. Mismatch does not happen for this case but additional parameters,
ΔH
0,A
ELO
,
ΔH
0,A
NP
, and
ΔS
0,A
, are introduced to consider the dependence of the energy on the helicity for achiral monomers.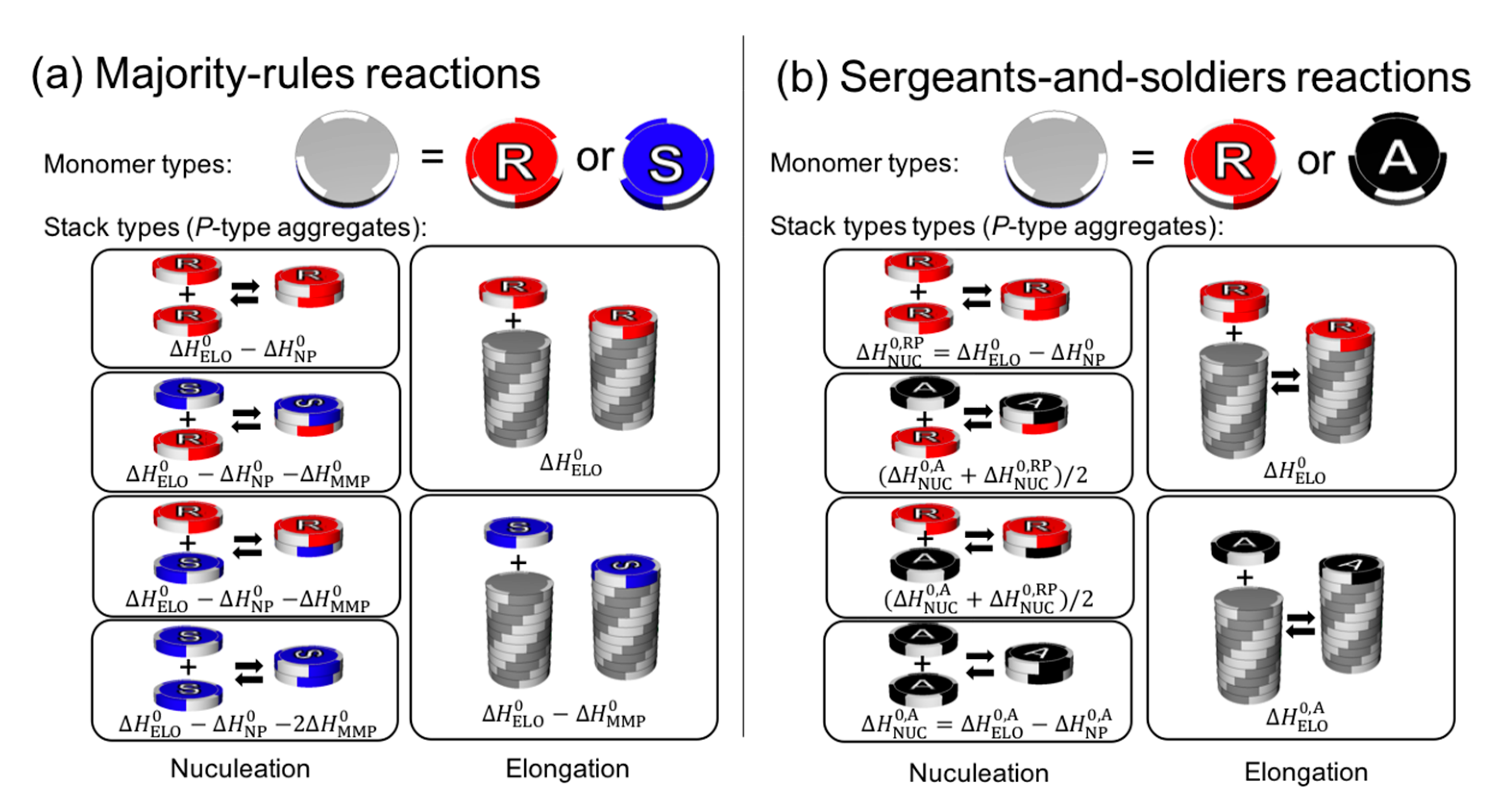 Table 1.
Major sources (kg yr
−1
) of prebiotic organic compounds in the early earth (from ref. [
72
] (p. 1459)).
| Source | Amount a/kg yr−1 |
| --- | --- |
| Terrestrial Sources | |
| UV photolysis b | 3 × 108 |
| Electric discharge c | 3 × 107 |
| Shocks from impacts d | 4 × 102 |
| Hydrothermal vents e | 1 × 108 |
| Extraterrestrial Sources f | |
| Interplanetary dust particles | 2 × 108 |
| Comets | 1 × 1011 |
| Total | 1011 |
Modified from Chyba and Sagan [73]. a Assumes neutral atmosphere, defined as [H2]/[CO2] = 0.1. b Synthesis of the Miller-Urey type. c Such as that caused by lightning interacting with a volcanic discharge. d An estimate for compounds created from the interaction between falling objects and the Earth's atmosphere. e Based on present-day estimates for total organic matter in hydrothermal vent effluent [74,75]. f Conservative estimate based on possible cumulative input calculated assuming flux of 1022 kg of cometary material during first Ga (109 yr) of Earth's history. If comets contain ~15 wt% organic material [76], and if ≈10% of this material survives, it will comprise approximately 1011/kg yr−1 average flux via comets during the first 109 yr.

Table 2.
Molecular abundances of main organic compounds found in the Murchison, Bells, and Ivuna meteorites from ref [
77
].
Compound(s)
Murchison a
nmol/g b

n

c
Bells
nmol/g

n

Ivuna
nmol/g

n

Ammonia
1100
280
5300
Amines
130
20
nf d
38
5
Amino acids
600
>85
93
13
156 e
12
Aldehydes/ketones
200 f
18
134
14
1369
23
Hydroxy acids
455 g
17
1231
11
2136
10
Di-carboxylic acids
300
26
43
15
857
15
Carboxylic acids
3000
48
495
11
937
14
Hydrocarbons
1850
237
265
82
221
30
Alkanes
350
140
32
32
221
30
Aromatic
300
87
250
27
489 h
34
Polar
1200
10
ne i
ne
a From ref [78] and references therein unless otherwise noted. b Nanomoles/gram of meteorite, indicates total weight of compounds identified with reference standards. c Number of species in the group. d Not found. e Ref [79] also reported for Ivuna amino acids, amounts in the table are new to relate all compounds' quantitative data to the same meteorite fragment. f From ref [80]. g From ref [81]. h Phenanthrene-subtracted. i Not estimated.
| Type of Advantage Factors | True (+) or Imaginary (−) | a |
| --- | --- | --- |
| Local advantage factors | | |
| Circularly polarized light | + | |
| Static magnetic field (SMF) | − | |
| Static electric field (SEF) | − | |
| Gravitational field (GF) | − | |
| SMF + SEF | − | |
| Rotation (Coriolis force) + GF | − | |
| SMF + GF | − | |
| Rotation + SMF + SEF | + | |
| Rotation + SMF + GF | + | |
| SMF + Linearly polarized light | + | |
| Global advantage factors | | |
| Weak neutral currents | + | |
| Longitudinally polarized β particles | + | |
From reference [106]. a

χ

is a factor determined by molecular structure.

E

is electric field.

B

is magnetic field.

Z

is atomic number.

k

B is Boltzmann's constant.

h

e, helicity of

β

particles <sp>, where the operators s and p represent the spin and momentum of the particle.

σ

L and

σ

D are cross sections for the interaction of the polarized

β

particles with the molecules.

Table 4.
Basic type of process in chiral system from reference [
105
].
Block
Name of the Reaction a
Reaction Formula b
Type of Process
I
Synthesis
Racemizing
0
II
Racemization
″
0
III
Accidental autocatalysis
″
0
-
IV
Binary racemization
″
0
-
V
Binary destruction
″
0
-
VI
Accidental superautocatalysis
″
0
-
VII
Destruction
Neutral
|1|
VIII
Autocatalysis
″
|1|
IX
Cross-inversion
″
|1|
X
Annihilation
Deracemizing
-
|1|
-
XI
Superautocatalysis
″
|1|
|1|
a The table in the original paper does not attribute Block XI to "Superautocatalysis" but it is evident from the main text. b The formula of block XI was corrected from "A + 2L → 3D" in the original paper to "A + 2D → 3D" in this paper. c

x

A is the concentration of chemical A.

θ

=

x

L +

x

D. For the case of

g

= 0,

k

=

k

L =

k

D. For

g

≠ 0, Block II, III, IV, and VI, were not given in the original paper which were completed in this paper (See supporting information). Block V of the original paper had a contradiction with the dynamic equation of

g

= 0 when

g

is substituted by 0. The equation of block V was revised in this paper.

© 2019 by the authors. Licensee MDPI, Basel, Switzerland. This article is an open access article distributed under the terms and conditions of the Creative Commons Attribution (CC BY) license (http://creativecommons.org/licenses/by/4.0/).