Open Access This article is
freely available
re-usable
Review
Single-Domain Antibodies and Their Formatting to Combat Viral Infections
1
VIB Center for Medical Biotechnology, 9052 Ghent, Belgium
2
Department of Biochemistry and Microbiology, Ghent University, 9052 Ghent, Belgium
3
Department of Biomedical Molecular Biology, Ghent University, 9052 Ghent, Belgium
*
Author to whom correspondence should be addressed.
Received: 30 November 2018 / Accepted: 14 December 2018 / Published: 20 December 2018
Abstract
:
Since their discovery in the 1990s, single-domain antibodies (VHHs), also known as Nanobodies®, have changed the landscape of affinity reagents. The outstanding solubility, stability, and specificity of VHHs, as well as their small size, ease of production and formatting flexibility favor VHHs over conventional antibody formats for many applications. The exceptional ease by which it is possible to fuse VHHs with different molecular modules has been particularly explored in the context of viral infections. In this review, we focus on VHH formats that have been developed to combat viruses including influenza viruses, human immunodeficiency virus-1 (HIV-1), and human respiratory syncytial virus (RSV). Such formats may significantly increase the affinity, half-life, breadth of protection of an antiviral VHH and reduce the risk of viral escape. In addition, VHHs can be equipped with effector functions, for example to guide components of the immune system with high precision to sites of viral infection.
Keywords:
virus; nanobody; formatting; Fc-domain; half-life
2. Formatting of VHHs to Increase the Half-Life in Circulation
3. Increasing Valency to Improve Potency
4. Arming VHHs with Effector Functions
5. Targeting and Delivery of VHHs
In some cases, VHHs are only effective or needed in a certain organ, cell type or cell compartment. Multiple formatting options are available to specifically target or deliver VHHs to one of these regions, e.g., linkage to antibodies or peptides, provide posttranslational modifications or in situ expression by bacterial vectors.
6. Antiviral Single Domain Antibodies as Tools for Diagnostic and Antigen Display
The sturdy nature, small size and ease of production make single domain antibodies very well suited as building blocks that can be used in applications such as diagnostics. However, in the context of virus-targeting VHHs, we came across very few examples in the literature that exploited VHH for the detection of viral antigens. One explanation for this paucity of studies is probably the tremendous sensitivity of nucleic acid-based detection methods for the diagnosis of a viral infection. However, in terms of speed, it is clear that rapid antibody-based detection methods outcompete DNA- and RNA-based detection methods. For some viruses that are known to manifest antigenic diversity in their structural proteins, a VHH-based detection method is a challenge unless a broadly reactive, yet highly specific VHH is available. Human noroviruses are an example of antigenically variable viruses, with more than 40 different genotypes that are classified into two main genogroups [
93
]. Furthermore, norovirus outbreaks can spread at an astonishing speed, warranting the availability of a rapid and robust diagnosis method, which could help to contain an outbreak as soon as possible after the first patients fall ill. One VHH that recognizes an epitope in the lower region of the protruding domains of the norovirus capsid that is conserved among genotype II noroviruses was developed into a tool for rapid diagnostics [
94
]. The norovirus capsid-binding VHH was modified with biotin and conjugated to gold, modifications that allowed its use in a rapid lateral flow immunoassay. Interestingly, compared with a commercially available ELISA for the analysis of human stool samples, the VHH lateral flow immunoassay had a higher specificity (86% compared with 67%), although one out of five cases were missed with the VHH set up (sensitivity of 80% for the lateral flow immunoassay compared with 100% for the commercial ELISA) [
94
]. The use of multiple VHHs, that ideally also can recognize genotype I noroviruses, would likely contribute to a higher sensitivity. Influenza viruses likewise display a high antigenic variability. Here also, a rapid detection method based on single domain antibodies would require those to be broadly reactive. A sandwich type ELISA has been proposed based on two single domain antibodies derived from a camel that had been immunized with inactivated semi-purified A/Texas/1/1977 H3N2 virus. These single domain antibodies were specific for the hemagglutinin of an H3N2 virus. In a sandwich ELISA, in which one of the single domain antibodies was tethered to magnetic beads and the second one was coupled with a reporter enzyme, the semi-purified H3N2 virus was detectable up to a minimal concentration of 50 ng/mL. It is unclear from this report if the single domain antibody pair was able to recognize multiple H3N2 strains [
95
].
A second VHH-based tool in the context of a virus has been developed by the group of David Rowlands. This group has a long standing in the design of hepatitis B core-based virus-like particles (VLPs) that can be expressed in robust expression systems such as those based on
E. coli
and plants. Recently, the group reported a so-called tandem fusion hepatitis B core VLP assembly method. When a single-domain antibody directed against green fluorescent proteins (GFP) was inserted in the major immunodominant region of the second hepatitis B core moiety of the tandem construct, recombinant VLPs were produced and purified that could capture GFP on their surface [
96
]. A similar VLP with a VHH directed against a nondisclosed virus was also generated by transient expression in
Nicotiana benthamiana
leaves. These so-called tandibodies could be used to display antigens for vaccination purposes. It will be interesting to see further reports on this technology for vaccine design purposes. Most likely, the hepatitis B core as well as the VHH will also be immunogenic. In addition, the VHH might shield an epitope on the displayed antigen.
7. Conclusions
Due to their unique properties such as high solubility, stability, ease of production and formatting flexibility, VHHs seem to be very well suited to develop high affinity reagents to fight human viral diseases. Currently eight VHHs are in clinical development (all from the company Ablynx), of which one, ALX-0171, a trivalent anti-RSV VHH currently tested in a phase IIb clinal trial, is directed against a viral target. Their single-domain build-up allows formatting in multiple ways to obtain "best-in-class" molecules. Head-to-tail fusion of identical VHHs or VHHs recognizing different epitopes or fusion to multimerizing protein moieties have successfully been demonstrated to enhance and broaden neutralization activity. The first strategy being exemplified by the superior antiviral activity and strain coverage of the trivalent VHH ALX-0171 compared with its monovalent counterpart. A key component in the generation of long-lasting antiviral therapeutics is the implementation of half-life extension techniques such as PEGylation, fusion to a serum albumin-binding VHH or fusion to an IgG Fc-domain. Clinical proof-of-concept of the extended half-life that is obtained in this way has been achieved for an anti-IL-6R and anti-TNF VHH fused to a serum albumin-binding VHH, used in the treatment of rheumatoid arthritis. PEGylated VHHs or VHHs fused to an Fc tail have not yet been tested in clinical trials. The fusion to an Fc tail however seems a promising approach since not only half-life is extended but also avidity and Fc effector functions are introduced. Moreover, several Fc fusion-based therapeutics are already on the market [
97
]. Alternatively, immune effector functions can also be added by fusion to an anti-CD3 VHH, resulting in the recruitment of T-cells. Next to improving affinity, extending the half-life and introducing effector functions, formatting can also improve VHH activity by targeting a certain organ, cell type or cell compartment. In this context, using a bacterial vector to deliver the VHH to specific organs seems an interesting approach to explore further. Finally, although VHHs are also well suited for the development of diagnostic tests, this is still a poorly explored area in the context of viral infections.
Author Contributions
Writing—Original Draft Preparation, writing—Review & Editing: D.D.V., M.B., I.R., B.S., X.S.; Visualization; D.V.V. and M.B.
Funding
This research was funded by FWO (projects F043515N and G0B1917N). D.D.V. is a predoctoral and I.R. a postdoctoral fellow supported by FWO. B.S. is a doctoral assistant at the Department of Biomedical Molecular Biology.
Conflicts of Interest
The authors declare no conflict of interest.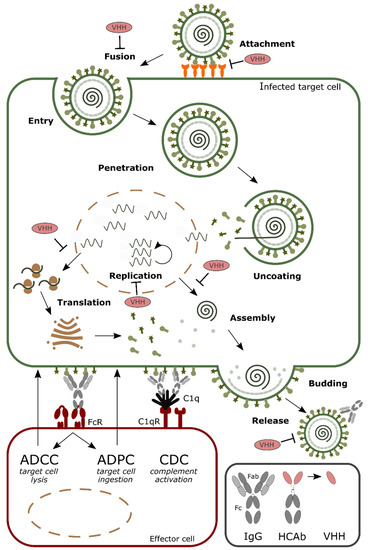 Figure 1. Schematic overview of the steps in a standard viral replication cycle that can be targeted by monovalent single-domain antibodies (VHHs) and antibody-mediated effector functions. General steps in viral replication include: (i) attachment and entry; (ii) penetration and uncoating; (iii) replication and translation of genomic viral RNA into proteins; (iv) assembly of virions; (v) budding and release. Antibodies (immunoglobulins or IgGs and heavy chain-only antibodies or HcAbs) employ different mechanisms to remove the infected target cells: (i) interact with Fc receptors (FcR) on effector cells to induce antibody-dependent cell-mediated cytotoxicity (ADCC) or antibody-dependent polymorphonuclear neutrophils (PMN)-mediated cytolysis (ADPC) and (ii) cell lysis through complement dependent cytotoxicity (CDC) by binding to the C1q receptor (C1qR).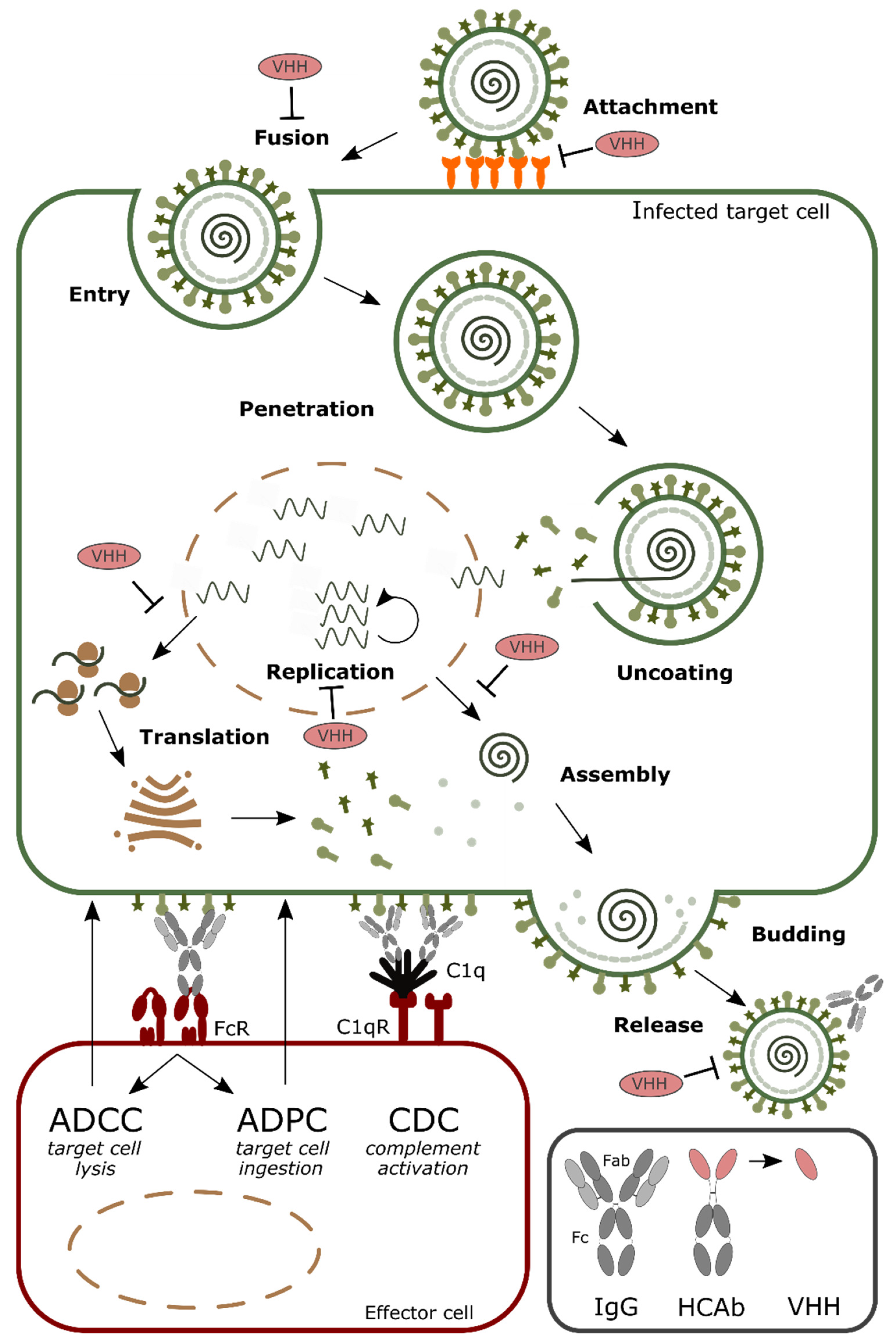 VHH Format
Functionality
Virus
Reference
Homobivalent VHHs

- Enhance and broaden antiviral activity
RSV
Influenza
Rabies
HIV
Hultberg et al. [21]
Schepens et al. [55]
Detalle et al. [56]
Palomo et al. [57]
Hultberg et al. [21]
Cardoso et al. [52]
Hufton et al. [18]
Ibanez et al. [54]
Hultberg et al. [21]
Terryn et al. [45]
Hulsik et al. [51]
Matz et al. [53]
Bispecific VHHs
- VHH linked to anti albumin VHH

- VHH linked to anti IgG VHH

- VHH linked to VHH which binds different epitopes on same target


- Half-life extension
- Half-life extension
- Enhance and broaden antiviral activity
Rabies
FMDV
RSV
Rabies
HIV
Terryn et al. [45]
Harmsen et al. [30]
Hultberg et al. [21]
Hultberg et al. [21]
Matz et al. [53]
VHH Format
Functionality
Virus
Reference
PEGylation

- Half-life extension
FMDV
Harmsen et al. [34]
VHH linked to IgG Fc region

- Half-life extension
- Enhance and broaden antiviral activity
- Effector function
MERS
Influenza
HIV
Rotavirus
Raj et al. [48]
Zhao et al. [20]
Cardoso et al. [52]
Laursen et al. [75]
Bobkov et al. [68]
Günaydın et al. [76]
VHH linked to ferritin

- Half-life extension
Influenza
Fan et al. [32]
VHH linked to GCN4

- Enhance and broaden antiviral activity
Influenza
Tillib et al. [58]
VHH linked to COMP48

- Enhance and broaden antiviral activity
Rabies
Boruah et al. [59]
VHH linked to IgG

- Effector function
- Targeting
HIV
Sun et al. [77]
VHH Format
Functionality
Virus
Reference
VHH linked to cytotoxic domain

- Effector function
HSV-2
Geoghegan et al. [78]
VHH linked to liposome


- Effector function
- Targeting
HIV
Wang et al. [79]
VHH linked to bacteria

- Targeting
Rotavirus
Pant et al. [80]
Günaydın et al. [76]
Alvarez et al. [81]
VHH linked to GPI

- Targeting
HIV
RSV
Liu et al. [82]
Tiwari et al. [83]
VHH linked to cell-penetrating peptide

- Targeting
HCV
Thueng-in et al. [84]
Phalaphol et al. [85]
Glab-ampai et al. [86]
Tarr et al. [87]
VHHs, single-domain antibodies; RSV: human respiratory syncytial virus; HIV: human immunodeficiency virus; IgG: immunoglobulin G; PEG: Polyethylene glycol; FMDV: foot-and mouth disease virus; MERS CoV: Middle East respiratory syndrome coronavirus; GCN4: amino acid starvation-responsive transcription factor; COMP48: human cartilage oligomeric matrix protein; HSV-2: Herpes Simplex Virus-2; GPI: glycosylphosphatidylinositol; HCV: hepatitis C virus.

© 2018 by the authors. Licensee MDPI, Basel, Switzerland. This article is an open access article distributed under the terms and conditions of the Creative Commons Attribution (CC BY) license (http://creativecommons.org/licenses/by/4.0/).