Open Access This article is
freely available
re-usable
Article
Isolation and Characterization of Nanobodies against a Zinc-Transporting P-Type ATPase
1
Department of Biomedical Sciences, University of Copenhagen, Blegdamsvej 3B, DK-2200 Copenhagen, Denmark
2
Department of Molecular Biology and Genetics, Aarhus University, Gustav Wieds Vej 10c, DK-8000 Aarhus C, Denmark
3
Department of Experimental Medical Science, Lund University, Sölvegatan 19, SE-221 84 Lund, Sweden
†
These authors contributed equally to this work.

Received: 17 October 2018 / Accepted: 4 November 2018 / Published: 7 November 2018
Abstract
:
P-type ATPases form a large and ubiquitous superfamily of ion and lipid transporters that use ATP (adenosine triphosphate) to carry out their function. The IB subclass (P
IB
-ATPases) allows flux of heavy metals and are key players in metal detoxification, critical for human health, crops, and survival of pathogens. Nevertheless, P
IB
-ATPases remain poorly understood at a molecular level. In this study, nanobodies (Nbs) are selected against the zinc-transporting P
IB
-ATPase ZntA from
Shigella sonnei
(SsZntA), aiming at developing tools to assist the characterization of the structure and function of this class of transporters. We identify six different Nbs that bind detergent stabilized SsZntA. We further assess the effect of the Nbs on the catalytic function of SsZntA, and find that five nanobodies associate without affecting the function, while one nanobody significantly reduces the ATPase activity. This study paves the way for more refined mechanistical and structural studies of zinc-transporting P
IB
-ATPases.
Keywords:
P-type ATPase; nanobody; llama; Zinc-transport; Zinc-transporting P-ATPase; ZntA
Author Contributions
Conceptualization, K.R.A., N.S.L. and P.G.; Formal analysis, E.L., C.G. and Q.H.; Funding acquisition, P.G.; Investigation, E.L., C.G., Q.H. and A.S.D.; Methodology, K.R.A.; Project administration, P.G.; Resources, K.R.A., N.S.L. and P.G.; Supervision, C.G., K.R.A., N.S.L. and P.G.; Validation, E.L., C.G., Q.H. and A.S.D.; Visualization, E.L.; Writing—original draft, E.L.; Writing—review & editing, E.L., C.G., K.R.A., N.S.L. and P.G.
Funding
E.L. was funded by Lundbeck Foundation grant number R218-2016-1548. P.G. is supported by the following Foundations: Lundbeck, Knut and Alice Wallenberg, Carlsberg, Novo-Nordisk, Brødrene Hartmann, Agnes og Poul Friis, Augustinus, Crafoord as well as The Per-Eric and Ulla Schyberg. Funding is also obtained from The Independent Research Fund Denmark, the Swedish Research Council and through a Michaelsen scholarship. N.S.L. was funded by The Lundbeck Foundation.
Conflicts of Interest
The authors declare no conflict of interest.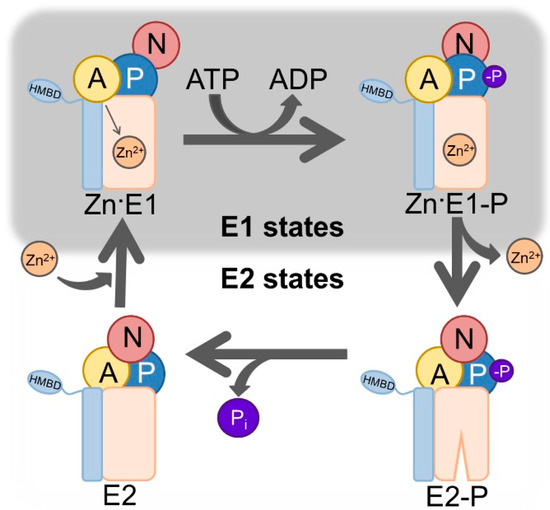 Figure 1. Post-Albers scheme of PIB-2-ATPases. The E1 (high zinc affinity) and E2 (low zinc affinity) states of the enzyme alternate, and couple ATP (adenosine triphosphate) hydrolysis to the export of zinc. The E1 state accepts one zinc (Zn2+) ion and ATP from the intracellular side, which promotes autophosphorylation, reaching the zinc occluded Zn·E1-P state and releasing ADP (adenosine diphosphate). Completion of phosphorylation triggers considerable conformational changes that opens the pump towards the outside, allowing release of zinc in the E2-P state. Metal discharge is associated with auto dephosphorylation, liberation of inorganic phosphate (Pi), and allows the enzyme to reach the E2 conformation. The domains are represented as follows: The actuator (A) domain in yellow, the phosphorylation (P) domain in blue, the nucleotide-binding (N) domain in red, the transmembrane domain in light orange. Features specific for PIB-ATPases are shown in light blue, and includes two transmembrane helices and heavy-metal binding domain(s) (HMBD).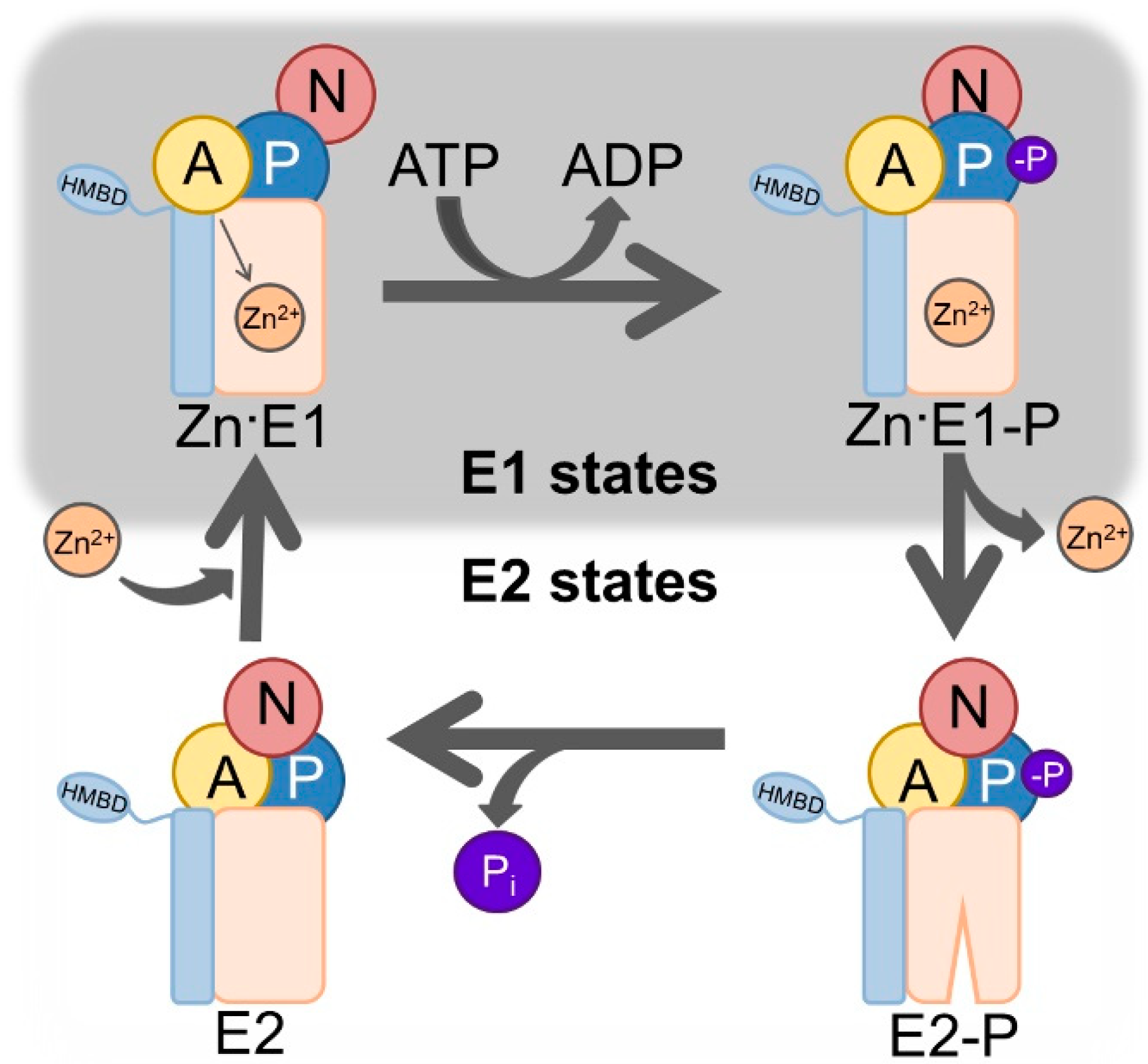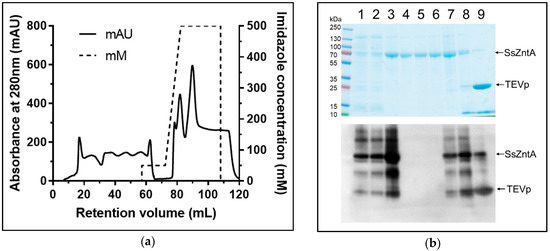 Figure 2.
Purificaiton of the zinc-transporter SsZntA from
Shigella sonnei
: (Reverse-affinity chromatography) R-IMAC. (
a
) Reverse (second) affinity chromatography profile: The first 60 mL represent the flow-through containing cleaved SsZntA (without HisTag); at 80 mL, corresponding to 250 mM imidazole, uncleaved SsZntA is eluted; while at 90 mL, at 500 mM imidazole, HisTagged TEVp is eluted. (
b
) On top, Coomassie stained sodium dodecyl sulfate-polyacrylamide gel electrophoresis (SDS-PAGE), and on the bottom, Western blot anti-HisTag; lane 1: Solubilized membranes, lane 2: Clarified solubilized membranes, lane 3: Affinity-chromatography purified SsZntA (with HisTag), lanes 4 to 6: Flow through of reverse affinity chromatography (SsZntA without HisTag) corresponding to retention volume from 0 mL to 60 mL, lanes 7 to 9: Eluted fractions corresponding to retention volume of 80, 85, and 90 mL, respectively.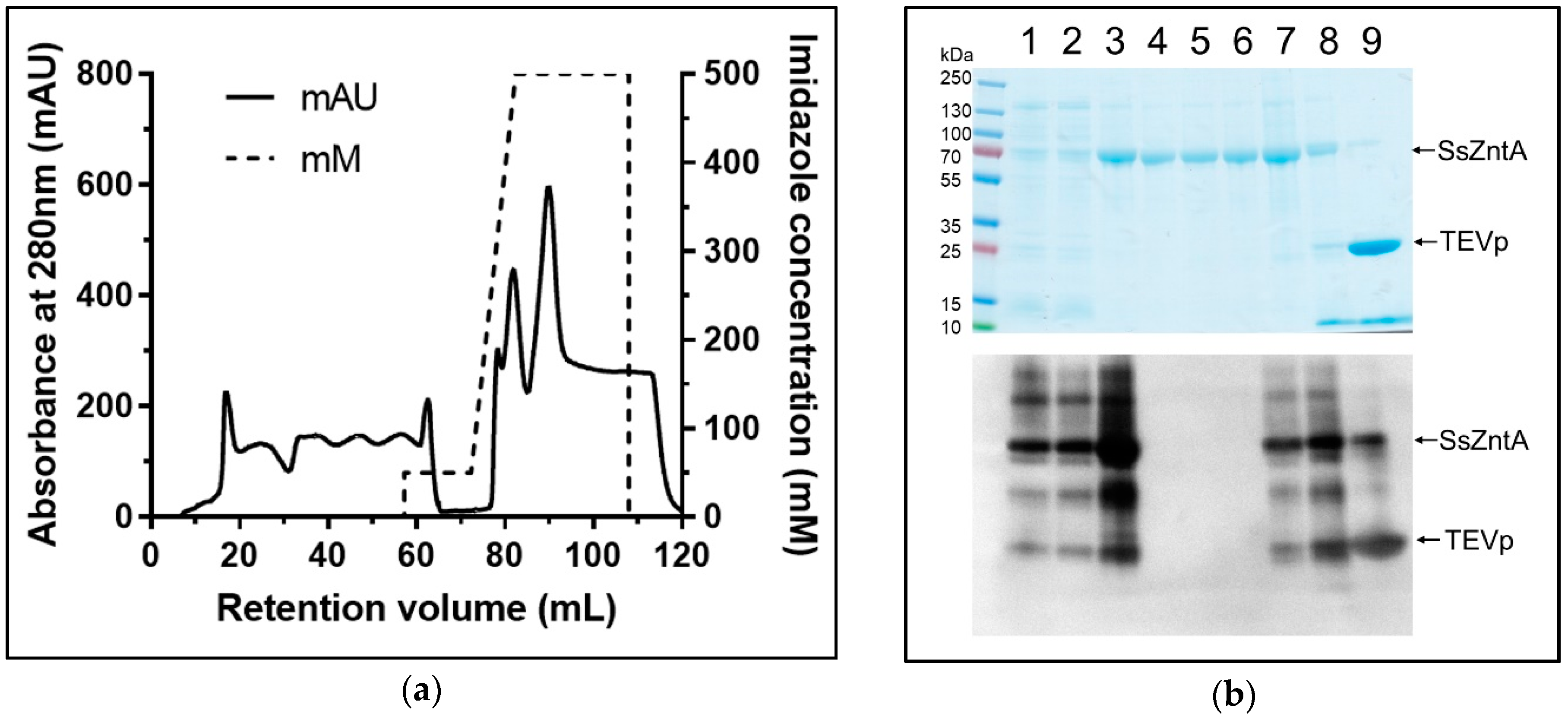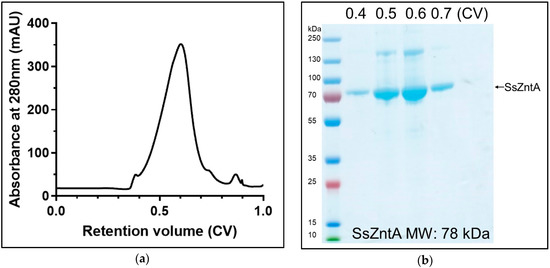 Figure 3. SsZntA purification: SEC. (a) Elution profile from a Superose6 size-exclusion column with a column volume (CV) = 24 mL: The main peak elutes at 0.6 CV, followed by minor contaminants. (b) Coomassie-stained SDS-PAGE containing the SEC fractions collected at 0.4, 0.5, 0.6, 0.7 CV; upper band at 150 kDa is possibly SsZntA dimers (due to SDS artifacts).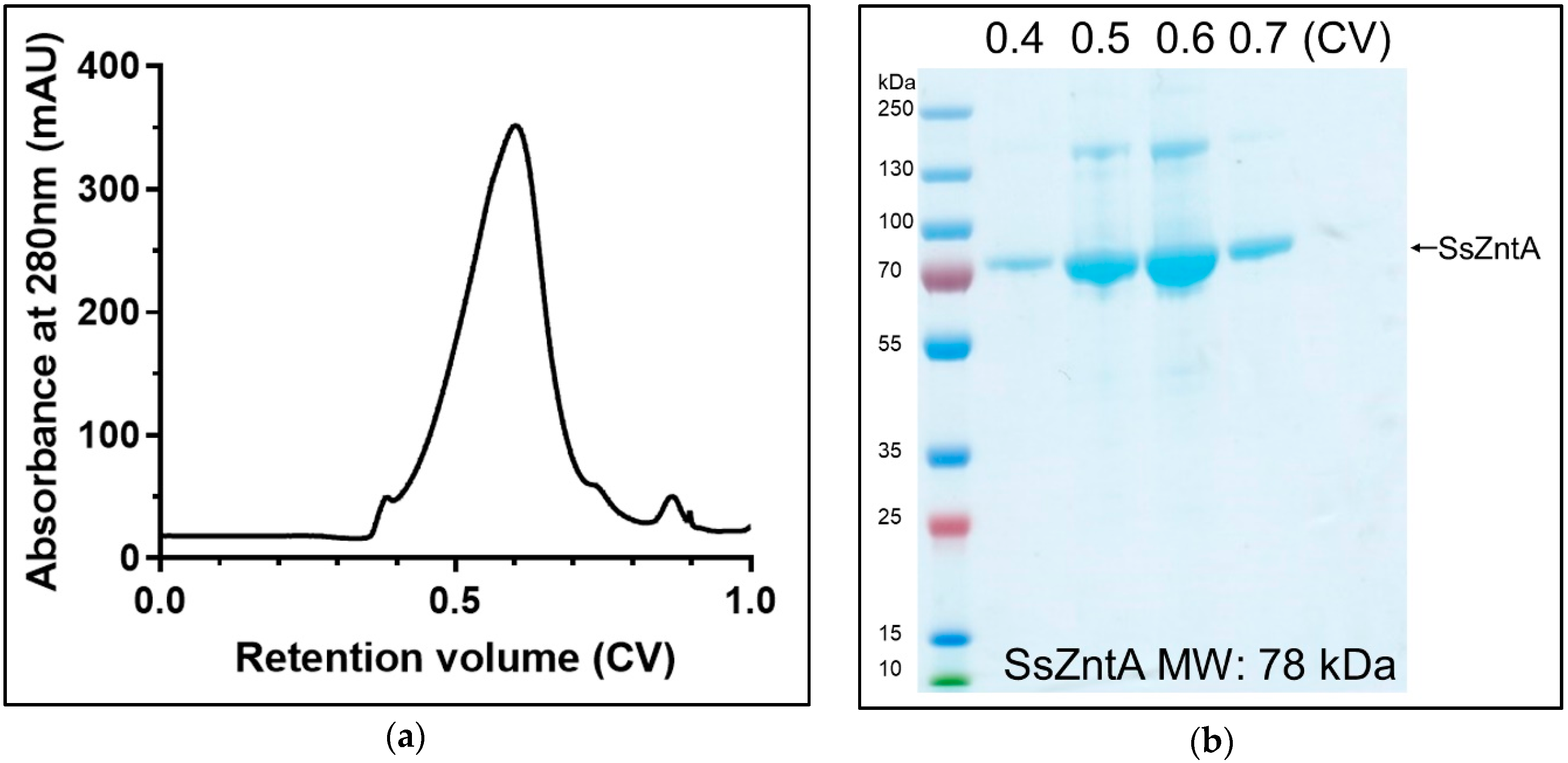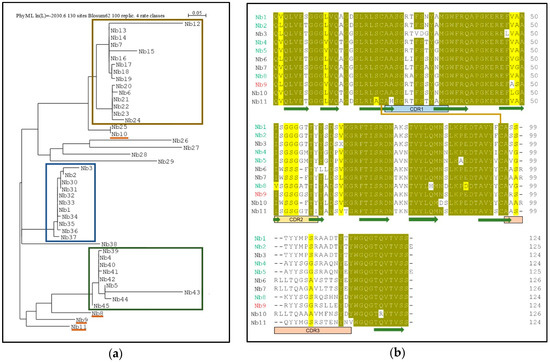 Figure 4. Sequence analysis of the identified Nbs. (a) Phylogenetic tree of 45 Nb sequences: The three main families of Nbs are highlighted by colored boxes: The first family (blue box) includes Nb1-2-3, the second family (green) includes Nb4-5, the third family (ochre) is composed of two subfamilies, which include Nb6 and Nb7, while Nb8-9-10-11 were sampled as outliers. (b) Sequence alignment of the 11 selected Nbs containing the predicted secondary structure (β-sheets are shown as green arrows), the complementarity-determining regions (CDR1 to 3), and the conserved disulphide bond (orange line). Identical (90% threshold) residues are in dark yellow while similar amino acids in light yellow. Nbs that bind to SsZntA, but do not inhibit activity, are represented with a green name (Nb1-2-4-5-8), while in red, the Nb that significantly inhibits ATPase activity (Nb9). The Nbs that precipitated during purification (Nb3) or that caused precipitation of SsZntA (Nb6-7-10-11) are represented in black.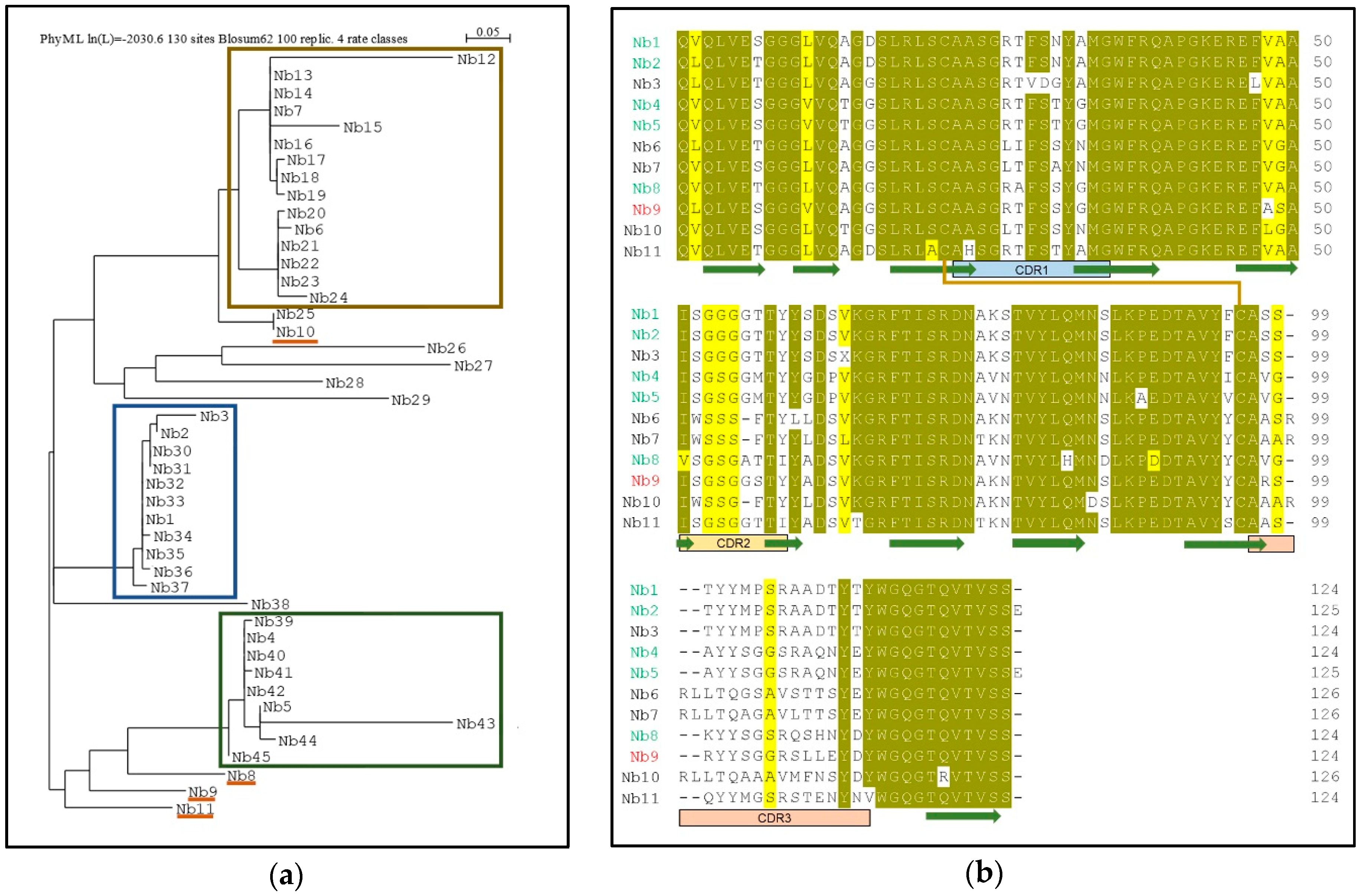 Figure 5. Nanobody purification. Samples from purification of Nb1 are representative of all the assessed Nbs. (a) Samples from insoluble fraction (pellet, P), flow-through of the IMAC (FT), first and third wash of Ni2+-beads (W1 and W3, respectively), and eluted fraction containing Nb1 loaded on Coomassie-stained SDS-PAGE. (b) SEC (24mL, Superose75) elution profile: The main peak elutes at 0.6 CV with only minor contaminants. (c) Coomassie-stained SDS-PAGE of SEC-purified Nbs: Nbs have a molecular weight of approximately 13.5 kDa.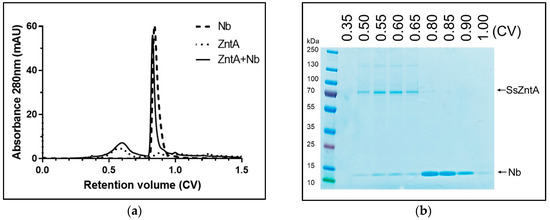 Figure 6. SsZntA-Nb complex analysis using size-exclusion chromatography. (a) Black line: Chromatogram of SsZntA (40 µM) incubated with Nb1 (100 µM) in a final volume of 50 µL (then diluted to 500 µM) and run through a size-exclusion column (Superose6, 1 CV = 24 mL) showing a peak at 0.6 CV, which contains the SsZntA-Nb complex, and a peak at 0.85 CV, which contains unbound Nb. The dashed line represents the chromatogram of Nb1 alone, while the dotted line the one from SsZntA alone (under the same condition). (b) Coomassie-stained SDS-PAGE gel of the fractions collected at 0.35, 0.5, 0.55, 0.6, 0.65, 0.8, 0.85, 0.9, 1 CV.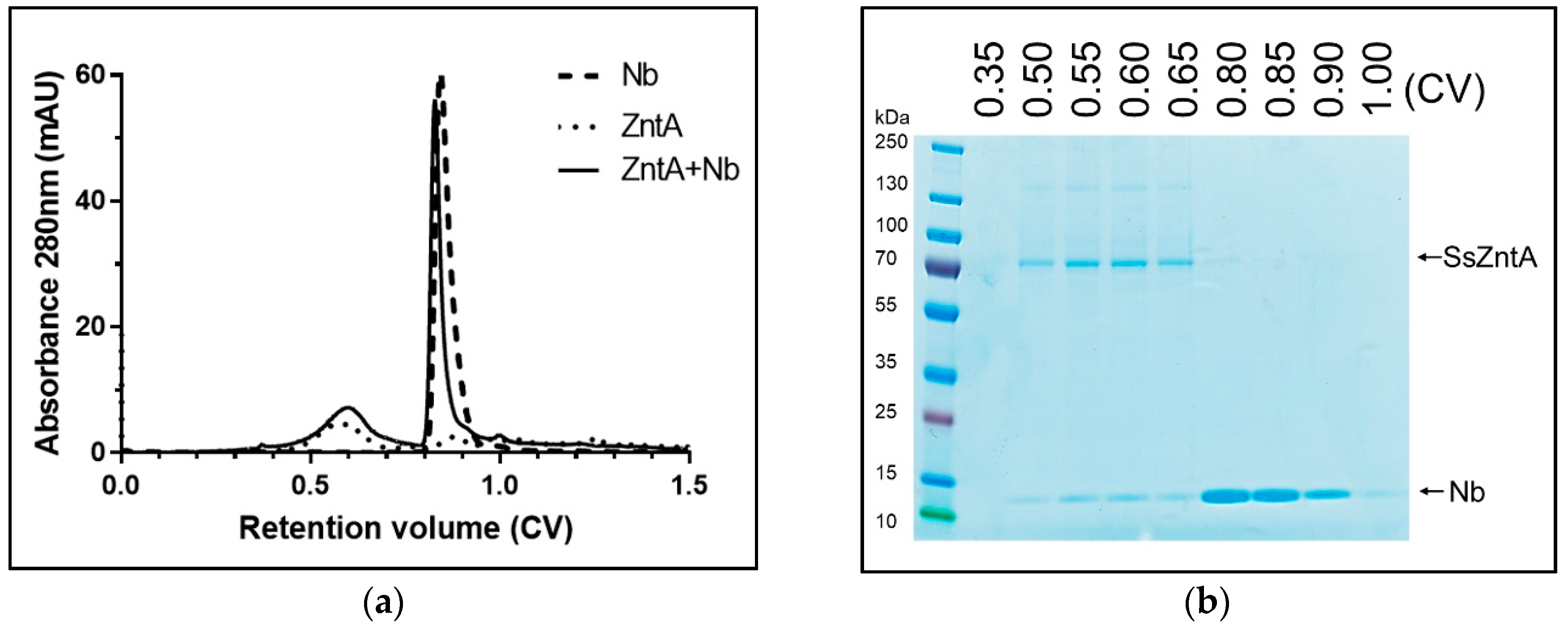 Figure 7. Affinity chromatography binding assay. SsZntA is treated with TEVp to remove the HisTag, in this way it cannot bind to a Ni2+ beads, while the HisTagged nanobody can. The binding was assessed by incubating HisTag-free SsZntA with HisTagged Nb and loading them to an Ni-NTA column. When SsZntA forms a complex with the Nb, it indirectly binds to the Ni2+ beads (via the Nb's HisTag) and can be eluted from the Ni2+-immobilized resin. N.B. All the representations are out of scale for clarity.

Figure 8. SsZntA-Nb complex analysis using affinity chromatography: SsZntA only. (a) Chromatogram of HisTag-free SsZntA loaded on an Ni2+-immobilized column. Without Nb, the ATPase elutes in the flow through (control). (b) Coomassie (left) and InVision® (right) stained SDS-PAGE of HisTagged SsZntA as positive control for the staining (+), flow through (FT), and eluted fraction (E) of HisTag free SsZntA loaded on the Ni2+-immobilized resin as negative control.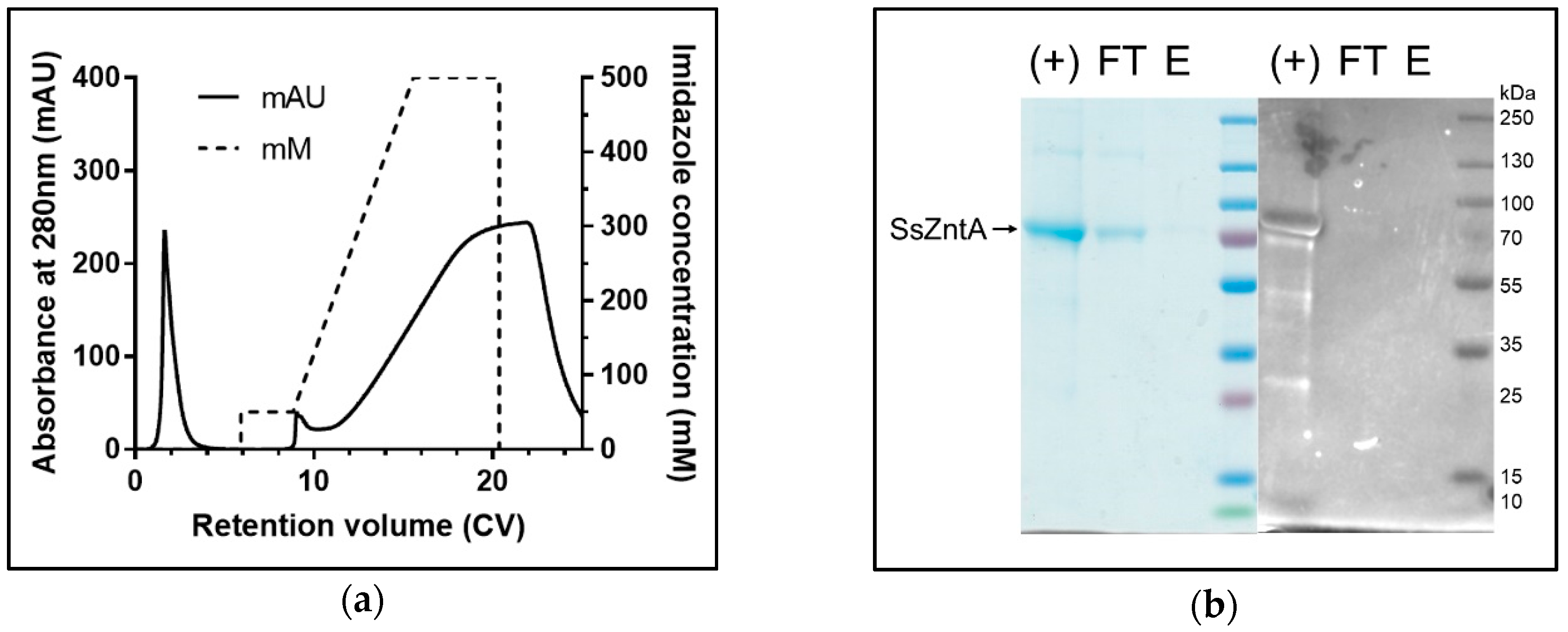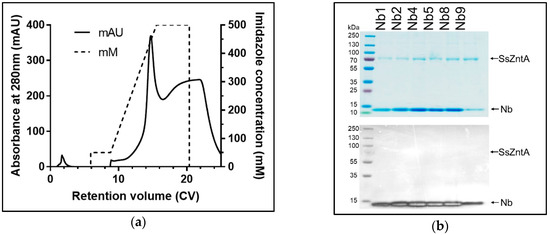 Figure 9. SsZntA-Nb complex analysis using affinity chromatography: SsZntA + Nb. (a) Chromatogram of HisTag-free SsZntA incubated with HisTagged Nb1. The complex elutes at 400 mM imidazole and is here reported as representative of the other Nbs. (b) Coomassie (top) and InVision® (bottom) stained SDS-PAGE of the eluted fractions at 400 mM imidazole of HisTag-free SsZntA in complex with, respectively, Nb1-2-4-5-8-9.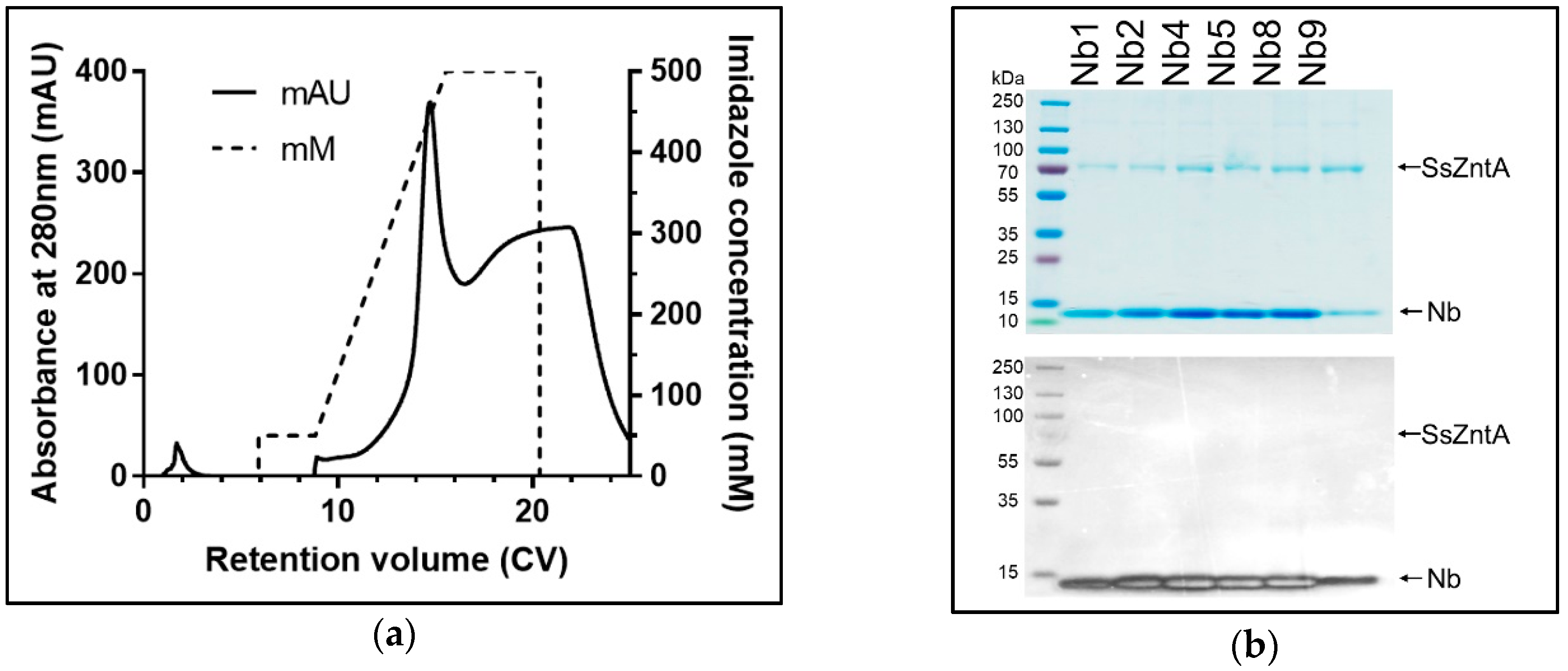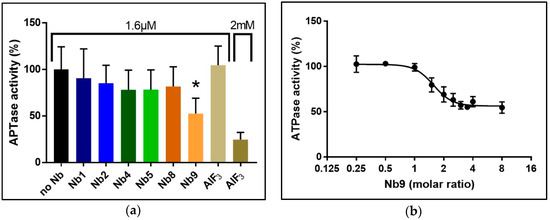 Figure 10.
Nanobody effect on the catalytical function. (
a
) SsZntA was incubated with each Nb at a 1:2 molar ratio (i.e., 1.6 µM) and activity was assessed. Nb9 displayed an inhibitory effect of about 50% compared to untreated (no Nb) SsZntA. The difference between no Nb and Nb9 has a
p
value of <0.0001 (*), as assessed by a Dunn's multiple comparison test. The ATPase inhibitor aluminum fluoride (AlF
3
) is shown as a positive control, at 1.6 µM (corresponding to the concentration of the tested Nbs) and at 2 mM. (
b
) The inhibition stoichiometry was assessed as titration of SsZntA with different molar ratios of Nb9. The inhibitory effect appears when Nb9 is present at a molar ratio of 1:1 (ZntA:Nb9), and reaches the inhibitory plateau at a molar ratio of 1:3 (ZntA:Nb9), with an IC
50
= 1.57 molar ratio.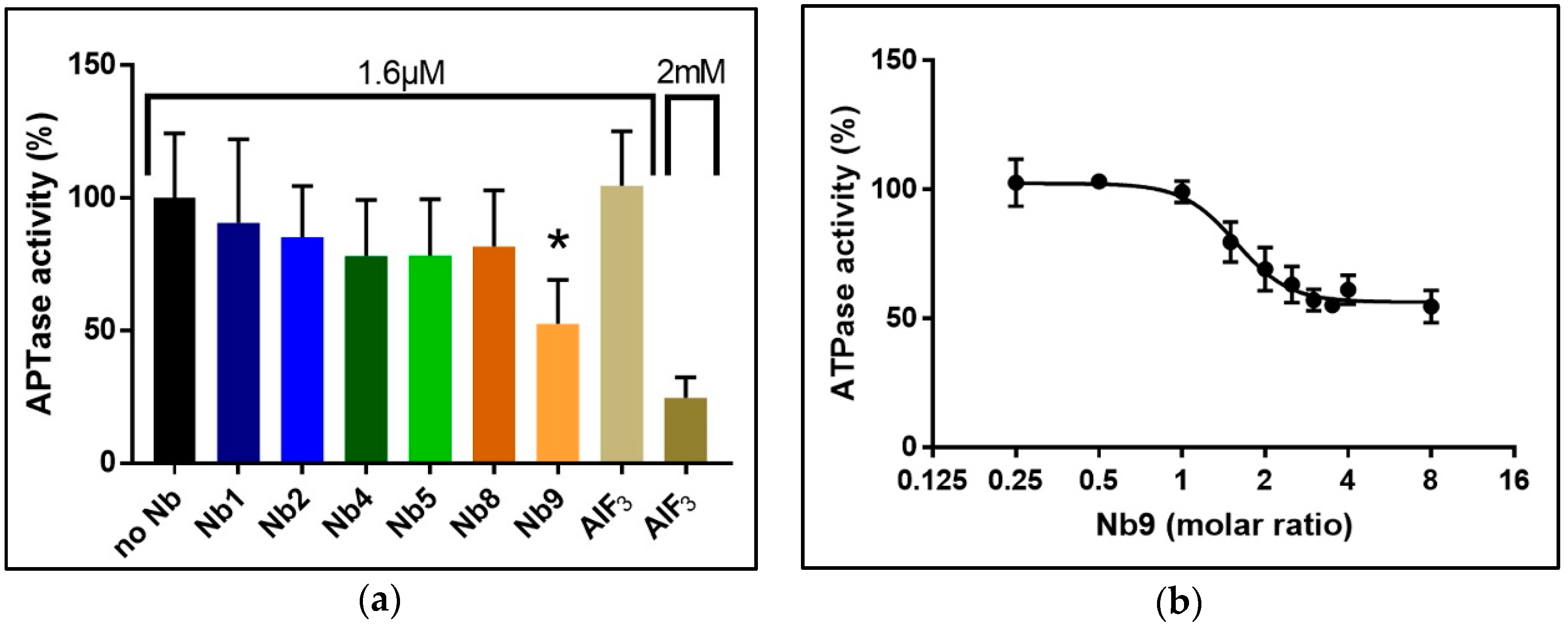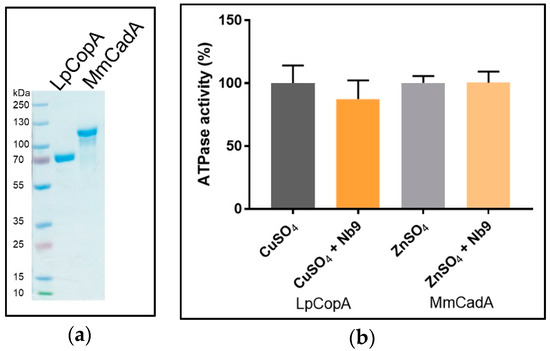 Figure 11.
Nb9 specificity. (
a
) SDS-PAGE of purified Cu
+
-transporting P
IB-1
-ATPase from
Legionella pneumophila
(LpCopA) and Cd
2+
and Zn
2+
-transporting P
IB-2
-ATPase from
Mesorhizobium metallidurans
(MmCadA) (
b
) Nb9 was tested for specificity against LpCopA and against MmCadA, in the presence of Cu
+
or Zn
2+
, respectively. The results are normalized for the background in presence of the metal ion chelator EDTA.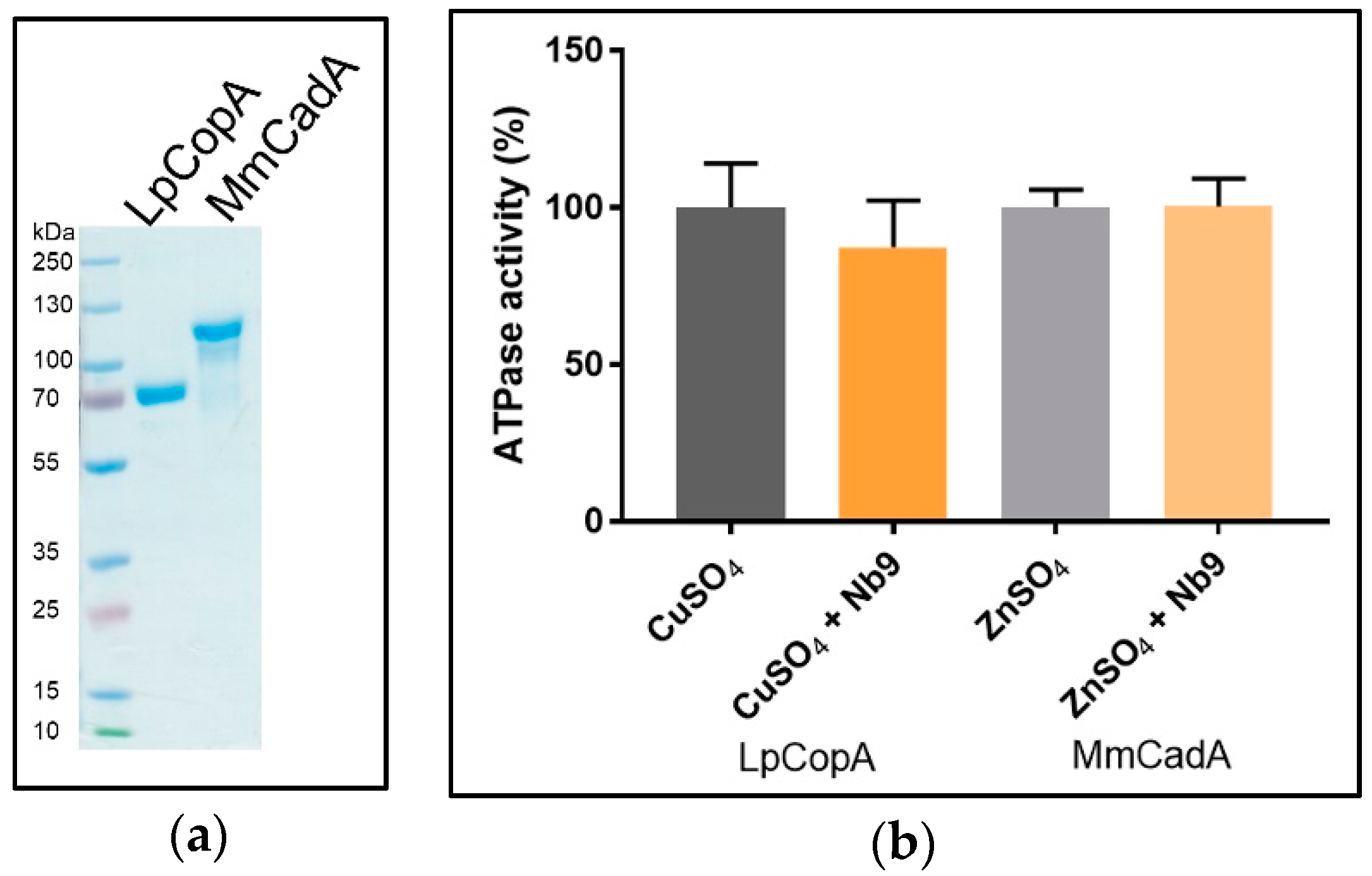 | Tested Nb | Binding | Precipitation |
| --- | --- | --- |
| Nb1 | + | - |
| Nb2 | + | - |
| Nb4 | + | - |
| Nb5 | + | - |
| Nb6 | N.D. | + |
| Nb7 | N.D. | + |
| Nb8 | + | - |
| Nb9 | + | - |
| Nb10 | N.D. | + |
| Nb11 | N.D. | + |
Not determined (N.D.): Due to sample precipitation, binding could not be assessed.

© 2018 by the authors. Licensee MDPI, Basel, Switzerland. This article is an open access article distributed under the terms and conditions of the Creative Commons Attribution (CC BY) license (http://creativecommons.org/licenses/by/4.0/).