Hydrophilic Auristatin Glycoside Payload Enables Improved Antibody-Drug Conjugate Efficacy and Biocompatibility
1
Glykos Finland Ltd., FI-00790 Helsinki, Finland
2
OcellO B.V., 2333 CH Leiden, The Netherlands
*
Authors to whom correspondence should be addressed.
Received: 15 December 2017 / Revised: 1 March 2018 / Accepted: 5 March 2018 / Published: 22 March 2018
Abstract
Antibody-drug conjugates (ADCs) offer a combination of antibody therapy and specific delivery of potent small-molecule payloads to target cells. The properties of the ADC molecule are determined by the balance of its components. The efficacy of the payload component increases with higher drug-to-antibody ratio (DAR), while homogeneous DAR = 8 ADCs are easily prepared by conjugation to the four accessible antibody hinge cystines. However, use of hydrophobic payloads has permitted only DAR = 2–4, due to poor pharmacokinetics and aggregation problems. Here, we describe generation and characterization of homogeneous DAR = 8 ADCs carrying a novel auristatin β-
D
-glucuronide, MMAU. The glycoside payload contributed to overall hydrophilicity of the ADC reducing aggregation. Compared to standard DAR = 2–4 ADCs, cytotoxicity of the homogeneous DAR = 8 ADCs was improved to low-picomolar IC
50
values against cancer cells in vitro. Bystander efficacy was restored after ADC internalization and subsequent cleavage of the glycoside, although unconjugated MMAU was relatively non-toxic to cells. DAR = 8 MMAU ADCs were effective against target antigen-expressing xenograft tumors. The ADCs were also studied in 3D in vitro patient-derived xenograft (PDX) assays where they outperformed clinically used ADC. In conclusion, increased hydrophilicity of the payload contributed to the ADC's hydrophilicity, stability and safety to non-target cells, while significantly improving cytotoxicity and enabling bystander efficacy.
View Full-Text
►

▼

Figures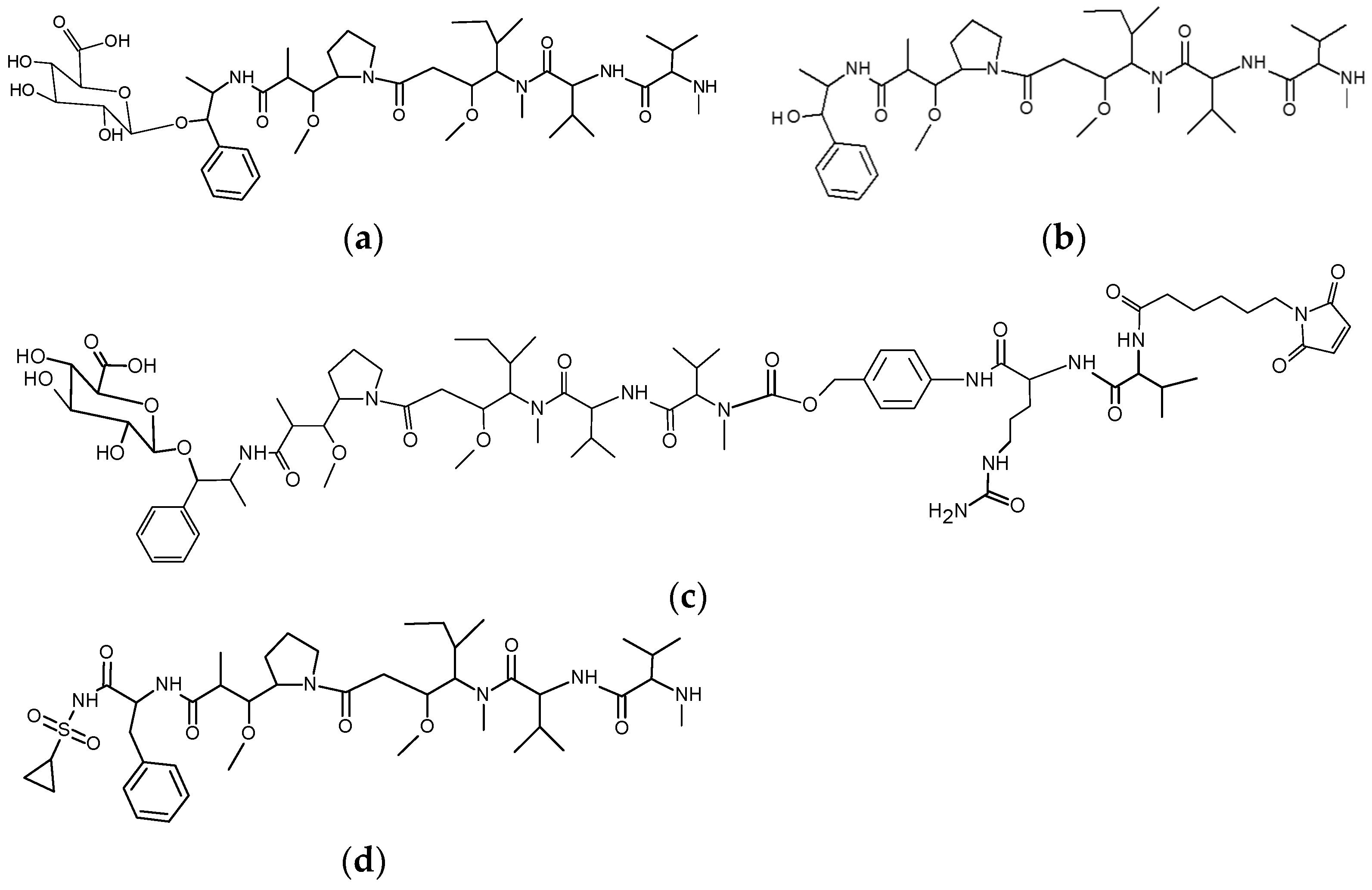 Figure 1
This is an open access article distributed under the
Creative Commons Attribution License
which permits unrestricted use, distribution, and reproduction in any medium, provided the original work is properly cited (CC BY 4.0).

Share & Cite This Article
MDPI and ACS Style
Satomaa, T.; Pynnönen, H.; Vilkman, A.; Kotiranta, T.; Pitkänen, V.; Heiskanen, A.; Herpers, B.; Price, L.S.; Helin, J.; Saarinen, J. Hydrophilic Auristatin Glycoside Payload Enables Improved Antibody-Drug Conjugate Efficacy and Biocompatibility. Antibodies 2018, 7, 15.
Note that from the first issue of 2016, MDPI journals use article numbers instead of page numbers. See further details here.
Related Articles
Comments
[Return to top]