Open Access This article is
freely available
re-usable
Article
Towards a Tool for Early Detection and Estimation of Forest Cuttings by Remotely Sensed Data
1
Research Center for Forestry and Wood, Consiglio per la Ricerca in Agricoltura e L'Analisi dell'Economia Agraria (CREA), Viale Santa Margherita 80, 52100 Arezzo, Italy
2
Research Center for Engineering and Agro-Food Processing, Consiglio per la Ricerca in Agricoltura e l'Analisi dell'Economia agraria (CREA), Via della Pascolare, 00015 Monterotondo (RM), Italy
*
Author to whom correspondence should be addressed.
Received: 12 March 2019 / Accepted: 2 April 2019 / Published: 3 April 2019
Abstract
:
Knowing the extent and frequency of forest cuttings over large areas is crucial for forest inventories and monitoring. Remote sensing has amply proved its ability to detect land cover changes, particularly in forested areas. Among various strategies, those focusing on mapping using classification approaches of remotely sensed time series are the most frequently used. The main limit of such approaches stems from the difficulty in perfectly and unambiguously classifying each pixel, especially over wide areas. The same procedure is of course simpler if performed over a single pixel. An automated method for identifying forest cuttings over a predefined network of sampling points (IUTI) using multitemporal Sentinel 2 imagery is described. The method employs normalized difference vegetation index (NDVI) growth trajectories to identify the presence of disturbances caused by forest cuttings using a large set of points (i.e., 1580 "forest" points). We applied the method using a total of 51 S2 images extracted from the Google Earth Engine over two years (2016 and 2017) in an area of about 70 km2 in Tuscany, central Italy.
Keywords:
LULUCF; Sentinel-2; Google Earth Engine; NDVI; forest management; forest policy; Mediterranean areas; IUTI database
Author Contributions
Conceptualization and Methodology N.P.; Formal Analysis N.P. and M.B.; Writing—Original Draft Preparation, Review and Editing, N.P. and M.B.
Funding
This research received no external funding.
Conflicts of Interest
The authors declare no conflicts of interest.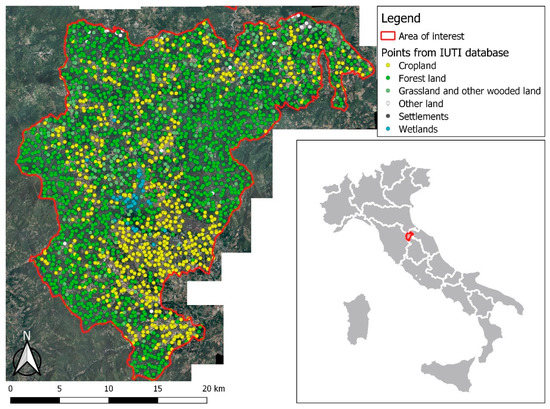 Figure 1. Study area of Municipal Union of Upper Tiber Valley in Tuscany and the reference points acquired from the IUTI database. The background is a true color digital aerial orthophoto of 2016 (20-cm resolution).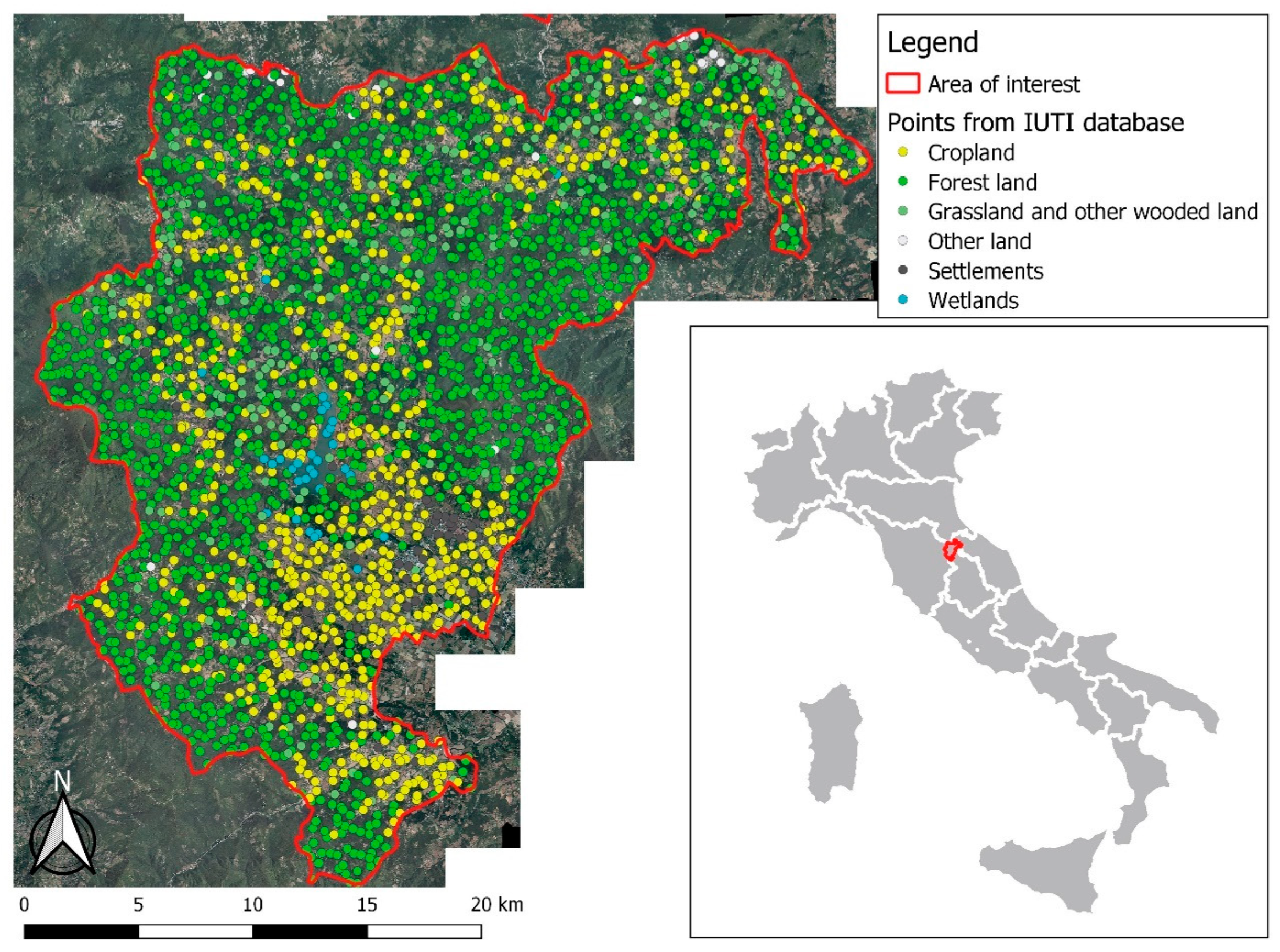 Figure 2.
Schematic workflow of the Google Earth Engine (GEE) code. For each considered date, a specific cloud cover mask layer is applied. The workflow yields a comma separated value (CSV) file, which in turn is used as input for further analysis in R (see
Figure 3
).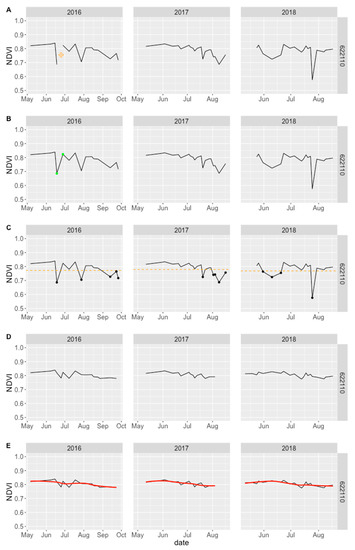 Figure 3.
(
A
) Normalized difference vegetation index (NDVI) growth trajectories for sampling points with ID #622110, a mature forest without cuts during the observed period (2016–2017). The break in the 2016-line (the point in orange) is an NDVI value falling in a cloud and then masked by the CCM-60m layer. (
B
) The gaps in the NDVI growth trajectory were filled by linear interpolation averaging the previous and subsequent values to a gap (green points). (
C
) Specific threshold defined for each year (median NDVI value); black dots represent NDVI values lower than the threshold, considered as covered by clouds in the procedure (see
Figure 4
). (
D
) The final result of the gap filling procedure. (
E
) Estimation of NDVI values by regular intervals using a local regression (smoothed red line).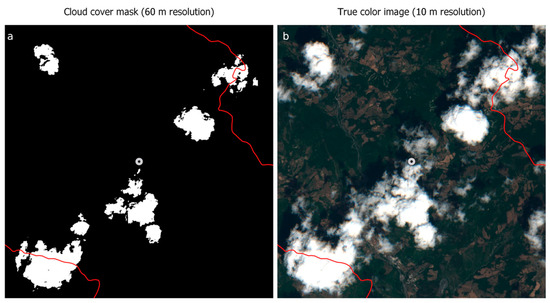 Figure 4.
An example of false-positive masked values (the same as the green point on the left in
Figure 3
B). The point in the center of each subimage is not masked by CCM-60m (on the left) but is covered by clouds, as visible in the true color image on the right.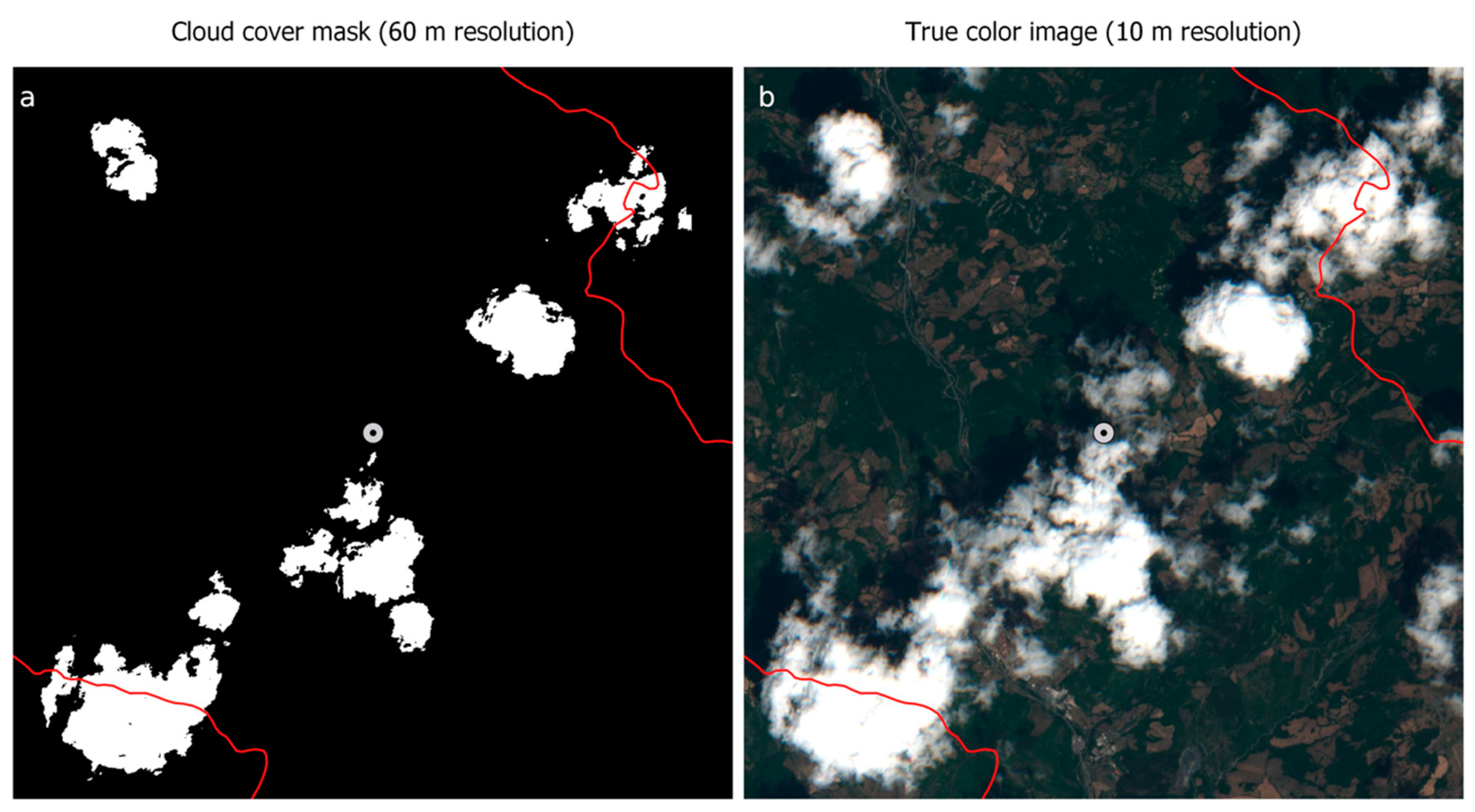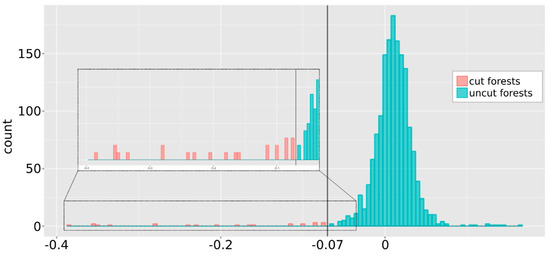 Figure 5. Frequency distribution of for the 1580 forest points. The vertical black line is the value that separates cut and uncut forests in the period of 2016 to 2017. The box highlights the distribution of plots where forest cutting occurred.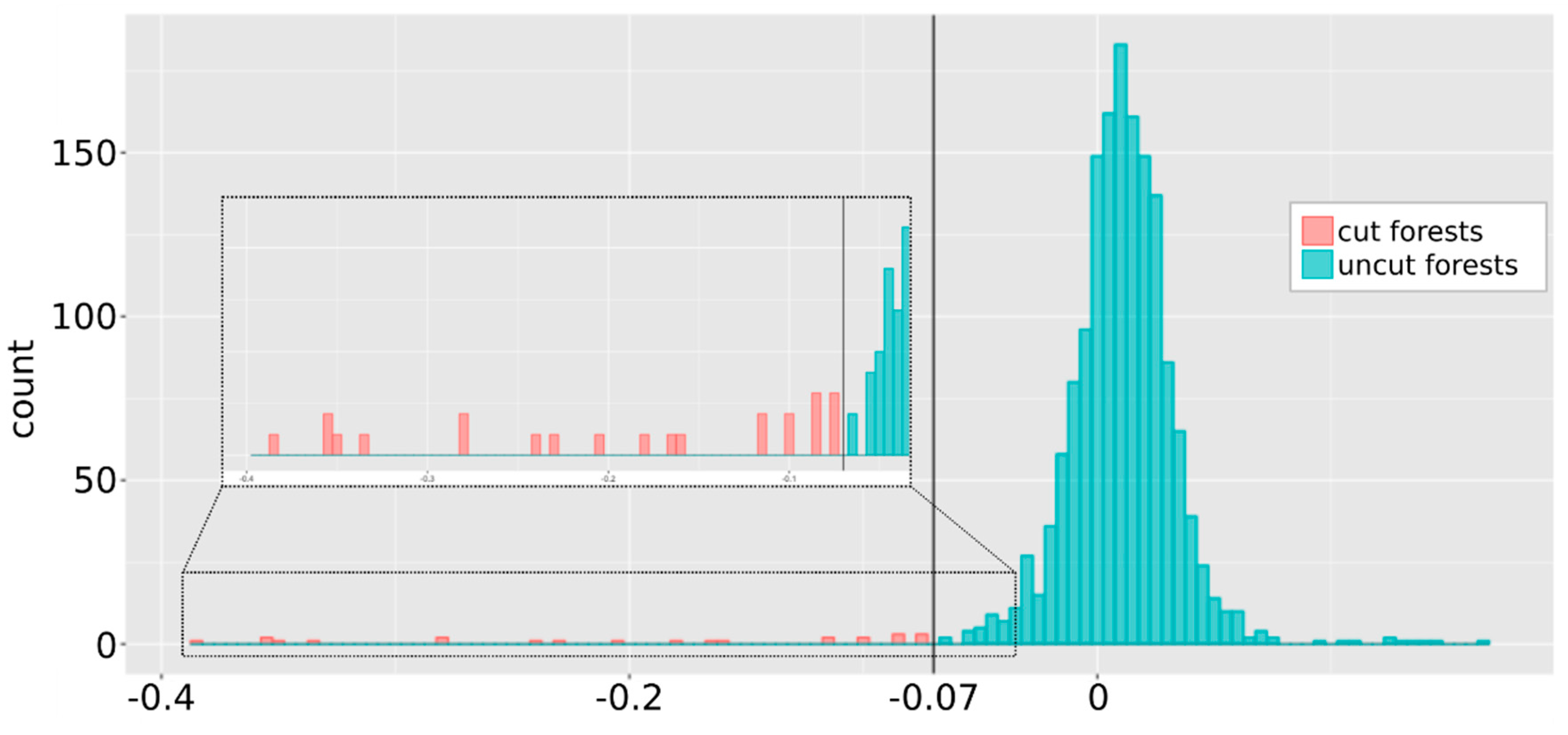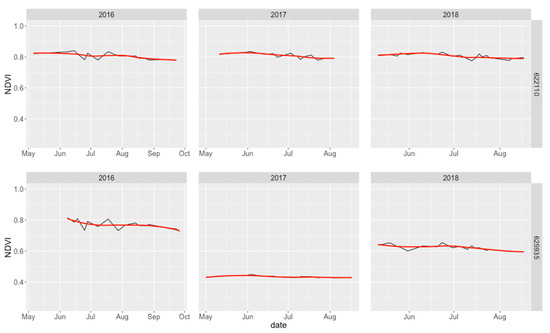 Figure 6. Comparison of the results in an uncut forest (point #622110, upper row) and a cut forest (point #629535, lower row). In 2017, the mean NDVI value decreases by about 0.35 because of clear-cut. In 2018 the herbaceous vegetation reaches upper values of NDVI, but lower than those in 2016.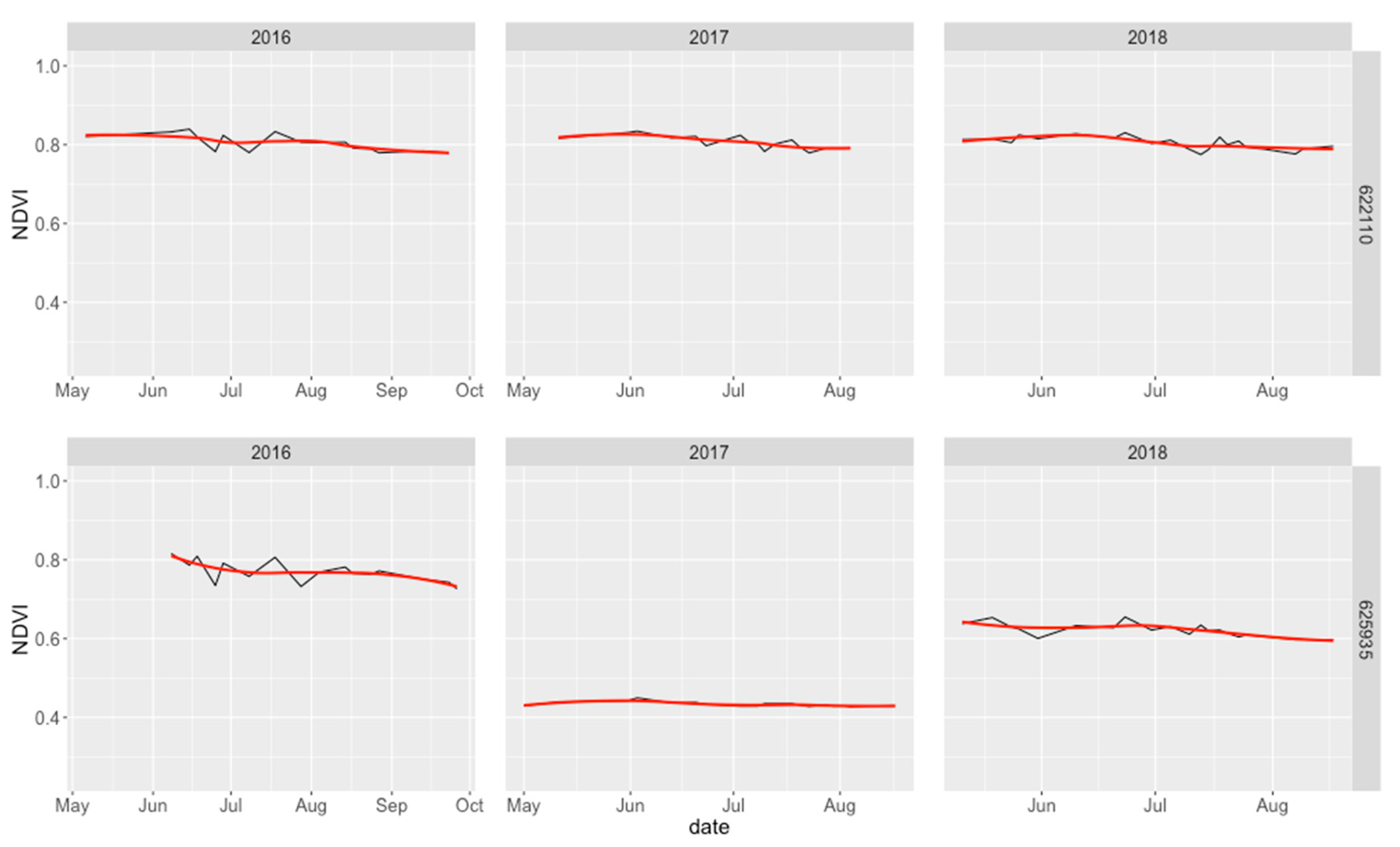 © 2019 by the authors. Licensee MDPI, Basel, Switzerland. This article is an open access article distributed under the terms and conditions of the Creative Commons Attribution (CC BY) license (http://creativecommons.org/licenses/by/4.0/).