Open Access This article is
freely available
re-usable
Article
Land Use and Land Cover Changes and Their Effects on the Landscape of Abaya-Chamo Basin, Southern Ethiopia
1
Management of Crop Water Stress in the Tropics and Subtropics (490g), Institute of Agricultural Sciences in the Tropics (Hans-Ruthenberg-Institute) (490), University of Hohenheim, 70599 Stuttgart, Germany
2
Center for Development Research (ZEF), University of Bonn, 53113 Bonn, Germany
3
Rural Development Theory and Policy (490a), Institute of Agricultural Sciences in the Tropics (Hans-Ruthenberg-Institute) (490), University of Hohenheim, 70599 Stuttgart, Germany
*
Author to whom correspondence should be addressed.
Received: 2 December 2017 / Accepted: 4 January 2018 / Published: 7 January 2018
Abstract
:
This study uses a combination of remote sensing data, field interviews and observations, and landscape indices to examine the dynamics of land use and land cover (LULC), identify their driving forces, and analyze their effects on the landscape of Abaya-Chamo Basin (ACB) between 1985, 1995, and 2010. The results reveal that the landscape of ACB has changed considerably during the past 25 years between 1985 and 2010. The main changes observed imply a rapid reduction in shrubland (28.82%) and natural grassland (33.13%), and an increase in arable land (59.15%). The basin has become more fragmented and formed less connected patches in 2010 compared to 1985. Rapid population growth, internal migration, policy shifts, and regime change were identified as the key driving forces of LULC changes in ACB. The LULC changes and related trend of increasing landscape fragmentation in the basin increased soil erosion, the volume of surface runoff, and sediment transport in the landscape and, consequently, affected the levels and water quality of the lakes found in the rift floor. Furthermore, the destruction and fragmentation of shrubland and natural grassland led to the decline of wild plants and animals previously prominent in the basin. Therefore, protective measures that take into consideration the economic, social, and ecological dynamics of the basin are urgently needed to save the aquatic and terrestrial ecosystems of the basin from further damage.
Keywords:
land use/land cover changes; Abaya-Chamo Basin; land management; landscape change; remote sensing
3. Results
3.1. Land Use and Land Cover Dynamics and Landscape Pattern Change
The results presented in
Table 4
reveal that LULC of ACB has changed significantly since 1985. A considerable reduction of shrubland, heterogeneous agricultural areas, and natural grassland were observed in the landscape between 1985 and 2010 (
Figure S1
). The share of shrubland declined by 28.82%, natural grassland by 33.13%, and heterogeneous agricultural areas by 14.17% in the study periods (
Table 4
). The reduction was larger for natural grassland and lower for shrubland during the first time period of 1985–1995, compared to the second time period of 1995–2010. On the contrary, arable land, inland wetlands, and built-up areas showed a net increase between 1985 and 2010. Arable land increased by 37.2%, inland wetlands by 25.52%, and built-up areas by 230.0% (
Table 4
). Arable land and inland wetlands greatly increased during the second period compared to the first period, whereas the reverse was true for built-up areas. Considering 1985 as the base year, built-up areas, although covering a much smaller proportion of the landscape in both time periods, increased at a much higher rate than any other LULC classes. Inland wetlands uniformly increased in both time periods, whereas inland waters, forests, and coffee agroforestry were not changed in the study periods (
Table 4
).
Between 1985 and 2010, natural grassland, shrubland, and heterogeneous agricultural areas were mainly converted to arable land (
Table 5
). Part of the natural grassland was also converted to shrubland predominantly inside the protected area (Nech Sar National Park), whereas in other parts of the basin, shrubland, and coffee agroforestry were converted to natural grassland and heterogeneous agricultural areas, respectively. Although shrubland, heterogeneous agricultural areas, and natural grassland gained from other LULC classes, at the same time, they lost much of their shares to other LULC classes, showing a net loss. Arable land exhibited a larger increase in the basin, and much of the proportion of its net increase was gained from the conversion of shrubland and natural grassland. Land use modifications also occurred among arable land, heterogeneous agricultural areas, and coffee agroforestry in the mid to highland areas of the basin. Relatively greater modifications took place from heterogeneous agricultural areas to arable land, and coffee agroforestry to heterogeneous agricultural areas (
Table 5
). Inland waters, inland wetlands, and built-up areas exhibited a high persistence for the past 25 years between 1985 and 2010 (diagonal bold values in
Table 5
), while heterogeneous agricultural areas, arable land, and coffee agroforestry showed a moderate persistence. Shrubland, natural grassland, and forests showed less persistence than the other LULC classes in the landscape of the basin. In general, 67.2% of the basin has remained unchanged, while 32.8% has shown some degree of change in 25 years between 1985 and 2010.
Similarly, as anthropogenic LULC changes continue in the basin, the landscape becomes more fragmented and forms small and isolated patches, indicated by increased NP, and decreased MPS and CONTAG between 1985 and 2010 (
Table 6
). In a given landscape area, an increased NP, and decreased MPS and CONTAG, over time indicate fragmentation and formation of isolated patches in the landscape and hence an increase in degradation. Comparing the metrics between 1985 and 2010, increased NP with decreased MPS and CONTAG implies a strengthening of landscape fragmentation in the basin. The class level analysis which focuses on three dominant patch types clearly indicates that agricultural expansion was the main driver of landscape fragmentation in the basin. Mean patch size of arable land increased between 1985 and 2010, despite increased NP and decreased AI in the same period. An increased MPS of arable land was mainly attributed to the consolidation of arable land in mild sub-humid and cool and humid highland areas, whereas an increased NP and decrease AI of arable land was due to the expansion of arable land in warm semi-arid areas of the basin. As the LULC changes were increased in the warm semi-arid areas of the basin, the landscape formed interspersed patches of mainly arable land, shrubland, and natural grassland and, as a result, increased NP. This is also confirmed by an increased NP of arable land and shrubland, and decreased MPS and AI of both shrubland and natural grassland in the study period. The LPI decreased substantially for shrubland and showed quite a small difference for arable land and natural grassland in the same period. AI decreased in all the three classes in the study period. The reduction of LPI and AI of shrubland patch type indicated degradation of natural habitats in the basin.
3.2. Drivers and Consequences of Changes on the Landscape
Combinations of driving factors were responsible for the observed changes in LULC in ACB between 1985 and 2010 (
Figure 2
). From a range of different drivers, more than eight were perceived by the respondents as being important to LULC changes in the study area. According to the respondents, agricultural expansion as a result of population growth, highland-lowland migration, as well as regime change and subsequent policy shift of the current government, were the key driving forces of LULC changes in ACB in the past 25 years between 1985 and 2010. The respondents stated that a high influx of migrants to warm semi-arid lowland areas mainly from cool and humid highlands of the basin took place, particularly after the severe drought of 1984/85 and more frequently after the 1991 regime change, which resulted in a rapid expansion of settlement and agricultural areas in the basin. The informants further indicated that migrants played a significant role in the reduction of shrubland areas surrounding Lake Abaya and Lake Chamo, whereas the resettlement programs played a significant role in the reduction of grassland in other areas of the basin. Infrastructural development in the form of roads, rural electrification, modern irrigation facilities, charcoal making, and firewood selling were also mentioned as important drivers of changes mostly in the lowland areas. Other drivers were mentioned by respondents and agricultural officers during the discussions as localized possible cases of LULC changes in the basin, such as the emergence of villages and small towns along the main roads, the expansion of small enterprises such as wood workshops, the expansion of commercial farms and cash crops such as banana, cotton and khat, and the redistribution of land (mostly shrubland and communal grasslands) to landless farmers and military veterans.
The respondents mentioned soil erosion and land degradation as the most notable effects of LULC changes in the basin. They considered soil erosion and degradation as the main reasons for the decline of agricultural production, especially in the highlands. Field observations verified the existence of severe soil erosion and land degradation problems in all surveyed woredas of the basin (
Figure 3
). The disappearance of multipurpose indigenous tree species such as
Cordia africana
Lam. (locally called Wanza) and
Aningeria adolfi-friederici
(Engl.) (locally called Qerero), diminishing of grazing lands and reduction in the abundance of medicinal plant species were other consequences of LULC mentioned by the respondents. They further indicated that the continuing reduction of the grazing lands was a source of conflict among different ethnic groups living in the basin, as well as between protected areas and surrounding communities. The problem of grazing lands was very severe in the Sidama and Gedeo zones, and we observed a high proportion of households without livestock during the survey time. The respondents also mentioned the reduction (in some cases local extinction) of wildlife as other effects of LULC changes in the basin. However, they mentioned this as a positive outcome of LULC changes. A few of the respondents also mentioned the growing attacks of migratory birds on their crops.
4. Discussion
A relatively large tract of shrubland was removed from the landscape of the basin during the second period between 1995 and 2010. The reduction of shrubland was particularly higher in areas located in the west and south of Lake Chamo and Lake Abaya, mainly due to agricultural expansion in the area. Similarly, shrubland located near urban areas and main roads were reduced due to an increasing demand of wood for fuel and construction by city dwellers. The second period largely corresponds to regime change, followed by social, economic, and political transformation in the country, and the absence of clear land tenure system and weak government during regime change in the country, which created free access to land located in the warm semi-arid lowlands of the basin. Many farmers, particularly from the highlands of Gamo Gofa, Kore and part of Derashe and Guji areas, seized the opportunity and migrated to the area either to find new land to cultivate or generate income from sales of charcoal, firewood, and construction materials to support their livelihoods. As an increasing number of people moved into this part of the basin, the need for more farmland and requirement of wood for fuel and construction increased rapidly, and caused significant reductions of shrubland and expansion of cropland and settlement in the landscape. Additionally, the establishment of new regional boundaries which divide the basin based on ethnicities, and the emergence of new market opportunities for cash crops like banana, cotton, and khat played an additional role for LULC changes in the second period. The expansion of banana and cotton production by both small-scale farmers and commercial farms was one of the main causes for the reduction of shrubland cover in Arba Minch Zuria, Mirab Abaya and Bilate areas. A more recent expansion of infrastructure and irrigation facilities in the basin also contributed to LULC changes in the second period.
5. Conclusions
This study has highlighted and illustrated the process and connotations of a landscape level understanding for sustainable land management planning by taking the case of ACB, which is of vital environmental, social, and economic importance in Ethiopia. LULC changes and simultaneous landscape fragmentation are the main underlying factors for ecosystem change in ACB. The main characteristics of the LULC changes observed in ACB imply a reduction in the total amount of shrubland and natural grassland, and a significant increase in agricultural area. These changes continuously alter the spatial patterns of the landscape, and greatly modify the entire landscape of the basin. The driving factors for the LULC changes in the ACB were both national and regional/ local in origin. Rapid population growth in warm semi-arid areas of the basin as a result of immigration and policy change in the country are considered the most important driving factors for LULC changes in the basin between 1985, 1995, and 2010. Therefore, intervention measures that take into account the socio-political and ecological dynamics of the basin need to be in place in order to streamline the immigration and resettlement processes (either voluntarily or as part of the government plan) into warm semi-arid areas of the basin.
Landscape changes as a result of LULC, and simultaneous landscape pattern changes, are ongoing phenomena in the basin. LULC changes, and the related trend of increasing arable land expansion and reduction of natural vegetation in the basin, may lead to drastic changes in the drainage patterns and water flows. These may alter the vegetation, nutrient levels, and related processes, and damage the aquatic and terrestrial biodiversity of the basin, unless restoration actions are taken soon to save the basin from further damages. Despite its richness in biodiversity, which makes it a rare habitat, and the socioeconomic value ACB has, efforts on the management and restoration plan for conservation and sustainable utilization of its resources are not adequate. This study has achieved a useful milestone to contribute to the development of relevant management approaches for the basin. However, to strengthen the knowledge base, it is recommended that the effect of landscape change on the basin's biodiversity and resources need be quantified in the future to pinpoint vulnerable species that need urgent conservation attention and introduce sustainable resource management practices in the basin, respectively. At the same time, positive steps should be taken through an innovative approach which combines resource management measures with research. Commitments of the government and concerned NGOs, working closely with local communities through participatory approaches, may facilitate efforts to reverse the current trend of LULC changes in the basin. As the area needs urgent action, sustainable land management approaches should be integrated with the traditional farming and non-farming uses of land in the basin. Combining practical action with research can help practice to be supported with scientific evidence. Therefore, the involvement of research centers and higher education institutions, particularly Arba Minch University, is a good strategy.
Supplementary Materials
The following are available online at
www.mdpi.com/2073-445X/7/1/2/s1
, Figure S1: LULC Map of ACB in 1985 (a), 1995 (b) and 2010 (c); Figure S2: Population density in ACB in 1998 (a) and 2007 (b).
Acknowledgments
This study was partly financed by STUBE Baden-Württemberg (A Student Program for students from Africa, Asia and Latin America). We are grateful. We are also grateful to the University of Hohenheim for the provision of software and computer facilities needed for this study.
Author Contributions
A.W.Y. and M.C. conceived and designed the study; W.D. designed the questionnaire; A.W.Y. collected and analyzed the data and wrote the paper; G.K. took part in paper writing; M.C., G.K. and W.D. critically reviewed the paper and provided comments on the contents and structure of the paper.
Conflicts of Interest
The authors declare no conflict of interest.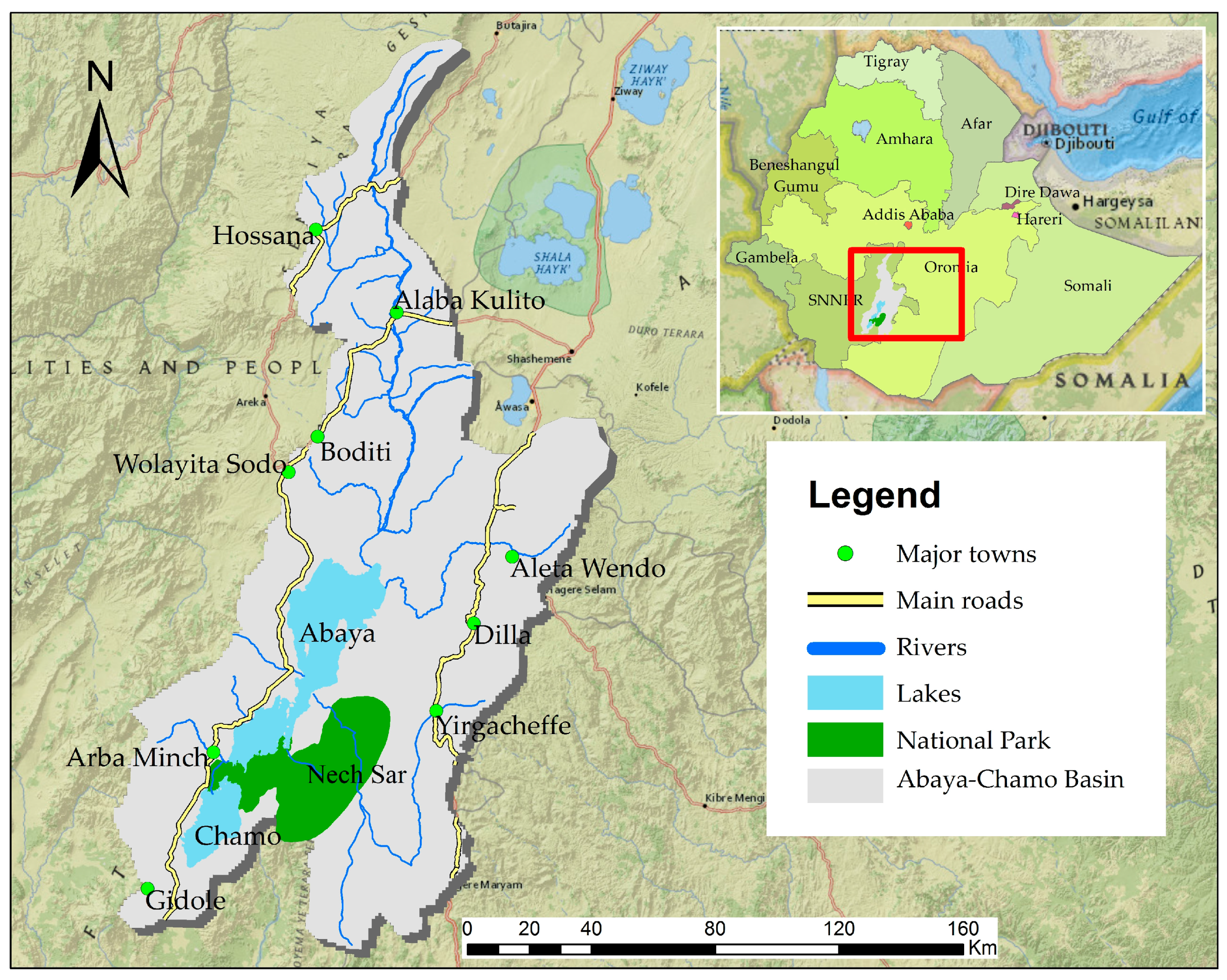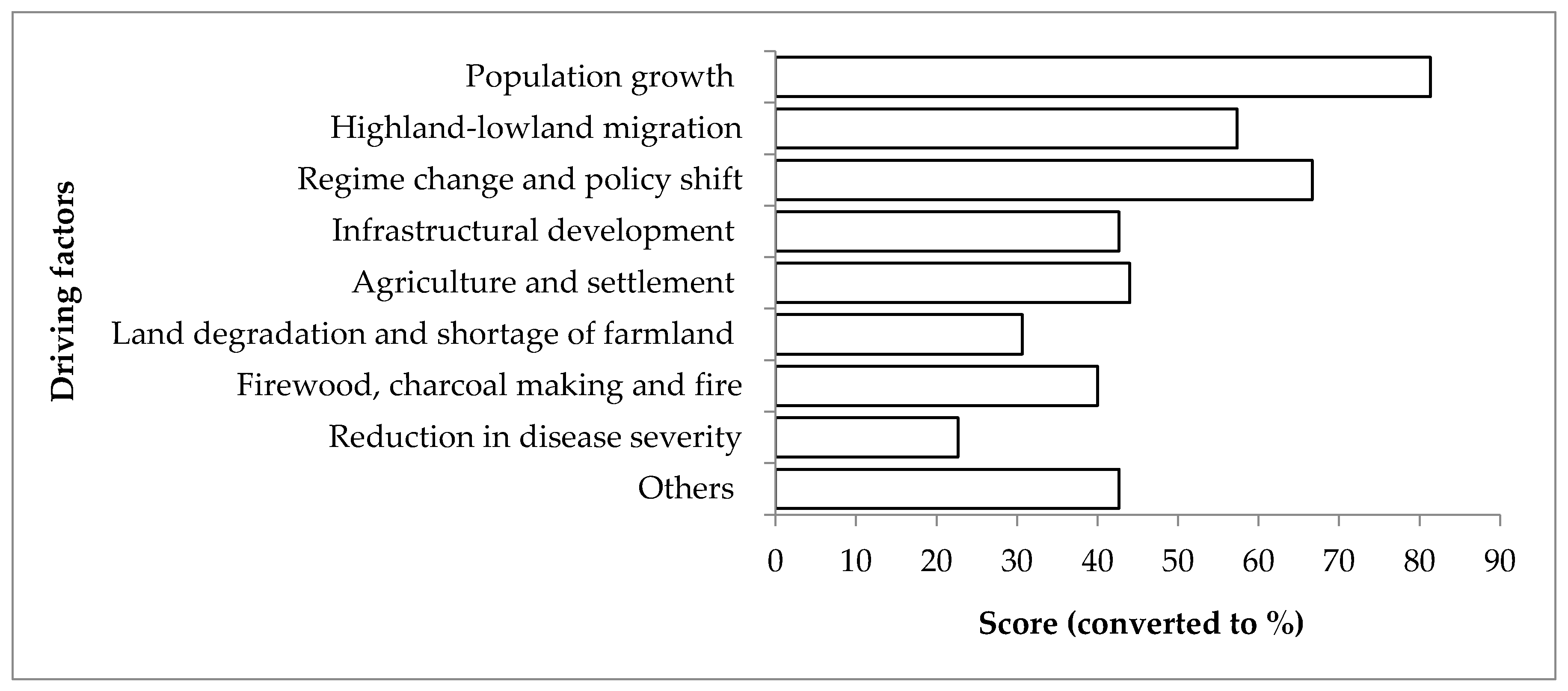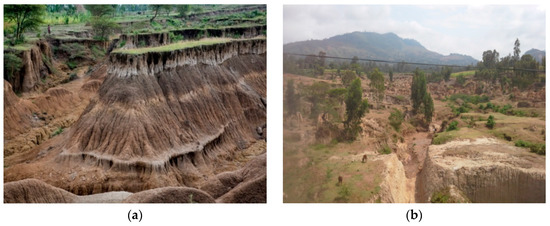 Figure 3. Soil erosion and land degradation in Wolayita (a) and Kembata Tembaro (b) zones in Bilate catchment, ACB.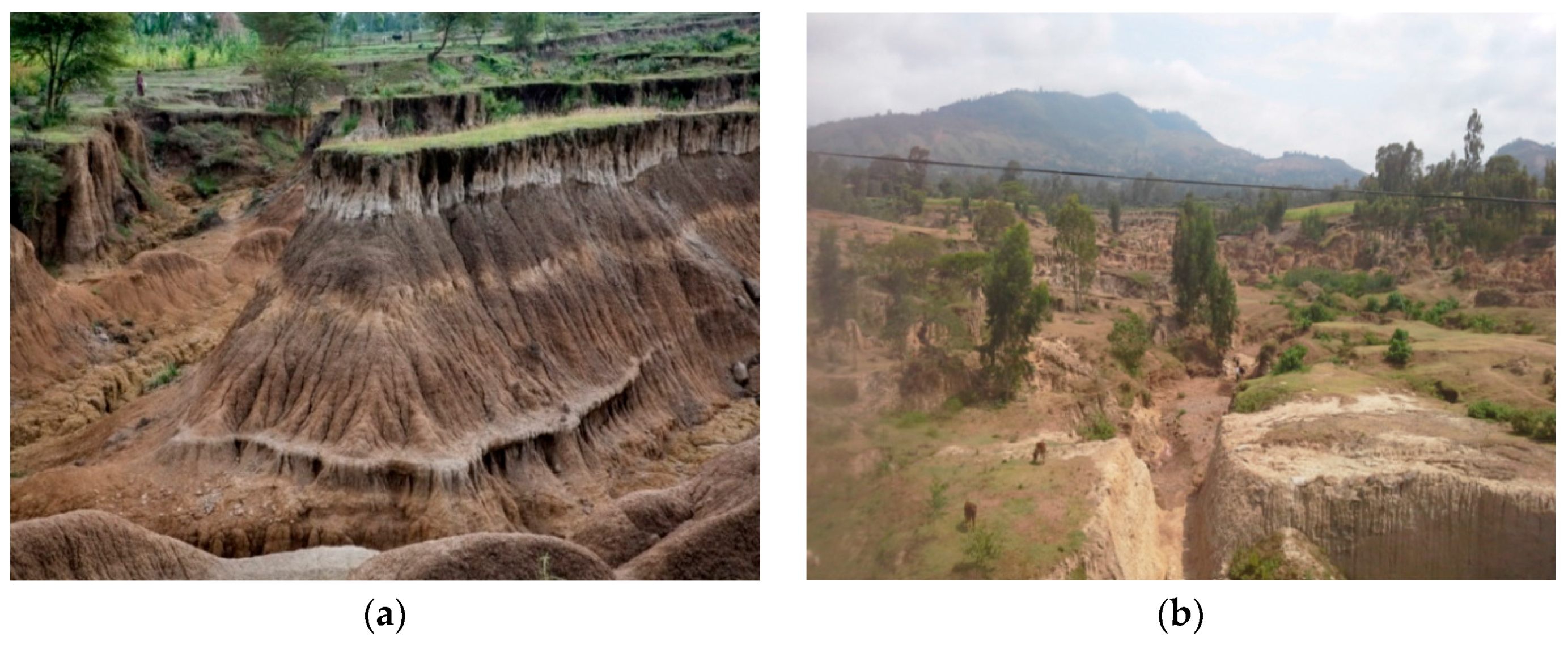 | Zone | Altitude (m) | Rainfall (mm/year) | Length of Growing Period (d) | Average Annual Temperature (°C) |
| --- | --- | --- | --- | --- |
| Wurch (cold and moist) | 3200 plus | 900–2200 | 211–365 | >11.5 |
| Dega (cool and humid) | 2300–3200 | 900–1200 | 121–210 | 17.5/16.0–11.5 |
| Weyna Dega (cool sub-humid) | 1500–2300/2400 | 800–1200 | 91–120 | 20.0–17.5/16.0 |
| Kolla (warm semi-arid) | 500–1500/1800 | 200–800 | 46–90 | 27.5–20 |
| Berha (hot arid) | under 500 | under 200 | 0–45 | >27.5 |
| LULC Class | Description |
| --- | --- |
| Inland waters | Water courses like rivers and streams, and water bodies like lakes and ponds |
| Forests | All type of forests and woodland |
| Shrubland | Bush or shrub-dominated land with isolated trees always with a lower range of grass |
| Arable land | Regularly ploughed land for growing rain-fed and/or irrigated crops with some border trees |
| Heterogeneous agricultural areas | Annual crops mixed with permanent crops and some woody vegetation usually eucalyptus trees |
| Coffee agroforestry | Coffee plantations with mixed shade trees, Enset, Khat and fruits trees |
| Natural grassland | Grassland with low productivity often situated in plains, rough ground, or rocky areas |
| Inland wetlands | Non-forested areas seasonally or permanently waterlogged |
| Built-up areas | Continuous and discontinuous impervious layers and aggregated buildings of all kinds |
LULC Class
Accuracy (%)
1985
1995
2010
Producer's
User's
Producer's
User's
Producer's
User's
Inland waters
86.67
92.86
86.67
100.0
93.33
100.0
Forests
77.78
87.50
80.56
76.19
84.44
92.68
Shrubland
85.83
87.29
87.50
89.48
91.67
88.71
Arable land
80.83
78.86
80.00
89.70
85.83
83.74
Heterogeneous agricultural areas
89.17
95.54
88.33
93.81
89.17
87.70
Coffee agroforestry
88.89
91.95
83.33
88.24
88.89
87.91
Natural grassland
90.00
72.97
80.33
77.45
86.93
85.71
Inland wetlands
86.67
92.86
73.33
91.67
86.67
96.30
Built-up areas
66.67
90.91
60.67
100
64.29
90.00
Overall Accuracy
85.58
83.15
87.73
Kappa Coefficient
0.83
0.81
0.86
LULC Class
Absolute Area Cover (km2)
LULC Changes between the Periods with Relative to the Basis * (%)
1985
1995
2010
1985–1995
1995–2010
1985–2010
Area
(%)
Area
(%)
Area
(%)
Inland waters
1432.4
7.48
1432.8
7.48
1434.1
7.49
0.03
0.09
0.12
Forests
531.6
2.78
530.9
2.77
522.5
2.73
−0.13
−1.58
−1.71
Shrubland
4478.9
23.39
4076.5
21.29
3188.2
16.65
−8.98
−21.79
−28.82
Arable land
4454.0
23.28
6043.4
31.57
7088.6
37.02
35.75
17.24
59.15
Heterogeneous agricultural areas
2519.1
13.15
2312.1
12.08
2162.1
11.29
−8.22
−6.49
−14.17
Coffee agroforestry
2226.3
11.63
2144.3
11.20
2216.8
11.58
−3.68
3.38
−0.43
Natural grassland
3205.7
16.74
2264.6
11.83
2143.8
11.20
−29.36
−5.33
−33.13
Inland wetlands
291.2
1.52
328.5
1.72
365.5
1.91
12.82
11.26
25.52
Built-up areas
7.5
0.1
10.6
0.14
25.0
0.33
40.00
135.72
230.00
* changes between the periods were calculated as 100 × (A + 1 − A)/A, where: A = area of a LULC type, the classes defined for 1985 were taken as a basis.
Final State (2010)
Total 1985
Loss
Inland Waters
Forests
Shrubland
Arable Land
Heterogeneous Agricultural Areas
Coffee Agroforestry
Natural Grassland
Inland Wetlands
Built-Up Areas
Initial state (1985)
Inland waters
7.20
0.05
0.06
0.12
0.01
0.00
0.04
0.00
0.00
7.48
0.28
Forests
0.04
1.11
0.69
0.58
0.09
0.01
0.16
0.10
0.00
2.78
1.67
Shrubland
0.10
1.11
11.72
6.18
0.00
0.74
3.21
0.33
0.00
23.39
11.67
Arable land
0.05
0.00
0.00
19.93
0.38
2.08
0.81
0.00
0.03
23.28
3.35
Heterogeneous agricultural areas
0.01
0.03
0.10
4.28
8.54
0.00
0.16
0.00
0.03
13.15
4.62
Coffee agroforestry
0.00
0.00
0.46
0.50
2.25
8.50
0.01
0.00
0.01
11.63
3.13
Natural grassland
0.04
0.42
3.56
5.42
0.12
0.23
6.72
0.20
0.02
16.73
10.01
Inland wetlands
0.04
0.01
0.06
0.01
0.00
0.02
0.10
1.28
0.00
1.52
0.24
Built-up areas
0.00
0.00
0.00
0.00
0.00
0.00
0.00
0.00
0.04
0.04
0.00
Total 2010
7.49
2.73
16.65
37.02
11.29
11.58
11.2
1.91
0.13
Gain
0.29
1.62
4.93
17.10
2.75
3.08
4.49
0.62
0.09
Net Change
0.01
−0.05
−6.74
13.74
−4.02
−0.05
−5.53
0.38
0.09
NP (#)
MPS (ha)
LPI (ha)
AI (%)
CONTAG (%)
1985
2010
1985
2010
1985
2010
1985
2010
1985
2010
Landscape level
319,739
391,504
6.00
4.90
5.67
5.64
46.80
44.90
Class level
Arable land
101,877
127,223
4.37
5.05
13.41
13.82
85.07
84.63
Shrubland
95,551
114,546
4.69
3.25
13.76
3.31
81.93
78.02
Natural grassland
63,456
61,622
5.05
3.48
2.32
2.36
83.61
82.92

© 2018 by the authors. Licensee MDPI, Basel, Switzerland. This article is an open access article distributed under the terms and conditions of the Creative Commons Attribution (CC BY) license (http://creativecommons.org/licenses/by/4.0/).