Numerical Investigation of Aggregated Fuel Spatial Pattern Impacts on Fire Behavior
1
US Forest Service, Rocky Mountain Research Station, Fire Sciences Laboratory, 5775 W. Highway 10, Missoula, MT 59801, USA
2
Los Alamos National Laboratory, Earth and Environmental Sciences Division, Mail Stop: T003, Los Alamos, NM 87554, USA
3
INRA, UR 629 Ecologie des Forêts Méditerranéennes, Domaine Saint Paul, Site Agroparc, F-84914 Avignon CEDEX 9, France
4
Department of Forest and Rangeland Stewardship, Colorado State University, 1472 Campus Delivery Fort Collins, CO 80523, USA
5
National Center for Atmospheric Research, Research Applications Laboratory, P.O. Box 3000, Boulder, CO 80307-3000, USA
6
US Forest Service, Rocky Mountain Research Station, Forestry Sciences Lab, 2500 South Pine Knoll Drive Flagstaff, AZ 86004, USA
*
Author to whom correspondence should be addressed.
Received: 10 April 2017 / Revised: 6 June 2017 / Accepted: 14 June 2017 / Published: 18 June 2017
Abstract
Landscape heterogeneity shapes species distributions, interactions, and fluctuations. Historically, in dry forest ecosystems, low canopy cover and heterogeneous fuel patterns often moderated disturbances like fire. Over the last century, however, increases in canopy cover and more homogeneous patterns have contributed to altered fire regimes with higher fire severity. Fire management strategies emphasize increasing within-stand heterogeneity with aggregated fuel patterns to alter potential fire behavior. Yet, little is known about how such patterns may affect fire behavior, or how sensitive fire behavior changes from fuel patterns are to winds and canopy cover. Here, we used a physics-based fire behavior model, FIRETEC, to explore the impacts of spatially aggregated fuel patterns on the mean and variability of stand-level fire behavior, and to test sensitivity of these effects to wind and canopy cover. Qualitative and quantitative approaches suggest that spatial fuel patterns can significantly affect fire behavior. Based on our results we propose three hypotheses: (1) aggregated spatial fuel patterns primarily affect fire behavior by increasing variability; (2) this variability should increase with spatial scale of aggregation; and (3) fire behavior sensitivity to spatial pattern effects should be more pronounced under moderate wind and fuel conditions.
View Full-Text
►

▼

Figures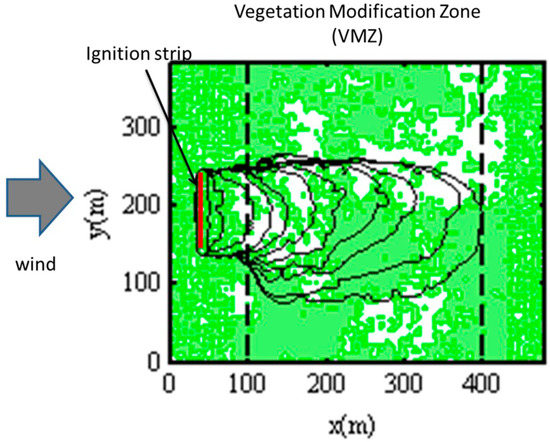 Figure 1
This is an open access article distributed under the
Creative Commons Attribution License
which permits unrestricted use, distribution, and reproduction in any medium, provided the original work is properly cited (CC BY 4.0).

Share & Cite This Article
MDPI and ACS Style
Parsons, R.A.; Linn, R.R.; Pimont, F.; Hoffman, C.; Sauer, J.; Winterkamp, J.; Sieg, C.H.; Jolly, W.M. Numerical Investigation of Aggregated Fuel Spatial Pattern Impacts on Fire Behavior. Land 2017, 6, 43.
Note that from the first issue of 2016, MDPI journals use article numbers instead of page numbers. See further details here.
Related Articles
Comments
[Return to top]