Open Access This article is
freely available
re-usable
Article
Water Gender Indicators in Agriculture: A Study of Horticultural Farmer Organizations in Senegal
1
Department of Agricultural, Forest and Food Sciences (DISAFA), University of Turin, Largo Paolo Braccini, 10095 Grugliasco, Italy
2
Interdepartmental Research Center for Women's and Gender Studies (CIRSDe), University of Turin, 10153 Torino, Italy
*
Author to whom correspondence should be addressed.
Received: 10 August 2017 / Accepted: 6 December 2017 / Published: 13 December 2017
Abstract
:
This paper intends to contribute to the debate on gender equality and water within the Sustainable Development Goals SDGs 5 and 6. Farmers organizations are often considered key stakeholders whose participation should be fostered to achieve a good water governance in agriculture and irrigation programs. Nonetheless, many water management interventions tackle participation as an instrumental and formal process. A common assumption is that granting sufficient space for women in water management will automatically ensure a greater gender empowerment. Nevertheless, often low importance is given to assessing who really actively participates and benefits from water development projects, favoring the technical aspects. This paper addresses the articulation between gender, water management and indicators, using male, female and mixed farmer organizations as touchstones in three regions of Senegal. The authors defines a system of water gender indicators grouped into five sections. The first results show more similarities between mixed and female organizations, while the main gender inequalities are visible in the water technique and economic domains. Thanks to this study, we can see how a gender-based analysis may allow to more deeply understand some more or less "hidden" water governance mechanisms and their related implications in terms of project management and policy making.
Keywords:
SDGs; gender indicators; water management; irrigation; sustainability; participation
Acknowledgments
This study was undertaken in the framework of the PAPSEN project, a project funded by the Italian Agency of Development and Cooperation (AICS) and managed in cooperation with the Senegalese Ministry of Agriculture and the Israel's Centre for International Cooperation (MASHAW). The authors would like to thank the director and all the staff of the former Directorate General for Development Cooperation (DGCS), the directors and the staff of the Local Technical Unit (UTL) of Dakar, as well as the PAPSEN team, the Italian National Research Council (CNR), the ANSD and all the researchers and official representatives meet during the missions for their support and cooperation.
Author Contributions
Francesca Alice Centrone and Angela Calvo conceived and designed the whole study; Angela Calvo processed the data and analyzed them jointly with Francesca Alice Centrone; Angela Mosso and Patrizia Busato contributed to the analytical tools (specifically Angela Mosso on the economics and formal aspects of the paper, while Patrizia Busato regarding the irrigation and hydraulic components of the study) and provided useful advice on the draft manuscript; Francesca Alice Centrone mainly drafted the paper; all authors actively reviewed the manuscript.
Conflicts of Interest
The authors declare no conflict of interest.
Abbreviations
| | |
| --- | --- |
| ANSD | National Statistic Agency of Senegal |
| FAO | Food and Agriculture Organization |
| FOs | Farmer Organizations |
| GIE | Groupements d'Intérêt Economique |
| GPF | Groupements de Promotion Féminine |
| GPII | Gender Performance Indicator for Irrigation |
| IWMI | International Water Management Institute |
| MAER | Senegalese Ministry of Agriculture |
| M&E | Monitoring and Evaluation |
| SDGs | Sustainable Development Goals |
| SEAGA | Socio-economic and Gender Analysis |
| UN | United Nations |
| UNDP | United Nations Development Program |
| WB | World Bank |
| WUAs | Water User Associations |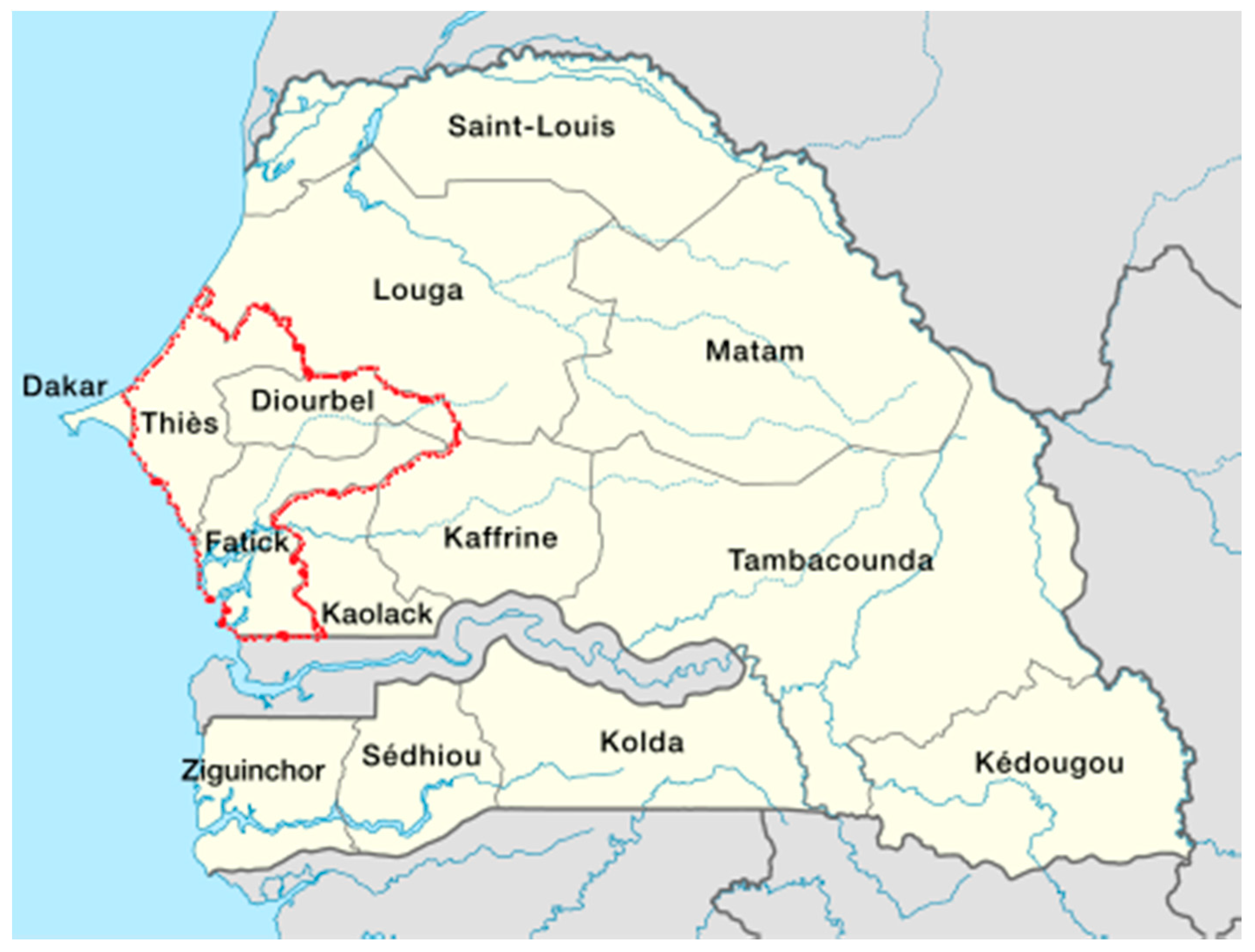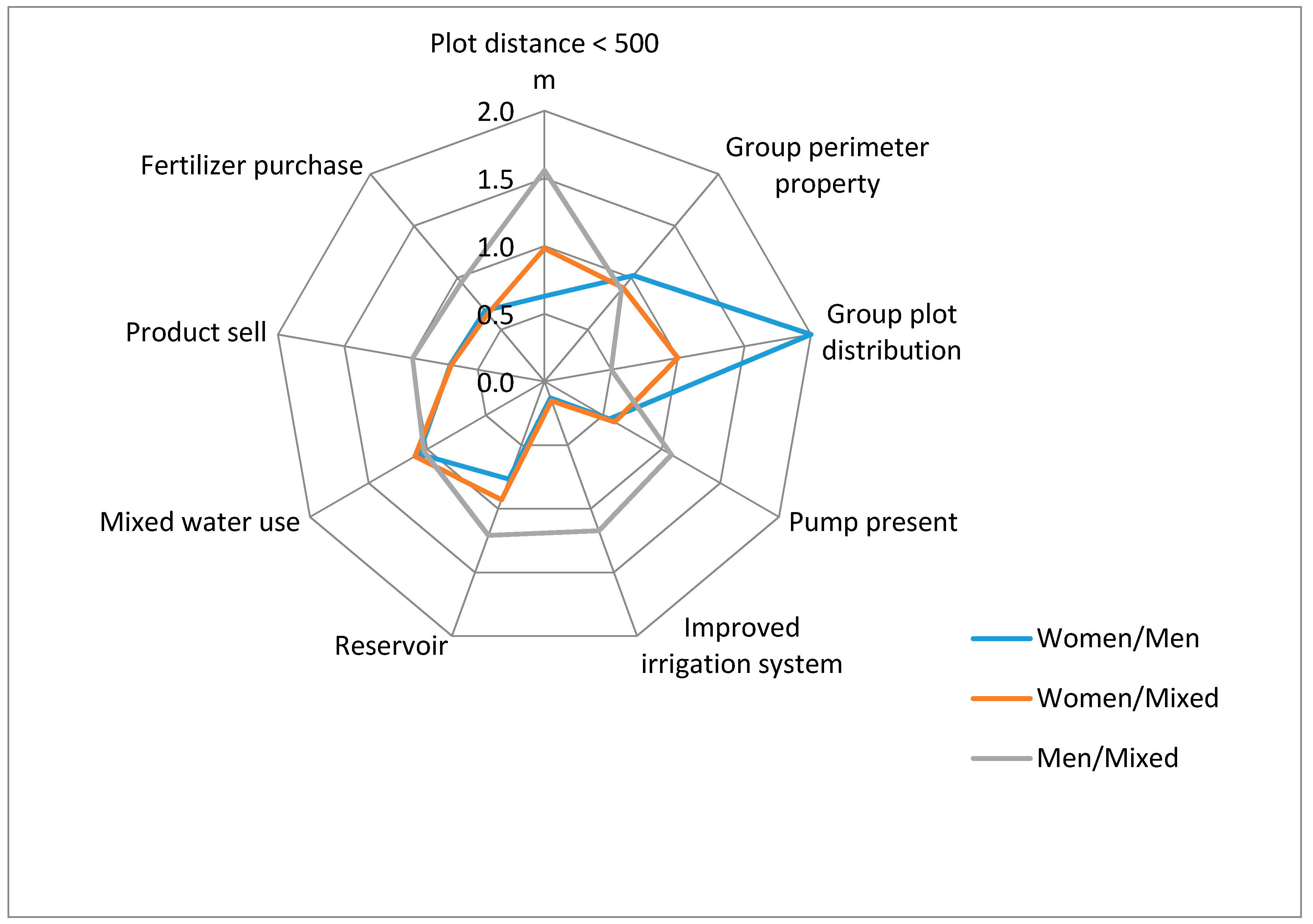 Questionnaire Section
Data and Unit
Type of Variable and Ranges

Water source

Type of source
nominal
Type of pump
nominal
Pump conditions
ordinal (broken = 0; functional = 1)
Presence of reservoir
dummy (yes or not)
Type of reservoir
nominal
Quality of the water (for irrigation)
ordinal (not adequate = 0; adequate = 1)
Water use (for domestic use or irrigation)
nominal

Horticultural perimeter

Plot distance from the village (meters)
continuous
Size of the perimeter (hectares)
continuous
Method of irrigation
nominal
Perimeter status
ordinal (inactive = 0; active = 1)
Average plots size
continuous

Grassroots organizations

Group legal status
nominal
Group establishing (year)
discrete
Sex of the Leader
dichotomy (man/woman)
Group type
nominal (men's, women's or mixed)
Number of men
discrete
Number of women
discrete
Gender of the secretary of water use association (if existing)
dichotomy (man/woman)
Types of cultivated products
nominal
Selling of products
dummy (yes/not)
Purchase of inputs like fertilizer
dummy (yes/not)
Joint cultivation of the perimeter
dummy (yes/not)
Plots distribution (individual or group)
nominal
Advantages of the membership
nominal
Category
Sub-Components and Relative Codes

Social

Age Class (AC)
First Education Level (EL)
Technical Training Access (TTA)

Plot

Plot Distance (PD)
Group Perimeter property (GPP)
Group Plot Distribution (GPD)

Water

Mixed Water Use (MWU)
Reservoir (R)

Water Technique

Pump Presence (PP)
Improved Irrigation (II)

Economic

Agricultural Products Selling (APS)
Fertilizers purchase (FP)
| FO Type | Average Number of Members | Standard Deviation | Max | Min |
| --- | --- | --- | --- | --- |
| Women | 67 | 41 | 200 | 10 |
| Men | 30 | 25 | 65 | 4 |
| Mixed | 31 | 41 | 320 | 2 |
Category
Indicators
Organization (%)
Women
Men
Mixed

Social

15 < age < 65
n.a.
n.a.
n.a.
At least I level education
n.a.
n.a.
n.a.
Technical training
n.a.
n.a.
n.a.

Plot

Plot distance < 500 m (from the village)
0.58
0.92
0.59
Group perimeter property (or village)
0.47
0.46
0.52
Group plot distribution (not individual)
0.30
0.15
0.30

Water Technique

Pump presence
0.51
0.92
0.85
Improved irrigation system (drip or other)
0.07
0.54
0.46

Water

Reservoir (to facilitate the irrigation)
0.53
0.69
0.57
Mixed water use (domestic and irrigation)
0.74
0.69
0.67

Economic

Agricultural product selling
0.65
0.92
0.93
Fertilizer purchase
0.58
0.85
0.89

Table 5. The ratios of the investigated indicators and the different levels of inequality between the observed FOs.
Category
Indicator
Code
Women/Men Ratio
Women/Mixed Ratio
Men/Mixed Ratio

Land

Plot distance < 500 m (from the village)
PD
0.63 a
0.98 b
1.56 c
Group perimeter property (or village)
GPP
1.02 b
0.90 b
0.88 d
Group plot distribution (not individual)
GPD
2.00 c
1.00 b
0.50 a

Water Technique

Pump presence
PP
0.55 a
0.60 a
1.08 b
Improved irrigation system (drip or other)
IIS
0.13 c
0.15 c
1.17 d

Water

Reservoir (to facilitate the irrigation)
R
0.77 d
0.93 b
1.21 d
Mixed water use (domestic and irrigation)
MWU
1.07 b
1.10 d
1.03 b

Economic

Agricultural products selling
APS
0.71 d
0.70 d
0.99 b
Fertilizer purchase
FP
0.68 a
0.65 a
0.96 b
Note: Legend: a = medium inequality; b = no inequality; c = high inequality; d = low inequality.
FO Type
Perimeter Size (ha) and Percentage on the Total
ha ≤ 1
1 < ha < 5
≥5 ha

Women

35%
51%
14%

Men

23%
31%
46%

Mixed

18%
46%
36%

© 2017 by the authors. Licensee MDPI, Basel, Switzerland. This article is an open access article distributed under the terms and conditions of the Creative Commons Attribution (CC BY) license (http://creativecommons.org/licenses/by/4.0/).