Compound-Specific Isotope Analysis (CSIA) Application for Source Apportionment and Natural Attenuation Assessment of Chlorinated Benzenes
1
Dipartimento di Ingegneria Civile ed Ambientale, Politecnico di Milano, Piazza Leonardo da Vinci, 32-20133 Milano, Italy
2
Tethys S.r.l.-Indagini Geologiche-Ambientali, Viale Lombardia, 11-20131 Milano, Italy
3
Department of Earth and Environmental sciences, University of Waterloo, 200 University Ave. West, Waterloo, ON N2L 3G1, Canada
*
Author to whom correspondence should be addressed.
Received: 22 September 2017 / Revised: 25 October 2017 / Accepted: 1 November 2017 / Published: 9 November 2017
Abstract
In light of the complex management of chlorobenzene (CB) contaminated sites, at which a hydraulic barrier (HB) for plumes containment is emplaced, compound-specific stable isotope analysis (CSIA) has been applied for source apportionment, for investigating the relation between the upgradient and downgradient of the HB, and to target potential CB biodegradation processes. The isotope signature of all the components potentially involved in the degradation processes has been expressed using the concentration-weighted average δ
13
C of CBs + benzene (δ
13
C
sum
). Upgradient of the HB, the average δ
13
C
sum
of −25.6‰ and −29.4‰ were measured for plumes within the eastern and western sectors, respectively. Similar values were observed for the potential sources, with δ
13
C
sum
values of −26.5‰ for contaminated soils and −29.8‰ for the processing water pipeline in the eastern and western sectors, respectively, allowing for apportioning of these potential sources to the respective contaminant plumes. For the downgradient of the HB, similar CB concentrations but enriched δ
13
C
sum
values between −24.5‰ and −25.9‰ were measured. Moreover, contaminated soils showed a similar δ
13
C
sum
signature of −24.5‰, thus suggesting that the plumes likely originate from past activities located in the downgradient of the HB. Within the industrial property, significant δ
13
C enrichments were measured for 1,2,4-trichlorobenzene
(
TCB), 1,2-dichlorobenzene
(
DCB), 1,3-DCB, and 1,4-DCBs, thus suggesting an important role for anaerobic biodegradation. Further degradation of monochlorobenzene (MCB) and benzene was also demonstrated. CSIA was confirmed to be an effective approach for site characterization, revealing the proper functioning of the HB and demonstrating the important role of natural attenuation processes in reducing the contamination upgradient of the HB.
View Full-Text
►

▼

Figures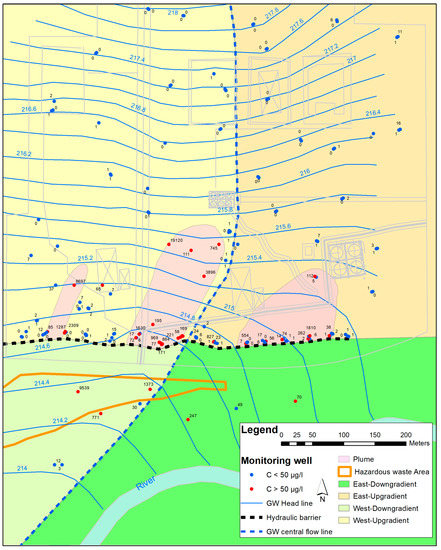 Figure 1
This is an open access article distributed under the
Creative Commons Attribution License
which permits unrestricted use, distribution, and reproduction in any medium, provided the original work is properly cited (CC BY 4.0).

Share & Cite This Article
MDPI and ACS Style
Alberti, L.; Marchesi, M.; Trefiletti, P.; Aravena, R. Compound-Specific Isotope Analysis (CSIA) Application for Source Apportionment and Natural Attenuation Assessment of Chlorinated Benzenes. Water 2017, 9, 872.
Note that from the first issue of 2016, MDPI journals use article numbers instead of page numbers. See further details here.
Related Articles
Comments
[Return to top]