Stable Isotopes of Water and Nitrate for the Identification of Groundwater Flowpaths: A Review
1
Department of Science Education, Ewha Womans University, Seoul 03760, Korea
2
Groundwater Department, Geologic Environment Division, Korea Institute of Geoscience and Mineral Resources, Daejeon 34132, Korea
3
Water Quality Research Center, K-Water Convergence Institute, Daejeon 34350, Korea
4
Department of Earth and Environmental Sciences & The Earth and Environmental Science System Research Center, Jeonbuk National University, Jeonju 54896, Korea
*
Author to whom correspondence should be addressed.
Received: 1 December 2019 / Revised: 26 December 2019 / Accepted: 30 December 2019 / Published: 1 January 2020
Nitrate contamination in stream water and groundwater is a serious environmental problem that arises in areas of high agricultural activities or high population density. It is therefore important to identify the source and flowpath of nitrate in water bodies. In recent decades, the dual isotope analysis (δ15N and δ18O) of nitrate has been widely applied to track contamination sources by taking advantage of the difference in nitrogen and oxygen isotope ratios for different sources. However, transformation processes of nitrogen compounds can change the isotopic composition of nitrate due to the various redox processes in the environment, which often makes it difficult to identify contaminant sources. To compensate for this, the stable water isotope of the H2O itself can be used to interpret the complex hydrological and hydrochemical processes for the movement of nitrate contaminants. Therefore, the present study aims at understanding the fundamental background of stable water and nitrate isotope analysis, including isotope fractionation, analytical methods such as nitrate concentration from samples, instrumentation, and the typical ranges of δ15N and δ18O from various nitrate sources. In addition, we discuss hydrograph separation using the oxygen and hydrogen isotopes of water in combination with the nitrogen and oxygen isotopes of nitrate to understand the relative contributions of precipitation and groundwater to stream water. This study will assist in understanding the groundwater flowpaths as well as tracking the sources of nitrate contamination using the stable isotope analysis in combination with nitrate and water.
Author Contributions
H.J. was responsible for the implementation of the reference collection, processing and writing of the manuscript. D.-C.K. provided constructive comments and funding. Y.S.K. and S.-W.J. provided constructive comments for this manuscript. J.L. was responsible for the designing and analyzing of the work. All authors have read and agreed to the published version of the manuscript.
Funding
This research was supported by a grant from the National Research Council of Science & Technology (NST), funded by the Korea government (MSIP) (CAP-17-05-KIGAM). This research was partially funded by the Basic Research Program through the National Foundation of Korea (NRF), which was funded by the Ministry of Education (NRF-2017R1D1A1A09000732).
Acknowledgments
Inputs from two anonymous reviewers improved the quality of this paper.
Conflicts of Interest
The authors declare no conflict of interest.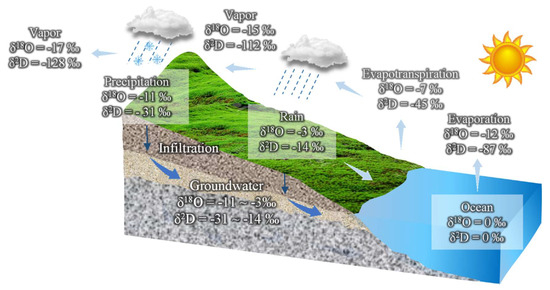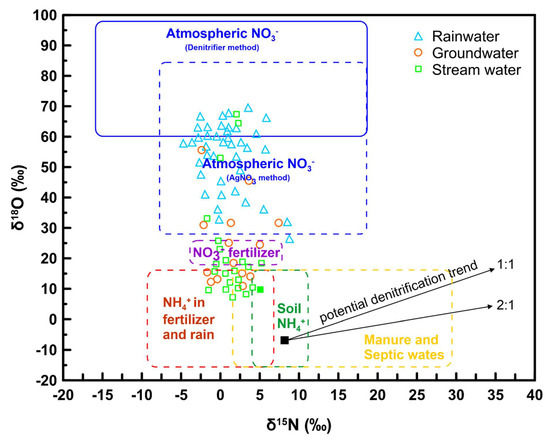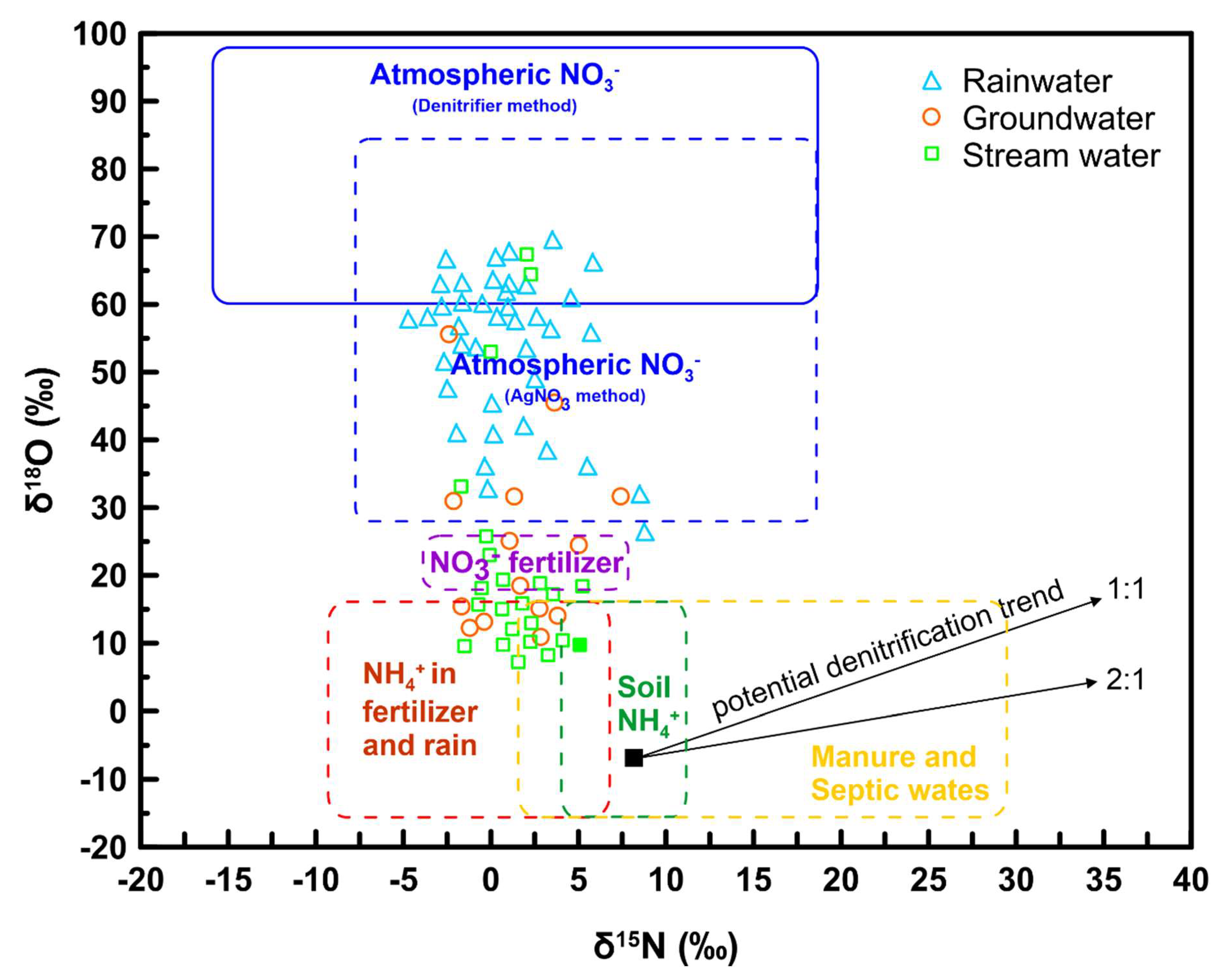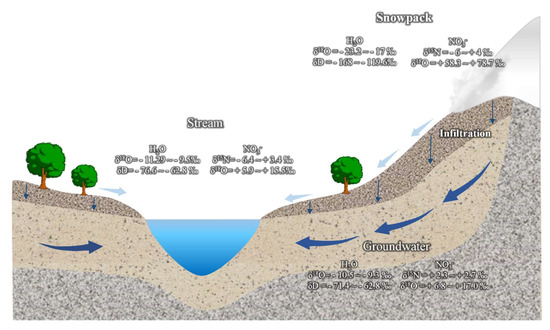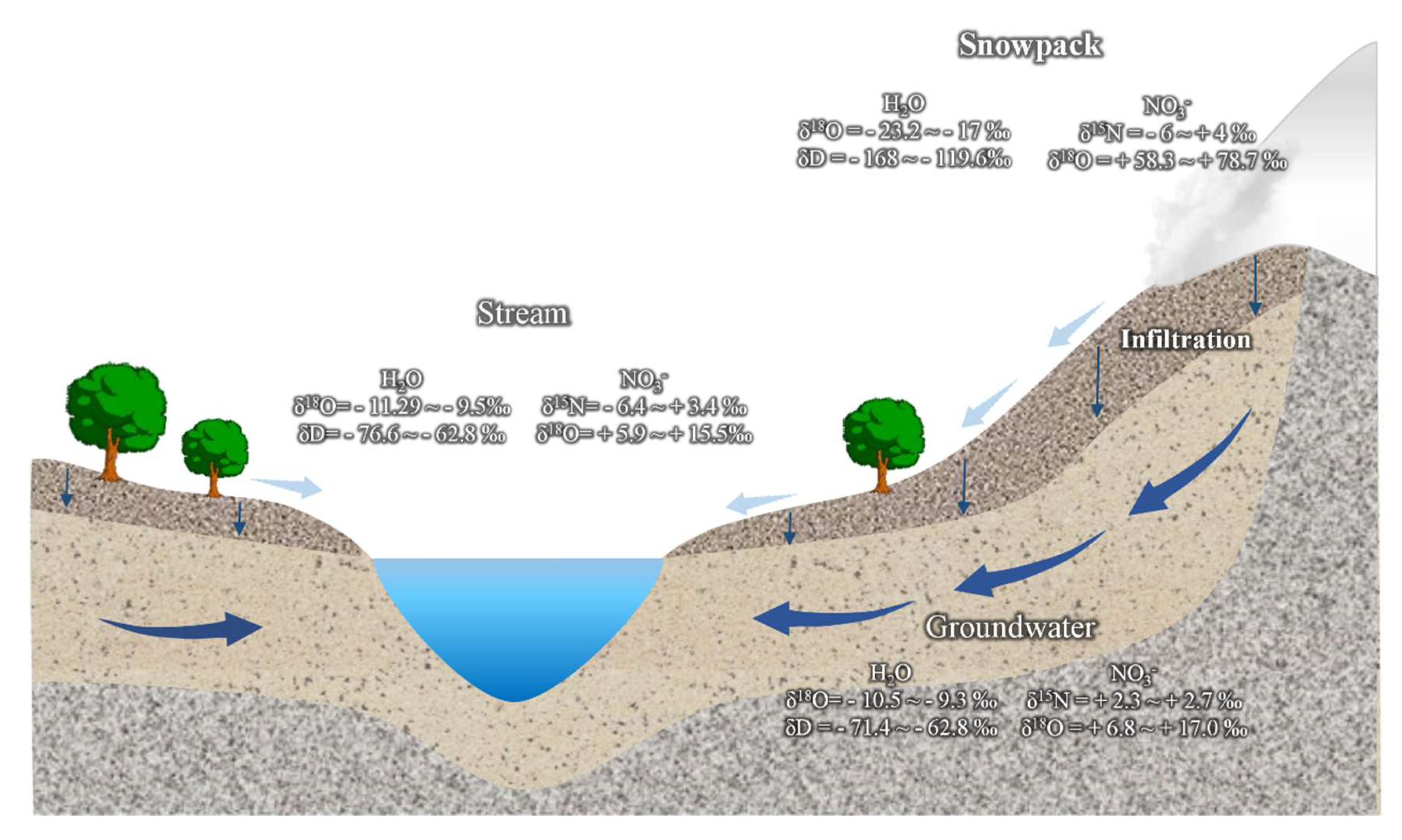 Table 1. Summary of studies that account for more than two different end-members in hydrograph separation using nitrate isotopic tracer.
Location
End-Member
(δ15N-NO3−, δ18O-NO3−)
Groundwater (Nitrified Sources) Fraction in Stream Water
Reference
Bavaria, Germany
Atmospheric;
Nitrification
84–70%
[18]
Catskill Mountains, New York State, USA;
Rocky Mountain National Park, Colorado, USA;
Danville, Vermont, USA
Snowmelt;
Nitrification
Nitrified sources dominant
[3]
Turkey Lakes watershed, Ontario, Canada
Atmospheric;
Nitrification
70%
[113]
Catskill Mountains, New York, USA
Precipitation;
Snowmelt;
Soil water
Soil water dominant
[93]
Loch Vale watershed, Colorado, USA
Nitrification
>75%
[12]
Sleepers River Research Watershed, Vermont, USA
Precipitation;
Groundwater;
Soil water
Groundwater dominant
[111]
New Hampshire, USA
Precipitation; Nitrification
55–100%
[94]
Arbutus Watershed, New York State, USA
Wet deposition;
Groundwater
Groundwater dominant during late winter/early spring
[109]
Green Mountains, Vermont, USA
Precipitation;
Soil water
Soil water dominant
during snowmelt periods
[114]
Connecticut and Massachusetts, USA
Microbially produced;
Atmospheric deposition
Summer 97–99%
Winter/Spring 82–90%
[112]
Pennsylvania, USA
Atmospheric sources;
Microbial soil nitrification
67%
[115]
Hubbard Brook Experimental Forest, New Hampshire, USA
Precipitation; Nitrification
66–71% during summer rainfall event
[116]
NMR above-ground streams, Pittsburgh, USA
Atmospheric;
Sewage
(δ15N: 0‰ to +20‰; δ18O: −15‰ to +15‰)
<66% sewage-derived
[117]
Savannah River, South Carolina, USA
Throughfall; Trench (soil) water;
Groundwater
Groundwater predominant
[118]
Savannah River, South Carolina, USA
Atmospheric;
Groundwater
Watershed B: 72%
Watershed R and C: 90%
[119]

© 2020 by the authors. Licensee MDPI, Basel, Switzerland. This article is an open access article distributed under the terms and conditions of the Creative Commons Attribution (CC BY) license (http://creativecommons.org/licenses/by/4.0/).