Open Access This article is
freely available
re-usable
Article
Water Infrastructure Always In-The-Making: Distributing Water and Authority through the Water Supply Network in Moamba, Mozambique
1
Silvanovoa Consultores S.A.C., Jr. Tarapacá 131, Barranco, Lima 04, Peru
2
Integrated Water Systems and Governance Department, IHE Delft, Westvest 7, 2611 AX Delft, The Netherlands
3
Governance and Inclusive Development Group, University of Amsterdam, Postbus 15718, 1001 NE, Amsterdam, The Netherlands
*
Author to whom correspondence should be addressed.
Received: 20 June 2019 / Accepted: 2 September 2019 / Published: 15 September 2019
Abstract
:
Using the concept of sociotechnical tinkering, this paper provides detailed empirical observations about the everyday practices of design, construction, operation, maintenance and use of a piped water supply network in a small town in Mozambique. We use these to show that the form, materiality, and functioning of this water infrastructure are constantly changing as result of interactions with its physical environment as well as in response to experimentation and improvisation by engineers, construction workers, operators and water users. Sociotechnical tinkering not just (re)distributes water, but also provides an avenue through which powers to control water flows can be wielded and exercised. In this sense, empirical attention to sociotechnical tinkering provides a useful entry-point for rethinking the distribution of control, authority and responsibility in water governance, or more broadly the relations between power and infrastructure. This, in turn, may yield new inspirations for identifying pragmatic possibilities for progressive water politics.
Keywords:
sociotechnical tinkering; water infrastructure; everyday practices; small towns; Mozambique
Author Contributions
Conceptualization, methodology, formal analysis, investigation, and writing, L.M.S.-N.S.; Validation, writing—review and editing, and supervision, J.S.K.-S. and M.Z.
Funding
This research was funded by the Dutch Ministry of Foreign Affairs through the DGIS IHE Delft Programmatic Cooperation 2016–2020 (DUPC2) through the research SMALL project on water supply and sanitation in small towns on the urban-rural intersection.
Acknowledgments
Fieldwork was supported by Eduardo Mondlane University and Collins. Our special gratitude goes to Pedro Cardoso, Taurai Tomossene, Jorge Tomé Vicente, Herculano Francisco, Alfredo Jorge Chauque, Rojasse A. Macamo, Cremildo Alfredo Lampeão, Remígio Castro João, and Eugenia Inacio for facilitating and participating in this research. We would like to thank the residents of Moamba, and Bairro Central in particular, for sharing their views and experiences with us as it forms the core of this research. We thank Tavengwa Chitata for the support provided with the figures and the anonymous reviewers of this journal for their valuable comments and suggestions to improve an earlier version of this manuscript.
Conflicts of Interest
The authors declare no conflict of interest.
Appendix A
Components
Sub-Components
Functioning
Intake station
Collection well, infiltration chamber, and suction chamber.
The electric pumps in the intake well work separately and alternately.
Two submersible pumps 160 m3/h
Intake building with two surface electric pumps.
The electric pumps propel the water from the transition tank to the water treatment plant.
80 m3 transition tank
Serves as a buffer between the submersible and the superficial pumps.
PVC pipeline 250 mm diameter.
It connects the catchment station with the ETA for about 3.5 km.
Water treatment plant
Tank and injector of aluminium sulphite.
Water treatment capacity of 3000 m3/day, whose treatment sequence consists of flocculation, sedimentation, filtration and chlorine disinfection process.
Two 50 m3 sedimentation tanks.
Tank and injector of aluminium sulphite and calcium hypochlorite.
Six 45 m3/h capacity filters connected to three electric pumps with a maximum flow rate of 80 m3/h.
Tank and injector of chlorine.
Water distribution centre
Two treated water reservoirs of 500 m3 and another of 150 m3.
By gravity the water goes from these elevated reservoirs to the water distribution network of Moamba.
Two elevated reservoirs of 150 m3 and 80 m3.
Four electric pumps.
Two sets of pumps for the 150 m3 elevated reservoir and two sets of pumps for the 80 m3 elevated reservoir.
Water distribution network composed by pipes with the following characteristics:
PVC, PN9, D = 50 mm, 2480 m
PVC, PN9, D = 75 mm, 4880 m
PVC, PN9, D = 90 mm, 4520 m
PVC, PN9, D = 110 mm, 2545 m
PVC, PN9, D = 125 mm,
PVC, PN9, D = 140 mm
PVC, PN9, D = 200 mm
References
Kemerink-Seyoum, J.S.; Chitata, T.; Domínguez Guzmán, C.; Novoa-Sanchez, L.M.; Zwarteveen, M.Z. Attention to sociotechnical tinkering of irrigation infrastructure as a way to rethink water governance.

Water

2019,

11

, 1670. [Google Scholar] [CrossRef]
Jensen, C.B.; Morita, A. Infrastructures as Ontological Experiments.

Ethnos J. Anthropol.

2016, 82. [Google Scholar] [CrossRef]
Harvey, P.; Jensen, C.B.; Morita, A. Introduction. Infrastructural complications. In

Infrastructures and Social Complexity. A companion

; Harvey, P., Jensen, C.B., Morita, A., Eds.; Routledge: New York, NY, USA, 2017; p. 423. [Google Scholar]
Van der Zaag, P.

Chicanery at the Canal: Changing Practice in Irrigation Management in Western Mexico

; Latin America Studies, 65; CEDLA: Amsterdam, The Netherlands, 1992; p. 267. [Google Scholar]
Graham, S.; Thrift, N. Out of order: Understanding repair and maintenance.

Theory Culture Soc.

2007,

24

, 1–25. [Google Scholar] [CrossRef]
Anand, N. PRESSURE: The PoliTechnics of Water Supply in Mumbai.

Cult. Anthropol.

2011,

26

, 542–564. [Google Scholar] [CrossRef] [PubMed]
Anand, N.; O'Neill, B. Municipal disconnect: On abject water and its urban infrastructures.

Ethnography

2012,

13

, 487–509. [Google Scholar] [CrossRef]
Björkman, L. Un/known Waters: Navigating Everyday Risks of Infrastructural Breakdown in Mumbai.

Comp. Stud. South Asia Afr. Middle East

2014,

34

, 497–517. [Google Scholar] [CrossRef]
Alda-Vidal, C.; Kooy, M.; Rusca, M. Mapping operation and maintenance: An everyday urbanism analysis of inequalities within piped water supply in Lilongwe, Malawi.

Urban Geogr.

2017,

39

, 104–121. [Google Scholar] [CrossRef]
Furlong, K.; Kooy, M. Worlding Water Supply: Thinking Beyond the Network in Jakarta.

Int. J. Urban Reg. Res.

2017,

41

, 888–903. [Google Scholar] [CrossRef]
Jensen, C.B. Pipe Dreams: Sewage Infrastructure and Activity Trails in Phnom Penh.

Ethnos

2017,

82

, 627–647. [Google Scholar] [CrossRef]
Dwiartama, A.; Rosin, C. Exploring agency beyond humans: The compatibility of Actor-Network Theory (ANT) and resilience thinking.

Ecol. Soc.

2014,

19

, 10. [Google Scholar] [CrossRef]

Project Water Supply and Sanitation in Small Towns

; Relatório De Água E Saneamento (Versão Final-Volume I); Universidade Eduardo Mondlane: Mabdo, Mozambique, 2017; p. 61.
Trawick, P. Comedy and Tragedy in the Andean Commons.

J. Polit. Ecol.

2002,

9

, 35–68. [Google Scholar] [CrossRef]
Boelens, R.; Vos, J. Legal pluralism, hydraulic property creation and sustainability: The materialized nature of water rights in user-managed systems.

Curr. Opin. Environ. Sustain.

2014,

11

, 55–62. [Google Scholar] [CrossRef]
Coward, E.W.

Direct or Indirect Alternative for Irrigation Investment and the Creation of Property. Irrigation Investment, Technology, and Management Strategies for Development. Studies in Water Policy and Management, No. 9

; Westview Press: Boulder, CO, USA; London, UK, 1986; pp. 225–244. [Google Scholar]
Sijbrandij, P.; van der Zaag, P. Canal maintenance: A key to restructuring irrigation management: A case of farmer participation and turnover from Mexico.

Irrig. Drain. Syst.

1993,

7

, 189–204. [Google Scholar] [CrossRef]
Boakye-Ansah, A.S.; Ferrero, G.; Rusca, M.; Van Der Zaag, P. Inequalities in microbial contamination of drinking water supplies in urban areas: The case of Lilongwe, Malawi.

J. Water Health

2016,

14

, 851–863. [Google Scholar] [CrossRef] [PubMed]
Pickering, A. The Mangle of Practice: Agency and Emergence in the Sociology of Science.

Am. J. Soc.

1993,

99

, 559–589. [Google Scholar] [CrossRef]
Barnes, J. Pumping possibility: Agricultural expansion through desert reclamation in Egypt.

Soc. Stud. Sci.

2012,

42

, 517–538. [Google Scholar] [CrossRef]
Bouleau, G. The co-production of science and waterscapes: The case of the Seine and the Rhône Rivers, France.

Geoforum

2014,

57

, 248–257. [Google Scholar] [CrossRef]
Rap, E.; van der Zaag, P. The pivotal role of canal operators in irrigation schemes. The case of the canalero.

Irrig. Drain.

2012,

61

, 436–448. [Google Scholar]
Zwarteveen, M. Decentering the technology: Explaining the drip irrigation paradox. In

Drip Irrigation for Agriculture: Untold Stories of Efficiency, Innovation and Development

; Venot, J.P.K., Zwarteveen, M., Eds.; Routledge: London, UK, 2017; pp. 54–67. [Google Scholar]
Karpouzoglou, T.; Zimmer, A. Ways of knowing the wastewaterscape: Urban political ecology and the politics of wastewater in Delhi, India.

Habitat Int.

2016,

54

, 150–160. [Google Scholar] [CrossRef]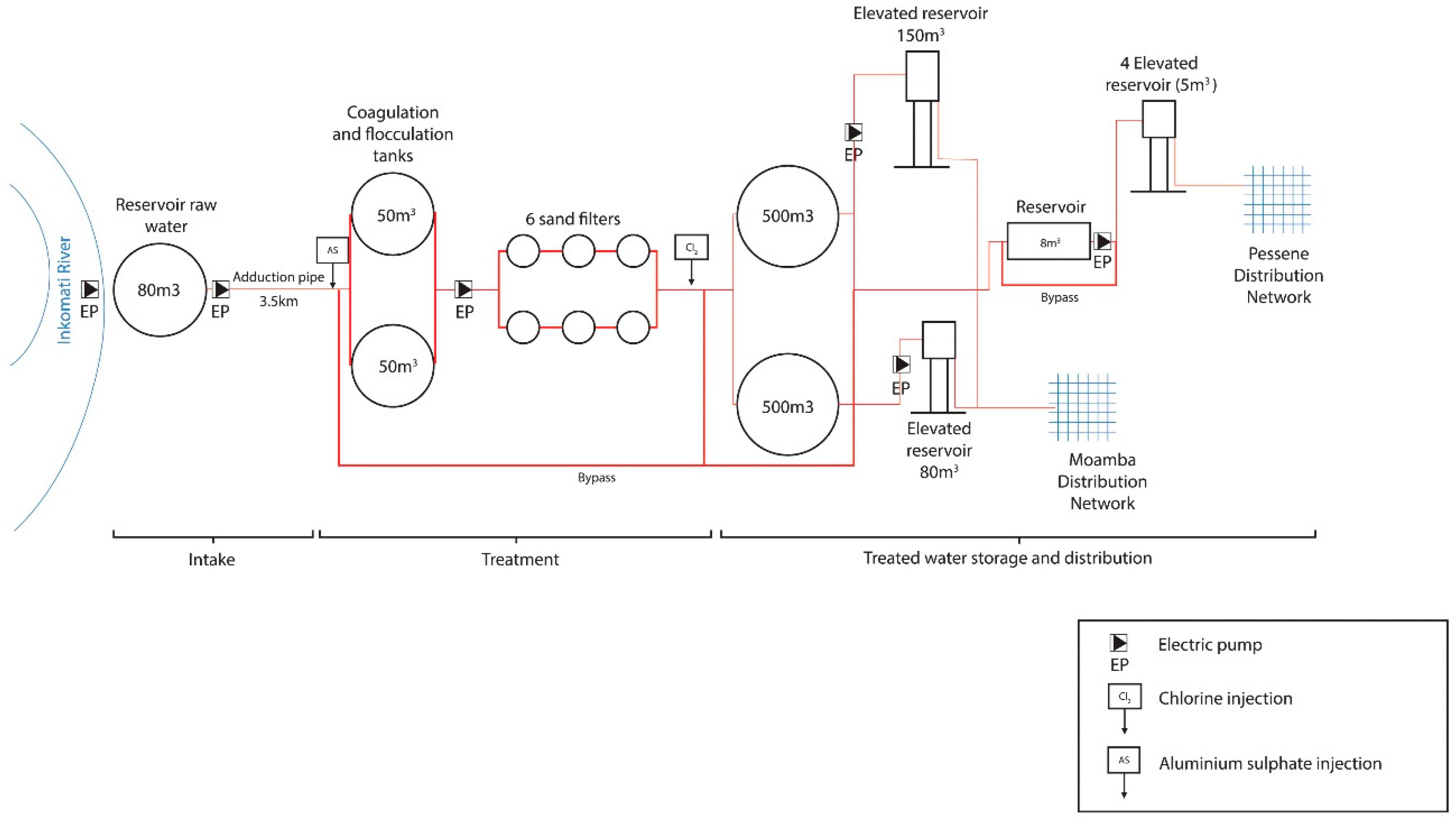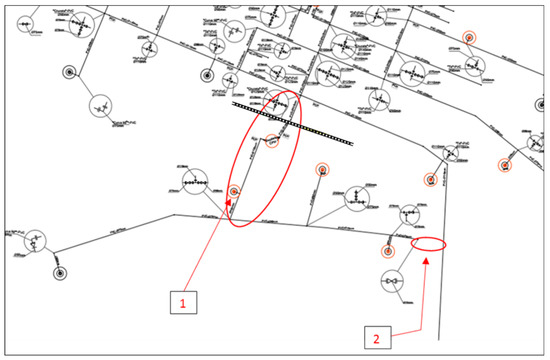 Figure 2. 2008 design map of the water distribution network in Bairro Central. Red circle 1 shows the proposed pipeline under the railway. Red circle 2 shows the absence of the pipe connecting to Bairro Central (source: Collins Sistemas de Agua Lda.).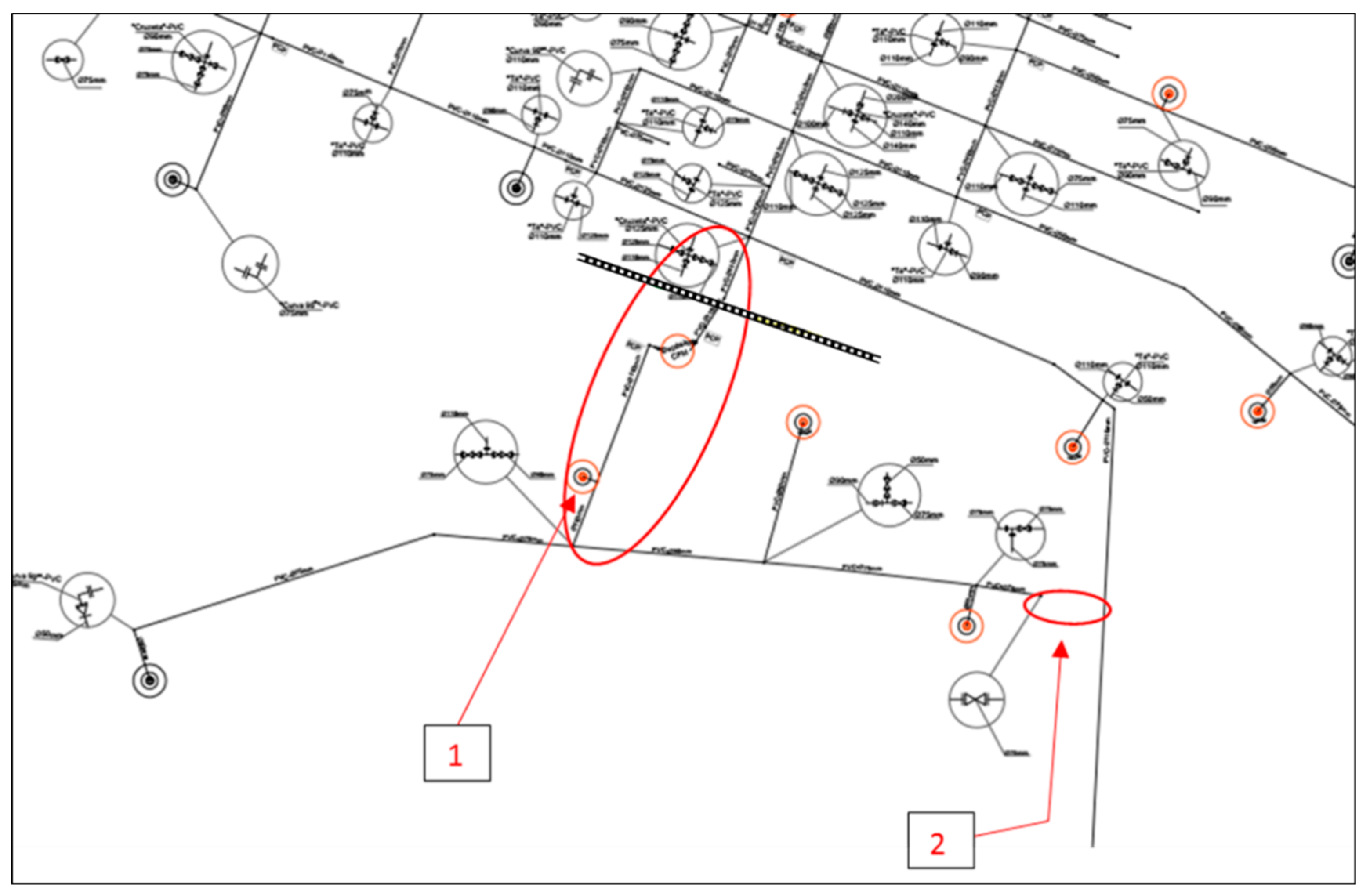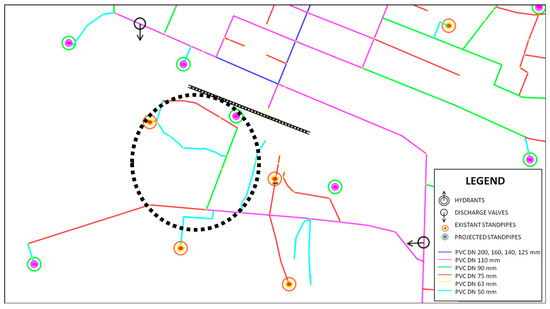 Figure 3. Detail of the shape and layout of the water distribution network in Bairro Central in design map 2011. (Source: Collins Sistemas de Agua Lda.).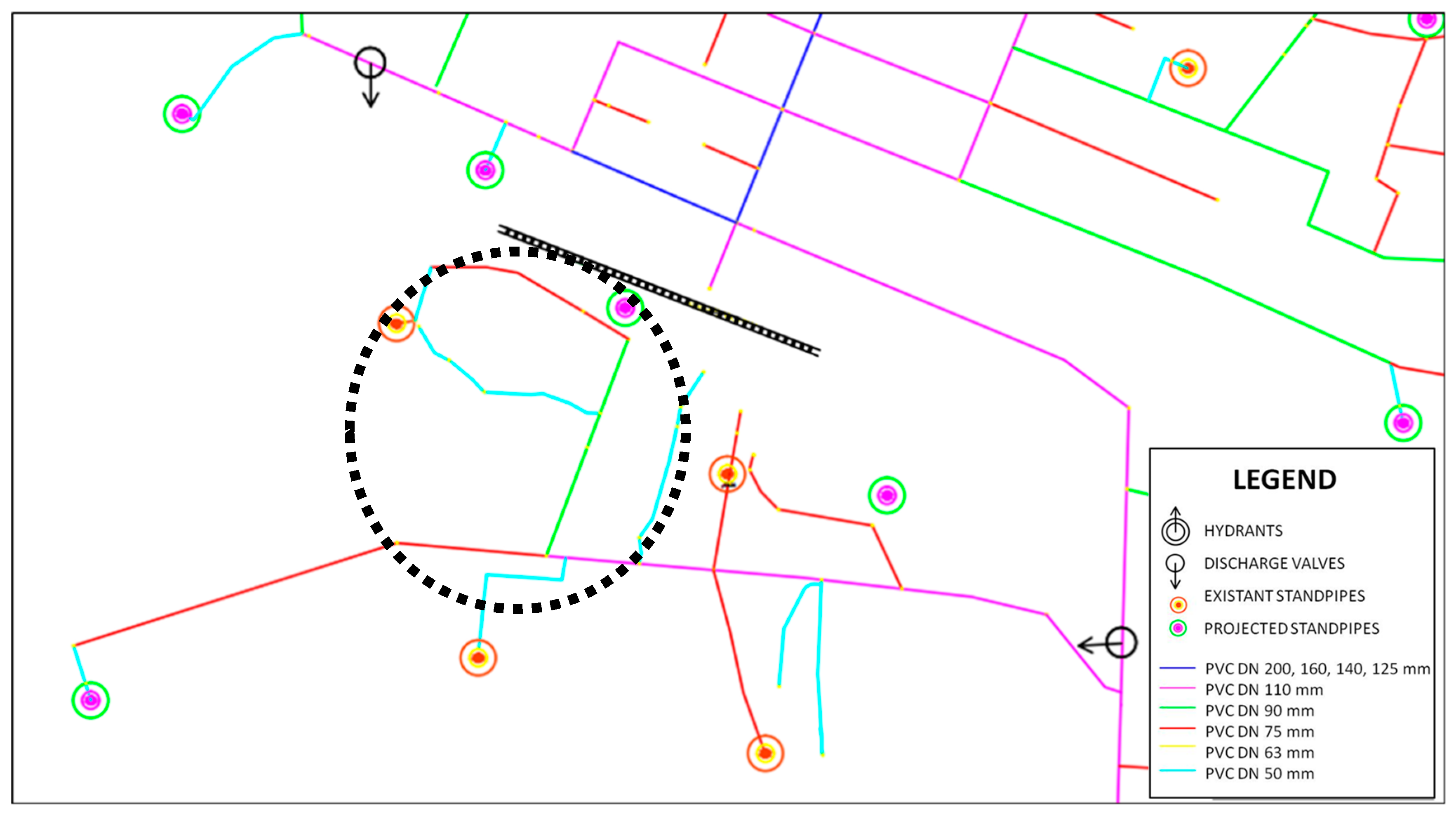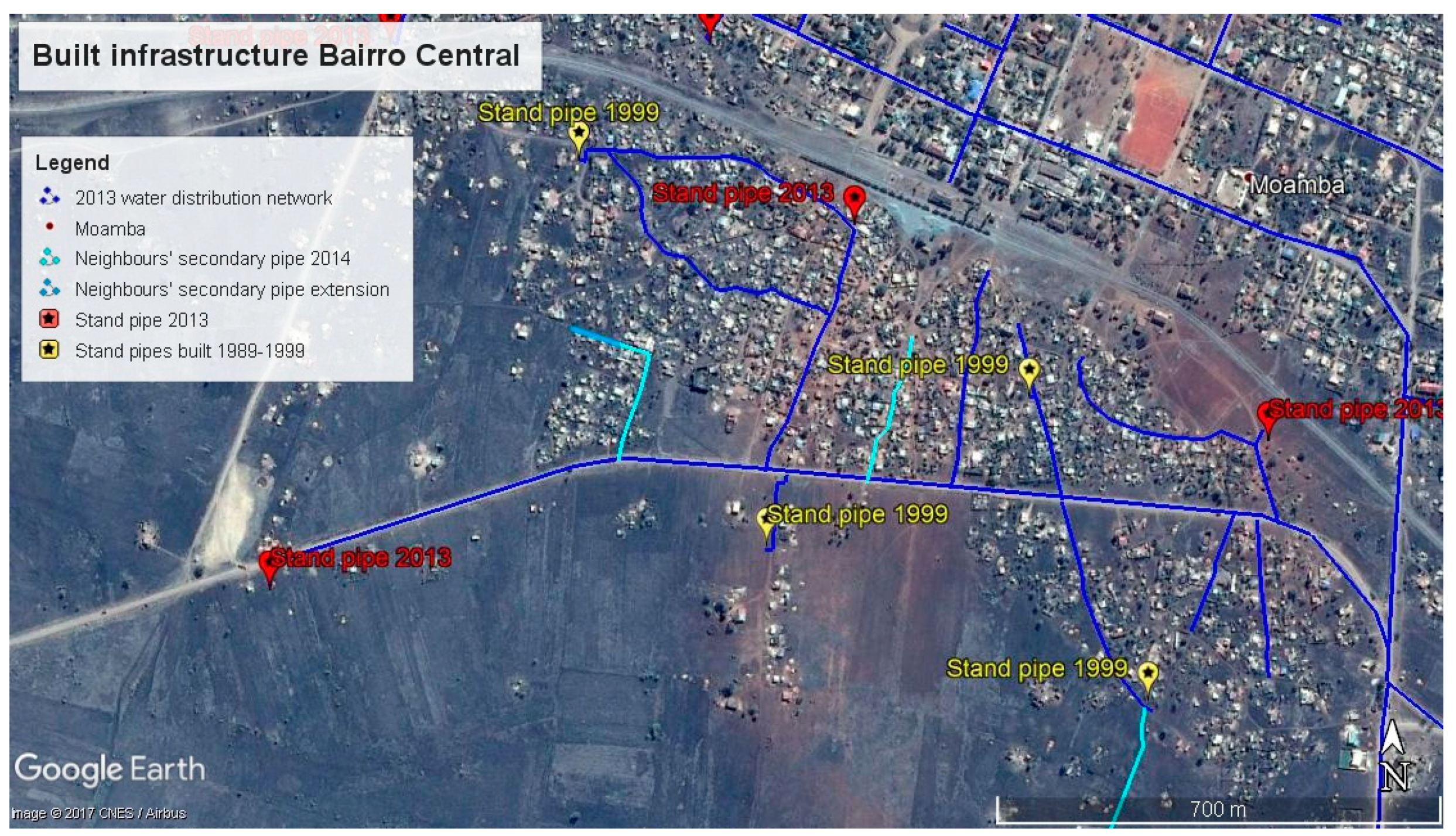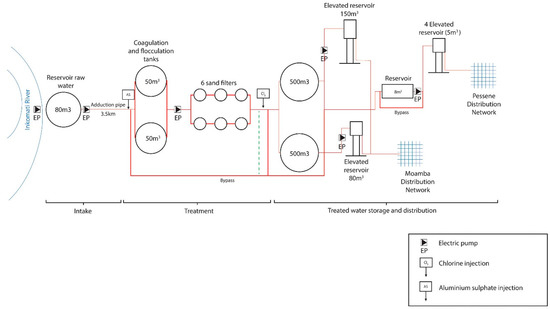 Figure 6. Detail of the bypass in the water treatment station. In red the bypass in its current state. The green dotted line represents how it should be to prevent adding the chlorine manually.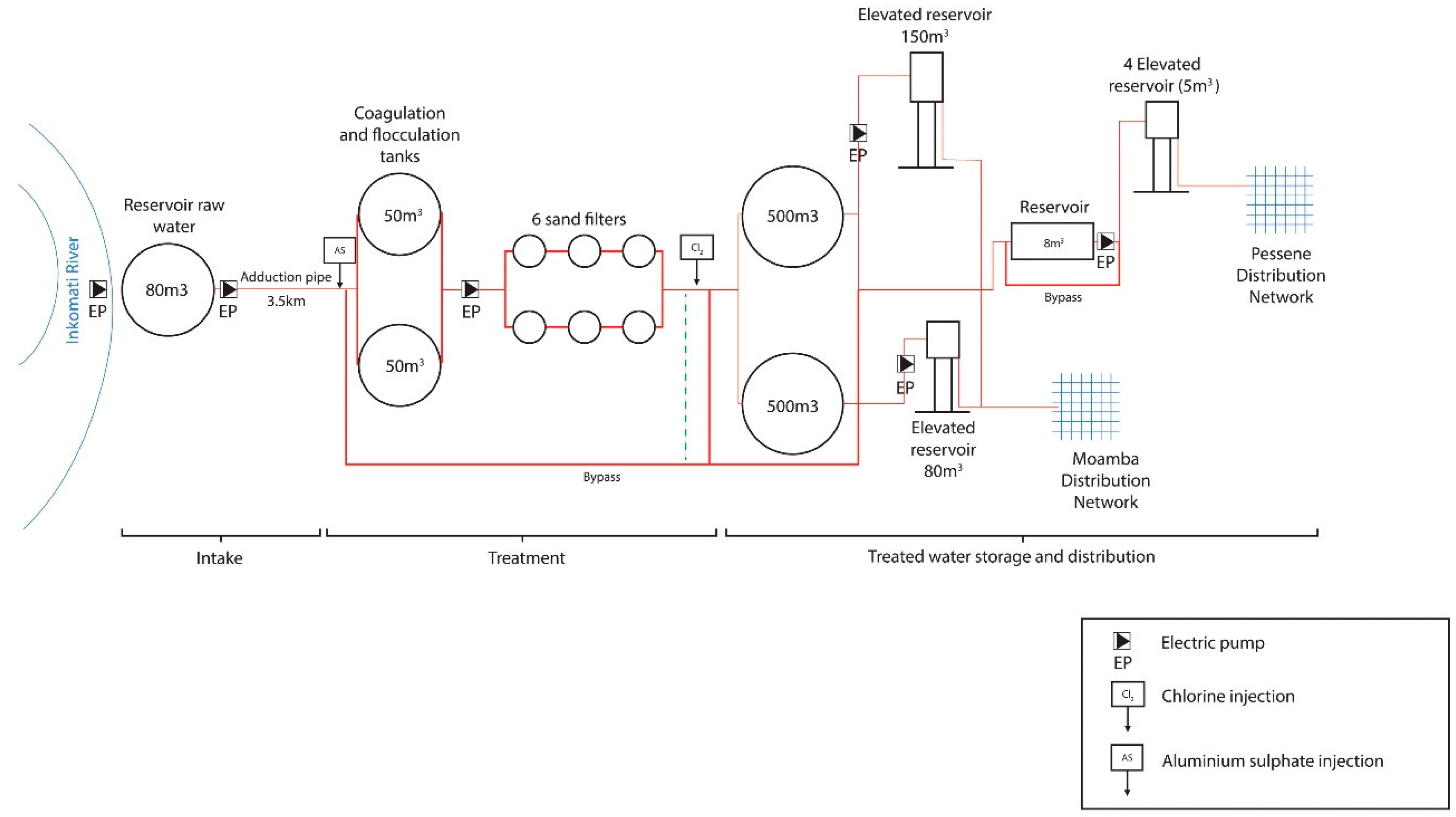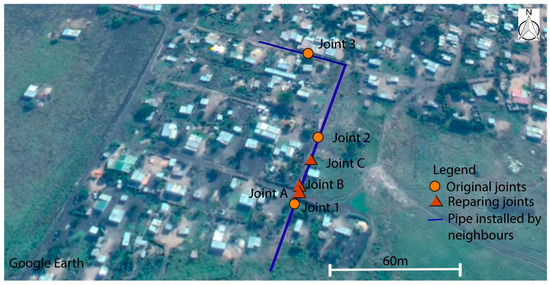 Figure 7. Location of joints in the pipe installed by the neighbors in Block Q11 (Map: Chitata, 2019).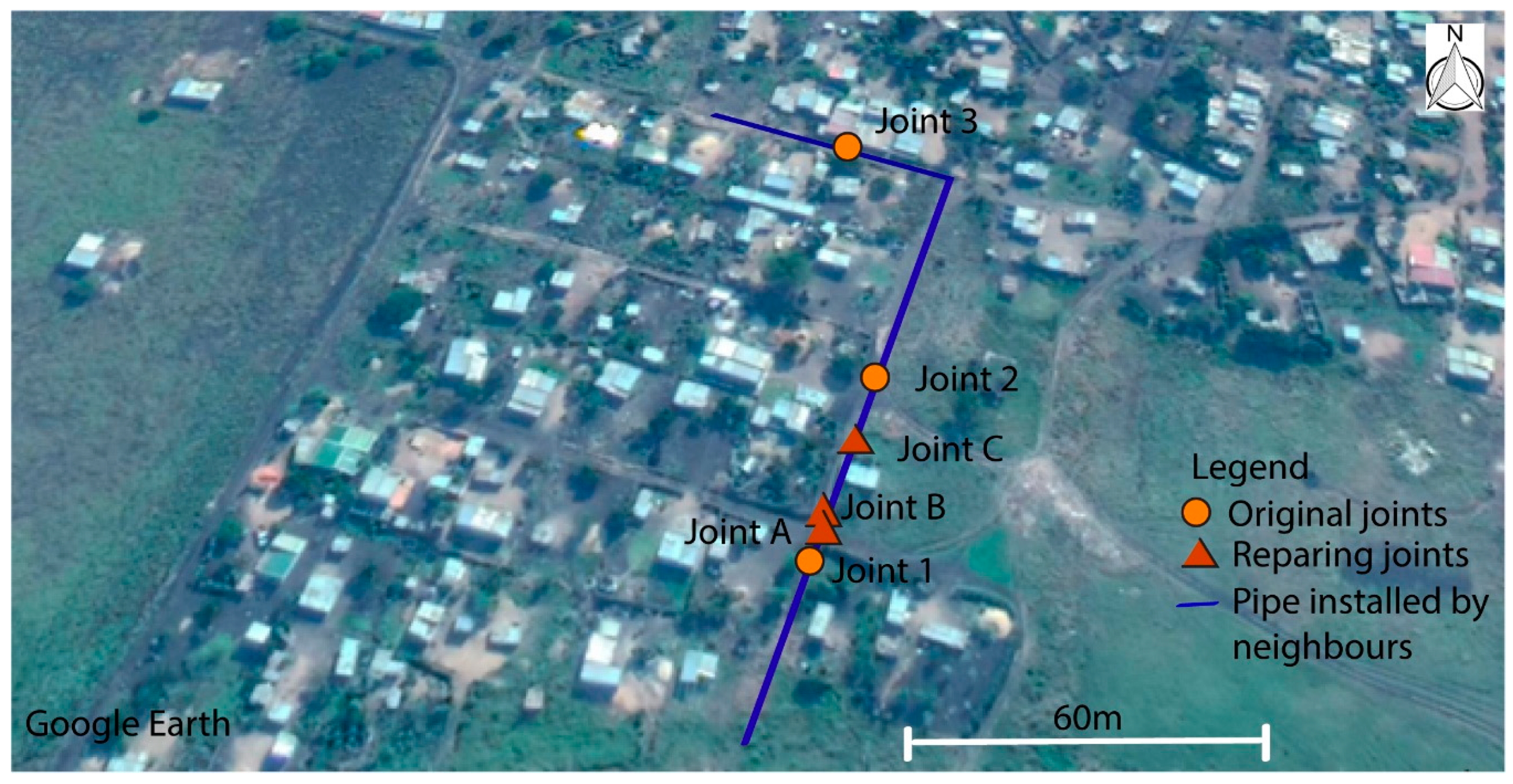 © 2019 by the authors. Licensee MDPI, Basel, Switzerland. This article is an open access article distributed under the terms and conditions of the Creative Commons Attribution (CC BY) license (http://creativecommons.org/licenses/by/4.0/).