Control Effects of Hydraulic Interception Wells on Groundwater Pollutant Transport in the Dawu Water Source Area
1
School of Environmental Studies, China University of Geosciences, Wuhan 430074, China
2
Shandong Institute of Geological Survey, Jinan 250013, China
3
Institute of Marine Science and Technology, Shandong University, Qingdao 266237, China
4
Tianjin Center, China Geological Survey, Tianjin 300170, China
*
Authors to whom correspondence should be addressed.
Received: 18 July 2019 / Revised: 31 July 2019 / Accepted: 8 August 2019 / Published: 11 August 2019
Abstract
Based on the comprehensive analysis of hydrogeological data of the Dawu water source in Zibo city, the Modflow module in Groundwater Modeling System is used to carry out three-dimensional geological modeling of the Dawu water source, and the flow field model and solute transport model of the Dawu water source are established. Aiming at the problem of groundwater pollution in the key polluted area of the Hougao region—the Dawu water source—the pollutant transport model is established to explore the process of pollution transport. There are many types of groundwater pollutants in the Hougao area. Among them, ammonia nitrogen, chloride, petroleum, and benzene exceed the standard most seriously. In order to facilitate the research, we selected typical pollutants for in-depth study. The ammonia nitrogen is used as the control index of domestic and industrial waste water in the policy documents of pollution emission. It can show the specific situation of industrial waste water and domestic waste water pollution changing with time. Thus, the ammonia nitrogen with a higher exceeding standard is selected as the pollution factor in this simulation. Pollutant transport under the conditions of strong pumping and stop pumping is simulated. It is found that the pollutant is effectively controlled due to the pumping and discharging effects under the action of strong pumping, from 4 to 5 times exceeding the standard to slightly exceeding the standard. However, there is still a trend of migration to the eastern water supply area. After the pumping is stopped, the pollutant quickly migrates to the Xixia centralized water supply area, causing serious pollution to the water supply area. Finally, four other hydraulic interception wells are set up in the 500 m east of Hougao's four wells to further control the pollutant transport. When hydraulic interception wells and strong pumping wells are used together, the scope of ammonia nitrogen pollution is basically controlled near the interception wells, and it does not continue to spread to the eastern water supply area. The maximum monitoring value of pollution is 0.11 mg/L, which is controlled within the standard limit of three types of groundwater, and the pollutant control effect is the best, providing certain reference for similar pollution control work.
View Full-Text
►

▼

Figures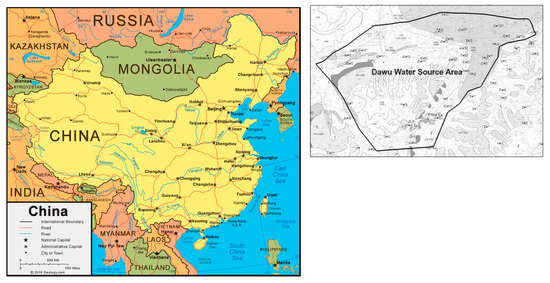 Figure 1
This is an open access article distributed under the
Creative Commons Attribution License
which permits unrestricted use, distribution, and reproduction in any medium, provided the original work is properly cited (CC BY 4.0).

Share & Cite This Article
MDPI and ACS Style
Zhu, H.; Zhou, J.; Jia, C.; Yang, S.; Wu, J.; Yang, L.; Wei, Z.; Liu, H.; Liu, Z. Control Effects of Hydraulic Interception Wells on Groundwater Pollutant Transport in the Dawu Water Source Area. Water 2019, 11, 1663.
Note that from the first issue of 2016, MDPI journals use article numbers instead of page numbers. See further details here.
Related Articles
Comments
[Return to top]