Spatiotemporal Patterns of Terrestrial Evapotranspiration in Response to Climate and Vegetation Coverage Changes across the Chinese Loess Plateau
1
Key Laboratory of Subsurface Hydrology and Ecological Effect in Arid Region of Ministry of Education, School of Environmental Science and Engineering, Chang'an University, Xi'an 710054, China
2
State Key Laboratory of Loess and Quaternary Geology, CAS Center for Excellence in Quaternary Science and Global Change, Institute of Earth Environment, Chinese Academy of Sciences, Xi'an 710061, China
3
Department of Ecosystem Science and Management, The Pennsylvania State University, University Park, PA 16802, USA
4
College of Agronomy, Shenyang Agricultural University, Shenyang 110161, China
*
Authors to whom correspondence should be addressed.
Water 2019, 11(8), 1625; https://doi.org/10.3390/w11081625 (registering DOI)
Received: 21 June 2019 / Revised: 2 August 2019 / Accepted: 5 August 2019 / Published: 6 August 2019
(This article belongs to the Section
Hydrology
)
Abstract
Spatiotemporal patterns of evapotranspiration (ET) and its controlling factors are important for ecosystem services and water resources management in the Chinese Loess Plateau (CLP). In this study, we assessed the spatial patterns of ET and then investigated the interannual variability of ET and its relationships with climate variability and vegetation coverage changes at the timescales of annual, active growing season, as well as different seasons across the entire CLP from 2000 to 2014. A MODIS-derived ET dataset, ground-based datasets of precipitation and atmospheric evaporative demand (AED), and a remote-sensing dataset of Normalized Difference Vegetation Index (NDVI) were comprehensively analyzed. Results showed that mean annual ET varied distinctly among different vegetation zones, generally higher in the more humid southeastern parts of the CLP. Summer ET and ET over active growing season significantly increased for more than 40% of the entire CLP area, and winter ET significantly decreased over ~70% of the entire CLP region, while annual ET, spring ET, and autumn ET remained quite stable during 2000–2014. Per-pixel interannual variability of ET was mainly positively correlated with that of precipitation and NDVI except for winter, but negatively correlated with AED trends. Our study also demonstrated that ET variation trends were exactly consistent for the entire CLP region, the areas mainly implemented with the Grain for Green (GFG) project, and other CLP areas not implemented with the GFG project during 2000–2014. Our findings suggest that the spatiotemporal patterns of CLP ET were mainly water-limited, and climate variability played an essential role in shaping the interannual variability of ET in the CLP. This study will improve our understanding on the ET variations over water-limited areas under climate and vegetation coverage changes.
View Full-Text
►

▼

Figures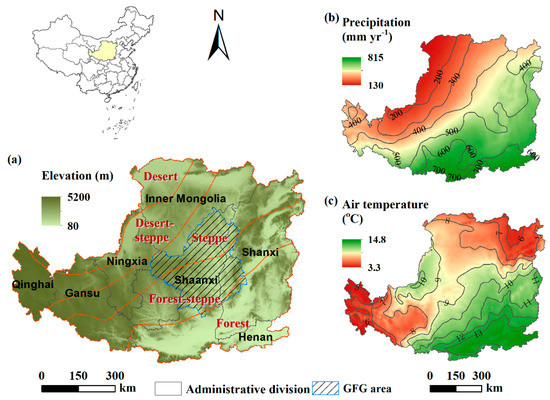 Figure 1
This is an open access article distributed under the
Creative Commons Attribution License
which permits unrestricted use, distribution, and reproduction in any medium, provided the original work is properly cited (CC BY 4.0).
Share & Cite This Article
MDPI and ACS Style
Zheng, H.; Lin, H.; Zhu, X. Spatiotemporal Patterns of Terrestrial Evapotranspiration in Response to Climate and Vegetation Coverage Changes across the Chinese Loess Plateau. Water 2019, 11, 1625.
Note that from the first issue of 2016, MDPI journals use article numbers instead of page numbers. See further details here.
Related Articles
Comments
[Return to top]