Open Access This article is
freely available
re-usable
Article
Effect of Species Invasion on Transport of Solutes at Different Levels of Soft Sediment Macrofauna Diversity: Results from an Experimental Approach
1
Marine Research Institute, Klaipeda University, 92294 Klaipeda, Lithuania
2
Department of Marine Biology, Institute for Biosciences, University of Rostock, 18059 Rostock, Germany
3
Department of Biological Oceanography, Warnemuende, Leibniz Institute for Baltic Sea Research, 18119 Rostock, Germany
*
Author to whom correspondence should be addressed.
Received: 18 June 2019 / Accepted: 22 July 2019 / Published: 25 July 2019
Abstract
:
Different irrigation or ventilation strategies by macrofauna may provide a competitive advantage to tolerant species invading impacted benthic systems and alter benthic-pelagic coupling. To comparatively analyze the effects of an exotic and a native polychaete burrower on sediment-water exchanges, two laboratory experiments were performed. In the first experiment, the invasive spionid polychaete
Marenzelleria neglecta
was added to defaunated sediments and fluxes of the inert tracer (bromide, Br
−
) were measured to quantify the effects of irrigation by the worm on the tracer transport. In the second experiment,
M. neglecta
or the native polychaete
Hediste diversicolor
were introduced to a relatively diverse Baltic soft-bottom macrofauna community. The effect of species on fluxes of reactive solutes (ammonium, NH
4
+,
and phosphate, PO
4
3−
) and transport rates of Br
−
was estimated. The results indicate different invasion effects depending on the characteristics of the recipient habitat. In defaunated sediments, a single specimen of
M. neglecta
significantly enhanced originally low solute exchange rates. Total tracer flux was significantly enhanced over diffusive flux by a factor of 1.6 ± 0.14 (n = 3). In natural sediments, on the other hand, the addition of either
M. neglecta
or
H. diversicolor
had no statistically significant effects on benthic fluxes. Tracer flux estimates between control and treatment incubations differed by less than 10% on average, and both reactive solutes tended to increase by 10 to 40% after additions. One specimen of
M. neglecta
in cores with defaunated sediment generated approximately 20% of the tracer flux produced by the relatively diverse macrofauna community. Estimated net tracer fluxes in two experiments corresponded well with the number of adult polychaetes found in sediments (r
2
= 0.73,
p
= 0.005, n = 12). The invasive
M. neglecta
produced a small effect on fluxes in biodiverse sediments, comparable to those of
H. diversicolor
, but it may deeply alter porewater chemistry in azoic sediment. As
M. neglecta
tolerates chemically reduced and sulphidic conditions, its bioirigation may favor sediment reoxidation and ultimately the recolonization by less tolerant, native species.
Keywords:
Marenzelleria neglecta
;
Hediste diversicolor
; benthic fluxes; sediment–water interaction
Author Contributions
Conceptualization, D.D., S.F.; methodology, D.D., S.F.; formal analysis, D.D.; investigation, D.D., S.F.; resources, D.S., S.O., S.F., M.L.Z.; data curation, D.D., S.F., M.L.Z.; writing—original draft preparation, D.D., S.F.; writing—review and editing, M.L.Z., S.O., D.S.
Funding
This study was initiated by DAAD (Deutscher Akademischer Austauschdienst) short-term research grant to Daunys, D. Furthermore, support was provided by Baltic Seas Research Institute Warnemünde.
Acknowledgments
We would like to express our gratitude to G. Nausch and library staff of the Institute for their help throughout this work. We also thank Graf, G., Powilleit, M., and Arldt, G. for fruitful comments on experimental design and study results; and Bartoli, M. for suggestions during the final stage of the manuscript writing.
Conflicts of Interest
The authors declare no conflict of interest.

Figure 1. Sequence of experimental procedures carried out during experimental runs with natural sediment in experiment 2 (see text for explanations).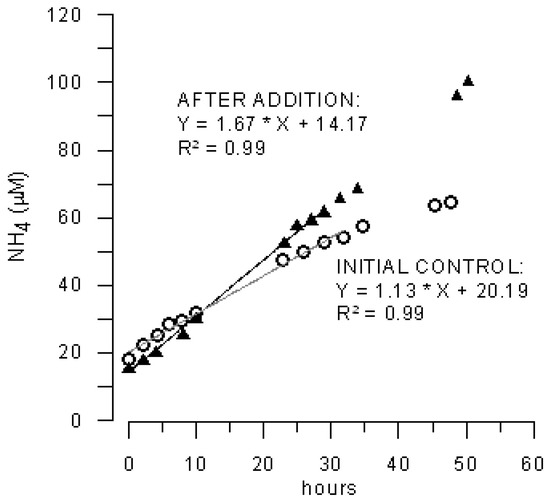 Figure 2.
Ammonium concentration before (open dots, calculated initial control flux 4.18 mmol m
−2
day
−1
, n = 10) and after
Marenzelleria neglecta
addition (shaded triangles, calculated flux after addition 6.28 mmol m
−2
day
−1
, n = 9) in experiment 2 (run 1).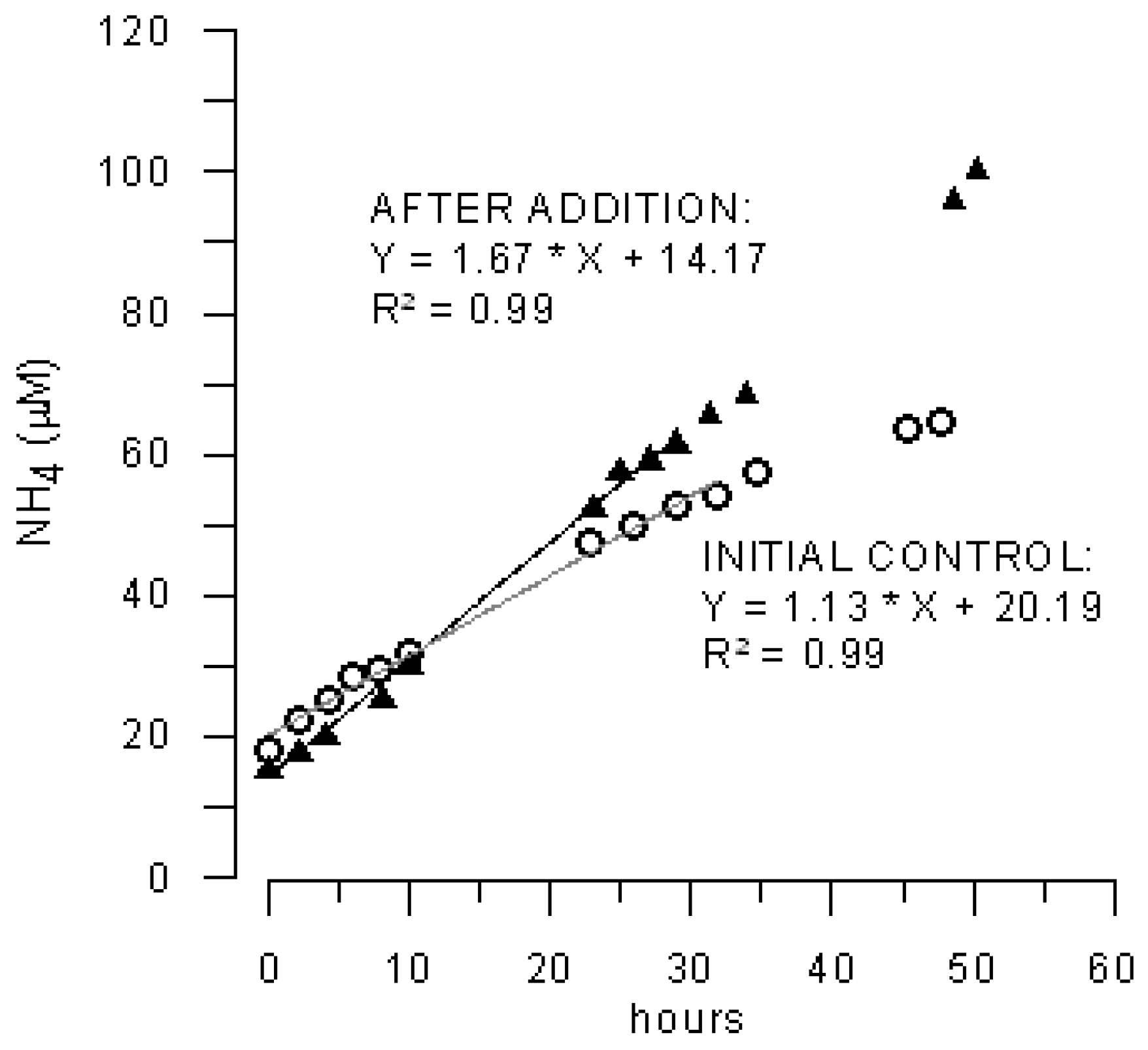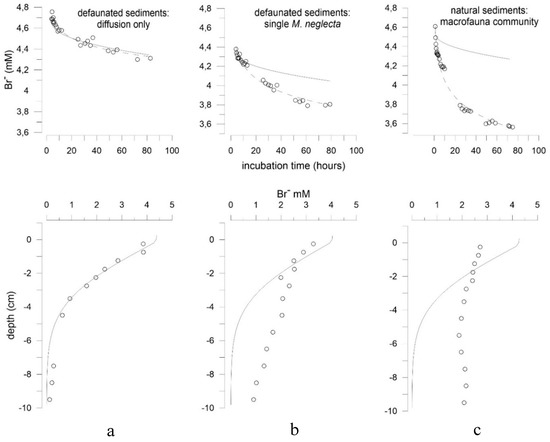 Figure 3.
Examples of tracer uptake and correspondent concentration profiles at the end of incubations of (
a
) defaunated sediment; (
b
) defaunated sediment with single
M. neglecta
; and (
c
) sediment containing natural community. Solid lines show modeled diffusive tracer uptake and resulting profile in sediment, open symbols indicate measured concentrations, dashed lines represent logarithmic fit to the measured concentrations (see "Material and methods" section for further explanations).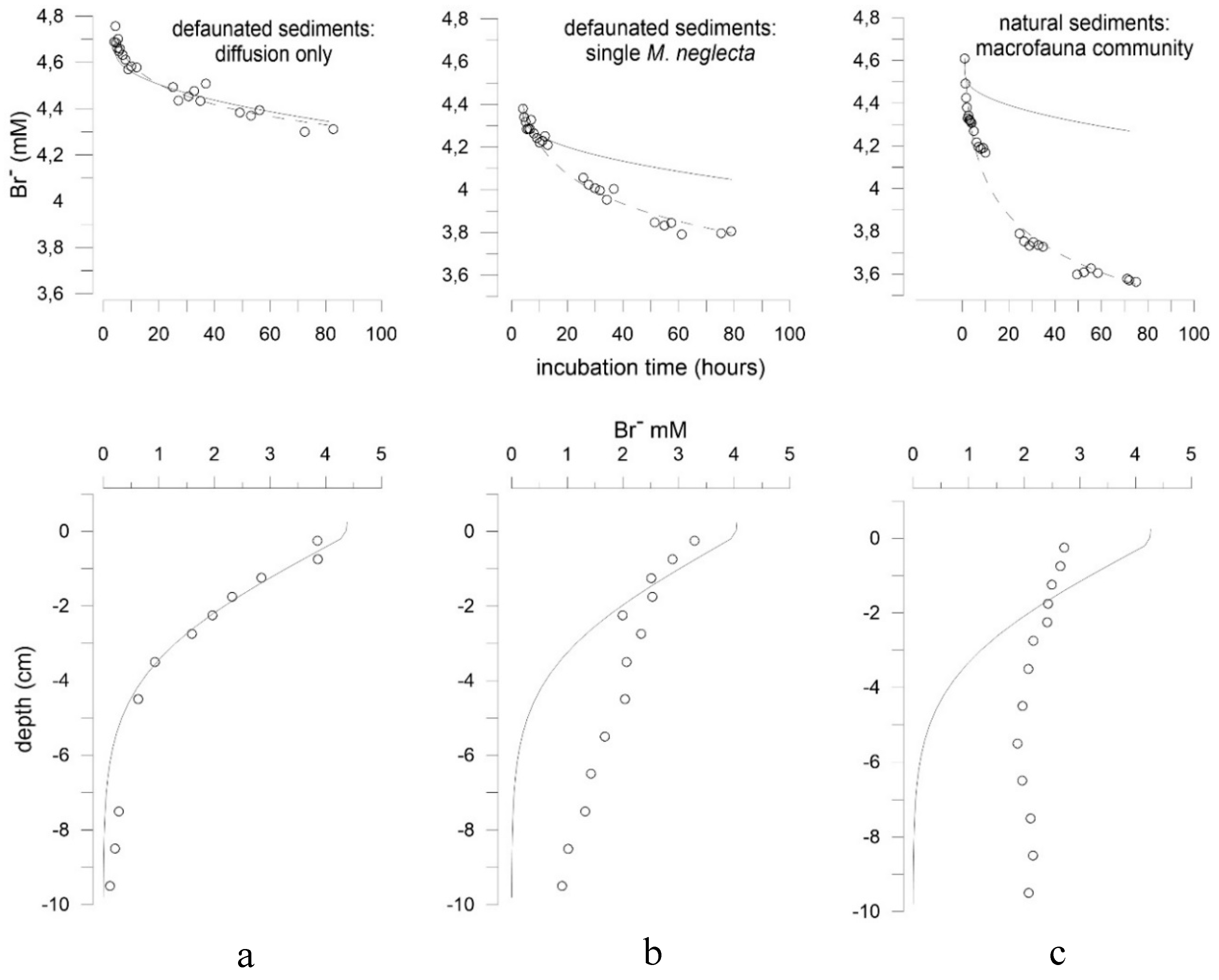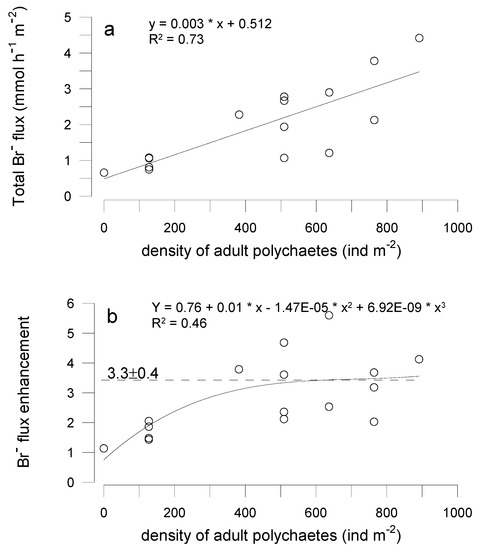 Figure 4. Total bromide flux (a) and tracer flux enhancement (b) vs. density of polychaetes found in the sediment after incubations. The horizontal dashed line denotes average flux enhancement estimated for the unmanipulated natural sediment.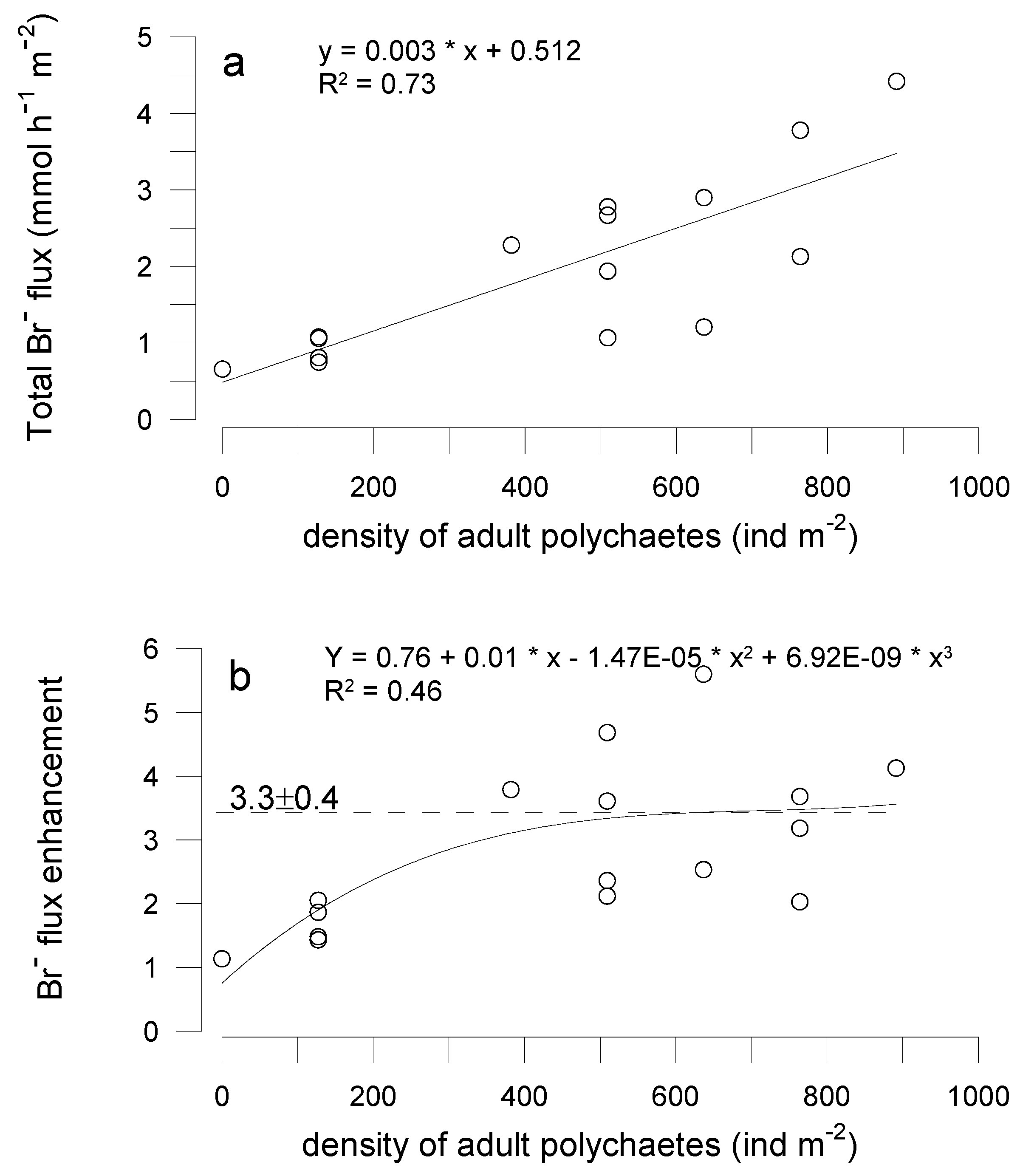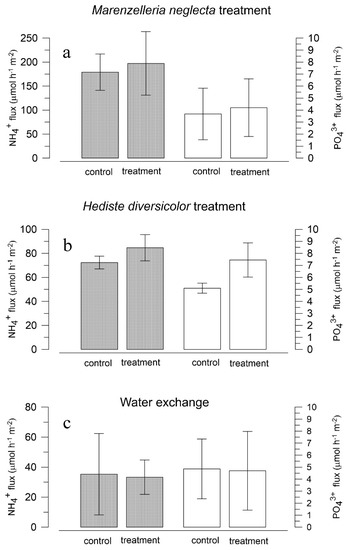 Figure 5.
Effects of species additions and water exchange on the net dissolved fluxes of ammonia (closed bars) and phosphate (open bars) in experiment 2: (
a
)
Marenzelleria neglecta
-run 1, (
b
)
Hediste diversicolor
-run 2, (
c
) exchange of the overlying water-run 3. Values are the mean ± standard error for 3 replicate cores.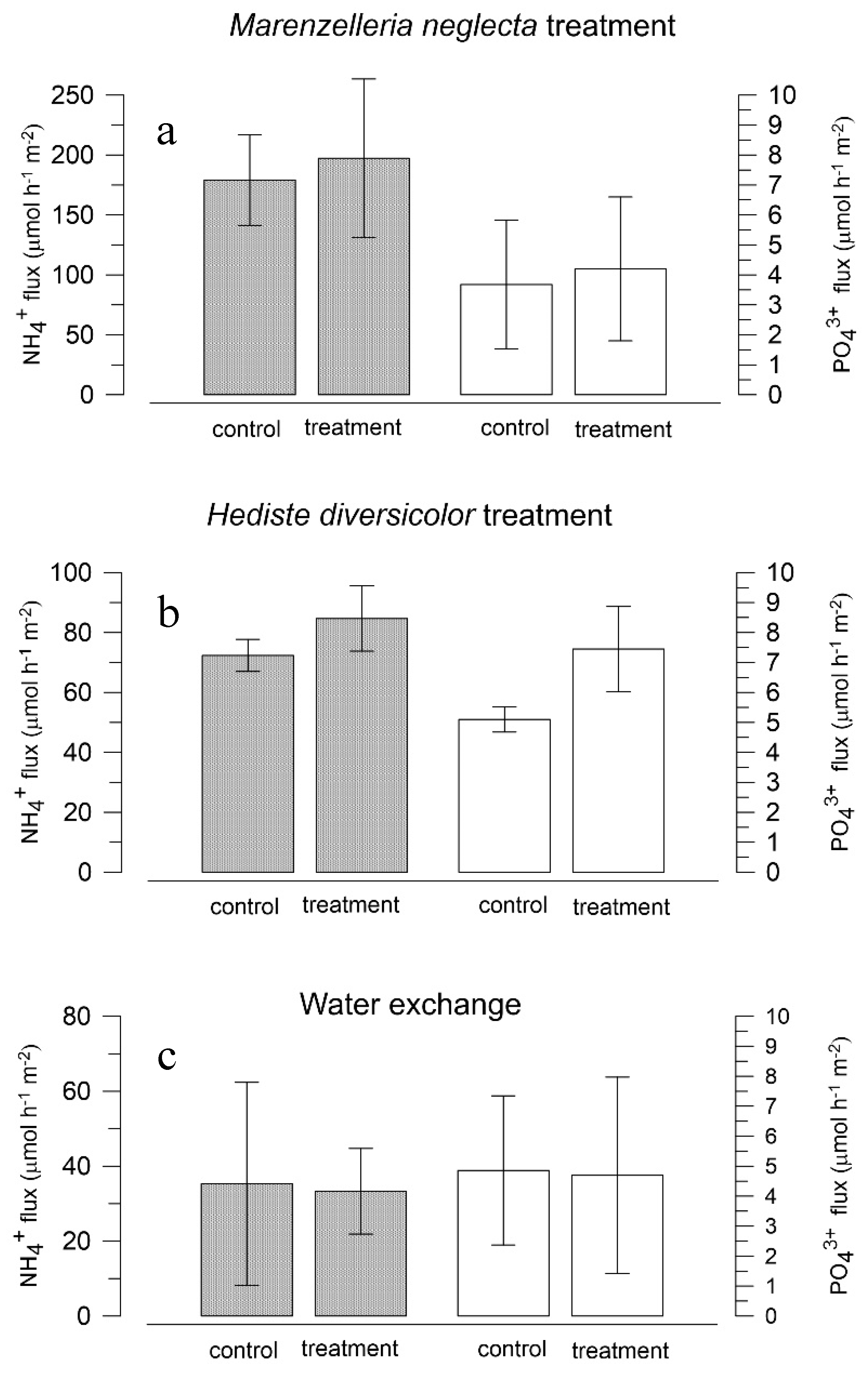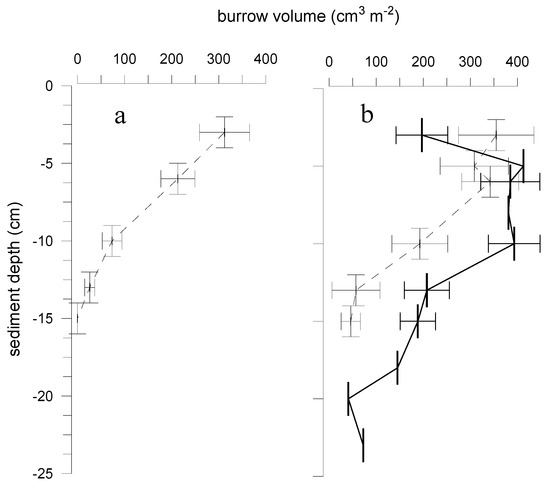 Figure 6.
Vertical distribution of macrofauna burrow volumes (vertical bars: depth range; horizontal bars: standard errors) in the soft-bottom habitats occupied by community of chironomids (1700 ± 1300 ind m
−2
, n = 21) and oligochaetes (950 ± 900 ind m
−2
, n = 21) (
a
) before and (
b
) after invasion of
M. neglecta
(300 ± 180 ind m
−2
, n = 13). Dashed lines denote burrow volumes of chironomids and oligochaetes, solid line — burrow volumes of
M. neglecta
. Modified after [
77
].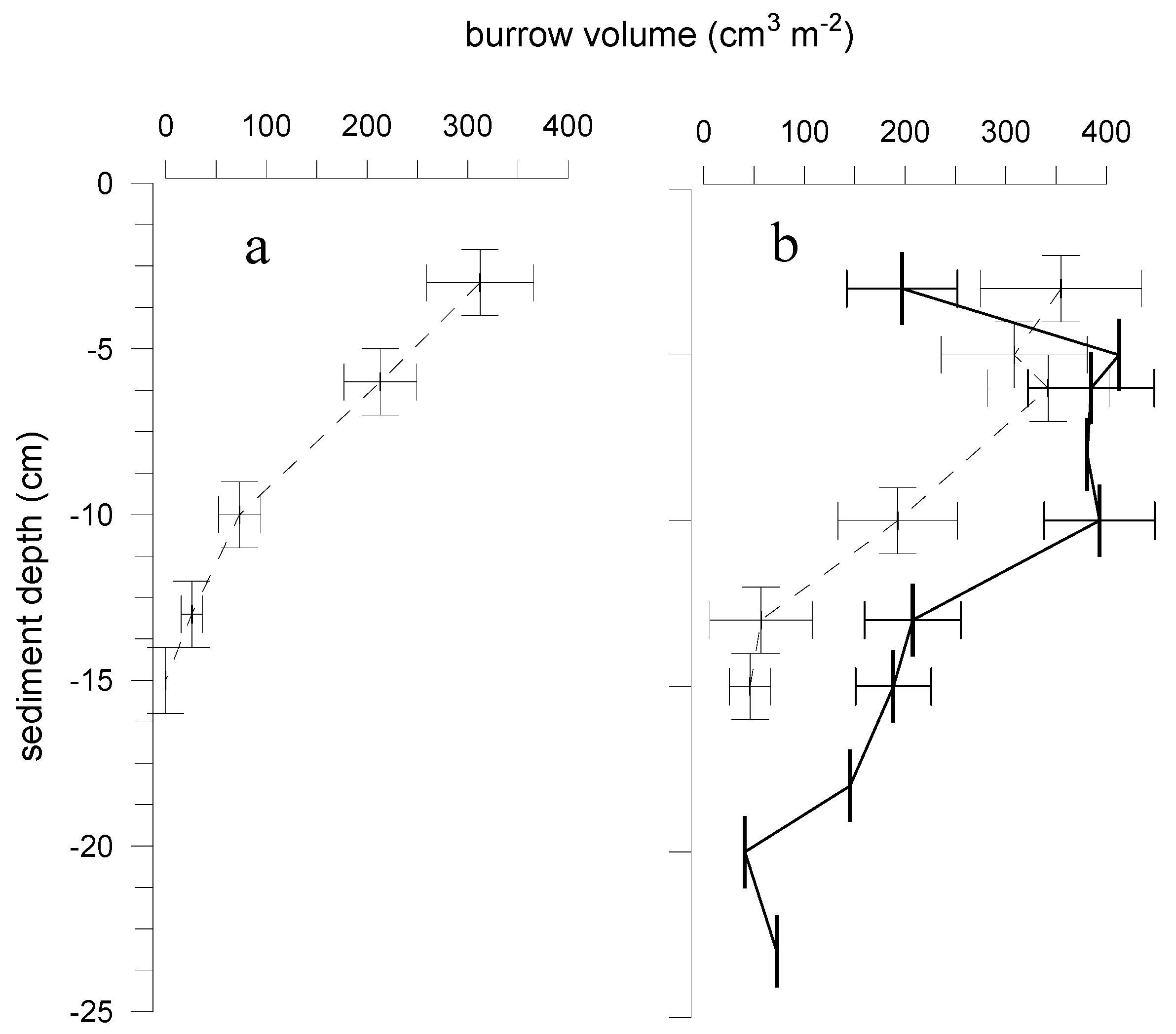 Table 1. Density and ash free dry weight (AFDW) of the most abundant species (0.5 mm mesh size) from 3 replicates taken parallel to the sediment sampling for incubation experiments at Breitling Bay (54°10.6′ N; 12°08.2′ E).
T A X A
D E N S I T Y
B I O M A S S
Average
Min
Max
Average
Ind m−2
Ind m−2
Ind m−2
g AFDW m−2

Mollusca

  Mya arenaria
425
127
637
55.3
  

Cerastoderma glaucum

127
0
255
0.2
  

Peringia ulvae

297
0
510
0.16
  

Ecrobia ventrosa

12,357
11,592
12,866
4.7
  

Potamopyrgus antipodarum

8705
2930
20,127
2.89

Oligochaeta

  

Baltidrilus costatus

3,482
2293
5350
0.18

Polychaeta

  

Hediste diversicolor

10,870
8408
12,357
36.2
  

Polydora cornuta

255
0
510
0.08
  

Streblospio shrubsolii

849
0
1401
0.07

Crustacea

  

Corophium volutator

764
0
1656
0.22
  

Cyathura carinata

552
255
764
0.26
  

Lekanesphaera hookeri

and

rugicauda

254
127
382
0.09

Rest

100
0
127
0.05
TOTAL:
39,122
33,503
49,172
100.4

Table 2. Diffusive and total bromide fluxes (mmol m−2 h−1) calculated for different incubations (runs) in two experiments.
Incubation Type
Diffusive
Total
Ratio
Experiment 1:

  

Defaunated sediment
0.58
0.66
1.14

  

Defaunated sediment (+ 1

M. neglecta

)
0.54 ± 0.01
0.87 ± 0.09
1.60 ± 0.14
Experiment 2:

  

Natural community (+

3 M. neglecta

)
0.76 ± 0.26
2.33 ± 0.79
3.00 ± 0.46

  

Natural community (+ 3

H. diversicolor

)
0.53 ± 0.01
2.42 ± 0.39
3.75 ± 1.03

  

Natural community
0.74 ± 0.12
2.41 ± 0.50
3.26 ± 0.44

© 2019 by the authors. Licensee MDPI, Basel, Switzerland. This article is an open access article distributed under the terms and conditions of the Creative Commons Attribution (CC BY) license (http://creativecommons.org/licenses/by/4.0/).