Open Access This article is
freely available
re-usable
Technical Note
Exploring Compatibility of Sherwood-Gilland NAPL Dissolution Models with Micro-Scale Physics Using an Alternative Volume Averaging Approach
Zuckerberg Institute for Water Research, Ben-Gurion University of the Negev, Beer-Sheva 84105, Israel
Received: 21 May 2019 / Accepted: 16 July 2019 / Published: 23 July 2019
Abstract
:
The dynamics of NAPL dissolution into saturated porous media are typically modeled by the inclusion of a reaction term in the advection-dispersion-reaction equation (ADRE) with the reaction rate defined by a Sherwood-Gilland empirical model. This stipulates, among other things, that the dissolution rate is proportional to a power of the NAPL volume fraction, and also to the difference between the local average aqueous concentration of the NAPL species and its thermodynamic saturation concentration. Solute source models of these sorts are ad hoc and empirically calibrated but have come to see widespread use in contaminant hydrogeology. In parallel, a number of authors have employed the method of volume averaging to derive upscaled transport equations describing the same dissolution and transport phenomena. However, these solutions typically yield forms of equations that are seemingly incompatible with Sherwood-Gilland source models. In this paper, we revisit the compatibility of the two approaches using a radically simplified alternative volume averaging analysis. We begin from a classic micro-scale formulation of the NAPL dissolution problem but develop some new simplification approaches (including a physics-preserving transformation of the domain and a new geometric lemma) which allow us to avoid solving traditional closure boundary value problems. We arrive at a general, volume-averaged governing equation that does not reduce to the ADRE with a Sherwood-Gilland source but find that the two approaches do align under straightforward advection-dominated conditions.
Keywords:
NAPL; volume averaging; upscaling; mass transfer
Funding
This research received no external funding; SKH holds the Helen Unger Career Development Chair in Desert Hydrogeology.
Conflicts of Interest
The author declares no conflict of interest.
Appendix A. Nomenclature
Here, we summarize the algebraic symbols and special operators introduced in this note. Phase subscripts or superscripts
i
and
j
are placeholders for any of the three phases in the system:
n
for NAPL,
s
for solid, and
w
for water. Bold is used to denote vector and matrix quantities (with the indicated dimensions applying to each component), with ordinary-weight Roman text denoting scalars. Dimensions are encoded in accordance with the SI standard: M for mass, L for length, and T for time, with a one indicating a dimensionless quantity.
Symbol
Dimensions
Description
Superficial volume average operator
Intrinsic volume average operator for

i

phase
Locus of interface between phases

i

and

j

within

V

Spatial region with centroid at over which volume averaging occurs
Fitted constant in empirical model of mass transfer coefficient

K

Fitted exponent in empirical model of mass transfer coefficient

K

Fitted exponent in empirical model of mass transfer coefficient

K

Fraction of

V

occupied by

i

phase
Mass transfer coefficient in (6), as derived in [13]
Density of NAPL
Mass transfer coefficient

c

Chemical concentration in the water phase
Thermodynamic saturation chemical concentration in the water phase
Characteristic length of porous media
Velocity-like closure variable in (6), as derived in [13]
Effective Fickian dispersion coefficient
Dispersion-like closure variable in (6), as derived in [13]
Infinitesimal surface element on
Infinitesimal volume element
Fickian diffusion constant
Indicator function for location belonging to the

i

phase

k

Closure variable representing dispersive flux

K

Mass transfer coefficient from NAPL to water phase

L

Length scale of averaging volume;
Normal vector on interface directed from

i

phase into

j

phase
Darcy velocity near NAPL source zone

Q

Strength of NAPL-to-water mass source
Re
Reynolds number
NAPL saturation ()

t

Time
Velocity-like term in (6), as derived in [13]
Pore water velocity
Physical volume of

V

Spatial position vector
Appendix B. Derivation of a Geometric Lemma
This is a simplification of a "geometric lemma" presented by Whitaker on p. 17 of [
9
]. The derivation follows from use of a conceptual simplification of the domain—eliminating all NAPL-solid interfaces by imagining an infinitesimally thin water layer between the NAPL and the solid—that we show does not alter the flow or transport in the system or the volume averaging mathematics. Physically, because of the no-slip boundary conditions, there is no flow in the new notional, infinitesimally-thin water layers. Because any solute in these layers is at , no net NAPL-water mass transfer takes place there. And because the "new" water has infinitesimal volume, it represents a negligible source of mass into the existing pore water phase at the former NAPL-water-solid three-way interfaces. Mathematically, this simplification eliminates the interface , therefore eliminating terms of the form , for arbitrary
f
, when the appropriate volume averaging theorem is applied. Instead, new (collocated) interfaces and come into being. However, for any
f
, because and are the same surface, and the two integrals have opposite-directed normal vectors. Thus, the mathematics of volume averaging are unchanged.
Having established that we are always justified in assuming no NAPL-solid interface, the geometric lemma follows from application of volume averaging theorem (
4
) to an indicator function, , representing the presence of the water phase:
noticing that everywhere (except for jump discontinuities) is a constant, so and . Thus,
We may apply identical analysis to the solid phase:
but notice that because porosity is constant, . Furthermore, because we have notionally eliminated the NAPL-solid interface by imagining an infinitesimal layer of saturated, immobile water phase between them,
Noting that , it follows immediately from (
A2
) that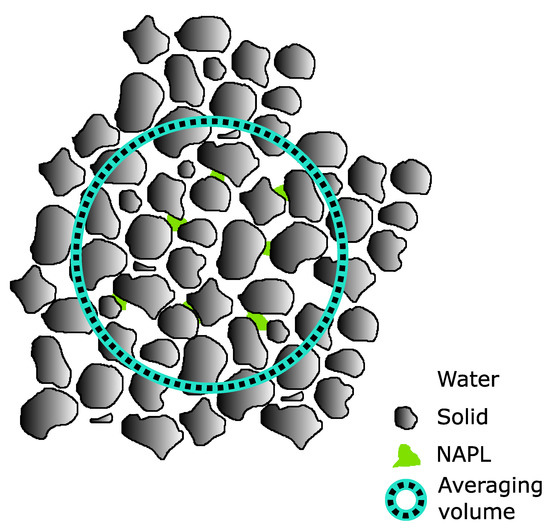 Figure 1. Schematic diagram of blobs of residual NAPL in pores defined by solid media otherwise saturated with water, with averaging volume superimposed.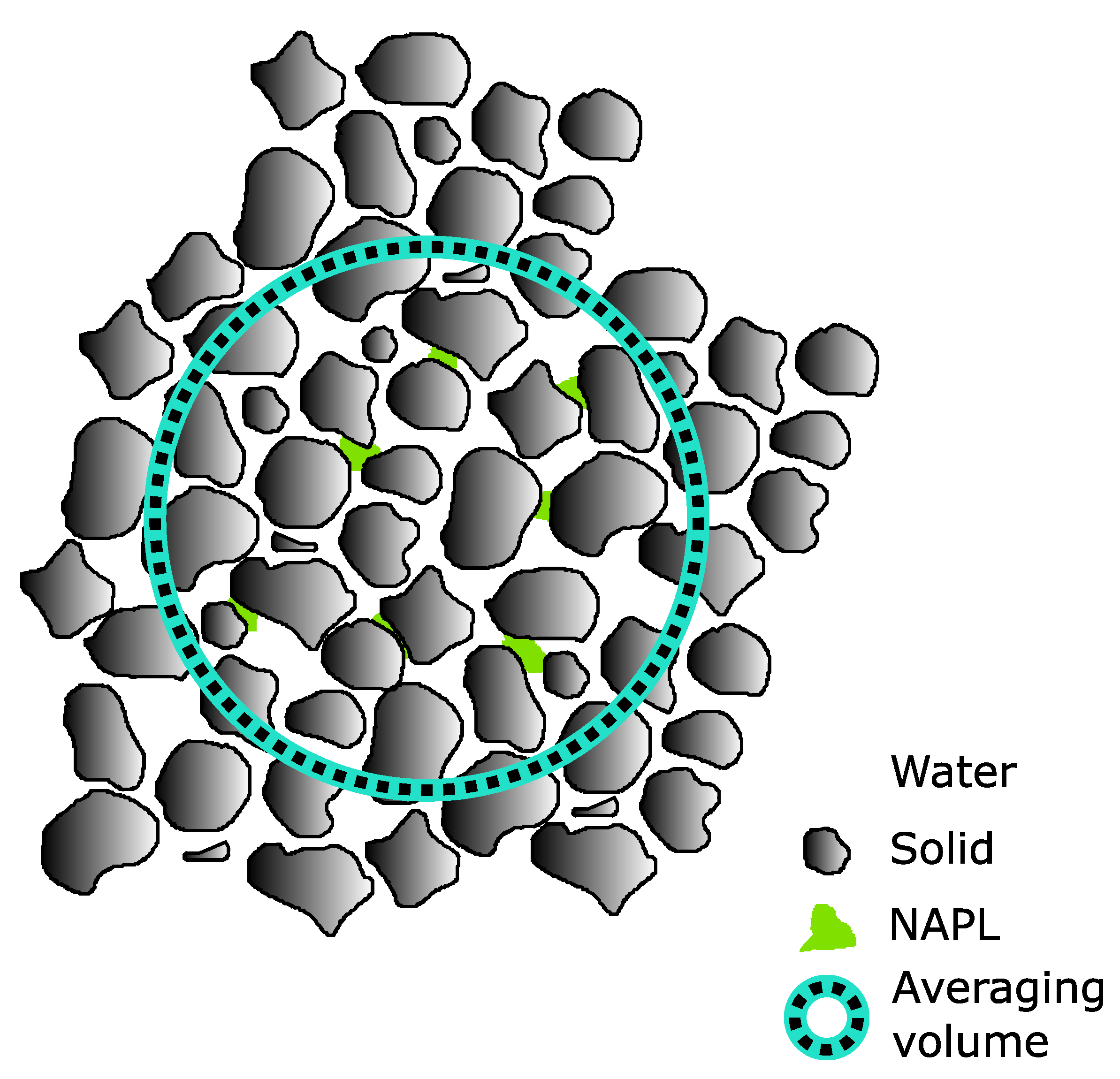 © 2019 by the author. Licensee MDPI, Basel, Switzerland. This article is an open access article distributed under the terms and conditions of the Creative Commons Attribution (CC BY) license (http://creativecommons.org/licenses/by/4.0/).