Coping with Extreme Events: Effect of Different Reservoir Operation Strategies on Flood Inundation Maps
1
Department of Earth Sciences, Uppsala University, 75236 Uppsala, Sweden
2
Centre of Natural Hazards and Disaster Science, CNDS, 75236 Uppsala, Sweden
3
Niccolò Cusano University, 00166 Rome, Italy
4
Centro Funzionale della Regione Umbria (CFD), 06034 Foligno, Italy
5
UNESCO Chair in Water Resources Management and Culture, University for Foreigners of Perugia, 06123 Perugia, Italy
6
Department of Civil and Environmental Engineering, University of Perugia, 06125 Perugia, Italy
*
Author to whom correspondence should be addressed.
Received: 14 February 2019 / Revised: 3 May 2019 / Accepted: 5 May 2019 / Published: 10 May 2019
Abstract
The need of addressing "residual flood risk" associated with structural protection measures, such as levee systems and flood-control reservoirs, has fostered actions aimed at increasing flood risk awareness. Structural measures have lowered risk perception by inducing a false sense of safety. As a result, these structures contribute to an underestimation of the "residual risk". We analyze the effect of different reservoir operations, such as coping with drought versus coping with flood events, on flood inundation patterns. First, a hydrological model simulates different scenarios, which represent the dam regulation strategies. Each regulation strategy is the combination of an opening of the outlet gate and of the initial water level in the reservoir. Second, the corresponding outputs of the dam in terms of maximum discharge values are estimated. Then, in turn, each output of the dam is used as an upstream boundary condition of a hydraulic model used to simulate the flood propagation and the inundation processes in the river reach. The hydraulic model is thus used to determine the effect, in terms of inundated areas, of each dam regulation scenario. Finally, the ensemble of all flood inundation maps is built to define the areas more prone to be flooded. The test site is the Casanuova dam (Umbria, central Italy) which aims at: (i) mitigating floods occurring at the Chiascio River, one of the main tributaries of Tiber River, while (ii) providing water supply for irrigation. Because of these two competitive interests, the understanding of different scenarios generated by the dam operations offers an unique support to flood mitigation strategies. Results can lead to draw interesting remarks for a wide number of case studies.
View Full-Text
►

▼

Figures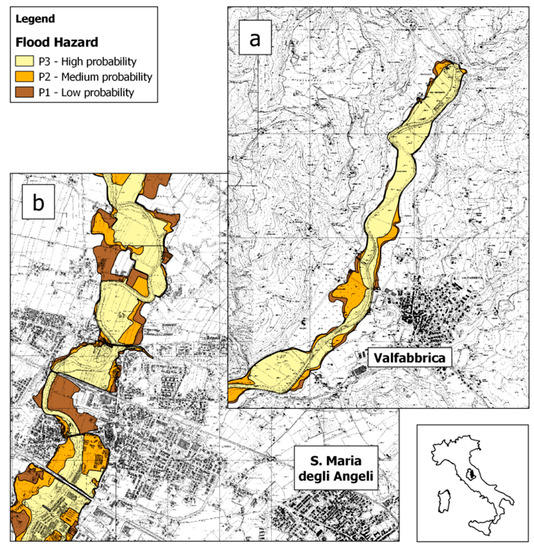 Figure 1
This is an open access article distributed under the
Creative Commons Attribution License
which permits unrestricted use, distribution, and reproduction in any medium, provided the original work is properly cited (CC BY 4.0).

Share & Cite This Article
MDPI and ACS Style
Ridolfi, E.; Di Francesco, S.; Pandolfo, C.; Berni, N.; Biscarini, C.; Manciola, P. Coping with Extreme Events: Effect of Different Reservoir Operation Strategies on Flood Inundation Maps. Water 2019, 11, 982.
Note that from the first issue of 2016, MDPI journals use article numbers instead of page numbers. See further details here.
Related Articles
Comments
[Return to top]