Open Access This article is
freely available
re-usable
Article
Triclosan Alters Microbial Communities in Freshwater Microcosms
1
Department of Biology, Reem-Kayden Center for Science and Computation, Bard College, Annandale-On-Hudson, NY 12504, USA
2
Bard Center for the Study of Land, Air, and Water, Bard College, Annandale-On-Hudson, NY 12504, USA
3
Environmental and Urban Studies Program, Bard College, Annandale-On-Hudson, NY 12504, USA
4
Cary Institute of Ecosystem Studies, Millbrook, NY 12545, USA
5
European Centre for Environment and Human Health, University of Exeter Medical School, University of Exeter, Penryn Campus, Cornwall TR10 9FE, UK
†
These authors contributed equally.

Received: 10 February 2019 / Accepted: 28 April 2019 / Published: 8 May 2019
Abstract
:
The effect of triclosan on microbial communities that are found in soil and sediments is well documented. However, little is known regarding the possible effects of triclosan on microbial communities that are present in the column of freshwater streams as the antimicrobial is released from sediments or from water sewage outflow. We show that a concentration of triclosan as low as 1 ng/L decreases richness and evenness in freshwater microbial communities growing in the water column while using controlled experimental microcosms. Crucially, the decrease in evenness that was observed in the microbial communities was due to the selection of bacteria commonly associated with human activity, such as
Acinetobacter
,
Pseudomonas
, and
Rhodobacter
, as opposed to an increase in Cyanobacteria, as previously suggested. Finally, our results demonstrate that higher concentrations of triclosan comparable to heavily polluted environments can also impact the overall phylogenetic structure and community composition of microbial communities. Understanding the impact of triclosan on these microbial populations is crucial from a public health perspective as human populations are more often exposed to microbial communities that are present in the water column via recreative use.
Keywords:
triclosan; antimicrobial resistance; pollution; 16S rRNA sequencing; microbiomes; watershed
3. Results
3.1. Triclosan Decreases Richness and Evenness in Freshwater Microbial Communities
We characterized the microbiomes of microbial communities that were exposed to 0, 1, 10, and 10,000 ng/L triclosan under controlled laboratory conditions to investigate the effect of triclosan on freshwater microbial communities. Using 16S rRNA gene deep sequencing, we sequenced a total of 766,346 pairs of reads from sixteen samples with a median sequencing depth of 39,558 paired-reads per sample. After pre-processing, we were left with 534,702 (70.1% of initial) paired-reads. We identified a total of 1383 unique ASVs, which belonged to 30 different phyla, including Cyanobacteria (
Table S1
). A total of 267 different microbial genera were identified, while 672 ASVs could not be identified to the genus level (
Table S1
). We only kept ASVs that appeared at least three times and that were present in at least 10% of the samples to avoid biasing our results for rare taxa. Thus, we used a total of 455 ASVs for the following analyses.
We then investigated the effect of triclosan on taxonomic diversity that is present in each microcosm. Overall, we found that triclosan negatively impacted alpha-diversity, decreasing both richness and evenness in the microbial communities that were exposed to the chemical (
Table 1
). More specifically, we found that the total number of observed ASVs decreased linearly as triclosan concentration increased (
F
(1,13)
= 10.262; adj-
P
= 0.01;
Figure 1
a). We also observed a significant decrease in evenness in microbial communities that were exposed to triclosan. Evenness, here measured with the Shannon diversity index, not only considers the total number of taxa, but also their abundance and it is considered to be a key factor in preserving the functional stability of an ecosystem. Similar to richness, we found that evenness linearly decreased as the triclosan concentration increased in the microcosms (
F
(1,13)
= 11.53; adj-
P
= 0.009;
Figure 1
b), indicating that, not only the total number of taxa decrease, but also that a smaller number of taxa represented a larger proportion of the populations that are affected by triclosan. While we observed a small increase in richness and evenness at 10 ng/L, this effect was not significant when individually considering the overall trend or each triclosan concentration.
Interestingly, the number of taxa that were observed in agitated and still microcosms throughout the experiment was very similar. In other words, we observed a similar linear decrease in richness and evenness as the triclosan concentration increased in both microcosm types (microcosm type being not statistically significant, we removed it from our model). Finally, because Cyanobacteria cannot be reliably identified using the V4 region of the16S rRNA gene (i.e., being identified as chloroplast), we repeated the above analyses without the taxon. We observed the same decreasing trends in richness and evenness under the effect of triclosan, as Cyanobacteria were not overly represented in our experimental population (
Table 1
;
Figure S2
).
3.2. Triclosan Alters Freshwater Microbial Communities
3.3. Triclosan Addition Does Not Increase Int1 Abundance in Freshwater Microcosms
We investigated whether triclosan would increase the abundance of integron 1, an integrase-based system linked to the horizontal gene transfer of antibiotic resistance genes because many antimicrobials are known to favor the spread of antibiotic resistance in the environment. We found that triclosan did not increase the relative abundance of
int1
in any of the triclosan treatments used in this experiment, even at the highest triclosan concentration (
F
(3,12)
= 0.551;
P
= 0.657), despite previous evidences suggesting that different antimicrobials can increase int1 relative abundance in microbial communities (see
Section 4
).
5. Conclusions
Our results demonstrate that even small concentrations of triclosan that are readily observed in streams around the world can disrupt freshwater microbial communities. Triclosan also favored the preservation of genetic diversity within specific bacteria that are associated with disease emergence while decreasing the overall taxonomic diversity within a community. These results highlight the need to develop new methodologies to detect the presence and evolution of genetic variability within individual bacterial lineages.
Supplementary Materials
The following are available online at
https://www.mdpi.com/2073-4441/11/5/961/s1
, Figure S1: Establishing fresh water microbial communities in glass microcosm, Figure S2: Alpha diversity metrics in microbial communities exposed to different triclosan concentrations excluding Cyanobacteria sequences, Figure S3: Taxa composition of fresh water microbial communities exposed to triclosan, Figure S4: Changes in ASVs abundance in microbial communities affected by low concentrations of triclosan, Figure S5: The effect of triclosan on fresh water microbial communities excluding Cyanobacteria.
Author Contributions
Conceptualization, A.C., M.V., and G.G.P.; Methodology, A.C., D.A., M.E.D., and G.G.P.; Formal Analysis, A.C., D.A., and G.G.P.; Data Curation, G.G.P.; Writing—Original Draft Preparation, A.C., D.A., and G.G.P.; Writing—Review & Editing, M.E.D., M.V., and G.G.P.; Visualization, D.A., and G.G.P.; Supervision, G.G.P.; Project Administration, G.G.P.; Funding Acquisition, M.V., and G.G.P.
Funding
The work conducted in this study was supported by the Biology Department and the Bard Summer Research Institute of Bard College as well as the International Opportunity Fund from the Natural Environment Research Council of the UK (NERC: NE/K000926/1).
Acknowledgments
The authors would like to thank Maureen O'Callaghan-Scholl and Rebeca Patsey for technical assistance.
Conflicts of Interest
The authors declare that they have no competing interests.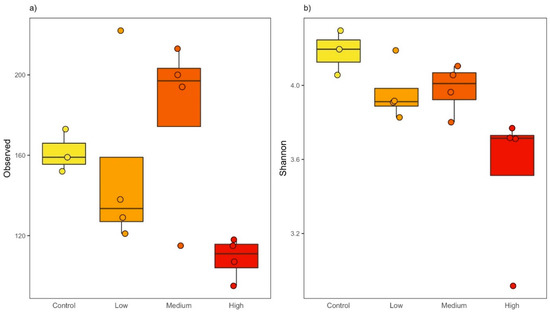 Figure 1.
Alpha diversity metrics in microbial communities exposed to different triclosan concentrations. (
a
) Observed amplicon sequence variants (ASVs) (
F
(1,13)
= 10.262; adj-
P
= 0.014). (
b
) Shannon diversity (
F
(1,13)
= 11.563; adj-
P
= 0.0095). All of the metrics are plotted against triclosan concentration with controls microbiomes shown in yellow, microbial communities exposed to 1.0 ng/L in orange, 10 ng/L in vermillion, and 10,000 ng/L in red, respectively. Lines represent median and hinges indicate first and third quartiles.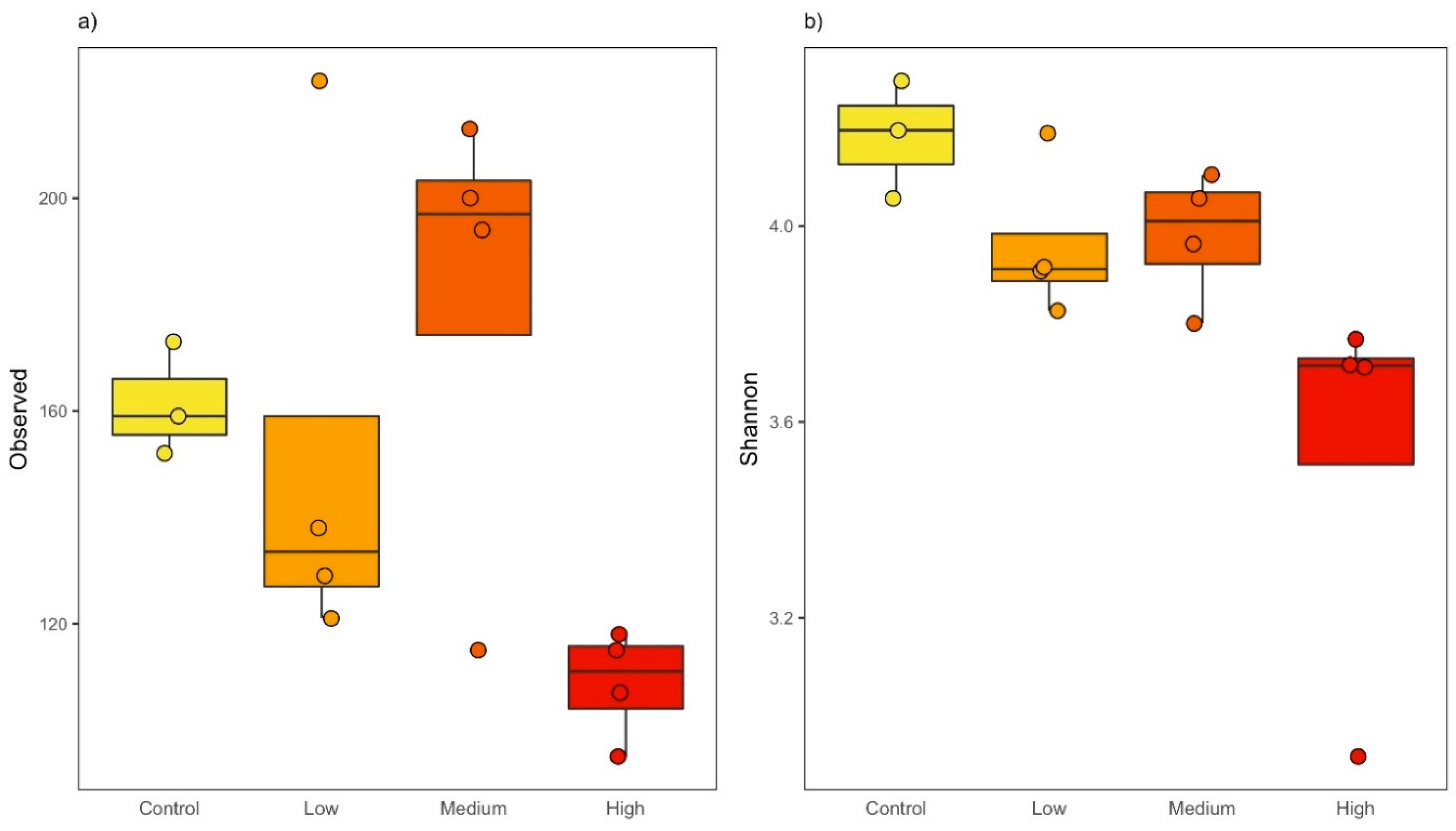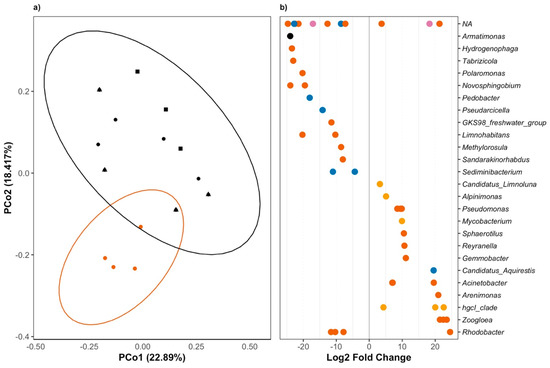 Figure 2.
The effect of triclosan on fresh water microbial communities. (
a
) Principle Coordinate Analyses (PCoA) of unweighted UniFrac scores shows significant dissimilarity between microbial communities exposed to 10,000 ng/L (shown in red circles) compared to communities exposed to 10 ng/L (black lozenges), communities exposed to 1 ng/L (black triangles), and controls communities (ADONIS; Perm = 9999;
R
2
= 0.169;
F
(1,14)
= 2.97; adj-
P
= 0.0002). Axes show the percent variation explained by the principle components estimated from the linear correlation between taxa composition and identity in all samples. (
b
) Changes in ASVs abundance in the presence of 10,000 ng/L of triclosan (DESeq2;
P's
< 0.01). Positive fold changes show an increase in the relative abundance of genera in the presence of 10,000 ng/L of triclosan. Genus level classification is provided where available while phyla are shown as follow: Proteobacteria in vermilion; Bacteroidetes in blue; Actinobacteria in orange; Armatimonadetes in black; and Verrucomicrobia in pink.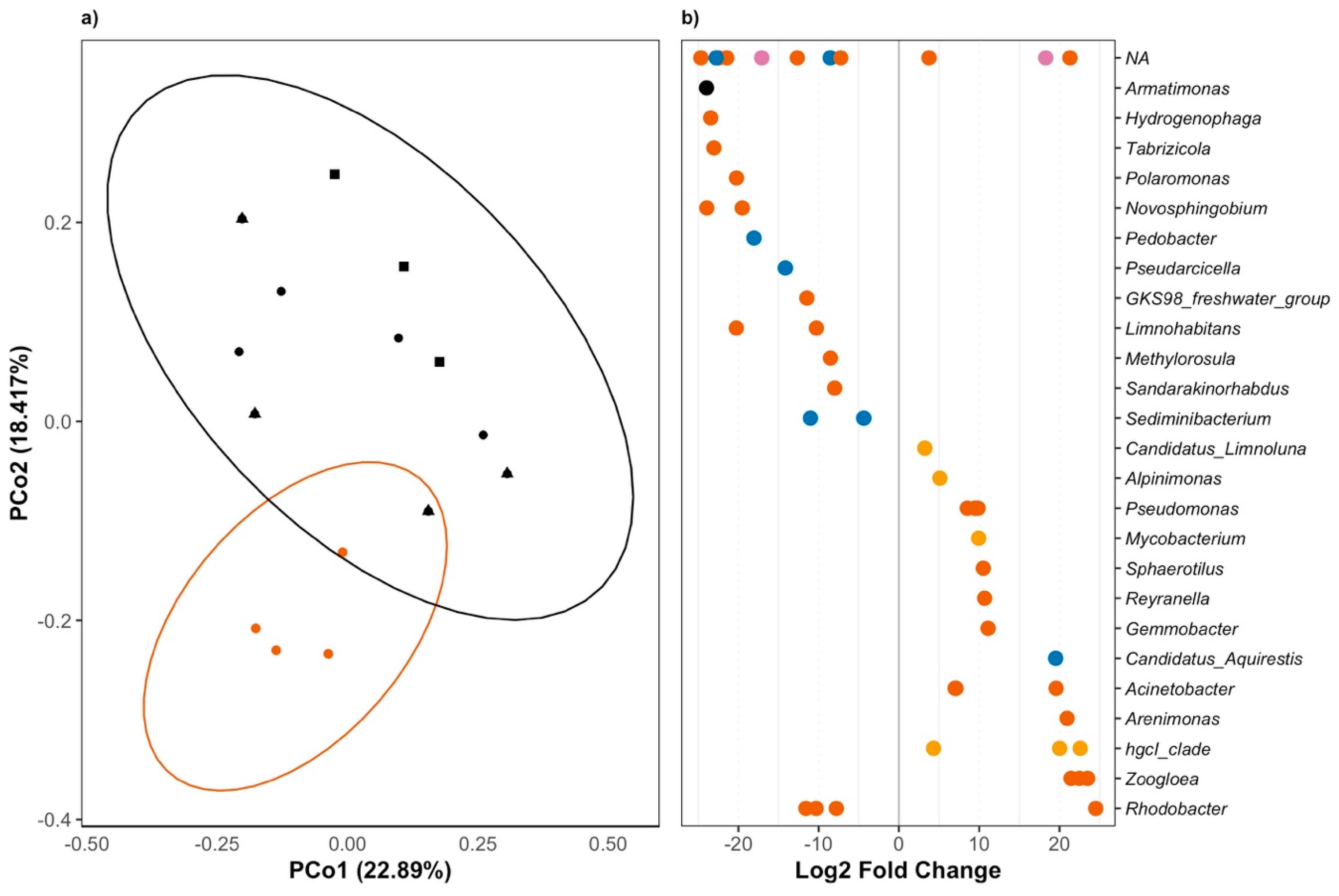 Treatment
Observed
Shannon
Full
No Chloroplast
Full
No Chloroplast
Control
161.33 (10.69)
148.33 (9.45)
4.18 (0.12)
4.10 (0.12)
1 ng/L
152.50 (10.28)
141.00 (43.49)
3.96 (0.16)
3.90 (0.15)
10 ng/L
180.50 (44.38)
168.00 (39.75)
3.98 (0.13)
3.94 (0.13)
10,000 ng/L
108.50 (13.34)
101.25 (10.14)
3.53 (0.41)
3.49 (0.42)

© 2019 by the authors. Licensee MDPI, Basel, Switzerland. This article is an open access article distributed under the terms and conditions of the Creative Commons Attribution (CC BY) license (http://creativecommons.org/licenses/by/4.0/).