Long-Term Changes in the Zooplankton Community of Lake Maggiore in Response to Multiple Stressors: A Functional Principal Components Analysis
1
Department of Decision Sciences, Bocconi University, 25, 20100 Milan, Italy
2
Department of Economics, Quantitative Methods and Business Strategies, University of Milano-Bicocca, 7, 20126 Milan, Italy
3
Department of Statistics and Quantitative Methods, University of Milano-Bicocca, 20126 Milan, Italy
4
Great Lakes Institute for Environmental Research, University of Windsor, Windsor, ON N9C 1A2, Canada
5
Consiglio Nazionale delle Ricerche, IRSA, 28922 Verbania, Italy
*
Author to whom correspondence should be addressed.
Received: 25 January 2019 / Revised: 23 April 2019 / Accepted: 25 April 2019 / Published: 8 May 2019
Abstract
We describe the long-term (1981–2008) dynamics of several physico-chemical and biological variables and how their changes may have influenced zooplankton structure in Lake Maggiore (Italy). Data was available for the 1981–1992 and 1995–2008 periods. Standardized time-series for temperature and total phosphorus (TP), chlorophyll-a, phytoplankton density (cel m
−3
), and cell size (µm
3
), as well as zooplankton structure (Copepoda, Cladocera, and Rotifera density, ind m
−3
) were smoothed using penalized B-splines and analyzed using Functional Principal Components (FPCs) to assess their dominant modes of variation. The first four FPCs explained 55% of 1981–1992 and 65% of 1995–2008 overall variation. Results showed that temperature fluctuated during the study period, particularly during 1988–1992 with a general tendency to increase. TP showed a declining trend with some reversions in the pattern observed in the years 1992, 1999, and 2000. Phytoplankton estimators and chlorophyll-a concentration showed a variable trend along the study period. Zooplankton groups also had a variable trend along the study period with a general increase in density of large carnivorous (mainly
Bythotrephes longimanus
) and a decrease of large herbivorous (mainly
Daphnia
), and a similar increase in the ratio of raptorial to microphagous rotifers. Our results suggest that the lake experienced a strong trophic change associated with oligotrophication, followed by pronounced climate-induced changes during the latter period. TP concentration was strongly associated with changes in abundance of some zooplankton taxa.
View Full-Text
►

▼

Figures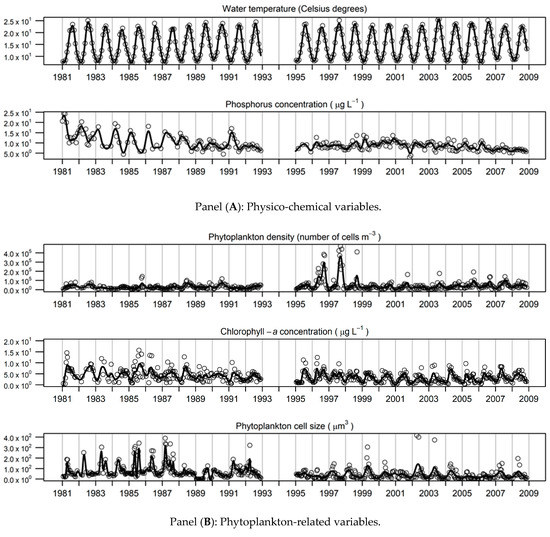 Figure 1
This is an open access article distributed under the
Creative Commons Attribution License
which permits unrestricted use, distribution, and reproduction in any medium, provided the original work is properly cited (CC BY 4.0).

Share & Cite This Article
MDPI and ACS Style
Arfè, A.; Quatto, P.; Zambon, A.; MacIsaac, H.J.; Manca, M. Long-Term Changes in the Zooplankton Community of Lake Maggiore in Response to Multiple Stressors: A Functional Principal Components Analysis. Water 2019, 11, 962.
Note that from the first issue of 2016, MDPI journals use article numbers instead of page numbers. See further details here.
Related Articles
Comments
[Return to top]