Community Response of Cladocera to Trophic Stress by Biomanipulation in a Shallow Oxbow Lake
1
Department of Hydrobiology, University of Debrecen, Egyetem tér 1, H-4032 Debrecen, Hungary
2
MTA-DE Biodiversity and Ecosystem Services Research Group, Egyetem tér 1, H-4032 Debrecen, Hungary
3
Research Centre in Warsaw, Institute of Geological Sciences, Polish Academy of Sciences, Twarda 51/55, PL00818 Warsaw, Poland
4
MTA-PE Limnoecology Research Group, Wartha Vince u. 1, H-8200 Veszprém, Hungary
5
Department of Environmental Sciences, Sapientia Hungarian University of Transylvania, Calea Turzii str. 4, 400193 Cluj-Napoca, Romania
6
Department of Physical Geography and Geoinformatics, University of Debrecen, Egyetem tér 1, H-4032 Debrecen, Hungary
*
Author to whom correspondence should be addressed.
Received: 26 February 2019 / Revised: 3 April 2019 / Accepted: 12 April 2019 / Published: 1 May 2019
Abstract
Studying contemporary and subfossil Cladocera (Crustacea) communities, we explored the effect of top-down stressors on the cladoceran communities; we are also interested in the coherence of the contemporary and subfossil communities. The studied Cibakháza oxbow lake is in E Hungary, on the left-floodplain of the River Tisza; it is a large, long, and shallow oxbow lake. Three areas of the oxbow lake were distinguished based on the strength of top-down stress: protected area with low top-down stress, biomanipulated area with high top-down stress, and recreational area with moderate top-down stress. Altogether, we identified 28 taxa in the contemporary and subfossil communities in the oxbow lake. We found that the species number of the contemporary Cladocera communities was lower (protected area: 13; biomanipulated area: 9, and recreational area: 14) than in the subfossil communities (protected area: 20; biomanipulated area: 16, and recreational area: 14). Among the environmental variables, we observed differences between the protected and biomanipulated area, while the recreational area showed a transition. Species number, abundances, and Simpson diversity also showed the effect of the fish introduction. There were no differences in beta-diversity among the contemporary and subfossil Cladocera community. The non-metric multidimensional scaling (NMDS) ordination showed that the biomanipulated area in the case of the contemporary communities was separated from the other areas, while in the case of the subfossil communities, there was no separation according to top-down stress. Our results showed that the number of species of contemporary Cladocera communities was lower in each area (3–10; 3–9; 5–9) compared to the subfossil communities (6–17; 7–12; 8–12). However, the highest abundances were found in the biomanipulated area due to the appearance of small-sized Cladocera species. Our findings suggest that the effect of a short-time fish introduction is restorable when the oxbow lake has a protected part.
View Full-Text
►

▼

Figures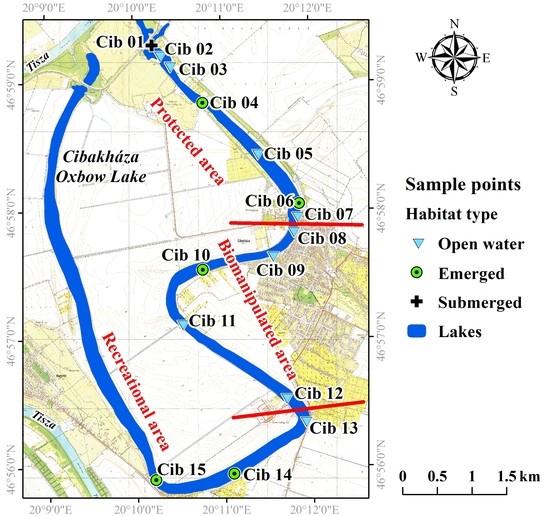 Graphical abstract
This is an open access article distributed under the
Creative Commons Attribution License
which permits unrestricted use, distribution, and reproduction in any medium, provided the original work is properly cited (CC BY 4.0).

Share & Cite This Article
MDPI and ACS Style
Berta, C.; Tóthmérész, B.; Wojewódka, M.; Augustyniuk, O.; Korponai, J.; Bertalan-Balázs, B.; Nagy, A.S.; Grigorszky, I.; Gyulai, I. Community Response of Cladocera to Trophic Stress by Biomanipulation in a Shallow Oxbow Lake. Water 2019, 11, 929.
Note that from the first issue of 2016, MDPI journals use article numbers instead of page numbers. See further details here.
Related Articles
Comments
[Return to top]