Open Access This article is
freely available
re-usable
Review
Impact of Unsteady Flow Events on Bedload Transport: A Review of Laboratory Experiments
Institute of Geophysics, Polish Academy of Sciences, Ks. Janusza 64, 01-452 Warsaw, Poland
*
Author to whom correspondence should be addressed.
Received: 25 February 2019 / Accepted: 26 April 2019 / Published: 29 April 2019
Abstract
:
Recent advances in understanding bedload transport under unsteady flow conditions are presented, with a particular emphasis on laboratory experiments. The contribution of laboratory studies to the explanation of key processes of sediment transport observed in alluvial rivers, ephemeral streams, and river reaches below a dam is demonstrated, primarily focusing on bedload transport in gravel-bed streams. The state of current knowledge on the impact of flow properties (unsteady flow hydrograph shape and duration, flood cycles) and sediment attributes (bed structure, sediment availability, bed composition) on bedload are discussed, along with unsteady flow dynamics of the water-sediment system. Experiments published in recent years are summarized, the main findings are presented, and future directions of research are suggested.
Keywords:
experiments; flood; hysteresis; river; sediment; bedload; bed shear stress
1. Introduction
Although unsteady flow events have an enormous impact on fluvial morphodynamics, the academic discussion has still only had a small impact on engineering and water management. The reason for this is because the vast complexity of the problem limits the development of bedload calculation equations that could be applied, e.g., in numerical models. These issues make the topic of sediment transport in unsteady flow conditions one of the most significant and urgent research problems in environmental and engineering hydraulics.
The present review focuses on the transport of coarse-grain bedload from the perspective of experimental studies, and the aim is to summarize existing directions in laboratory research on sediment transport in unsteady flow conditions and to point out future perspectives for experimental investigations developing this research topic. This review does not aim to be exhaustive and focuses on selected issues: (1) to summarize recent laboratory studies in terms of experimental conditions and modeling issues; (2) to present existing interpretations of the hydrodynamics of unsteady flow; (3) to present current knowledge on the interaction between unsteady flow and riverbed, and (4) to discuss the research questions addressed in previous studies and future needs and perspectives. Laboratory studies are presented within the wider context of sediment transport research including field, numerical, and theoretical studies since experiments are inherently connected with these researches. They all contribute to the understanding of bedload transport processes and generate new research questions that may become topics of laboratory experimentation.
2. Experimental Conditions
3. Hydrodynamic Aspects of Sediment Transport
4. Impact of Unsteady Flow on Bed Structure and Composition
5. Total and Fractional Bedload Transport
6. The Impact of Flood History on Bedload Transport
Field observations have shown that single unsteady flow events may considerably modify riverbed morphology [
81
]. However, riverbeds evolve continuously as a result of successive periods of low flow disrupted by flood events, or repeating flashfloods, as for instance occur in ephemeral streams in arid regions [
1
,
6
,
7
], or pulsed flows below dams [
3
]. The cycles of low and high flows, i.e., flood history, have a significant influence on riverbed morphodynamics on a long-term scale [
3
,
11
,
25
].
Laboratory studies on the impact of preceding flow events on sediment transport during a flood have been increasingly reported in the literature in recent years. In this approach, multiple flood events are considered to check what memory a fluvial system may exhibit. A sequence of floods varying in duration, magnitude, shape, and intraflood flow have been simulated in laboratory channels to study the effects of previous flows on sediment grain arrangement in gravel or bi-modal riverbeds. Hassan et al. [
5
] claimed that a few cycles of flat hydrographs per year promote armoring. Experimental studies on the effect of cycled pulsed hydrographs have shown downstream fining of surface sediment and demonstrated that bed structure and bedload transport are affected by the frequency of unsteady flow and duration of low flow periods [
31
]. Similarly, Redolfi et al. [
30
] observed downstream fining and highlighted the role of low flow periods when finer material is winnowed.
Mao [
25
] ran a sequence of stepped hydrographs of different magnitudes on a bi-modal bed composed of gravel–sand mixture to show that high magnitude hydrographs affect the sediment transport rate during subsequent high- and low-magnitude flood events, while the preceding low-magnitude hydrograph affects the sediment transport rate only when it is followed by a low-magnitude event. The study indicated potential reasons for the reduction of the sediment transport rate during a subsequent hydrograph when the first one has a high magnitude: (1) mobilization of coarser grains from the thicker layer of active sediments and (2) kinematic sieving reducing the availability of fine grains. The reduction of sediment transport during a low-magnitude event when it is preceded by a low-magnitude event was attributed to (1) the formation of clusters and patches which stabilize the bed and (2) the effect of coarse grain protrusion. The stabilizing effects of antecedent low-flow have been observed earlier in studies on single hydrographs with low antecedent flows, e.g., in Waters and Curran [
32
]. Mao [
25
] also reported decreasing bedload hysteresis through successive flood events and associated it with the vertical winnowing of fine grains. Phillips et al. [
11
] performed an experiment with unimodal sediment and observed no memory effects, which, along with the studies mentioned above, indicates that sediment composition seems to be a major factor contributing to the memory of a fluvial system.
7. Recapitulation, Open Questions, and Outlook
It should be evident from the material discussed above that understanding bed load transport under unsteady flow conditions is central to understanding the impact of flood events in water courses. Bearing in mind the complexity of the physics underlying these processes, especially when temporal changes are taken into account, we argue that the best approach to increase our knowledge of bed load transport involves laboratory flume experiments. While there are opportunities to move forward at increased pace, there are also significant challenges faced by hydraulic researchers, which have been discussed in this paper.
In principle this paper has sought to summarize the current knowledge on the dynamics of bed load transport and interactions between flow unsteadiness and riverbed. This review has discussed only a few selected topics, a selection necessarily biased by the interests and/or involvement of the authors. As mentioned in the introduction, a few reviews of this topic already exist, and they are recommended for a more complete overview of the field.
Significant advancements have been made, particularly in the last ten years, in understanding the impact of flood events in watercourses with gravel or bi-modal sediment. One reason for such interest in the subject is the practical significance of unsteady flow events in mountain regions, which are prone to flooding and serious alteration of fluvial system morphodynamics. Another reason is the eagerness to solve the complex fundamental two-phase flow problem involving water and grains with multimodal size distribution in unsteady flow conditions. Sediment transport in sand bed rivers, where the evolution of bed forms instead of grain organization affects the transport rate, has gained much less attention; however, this trend seems to be changing [
82
]. Even with the mentioned advancements, challenges remain, and we are far from being able to posit possible generalizations due to the limited number of various conditions studied and too few experiments performed under similar conditions.
We can, however, point out some of the limitations of the works described in this paper. First, we have assumed the sediment to be cohesionless, and we have discussed only research dealing with such situations, although we realize that such a condition does not have to be satisfied in many natural settings, particularly when the bed is covered by clay or mud. A second major assumption concerns the quite artificial shape of most of the hydrographs created in laboratory flumes. However, the variation in those hydrographs, in terms of such factors as shape, duration, and flow magnitude, does provide insight into their impact on bed load transport.
Almost every published study has brought a few open questions showing how much effort is still necessary to gain a basic understanding of sediment transport processes on a local grain scale, a reach scale, and on the scale of the whole basin. Based on those studies and our own experience and intuition, we may point to the following goals and directions of future experimental studies. There are often issues that are conceptually very straightforward but would still pose technical problems; a good example is the experimental evaluation of the gradient of flow depth and consequently friction velocity and the bed shear stress. This is associated with difficulties in avoiding water surface slope fluctuations under unsteady flow conditions in a flume. New techniques allowing the above to be solved are still in great need. If this can be satisfactorily resolved, the next task of crucial importance seems to be quantifying the effect of flow unsteadiness and variable shear stresses during the hydrograph on the sediment transport rate and hysteresis in the relationship between bedload rate and the discharge.
It is expected that trials to elucidate how sediment transport dynamics in an unsteady flow event depend on the flow memory of the system (e.g., associated with a flood event sequence) remains an active area of research for the foreseeable future. After all, we realize that the alterations in flood patterns forecast by climate change models [
83
,
84
] may enhance the variability of unsteady flow events and intraflood conditions, and the complexity of flow-sediment interactions may increase. It may be equally important to quantify the effect of kinematic sieving occurring in multi-modal grain size distributed sediment during a sequence of flood events [
25
].
We still do not know if it is possible to quantify sediment transport in unsteady flow given the sediment composition and characteristics of transient flow conditions—so far we are able to qualitatively observe the relationships between various quantities. Going forward, it is crucial to study how various supply conditions in terms of supply rate and grain size affect sediment transport during a flood event and a sequence of events [
25
]. Apart from its basic importance, this issue has practical implications for experiment design: The effect of initial bed conditions is evident in the analyses of the total supplied and transported sediment mass. Most experiments do not include complex bed configuration involving bed forms and alternate bars, but such extension seems to be absolutely necessary if we want to apply our knowledge to real rivers. Along these lines, Perret et al. [
26
] pointed to the study of the effect of multimodal sediment composition, considering the effect of fine sediment infiltration into the gravel matrix.
We are also convinced that the major problem in our understanding of bed load transport under unsteady flow conditions lies in the limited understanding of the hydrodynamics of unsteady flows and its interrelation with mass transport phenomena. Therefore, much attention has to be paid to quantifying the effect of flow unsteadiness and variable shear stresses during a given hydrograph on the sediment transport rate and hysteresis in the relationship between bedload rate and discharge, to studying the mutual influence between turbulence and sediment transport in unsteady flow and, last but not least, to correlating flow velocity distributions with bed load discharge.
Author Contributions
Conceptualization, M.M.M and P.M.R.; methodology, M.M.M.; resources, M.M.M and P.M.R.; writing—original draft preparation, M.M.M.; writing—review and editing, M.M.M. and P.M.R.; visualization, M.M.M.; supervision, P.M.R.
Funding
This work was supported within statutory activities No 3841/E-41/S/2019 of the Ministry of Science and Higher Education of Poland.
Conflicts of Interest
The authors declare no conflict of interest.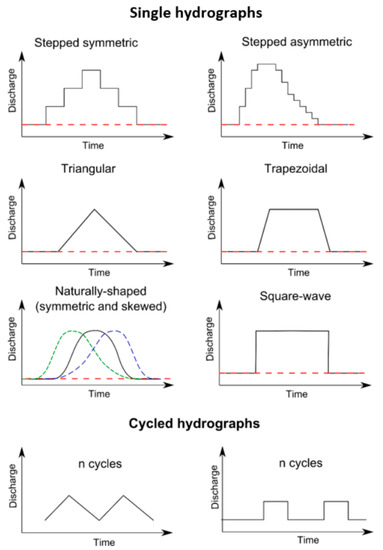 Figure 1. Main types of unsteady flow hydrographs tested in laboratory experiments. The dotted red line denotes a base flow.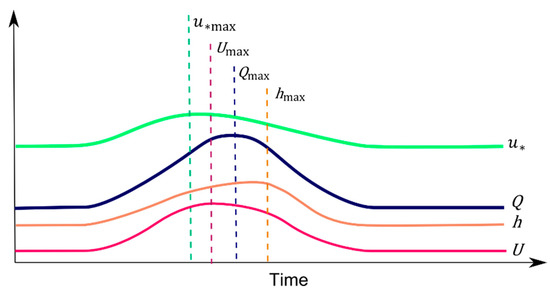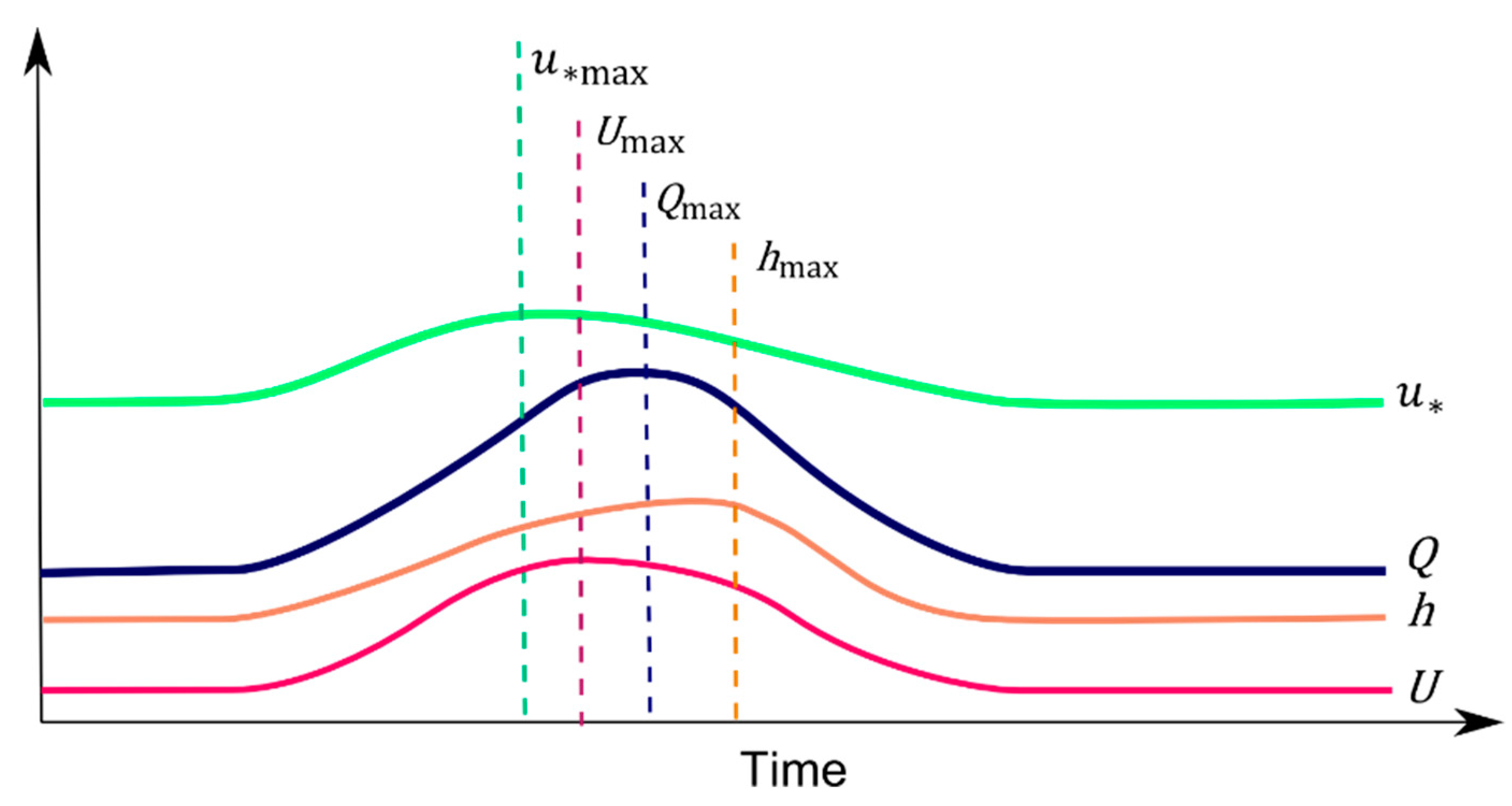 Study
Type of Hydro-Graph 1
Channel Dimensions 2 and Slope
Flow
Initial Bed Conditions
Sediment and Supply
Hyste-Resis 3
Bombar et al., 2011 [23]
S, triangular, trapezoidal
18.6 × 0.8 × 0.75 slope: 0.005
peak about 80 L/s duration: 67–270 s
screeded and water-worked
gravel,

d

50 = 4.8 mm
N/A
Curran et al., 2015 [37]
S, stepped
11 × 0.6 × 0.5
duration: 76 min
well-mixed, screeded
70% sand, 30% gravel;


d

50 = 0.5 mm;
sediment recirculation
N/A
Ferrer-Boix, and Hassan. 2015 [31]
S, pulsed
18 × 1 × 1 slope: 0.022
variable duration (1–10 h) low flow 0.065 m2/s,
followed by 1.5 h constant high flow pulse 0.091 m2/s
water-worked

d

mean = 5.65 mm; 20% sand;
constant feed rate 2.1 g/m/s
N/A
Guney et al., 2013 [12]
S, triangular
18.6 × 0.8
slope: 0.006
base flow: 9.5 L/s; peak flow: 49.6 L/s; duration: 10 min
well-mixed, water-worked
gravel/sand mixture;

d

50 = 3.4 mm, no supply
C, CC
Hassan et al., 2006 [5]
S, stepped triangular
9 × 0.6 × 0.5
0.012–0.055 m3/s; duration: 0.83–64 h
water worked
range of grain size: 0.180–45 mm; no supply
N/A
Humphires et al., 2012 [27]
S, naturally-shaped (lognormal)
28 × 0.86 × 0.86
peak flow: 35 L/s, 25 L/s; duration: 14.5 h, 8.5 h
armored

d

50 = 4.1 mm sediment pulses
S
Lee et al., 2004 [13]
S, triangular
21 × 0.6 × 0.6 slope: 0.002
base flow: 0.04 m2/s; peak flow 0.05–0.14 m2/s; duration: 21–80 min

d

50 = 2.08 mm
no supply
CC
Li et al., 2018 [29]
S, naturally-shaped (smooth sinusoidal curves)
35 × 1.2 × 0.8
slope: 0.003
peak flow 0.018 m2/s and 0.038 m2/s
gravel (2–4 mm), sand (0.1–2 mm), 100% gravel; 100% sand; 53% gravel and 47% sand; 22% gravel and 78% sand; constant feed rate 2.1 g/(m s)
N/A
Mao, 2012 [24]
S, stepped symmetrical
8 × 0.3
slope: 0.01
0.024–0.085 m2/s
mixed and screeded sediment
20% sand, 80% gravel, d50 = 6.2 mm, continuous recirculation
C
Mao, 2018 [25]
C, three types of stepped symmetrical
8 × 0.3
slope: 0.01
0.024–0.085 m2/s
water-worked by steady antecedent flow
20% sand, 80% gravel,

d

50 = 6.2 mm, supply
C, CC
Martin and Jerolmack, 2013 [38]
S, pulsed and triangular
15 × 0.92 × 0.65
slope: 0
peak flow: 81.4, 111.7 L/s; low flow: 39.1, 63.3 L/s, duration: several hours
water-worked by low flow

d

50 = 0.37 mm
no supply
N/A
Mrokowska et al., 2018 [34]
Mrokowska et al., 2016 [39]
S, triangular
12 × 0.49 × 0.6 slope: 0.0083
base flow: 0.0035–0.0131 m3/s; peak flow: 0.0387–0.0456 m3/s; duration: 400–800 s
well-mixed, screeded, without and with antecedent flow

d

mean = 4.93 mm
supply
C
Nelson et al., 2011 [40]
S, square-wave
6 × 0.25 × 0.4 slope: 0.002
peak: 0.02 m3/s
well-sorted
sand

d

50 = 0.58 mm no supply
N/A
Orru et al., 2016 [36]
S, one step
14 × 0.4 × 0.45
slope: 0.0022
stepped increase form 0.0465 m3/s to 0.0547 m3/s
water-worked
tri-modal sediment mixture


d

50 = 1 mm,


d

50 = 6 mm,

d

50 = 10 mm; no supply
no
Perret et al., 2018 [26]
C, stepped symmetrical
18 × 1 × 0.8 slope: 0.01
-
loose and packed gravel beds, infiltrated with fine grains
gravel

d

50 = 6.8 mm and bimodal gravel–sand and gravel–silt
N/A
Phillips et al., 2018 [11]
C, four different shapes: triangular and rectangular
30 × 0.5
-
-
unimodal well-mixed,

d

mean = 7.2 mm
N/A
Piedra et al., 2012 [41]
S, stepped, increasing discharge
7 × 0.9
slope: 1/150
peak: 29–34 L/s
-
gravel

d

50 = 6.6 mm no supply
No
Redolfi et al., 2018 [30]
C, square-wave and triangular
24 × 2.9, 24 × 0.8
slope: 1.0%
square-wave: 1.2–2.5 L/s, 1.5–2.5 L/s;triangular: 0.5–2.5 L/s
well-sorted sand, water-worked by antecedent low flow
sand

d

50 = 1 mm supply
C
Shvidchenko and Kopaliani, 1998 [42]
S, stepped
outdoor plot: 84 × 10;
flume: 100 × 1;
recirculating tilting flume: 18 × 2.46
-
braided channel

d

mean = 0.69 mm

d

max = 5–8 mm
recirculating flume: d50 = 4.3 mm
No
Waters and Curran, 2015 [32]
C, stepped
9 × 0.6 × 0.5
duration: 76 min, cycled with 2 h base flow between, peak flow: 0.073,
0.131 m2/s, base flow 0.029 m2/s
well mixed screeded flat, antecedent low flow
70% sand, 30% gravel,

d

50 = 0.55 mm and 70% sand, 30% silt, clay

d

50 = 0.27 mm
no supply
F8, CC most frequent
Wang et al., 2015 [28]
S, natural-shaped
8 × 0.3 × 0.3 slope: 0.0083
base flow 8 L/s, peak flow 13.5–18 L/s; duration: 120–141 s
screeded, antecedent flow
range of grain size: 1–16 mm;

d

50 = 5 mm, unimodal and bimodal
C
Wong and Parker, 2006 [33]
C, triangular
22.5 × 0.5
peak flow: 0.065–0.102 m3/s; duration 15–60 min
well-sorted
gravel,

d

50 = 7.1 mm, constant feed
N/A
1 S—single, C—cycled; 2 length (m) × width (m) × depth (m); 3 Hysteresis in the relationship between total sediment transport rate and flow rate; C—clockwise, CC—counterclockwise, F8—figure-8 shape.

© 2019 by the authors. Licensee MDPI, Basel, Switzerland. This article is an open access article distributed under the terms and conditions of the Creative Commons Attribution (CC BY) license (http://creativecommons.org/licenses/by/4.0/).