Methane Emissions Driven by Adding a Gradient of Ethanol as Carbon Source in Integrated Vertical-Flow Constructed Wetlands
1
Department of Information Engineering, Sichuan Water Conservancy Vocational College, Yangma Town, Chengdu 611231, China
2
College of Environmental Sciences, Sichuan Agricultural University, Chengdu 611130, China
3
State Key Laboratory of Hydraulics and Mountain River Engineering, Sichuan University, Chengdu 610065, China
4
College of Civil Engineering, Sichuan Agricultural University, Dujiangyan, Chengdu 611830, China
5
Sichuan Higher Education Engineering Research Center for Disaster Prevention and Mitigation of Village Construction, Sichuan Agricultural University, Dujiangyan, Chengdu 611830, China
6
Department of Civil Engineering, Queen's University, Kingston, ON K7L 3N6, Canada
7
School of Urban and Rural Construction, Chengdu University, Chengdu 610106, China
8
Dujiangyan Campus, Sichuan Agricultural University, Chengdu 611830, China
9
Department of applied microbiology, Chengdu Campus, Sichuan Agricultural University, Chengdu 611130, China
10
Luzhou Environmental Protection Monitoring Center Station, Luzhou 646000, China
11
Sichuan Company of China Post Group, Chengdu 610006, China
*
Author to whom correspondence should be addressed.
†
These authors contributed equally to this work.
Received: 14 March 2019 / Revised: 22 April 2019 / Accepted: 23 April 2019 / Published: 24 May 2019
Abstract
This work aims to investigate the methane emissions from integrated vertical-flow constructed wetlands (IVCWs) when ethanol is added as an external carbon source. In this study, a gradient of ethanol (0, 2, 4, 8, 16 and 32 mmol/L) was added as the carbon source in an IVCW planted with
Cyperus alternifolius
L. The results showed that the methane emission flux at an ethanol concentration of 32 mmol/L was 32.34 g CH
4
m
−2
day
−1
less than that of the control experiment (0 mmol/L) and that the methane emission flux at an ethanol concentration of 16 mmol/L was 5.53 g CH
4
m
−2
day
−1
less than that at 0 mmol/L. In addition, variations in the water quality driven by the different ethanol concentrations were found, with a redox potential range of −64 mV to +30 mV, a pH range of 6.6–6.9, a chemical oxygen demand (COD) removal rate range of 41% to 78%, and an ammonia nitrogen removal rate range of 59% to 82% after the ethanol addition. With the average CH
4
-C/TOC (%) value of 35% driven by ethanol, it will be beneficial to understand that CH
4
-C/TOC can be considered an ecological indicator of anthropogenic methanogenesis from treatment wetlands when driven by carbon sources or carbon loading. It can be concluded that adding ethanol as an external carbon source can not only meet the water quality demand of the IVCW treatment system but also stimulate and increase the average CH
4
emissions from IVCWs by 23% compared with the control experiment. This finding indicates that an external carbon source can stimulate more CH
4
emissions from IVCWs and shows the importance of carbon sources during sewage treatment processes when considering greenhouse emissions from treated wetlands.
View Full-Text
►

▼

Figures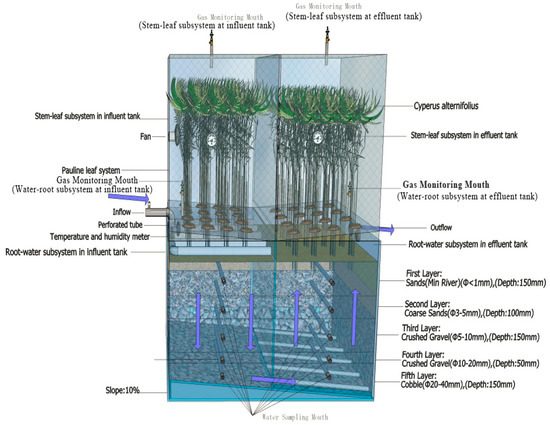 Figure 1
This is an open access article distributed under the
Creative Commons Attribution License
which permits unrestricted use, distribution, and reproduction in any medium, provided the original work is properly cited (CC BY 4.0).

Share & Cite This Article
MDPI and ACS Style
Liu, X.; Wang, J.; Fu, X.; Luo, H.; Anderson, B.C.; Zhang, K.; Li, M.; Huang, B.; Fan, L.; Yu, L.; He, G.; Zou, L.; Fu, S.; Hu, L.; Jiang, M. Methane Emissions Driven by Adding a Gradient of Ethanol as Carbon Source in Integrated Vertical-Flow Constructed Wetlands. Water 2019, 11, 1086.
Note that from the first issue of 2016, MDPI journals use article numbers instead of page numbers. See further details here.
Related Articles
Comments
[Return to top]